Just when I thought the Creative Scene accelerator peddle was already on the floor, there's been a shift in gear.
Until now the dozen or so SceneMakers – local people with an interest in the arts – have been investigating, researching, getting to know the Creative Scene staff and each other. Now, it seems, sleeves are being rolled up.
At the start of one of their regular meetings, the SceneMakers hear news that Creative Scene will bid for another three year's funding to take it up to 2020.
"We can start to develop local people's ambitions and find ways of making creative activities more sustainable," says project director, Nancy. "To do that we need your help in lots of different ways. This is a step change, we're now going to work in a more intensive way."
SceneMakers project manager Ruth sets the group off with a quick fire activity involving Post-It notes. Soon one wall is full of sticky notes of activities that the SceneMakers have been involved in. They've been busy.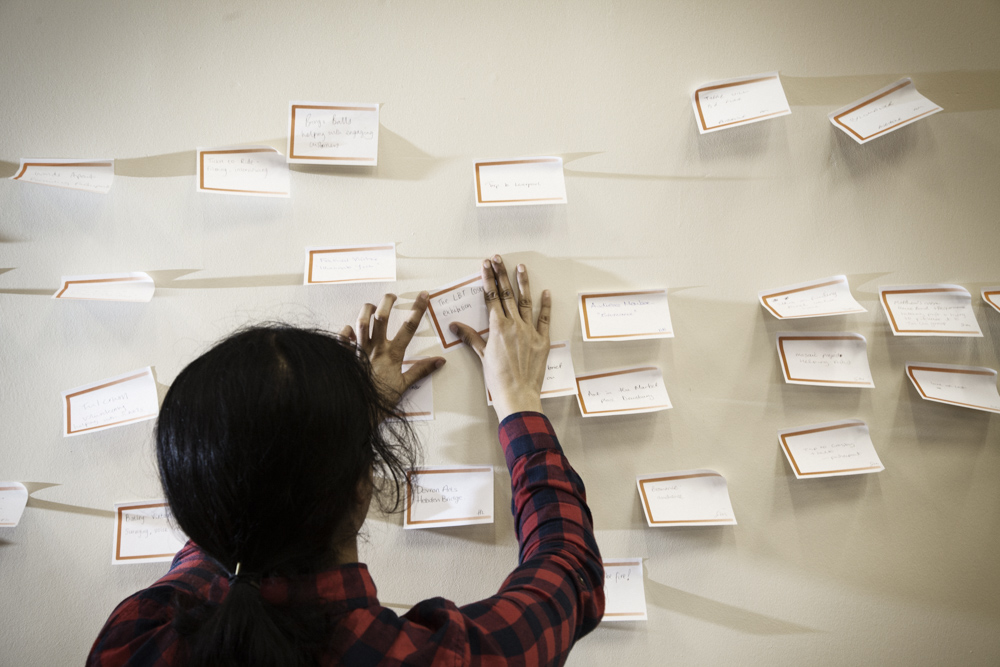 Then it's time for quiet homework reflecting on just one of those activities. "Think about something that has had the most impact and why," says Ruth. "What was it about that experience that made a difference to you?"
This is a bit tricky for Harriet and Pippa, brand new SceneMakers, here for the first time. Instead they contemplate other projects that have inspired them.
After ten minutes, the SceneMakers share their thoughts. Sonja offers her experience of a singing and music workshop in a Cleckheaton coffee shop. "Stepping inside for the first time was a leap of faith but I was curious. We sang and played percussion and I made connections with people there who I'd never have met in a million years.
"I managed to persuade my mother to go and she really enjoyed it. She said you don't tend to meet new people when you're 85."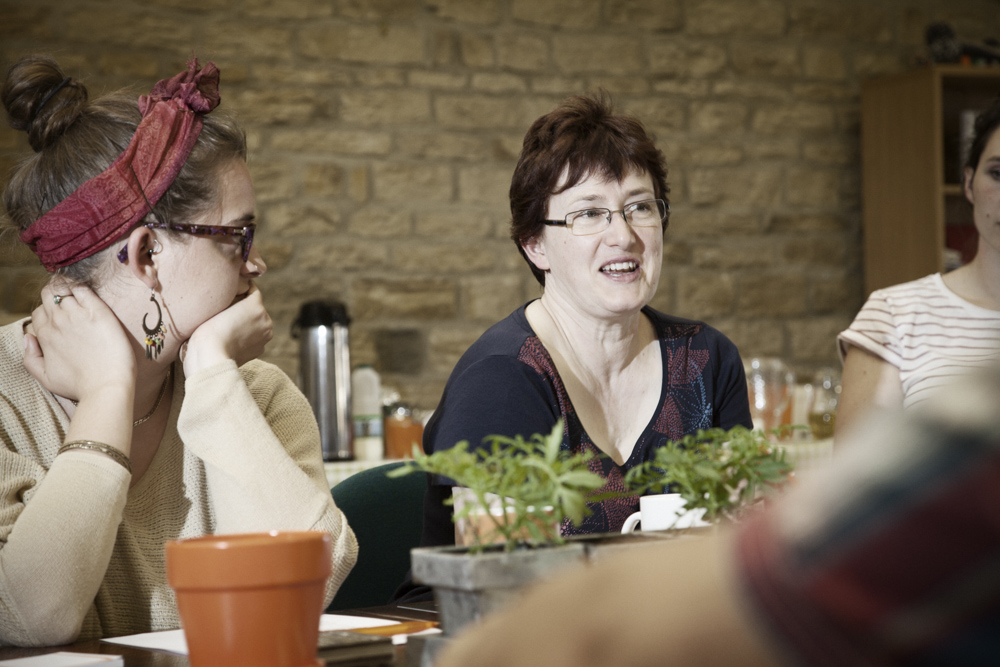 Ammaarah tells everyone about the film and robotics piece event at The New Picture House back in March: "It made me realise that art isn't just about theatre or visual arts, it also extends to the realms of science, mathematics and coding. That really provided a new perspective for me."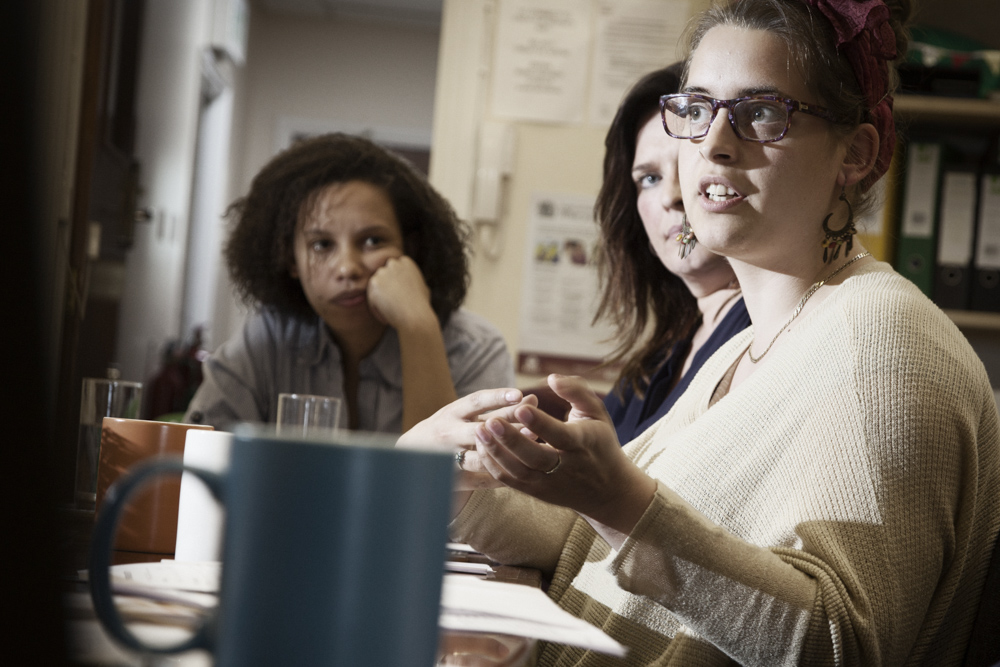 After a break for sandwiches and scones, Nancy goes through a list of upcoming Creative Scene events. "You can help by promoting these to your own networks and communities," she says, "or with participant recruitment or just getting stuck in."
Typically, it's a weird and wonderful programme that involves puppets, synchronized swimmers and brass bands; free runners, lantern processions and hackathons… although there is some debate about what happens at a hackathon.
We hear that Creative Scene is developing a novel approach to the normally crusty evaluation process: "For the Dewsbury-on-Sea event we'll train fortune-tellers, tattooists and face painters to have evaluation conversations," explains Nancy, "so the audience is more likely to offer its reflections if its engaged in an interesting activity.".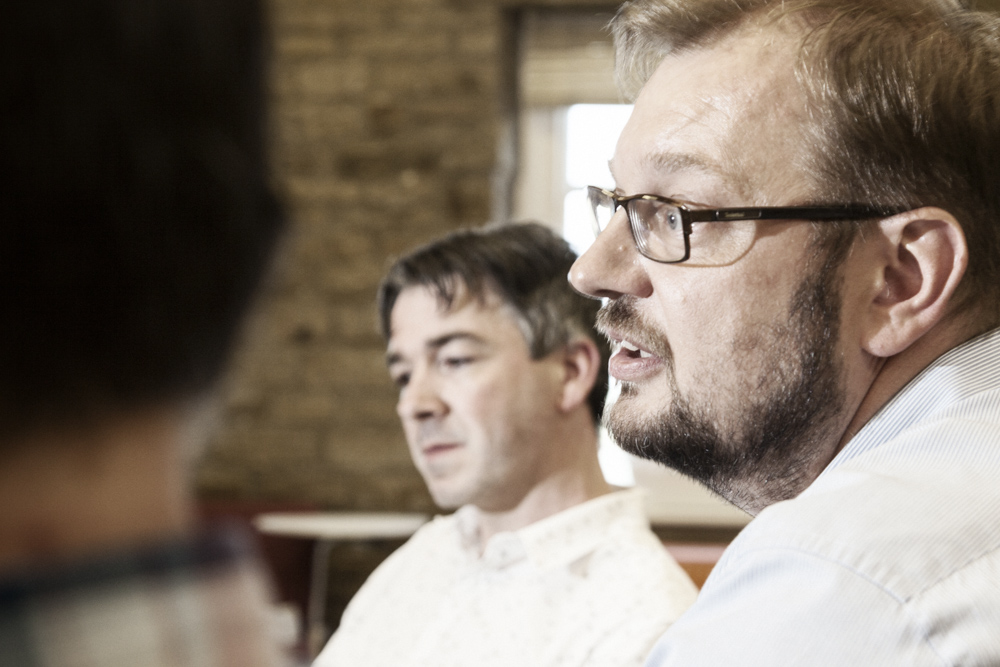 "What I want you to take from this evening is an invitation to contact us with your own ideas and projects that interest you," concludes Ruth. "If you're working on an idea that means something to you, that's going to be much more effective."
And that's the crux of tonight. Building on what they've already experienced, the SceneMakers have been handed the keys and been offered a map. They can create their own projects or immerse themselves in one or more from the programme. Help is available if they need to develop new skills but now is the time to strap themselves in for an exhilarating Creative Scene journey.
I'll be on the back seat with camera and notebook to hand.