"How many clouds will we be making?" asks one of the students.
"Maybe seven, eight, maybe even nine," says Tilen. "Some big and some small. We're only limited by the size of the door. But first we'll make a prototype."
I'm in Brigantia again, Creative Scene's versatile space on the top floor of a Dewsbury office block. Beyond the partition wall are half a dozen beautiful paper lantern sculptures ready for the annual HeckmondLIGHT festival on Saturday.
On this side, in front of a table strewn with electrical components, is Slovenian-born Tilen Sepič, a multi-disciplinary designer and artist. Tilen has been invited to West Yorkshire to work with Batley School of Art students and artists from the recent Make it Happen school.
Together they're making LED 'clouds' that will be strung up in Green Park for the light festival and for a month afterwards.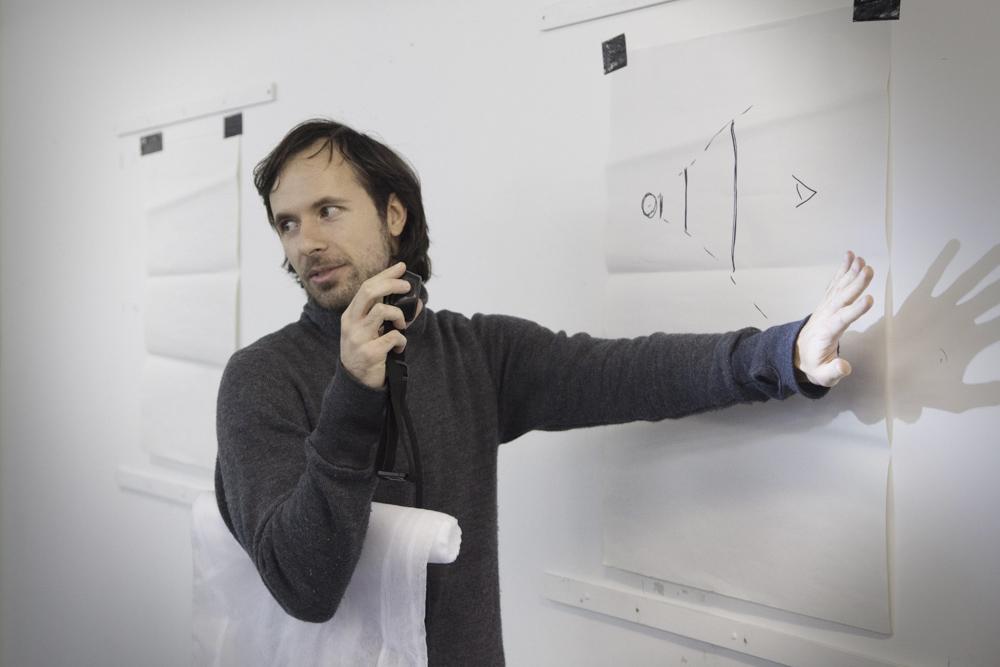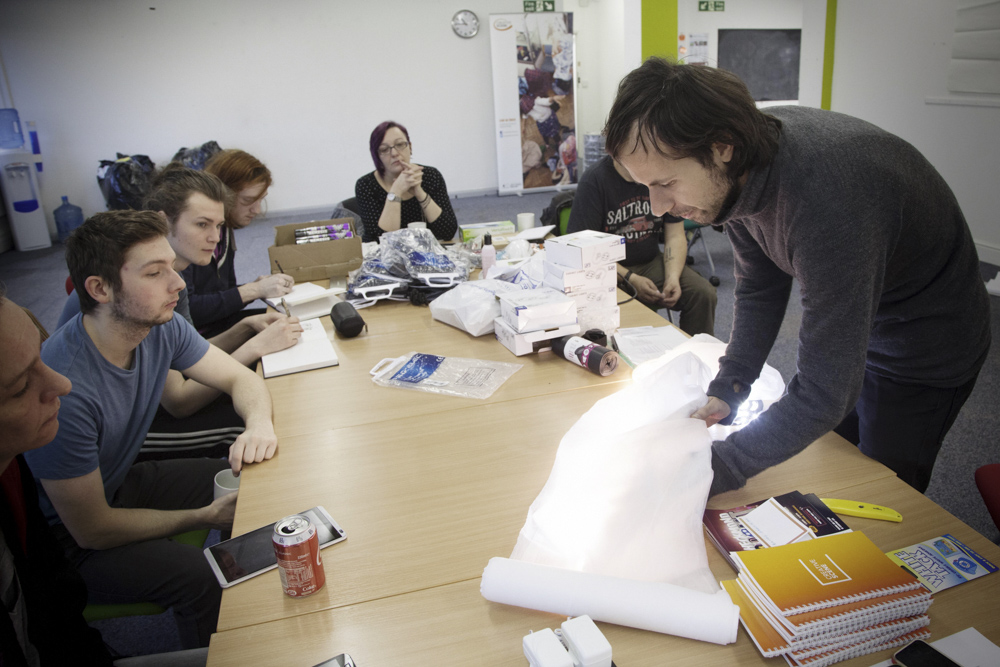 Festival director Simon Thirkill has been instrumental in bringing Tilen and his work to HeckmondLIGHT. Back in January he was part of a Creative Scene delegation to Athens where he shared ideas with other artists in the Tandem Europe project.
"I got to know about Tilen's work when a visiting artist from the project came to see what we were doing in Heckmondwike," he explains this morning. "With this workshop element, and Tilen's sharing ethos, it's a perfect fit for us."
This residency is funded by Creative Europe and is the first artist exchange in a European-wide project called LUCity.
Marker pen in hand, Tilen is now talking about soft and hard light, why sunlight changes colour throughout the day and why diffused light is more pleasing to the eye. "It's making me feel all Christmassy," says Donna.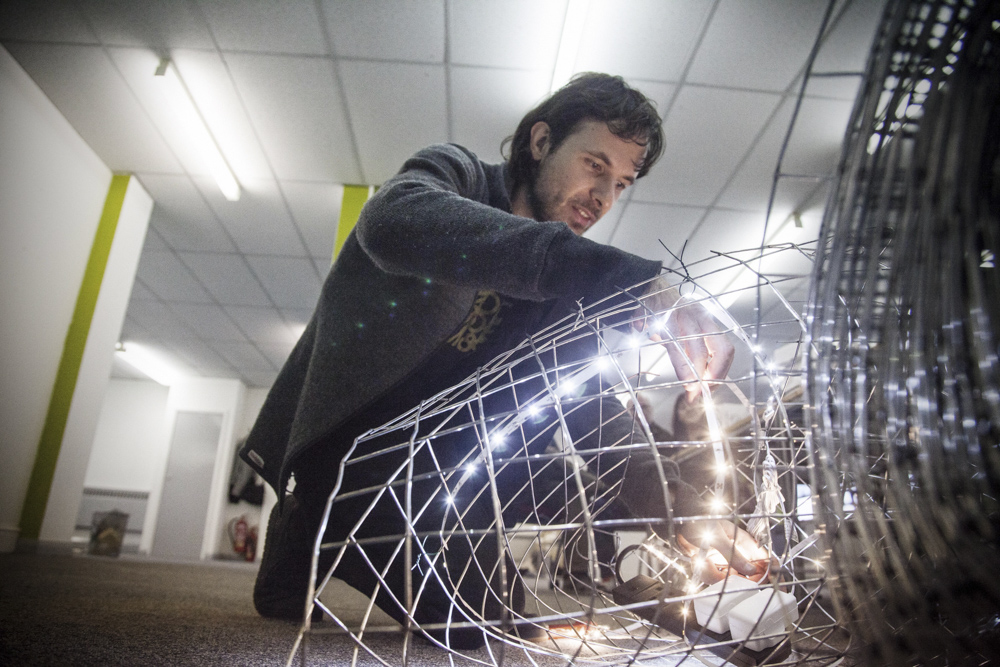 "We'll mix warm and cool colours so it creates a natural effect," he explains, threading an LED light strip into a cloud-shaped cage of wire mesh. "If you look at a cloud, one side is lit from the sun and the other by the sky. One is yellowish and one blueish, that's what we're trying to re-create here."
As the participants get stuck in, cutting mesh and covering it with diffusing material, I put my tape recorder in front of one of the diploma foundation students. "What interests you about this sort of thing?" I ask.
"I usually stick to 2D animation," says Marcus, "so this is really out of the box for me, something very different, and that's why I've come."
"It's really interesting," chips in his mate Cameron. "I like the idea of the two different light sources. That's really cool."
"He's given us a lot of knowledge already," adds Marcus. "To be honest, I didn't think it'd be this interesting."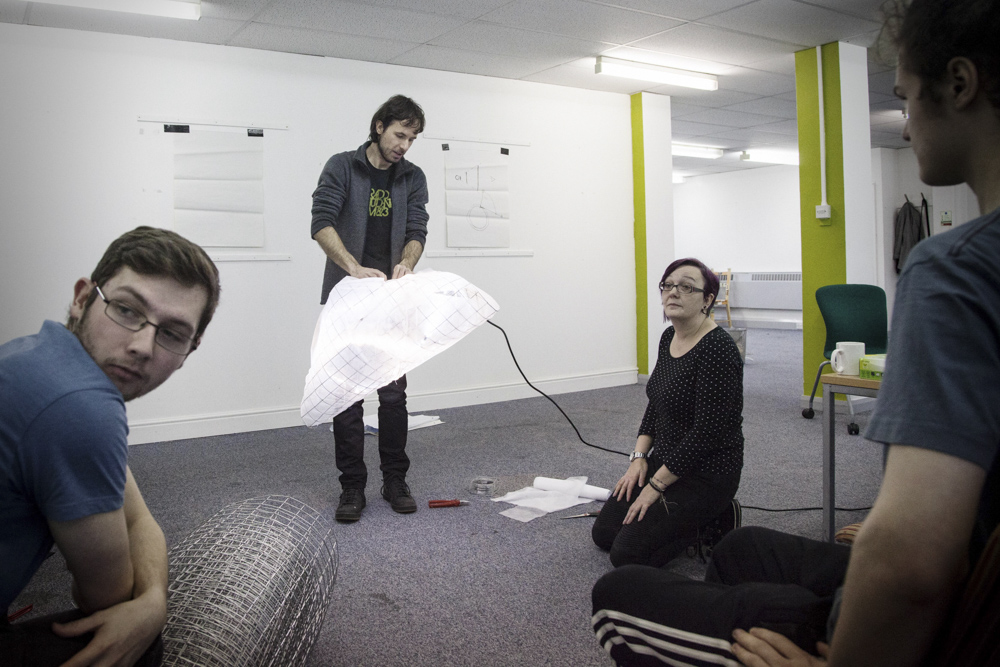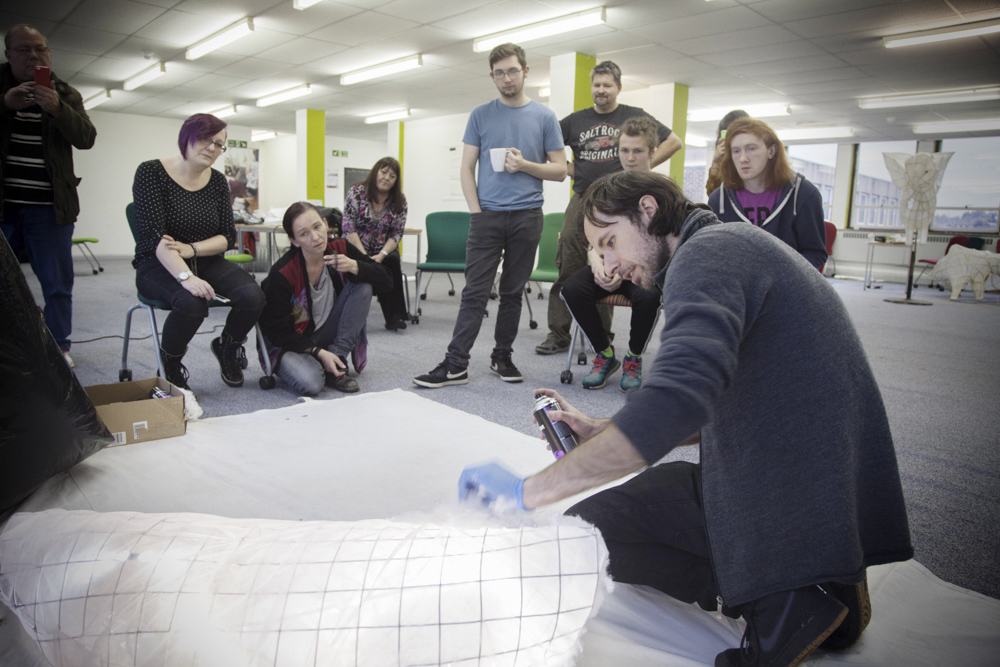 The prototype is coming along. Tilen is now glueing polystyrene fibre – the sort that fills pillows and duvets – onto the mesh cage. "Who wants to have a go?"
Cameron and Marcus step forward, don gloves and masks, and start glueing. "We're going to end up with cloud hands," says Cameron, as they slowly add sticky fibres to the cloud shape. And they do.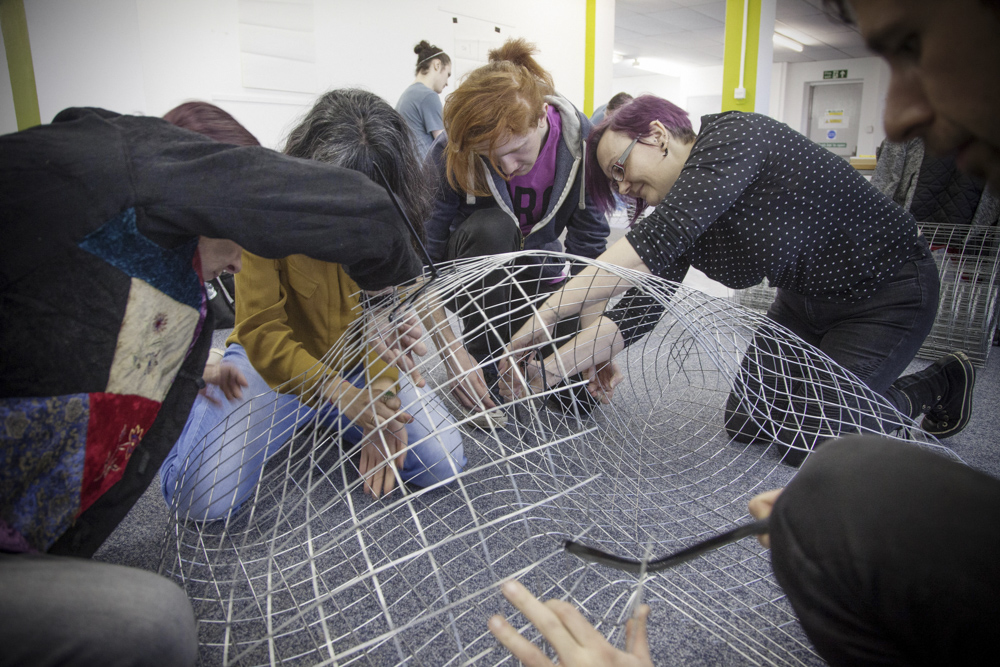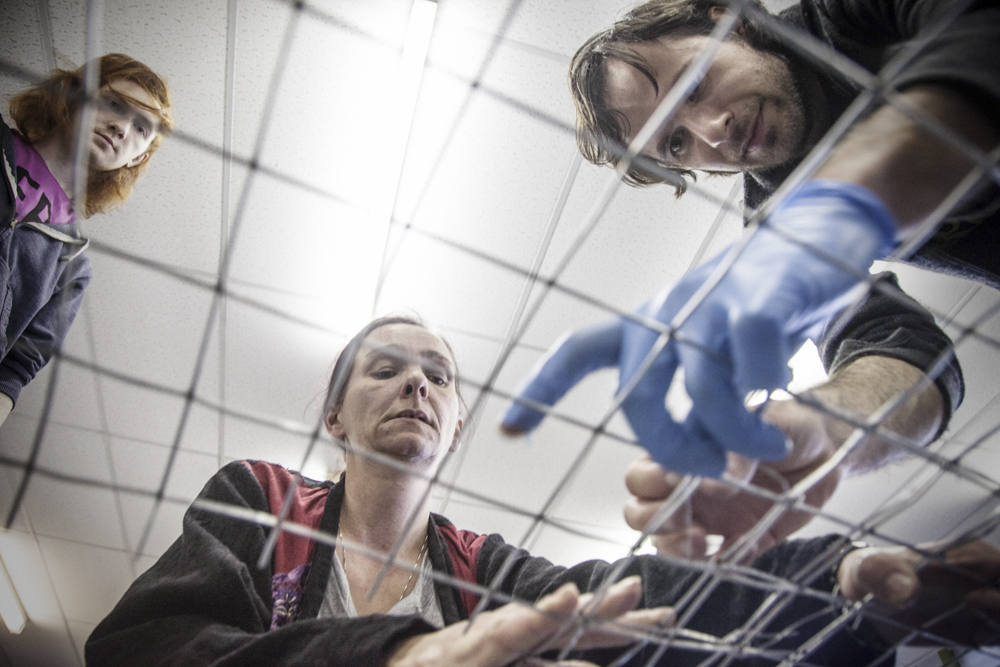 As everyone work on their own clouds Tilen tells me how – as a supporter of 'open source culture' – he's keen for his design knowledge to be shared with others. "If more things were modular and we could easily upgrade our own products it would be better for us all in the long term.
"With open source design you'd have thousands of designers working on a product over its lifespan. That's thousands of minds trying to make things better."
The clouds are being installed on Friday and will be one of several bespoke installations for this year's festival. The town's bandstand will become an illuminated tribute to the famous Frontier Club and an audio piece created by Simon from local people's memories will be staged throughout the park.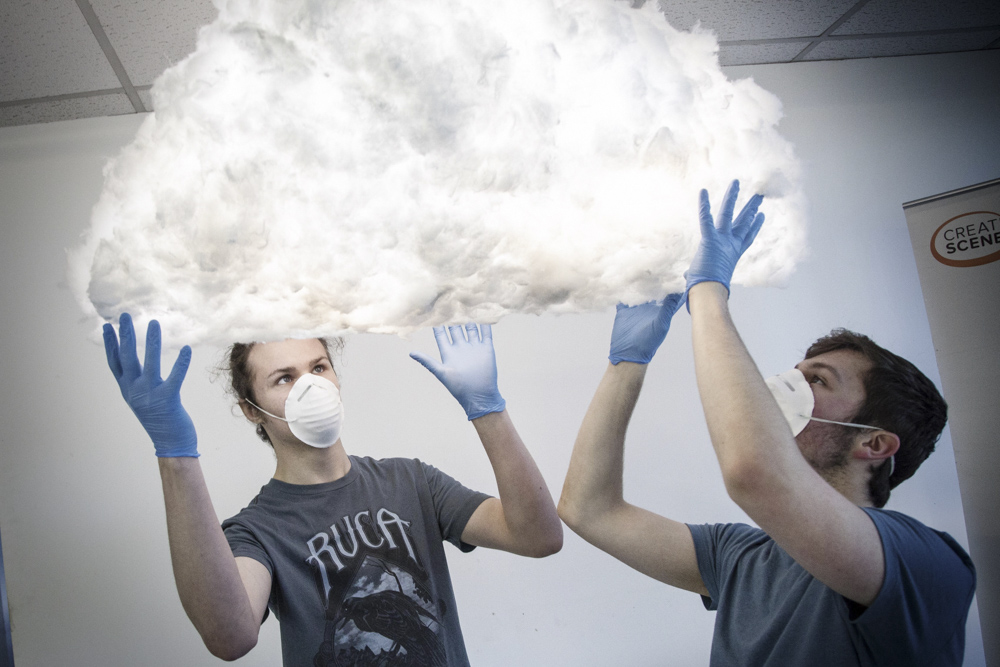 "Let's make one that's bigger than that one," says Tilen, pointing to the completed wire mesh cloud frames.
"Bigger than which one?" asks Donna. "The big one or the little one?"
"Bigger than the big one."
See the clouds – big and small – and much more at HeckmondLIGHT this Saturday, 25th November in Green Park, Heckmondwike, 5.00-8.00pm.