It's ten to six and the pies have arrived. "I don't mind trying them first," I say, standing over the steaming meat pie and liquified mushy peas, plate in hand.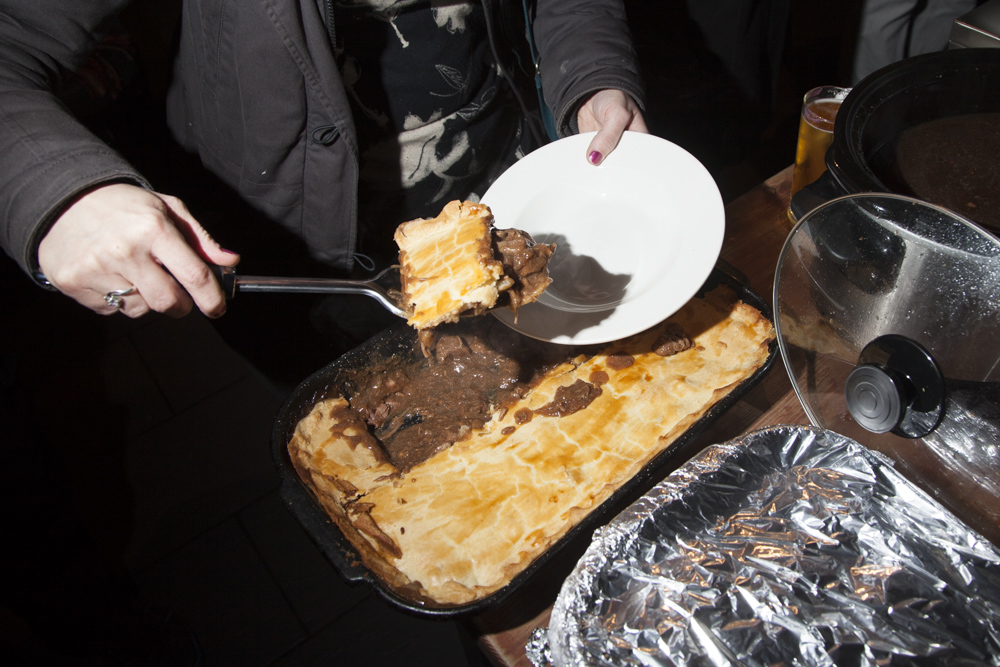 Tonight is the first of Creative Scene's The Social, a new series of networking-cum-inspiration events, bringing artists and creative and community leaders together from across Kirklees.
We've taken over the Old Turk pub on Wellington Road in Dewsbury – usually only open on the weekend – where Jimmy Fairhurst is tonight's 'turn'.
Jimmy's theatre company, Not Too Tame, are stalwarts of Creative Scene's pub tour circuit so he's in familiar surroundings. In between mouthfuls I ask him what he's got planned.
"I've been asked to talk about how we create the stories that we tell," he says "and I was going to show a few clips of our work but, just by chatting to people already this evening, I realise it's not about that. It's about getting people to relook at their own stories and empowering their own voices."
It's a packed house and there are lots of people I haven't seen before: a poet, a creator of carnivals, a painter and others who are keen to help make creative things happen in North Kirklees.
The evening kicks off with an 'ice breaker' involving a ball of string and our favourite literary characters. It is, after all, World Book Day.

Next up is visual artist Sarah Pennington who coordinates these events on behalf of Creative Scene.
"We want The Socials to be fun," says Sarah, "but we also want to provoke discussion and prompt new ideas. So we will really value your contribution." Everyone has been given a funky notebook to jot down their thoughts and questions.
"One of the reasons I started Not Too Tame is because I don't hear voices like mine anywhere," begins Jimmy as he takes to the floor. "Many people think their stories are not important enough to be told. But we know those voices are relevant and interesting. They matter."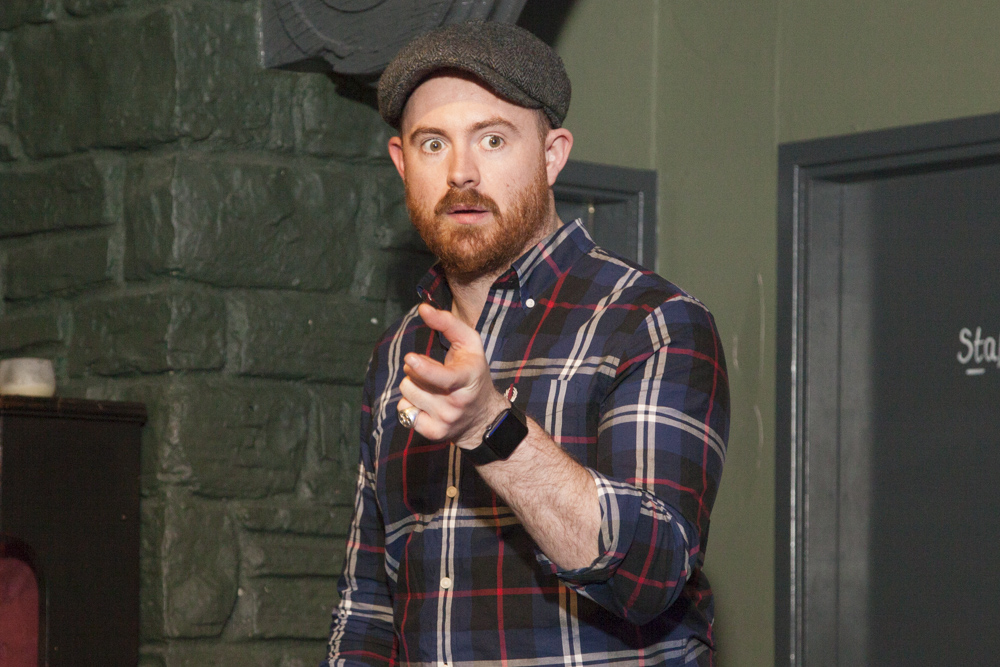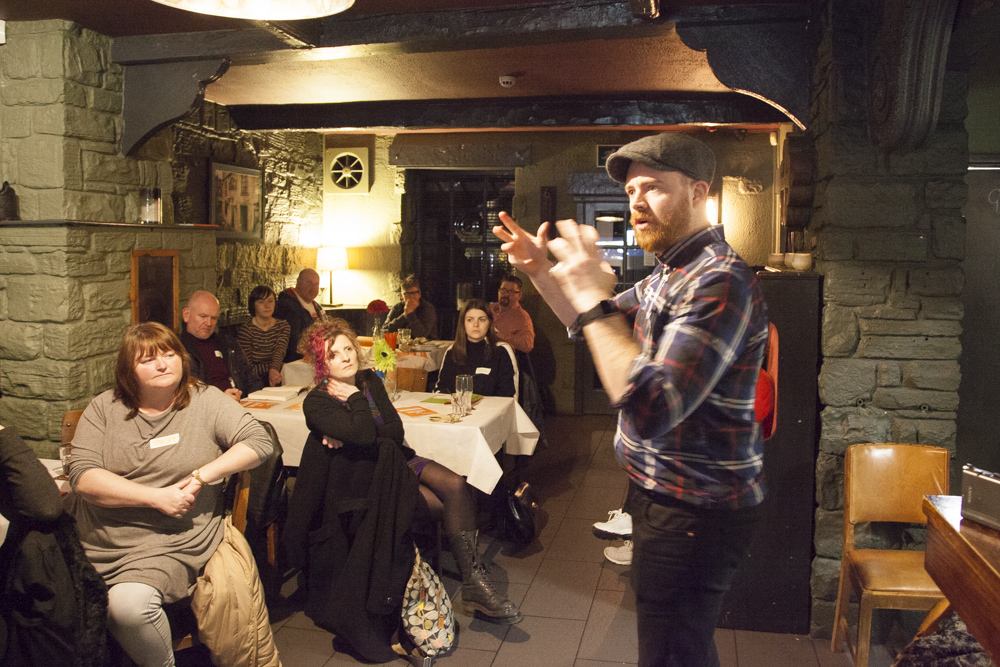 Jimmy's session is hands on. He's soon split everyone into pairs – "Did he say I was A or B?"– and we're telling each other personal stories prompted by some questions he's posed.
Soon the room is loud with intense chatter. There are tales of family history and of class… of achievement… ambition… and pride.
After five minutes Jimmy puts two fingers in his mouth and whistles the room to silence. "Now retell that story back to the person who's just told it," he says. This is speed-storytelling.
A feedback session gets us all thinking about what makes a good story. Does it have to be truthful or just make a connection? Surely something that resonates with the listener is all that matters?
During a break where local band Fie!Fie!Fie! sets up, I take my tape recorder from table to table.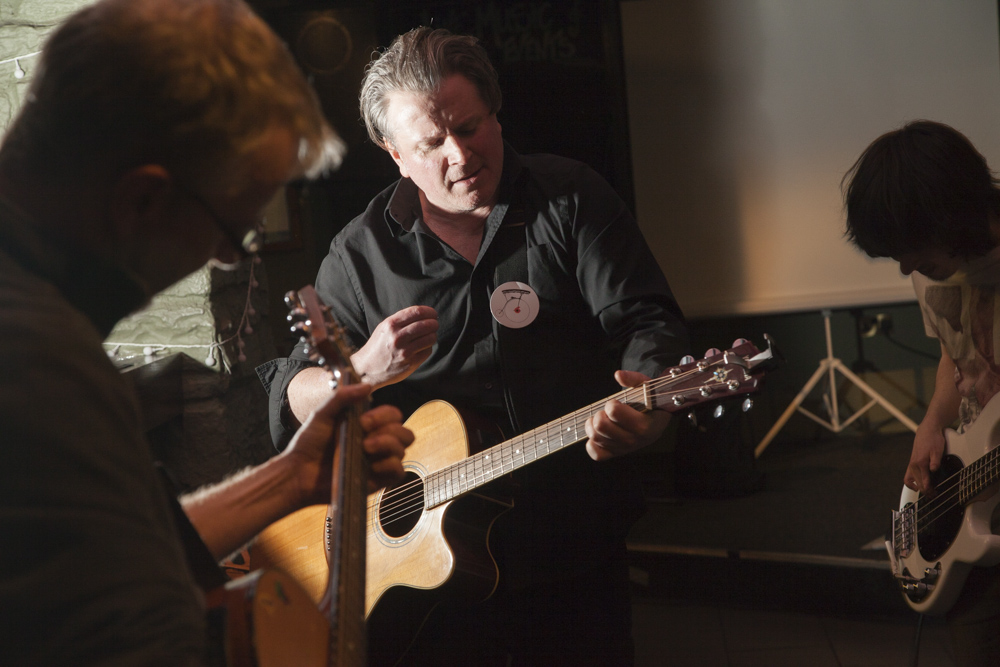 "Having seen Not Too Tame perform, it's good to hear their rationale," says Simon who's behind the annual Heckmondwike light festival.
"It's got parallels to what we do. To attract an arts festival audience nowadays you've got to have a story to tell that people can get behind and take ownership of. That kind of storytelling is important."
"I've enjoyed tonight," says newcomer poet, Jason. "It's been good to listen to Jimmy and talk to like-minded people."
"And storytelling is something you're familiar with?"
"Yes. I want to get back into long-form writing and tonight has given me some new ideas."
"It's been brilliant," says Donna, who I met volunteering at Batley Festival last year.
"I just clicked with Jimmy and everything he was saying. All of art is about telling a story isn't it? It's all about relating a good story."
The next Social is on Wednesday, 22nd March when visual artist Matt Worden hosts an evening of active looking and observational drawing. Email Creative Scene if you're interested in coming along.