"Last week they cried when they saw Father Christmas in Cleckheaton. They wouldn't go near him," says Susan, as she leads her triplet daughters out of the Maze of Curiosity. "Now at least they've spoken to him."
As part of the HeckmondLIGHT celebrations artist co-operative, 154 Collective have built a cardboard labyrinth of creativity, music and wonder in the old Market Hall.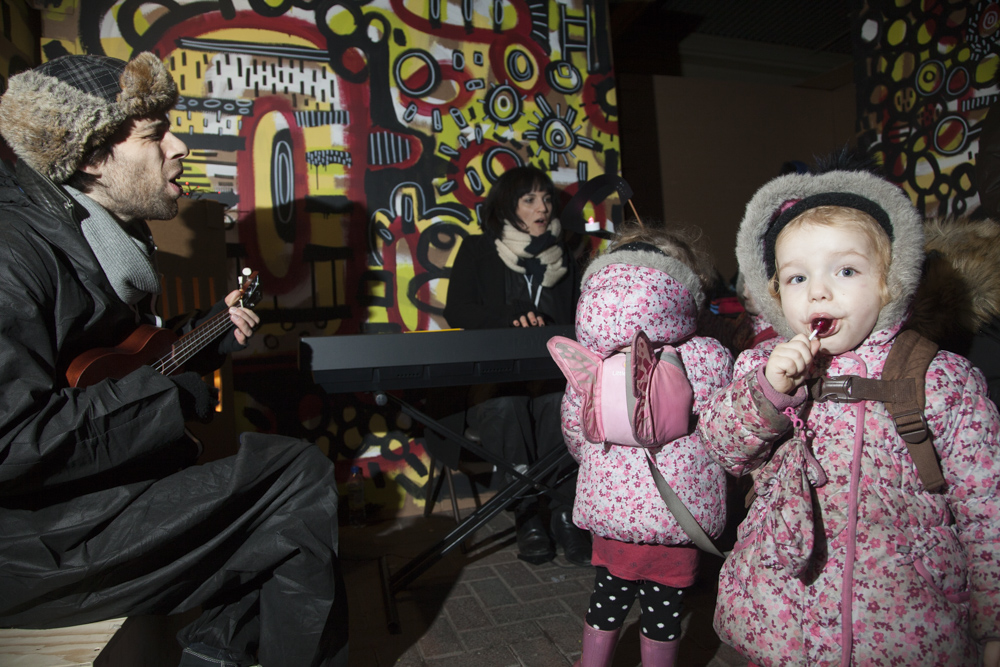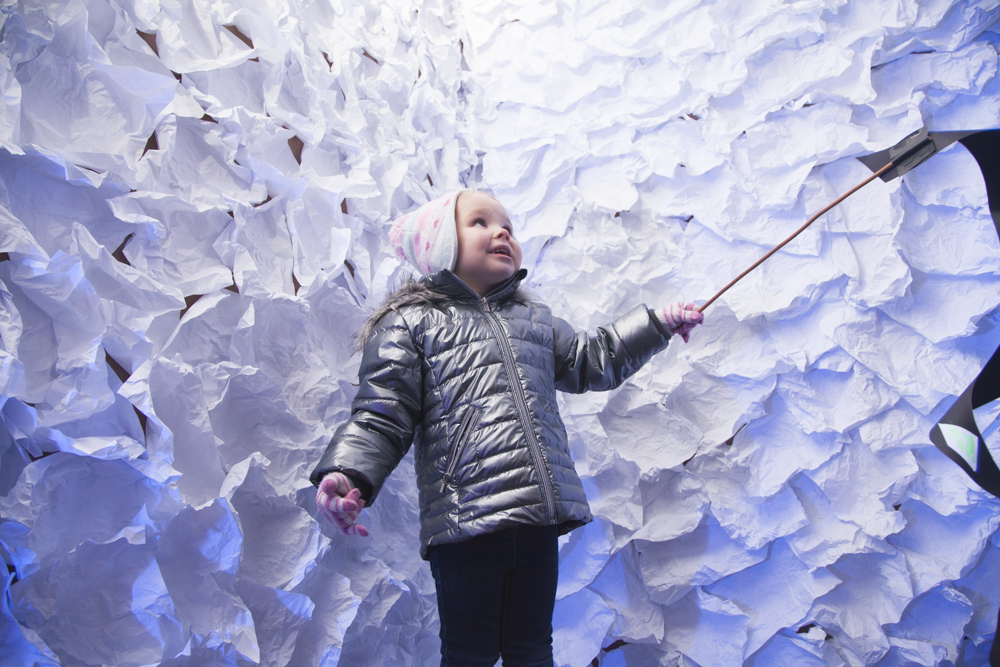 Young adventurers and their grown-ups are gawping, crawling and bopping before they get to see the big man with his sack of festive goodies. "What did you make of it?" I ask Susan.
"Those artists have done an amazing job," she says. "We didn't expect it to be this good."
With its 100-year tradition and billed as 'probably' the oldest Christmas lights event in the country, Heckmondwike's switch-on is a big event in the local calendar.
For the last three years Creative Scene has been working closely with the town's business community and in particular with festival director Simon Thirkill to make the event even better with art.
In Green Park Simon is fiddling with the connections to his Memory Boxes artwork before the stewards open the gates to the public. "The panels were going in the skip," he says, "so we grabbed them and made these boxes."
The illuminated cubes – Simon's first artwork for the festival – feature recordings from local people recounting their childhood recollections of the lights and their hopes for the future.
The gates open and a curious crowd wander into the park to be greeted by large paper lantern sculptures and the LED clouds made earlier this week.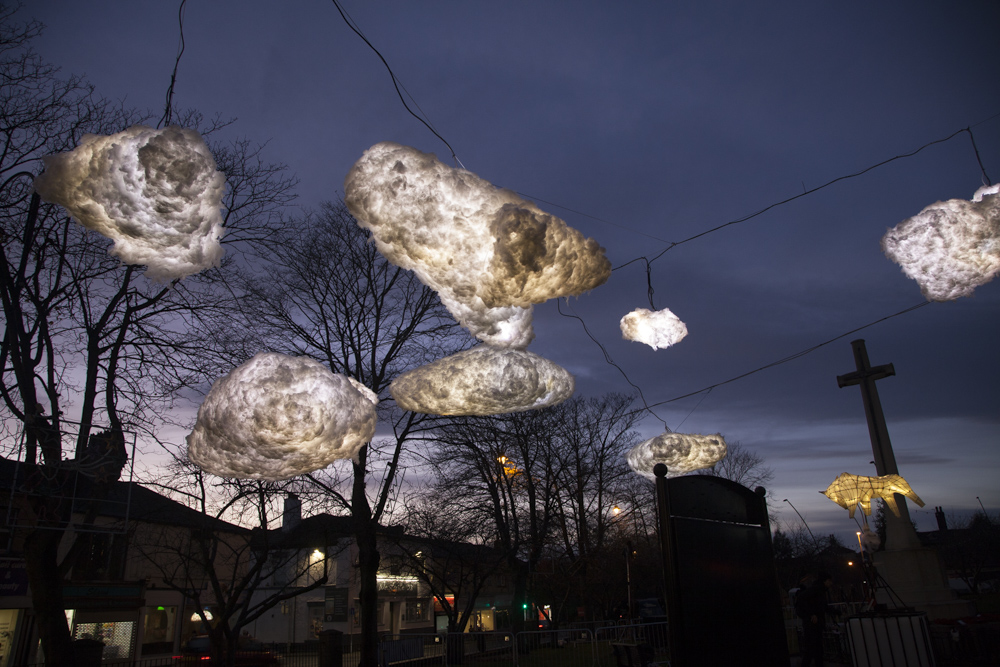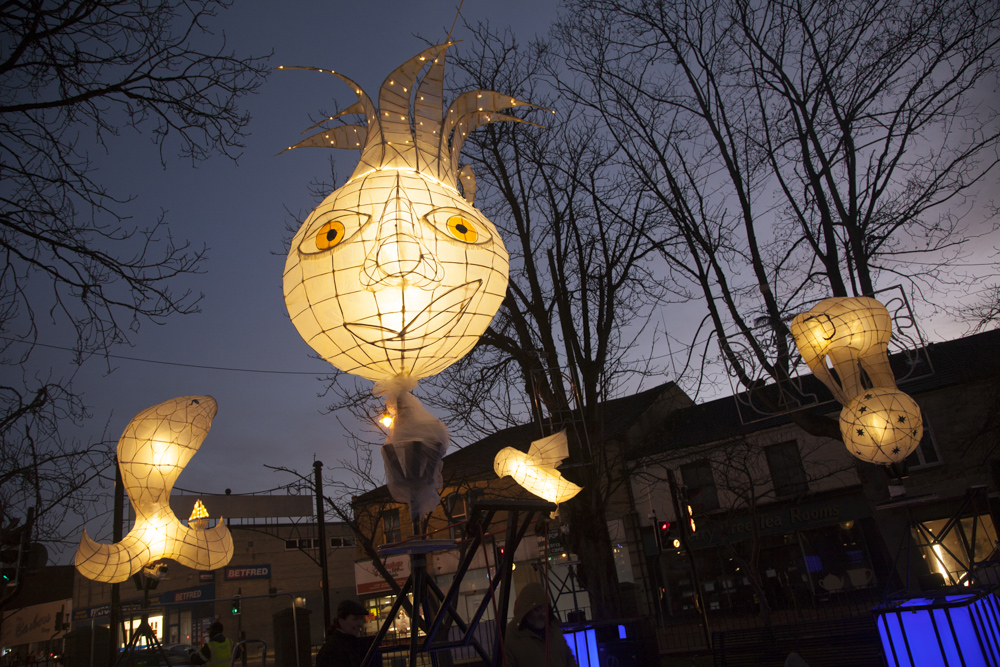 "I never thought I'd make a cloud," says Batley School of Art student Joe, with clipboard in hand. "Doing something 3D was very interesting for me because I normally draw. It was really informative and great fun.
I nod towards his clipboard. Joe and his college mate Cameron are amongst the 20-strong band of volunteers for the night. "We're going to be asking people about their experiences," he says.
"I'll come back later and see how you've got on."
In one corner of the park dance music is blaring from a Portaloo-converted human jukebox. In another the Peace Artistes street band is assembling, resplendent in twinkly outfits to match the occasion.
"Crickey, how many are you?" I ask as players emerge from every direction.
"Today there's about 18 of us," says a clarinettist, "sometimes we have even more."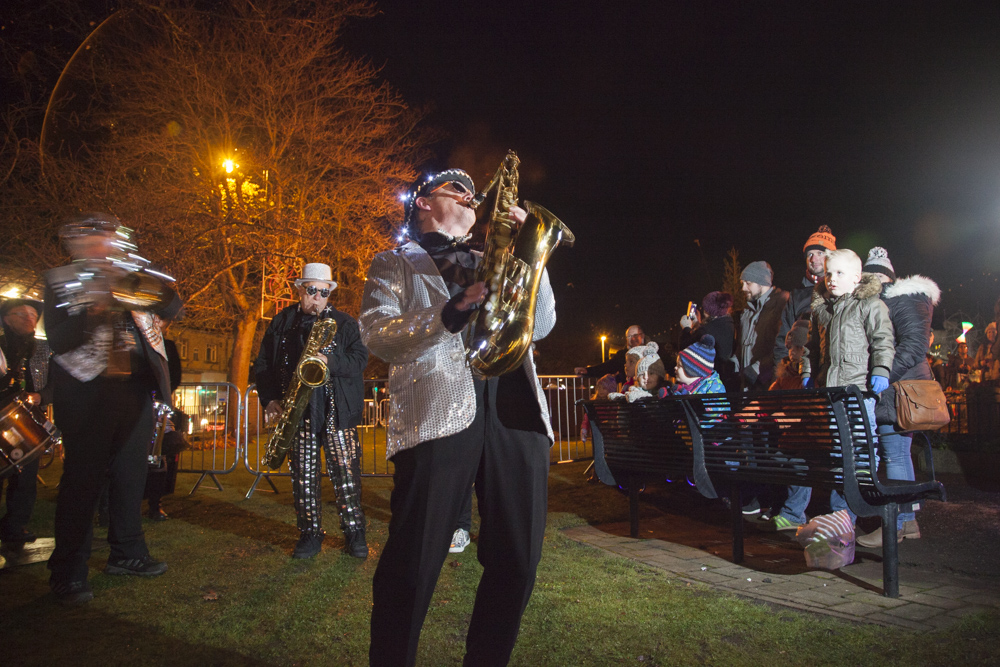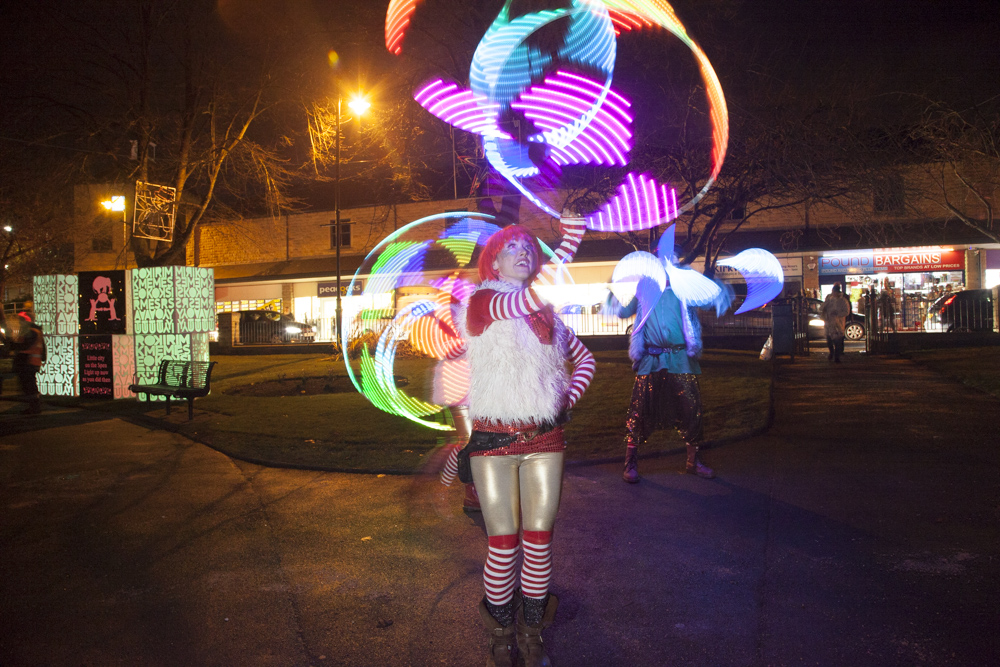 Schoolmates Byron and Tom warm themselves near the huge propane gas flames that intermittently light up the whole park and everyone in it. "It's always been a family tradition coming down to see the switch-on," says Byron. "This year it's brilliant."
"We saw them putting up the clouds on our way back from school yesterday," says Tom.
"They'll be staying up until the end of the year," I tell them. The boys nod their approval as enthusiastically as any 14-year-olds can.
A small crowd is gathered around Simon's Memory Boxes. "When I was nine I'd walk from Gomersal with my friends," they hear one voice say, "just to look at the lights."
"Dad would take us down to see them," says another, "it meant Christmas was nearly here."
Across the road, in the Blue Moon Café, Creative Scene's director Nancy is welcoming supporters with hot toddies and mince pies.
"It's been a real joy over the last three years to be working with Simon and the Heckmondwike Community Alliance and a fantastic team of artists and volunteers," she says, as the room quietens, "we've had the pleasure of helping to create a community event that, as you can see, is buzzing.
"Don't forget to have a look at the Frontier Light in the bandstand that will soon be revealed. It's from the original Batley Variety Club and has been salvaged and restored by Simon and Anthony, and brought back to life for HeckmondLIGHT this year."
"I've had the most riotous time for these last three years," declares Simon after Nancy has thanked artists, volunteers and sponsors, "and that has been down to Creative Scene. They've facilitated me with the tools I've needed but most of all they've given me the confidence to go out there and do it.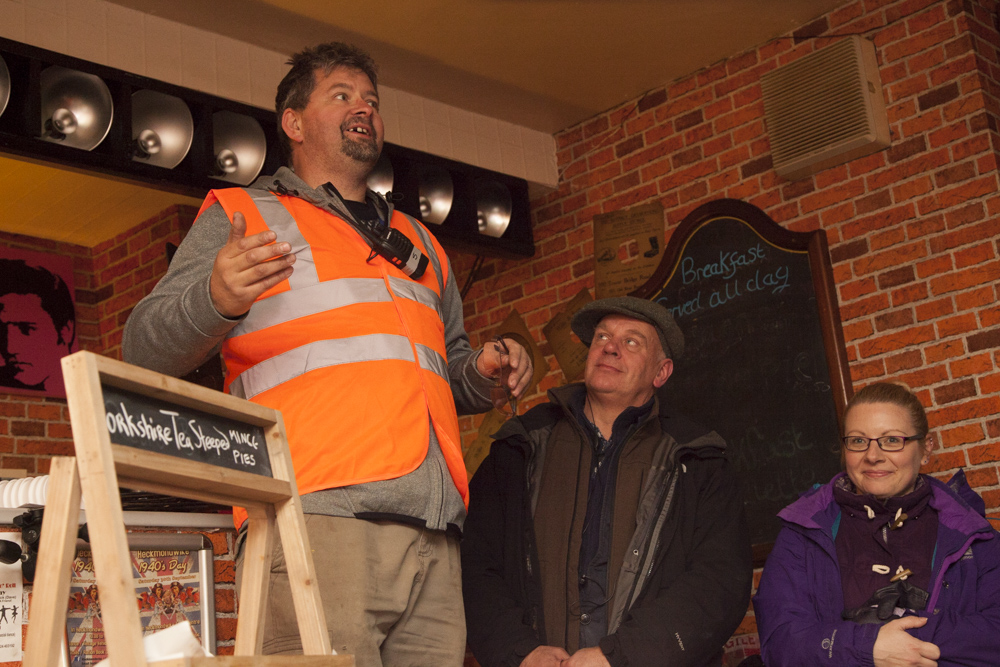 "The community is gathering behind us and the benefits for community cohesion are absolutely fantastic. We're empowering people and they don't even know it. Thank you to you all. It's been a riot. Give yourselves a round of applause."
On my way back into the park, I catch up with volunteers Joe and Cameron. "What sort of feedback have you been getting?" I ask.
"All positive," says Cameron, checking his clipboard. "Either good or extremely good."
"You don't normally see this sort of event any more, do you?" says Joe. "This is all community-based. It's really good."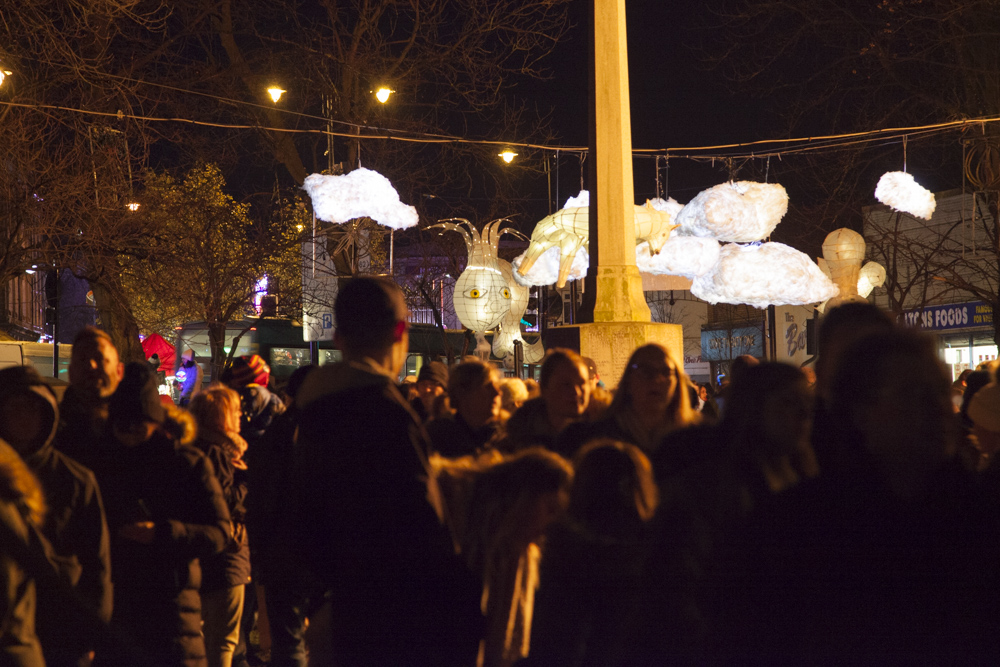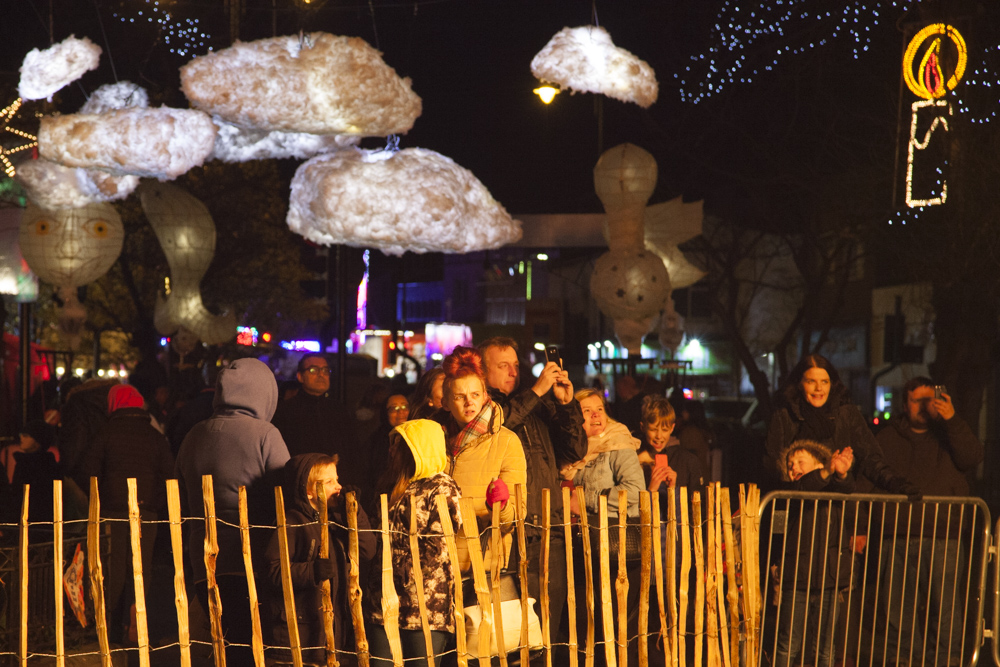 A huge crowd has gathered now. It's the countdown for the lights switch-on and tonight's special guest, 'Gus Mantle', clambers up to the podium. "Do you believe in spirits?" he says. "Do you believe in ghosts? Well, you're looking at one here."
'Gus' – the ghost of illuminations-past – recites a specially-commissioned tongue-in-cheek story recounting the town's illumination history before revealing the pulsating Frontier Light to a fanfare from the Peace Artiste band.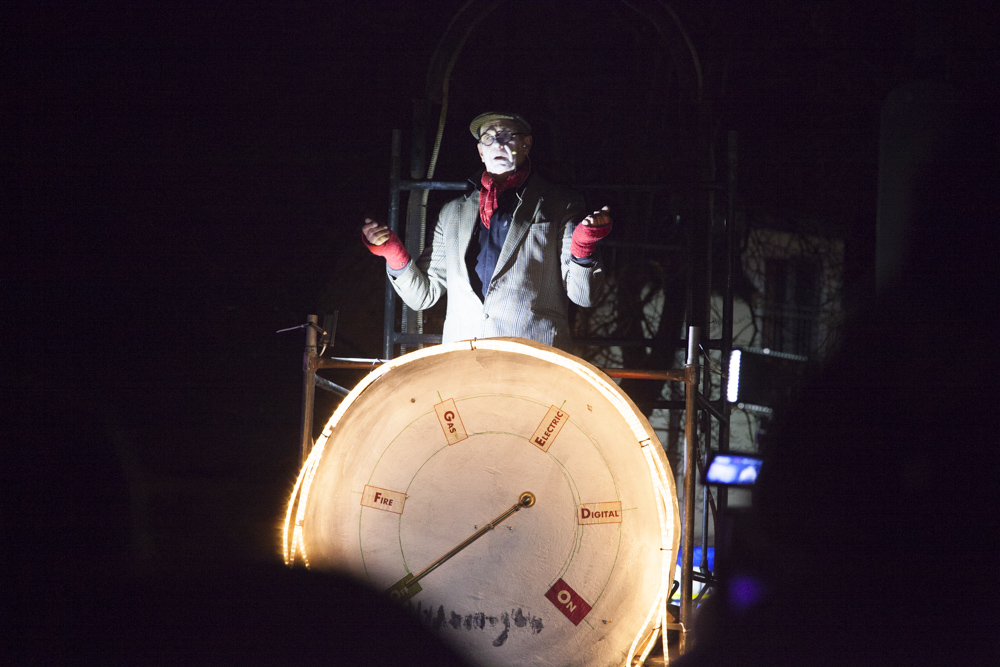 Next, with blow torch in hand, he encourages the crowd: "Ten, nine, eight…" and lights the countdown fuse.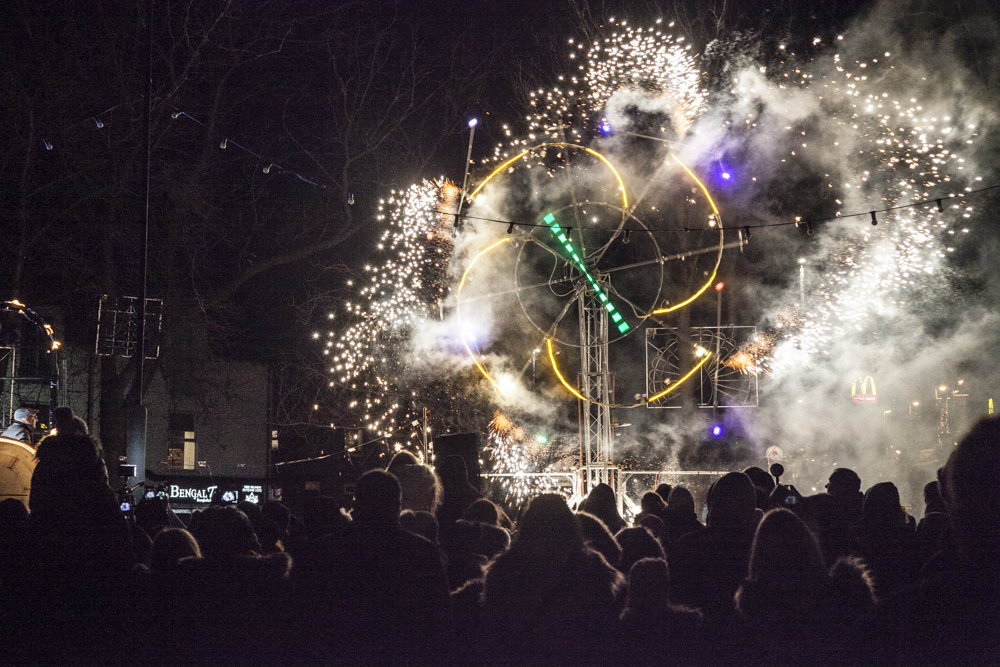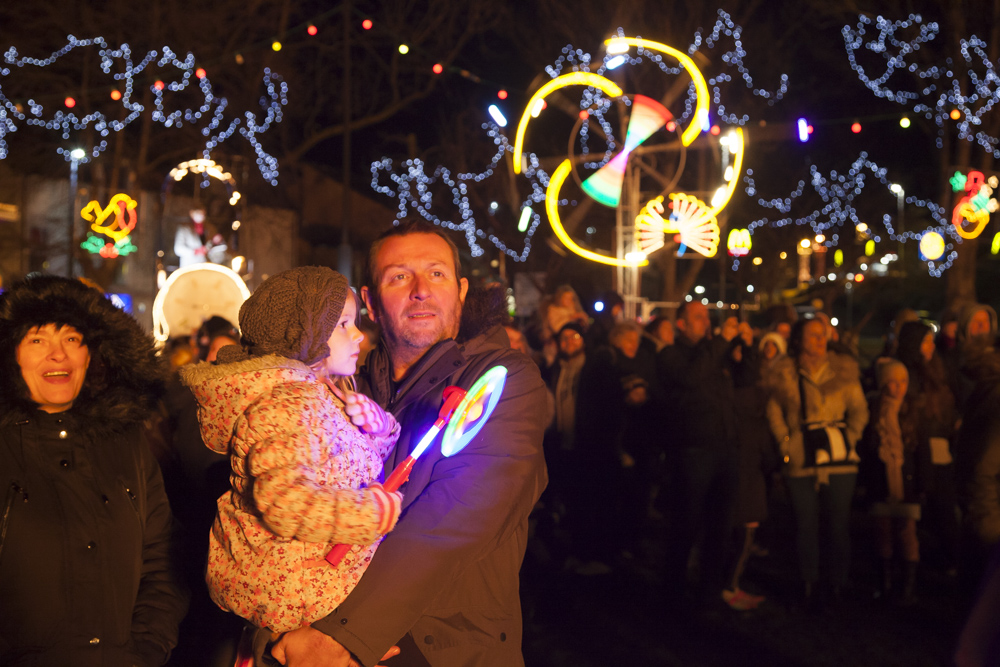 Fireworks fizz and cackle as the now famous Momentum Wheel of Light begins to spin faster and faster. And with a collective 'aahh' the park lights up, and this West Yorkshire town's illumination tradition continues for another year, another generation.