"Have you done anything like this before?" I ask Iris.
"No, never," she says, continuing to cut holes in the material.
"But you'd like to do more, wouldn't you?" says her mum Joanne.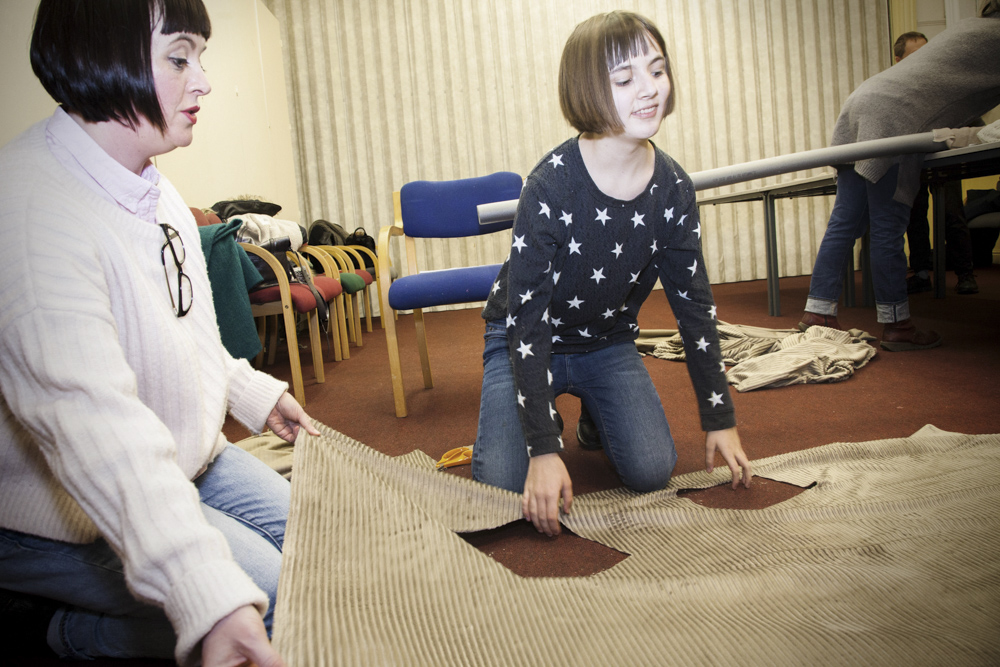 I've come to document the creation of the second 'Weeping Sister' for the Holocaust Memorial Day commemoration in a couple of weeks time. This 'Sister' – another giant carnival-type figure –  is based on a Jewish woman from the Lublin Ghetto.
Her sibling is being made by members of the Bosnian community over in Batley. Tonight we're at the Howlands community centre in Dewsbury where Iris and Joanne are mucking in with Neil from the 6 million+ charity and Creative Scene's Parveen, all under the supportive eye of costume designer Naomi.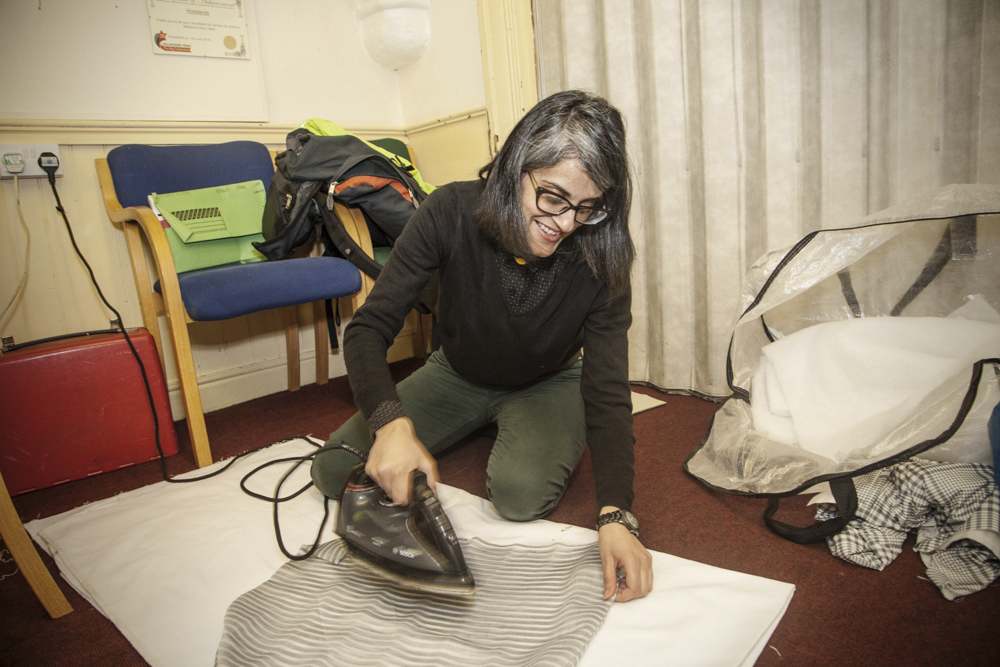 "We normally have more here," Parveen explains kneeling on the floor, ironing, "I think the threat of the snow has put people off this evening.
"We've finished the papier mâché hands and face," she says, "and last week we chose the fabrics. So tonight we're starting on the construction. This is going to be her apron."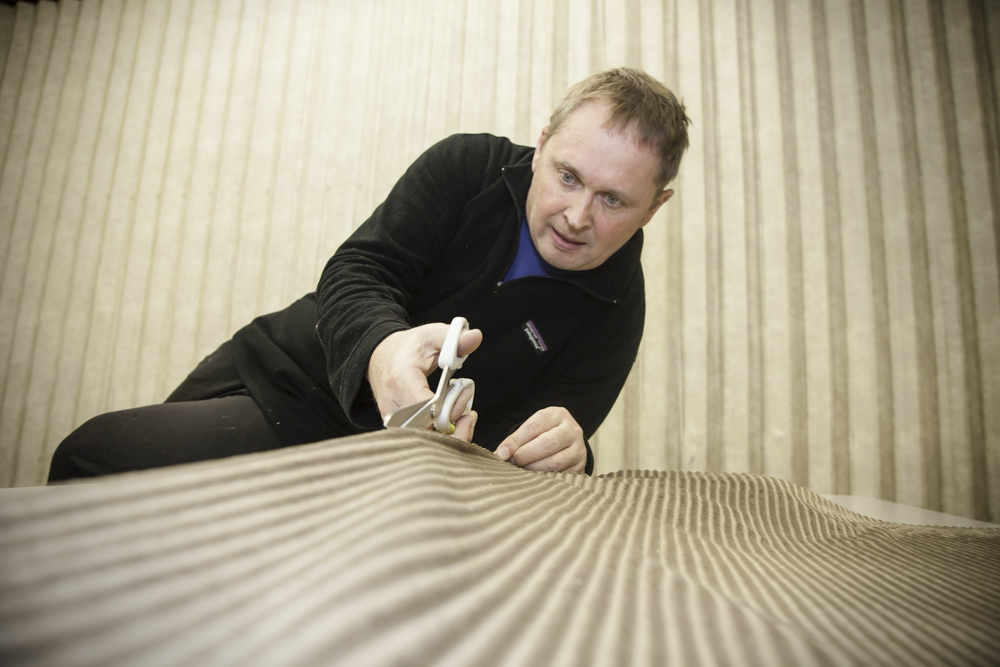 Like the Bosnian 'Sister', Naomi has lots of photographic references and has sketched out a design. "When the ghettos were first created people looked quite smart," she explains, tapping one photograph and then another, "but, many months later, before they were deported to the camps, their clothes had pretty much disintegrated."
"The contrast between the two is really quite stark and emotional," says Parveen. "Towards the end the figures all have lifeless eyes and look like skeletons – they don't know what's ahead of them – it's really quite haunting."
"Our figure will have an overcoat, a blouse and a long skirt," says Naomi, "She would have been cold so there are lots of layers. And remember the wind has to pass through it…"
"So it's not like a sail?" I say, referring to last week's discussion.
"Yes, so we've cut holes in the overcoat and covered them with a netting and disguised that with patches of fabric."
Joanne and her 14-year-old daughter are placing squares of fabric around each hole. "It might be nice to lay out those squares more randomly," suggests Naomi.
"All higgledy piggledy?" says Iris.
"Exactly."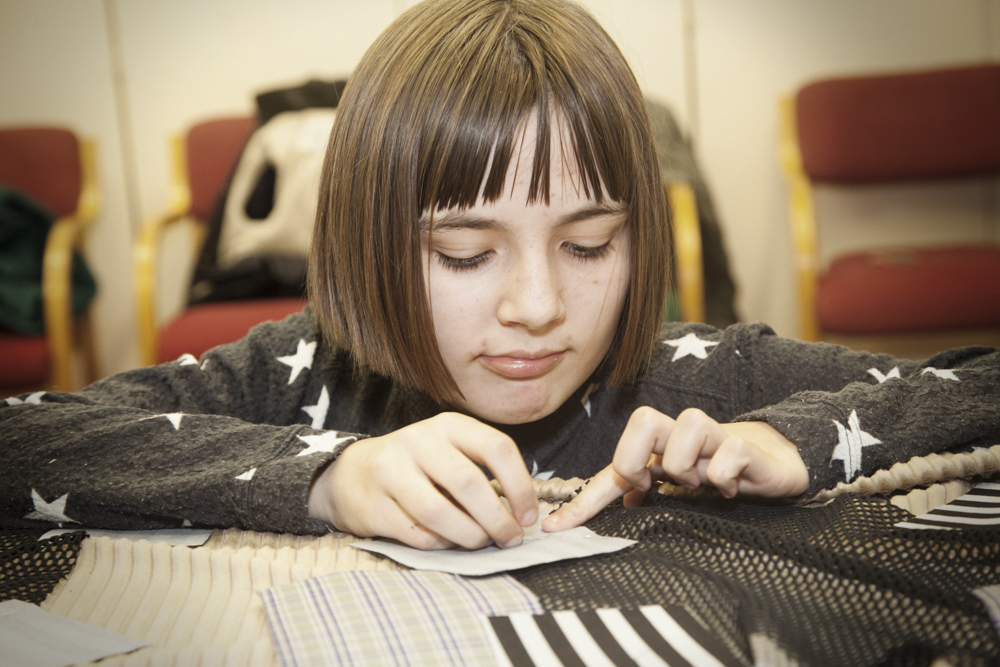 "Have you learnt anything new about the Holocaust, from doing this project?" I ask no one in particular.
"When you think about the Holocaust you obviously think about Germany, don't you?" says Joanne. "But being involved in this has made me realise that atrocities are still going on. It makes you think, doesn't it?"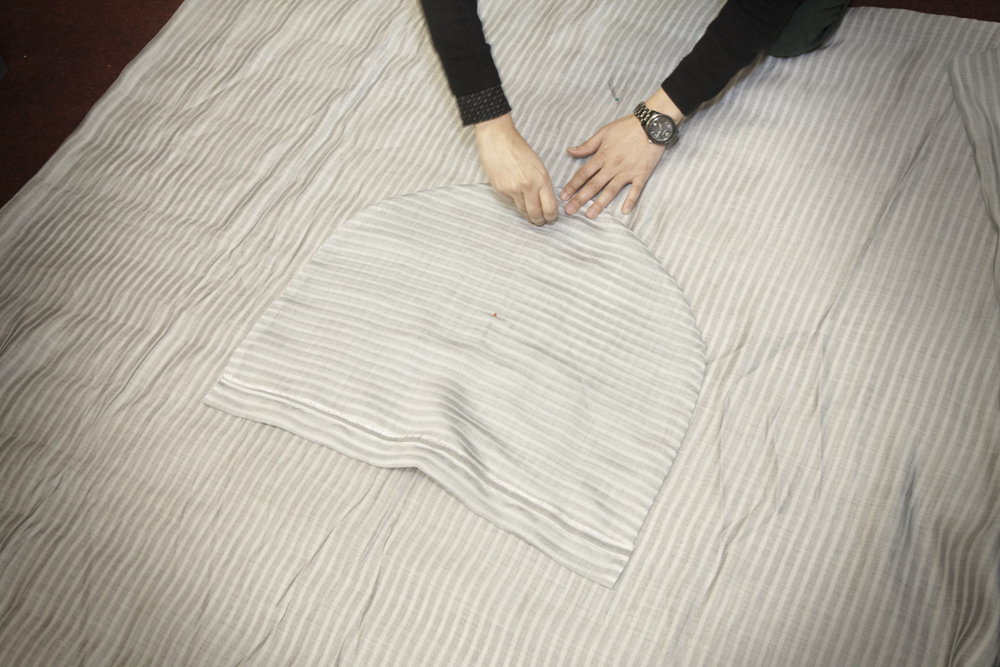 "We haven't got much better at tolerating difference," says Parveen as she lays out the giant apron. "Even in this country, there is still discrimination against people who are different. When I think of some attitudes towards refugees and people who are not like us, we really haven't learnt anything."
Joanne and Iris are now sewing netting to the holes in the overcoat. "It's like nailing jelly to a wall," says Joanne.
"On the night we'll need volunteers to carry the figure through Huddersfield, would you be up for it?" he asks Joanne.
"I could do a hand," says Joanne, "if no one else wants to."
"You could do the other hand," I suggest to Iris, "or you could do one between you."
"That would be nice," Joanne says to her daughter, "we could do one together."
The Weeping Sisters, accompanied by a 'mournful' samba band, will process through Huddersfield on Thursday, 26th January ahead of the Holocaust Memorial Day commemoration at the University from 7.15pm. The procession starts at the Bus Station at 6.20pm.