"It's Dewsbury-on-Sea tomorrow," I hear one bloke say to his mate as we step onto platform one. And, as if to confirm, there's a trail of those vinyl pavement stickers outside the station promoting the annual town centre celebration.
The team at Creative Scene have needed little encouragement to metaphorically don their bathing suits and organise a number of activities for the big event. Today I'm looking in on SceneMaker Ashleigh who's helping with the final preparations for an ambitious installation and performance involving three garden sheds-cum-beach huts.
"We've been working with Connect Housing," says SceneMaker Co-ordinator, Ruth as she leads me to the new offices of the local social housing provider. "They've been keen to entice clients into their new community space with some arts activities, and Creative Scene has reached a whole set of new people."
Over the past two weeks a couple of meeting rooms have hosted a series of workshops for both Connect's more vulnerable clients – domestic violence victims and mental health sufferers –  as well as for the general public.
Inside I meet Nuala Reilly, Community Networker for Connect. "It's been great to have such high quality workshops for our service users," she says, "and many have come back for the drop-in sessions.
"One young woman commented that she'd normally be stuck in her out of town hostel but said she'd really come out of herself this last week. It's been a big win for us."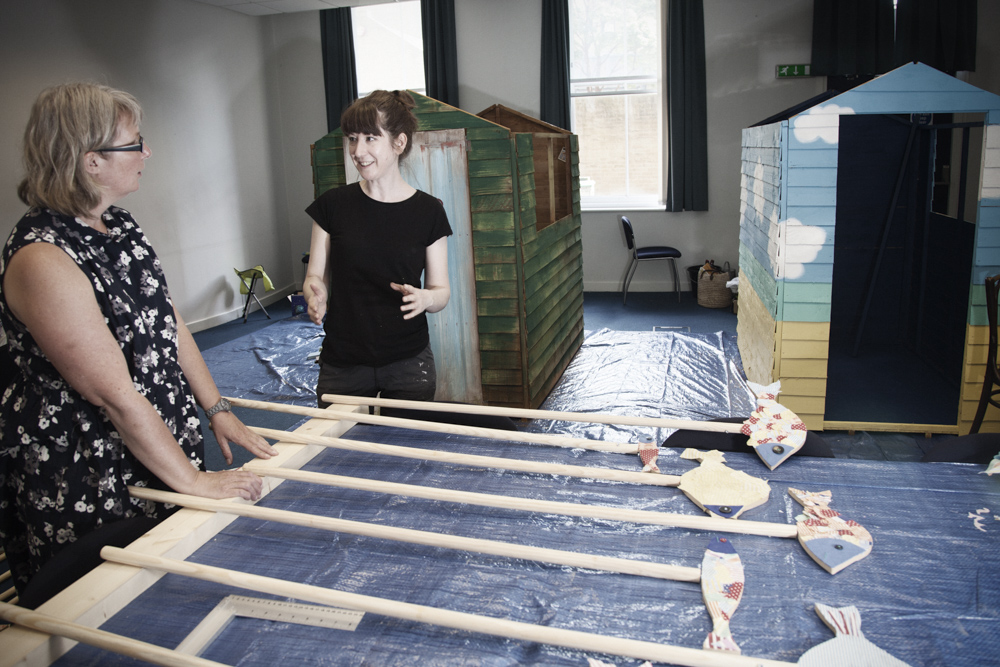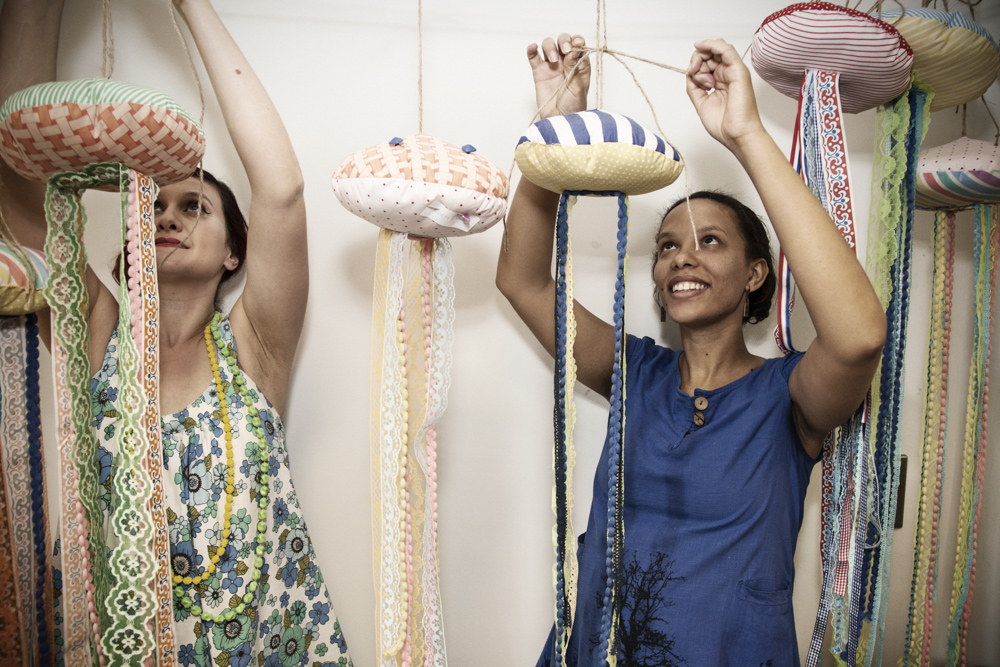 In the middle of one of the rooms, amidst an aura of quiet panic, scenic painter Kate is adding finishing touches to the three beach huts. One apparently 'belongs' to a reclusive beachcomber; the second is the venue for a Ibiza-style disco and the third is a 'home sweet home' hut painted in pastel colours and furnished with fabric fish.
Tomorrow they will be installed in a nearby shopping arcade and become the set of a short play inspired and performed by the workshop participants.
It's all been coordinated by the wonderful Chol Theatre people who have teased stories out of Dewsbury folk about making journeys and about what 'home' means to them.
"And what have people been telling you?" I ask Vicky who's pulled the script together. "Give me a couple of examples."
"One guy sticks in my mind," she recalls. "He says he feels as if he's got an elastic band attached to Dewsbury. He often goes away but is always drawn back to the town he likes.
"And then there's 87-year-old Barbara whose grown-up children live all over the world. She says when she comes home it's always a little strange until, that is, you've brewed yourself a cuppa."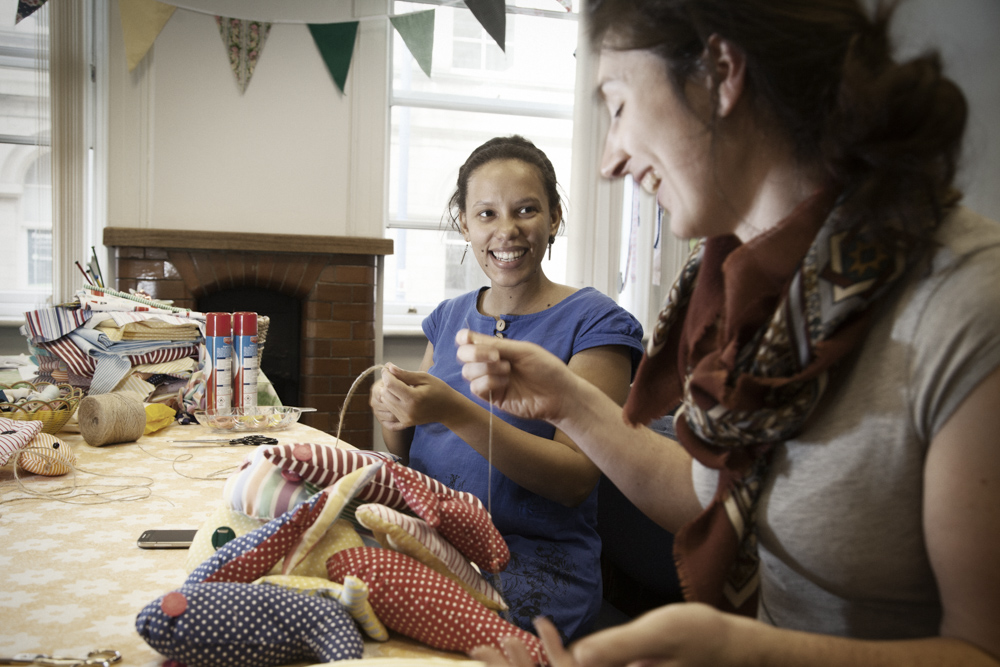 "What have you made of it?" I ask Ashleigh who I find sewing a tentacle onto a jellyfish.
"I think the people of Dewsbury are more willing to do things than we realise," she says. "I've heard that local people are very practical and not interested in 'arty' things. But that's not what we've found.
"Even those who've never done embroidery or sewing before have attempted it, they've had a go. And it's been adults as well as children, I've been struck by that."
Although here as a volunteer, everyone says SceneMaker Ashleigh has been a crucial member of the team. She's been working with textile artist Gemma who – she tells me as she irons colourful bunting – uses art to connect with people from all walks of life.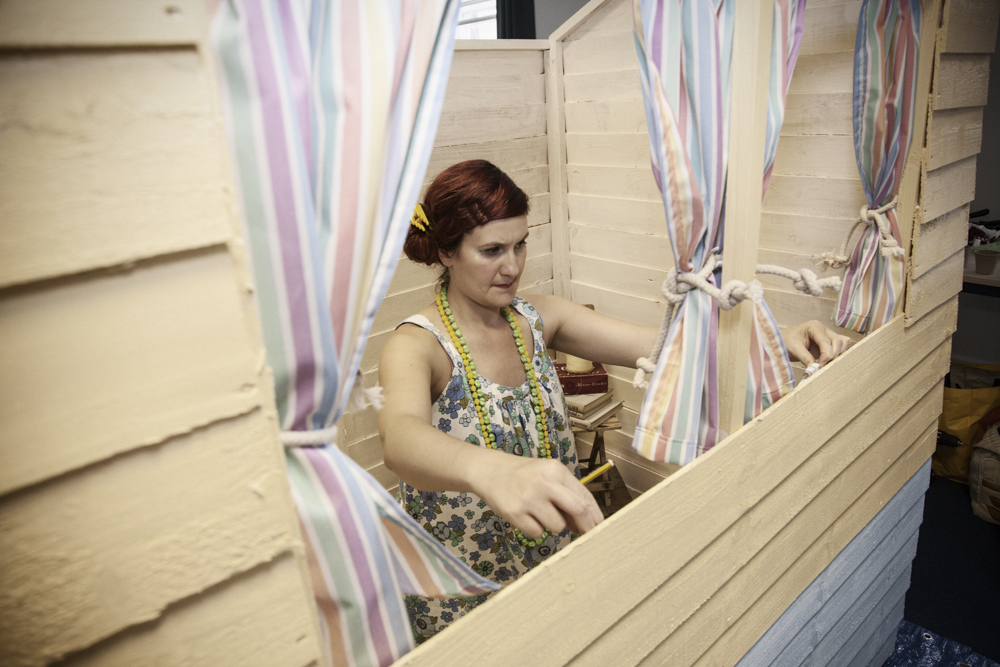 "The power of art to engage with people is far beyond what you expect and you see the results straight away," says Gemma. "Everyone is really excited about tomorrow, they're really proud of what they've achieved."
"What time in the morning?" I ask above the whir of a cordless drill.
"Dress rehearsal outside WH Smith at 10.30," someone shouts.