Continued from "We have stepped into their shoes."
"I remember it was 11 o'clock at night when the bombing started, it was so dark. I was nine years old. We ran to our neighbours' cellar. Their son was a chemistry student. 'You mustn't go in the cellar,' he said, 'the gas is sinking. It's heavier than the air. Come outside with us.'"
This is the first time Iraqi Kurd, Fatima has heard her words replayed by SceneMaker Gayna. It's compelling stuff and the 100-strong audience is captivated.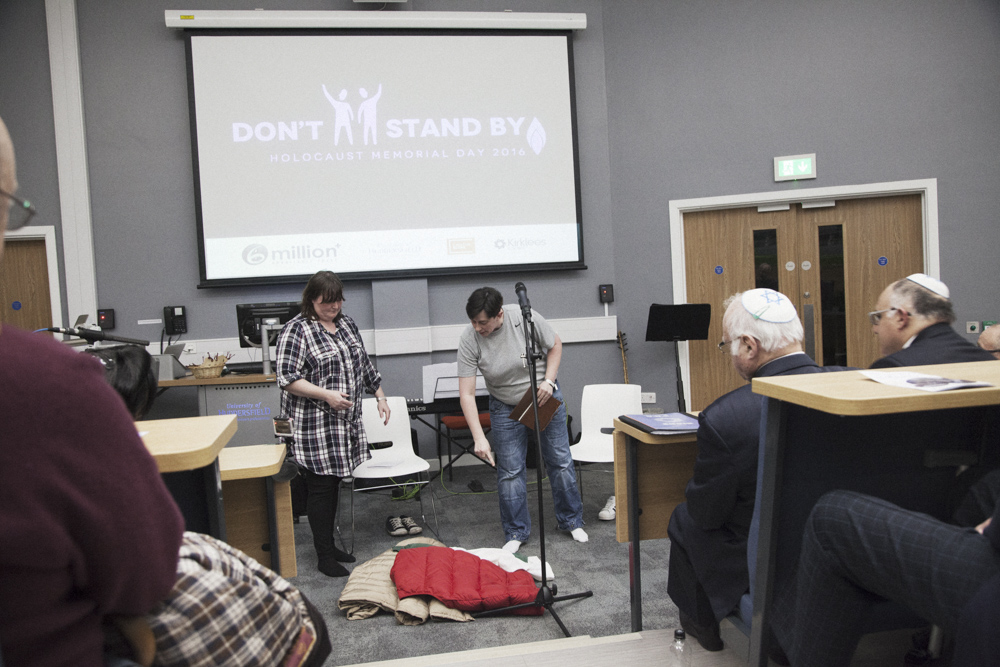 Gayna and Tracey-with-an-e have been working on Put Yourself in My Shoes for the last couple of months. Tonight we're at Huddersfield University for the 2016 commemoration for Holocaust Memorial Day.
Although centred on Nazi atrocities, the day's events also shed light on other genocides since. Fatima's personal recollection of Saddam Hussein's 1988 attempted annihilation of the Kurdish people in Halabja brings the horror right into this room.
Moments earlier Tracey had set the scene: "We've been interviewing people in the community and turning those interviews into stories to share with our audience.
"Before this I didn't know anything about Kurdish people. If anyone had asked me what I knew about Kurds, I would have said, I like curd tart." It's the only joke in the performance and there's tentative laughter.
[Note for non-locals: lacking the export profile of Cornish pasties or Eccles cakes, Yorkshire curd tart is a baked cheesecake delicacy based on curd cheese].
An hour or so earlier the actors and I met with their subjects, Delshad and Fatima, and the Creative Scene team in a local pub. It was an opportunity for some informal evaluation.
"I'm glad we did the preview last week," Gayna had said. "It was all too bitty until then. But afterwards it felt as if we really had something."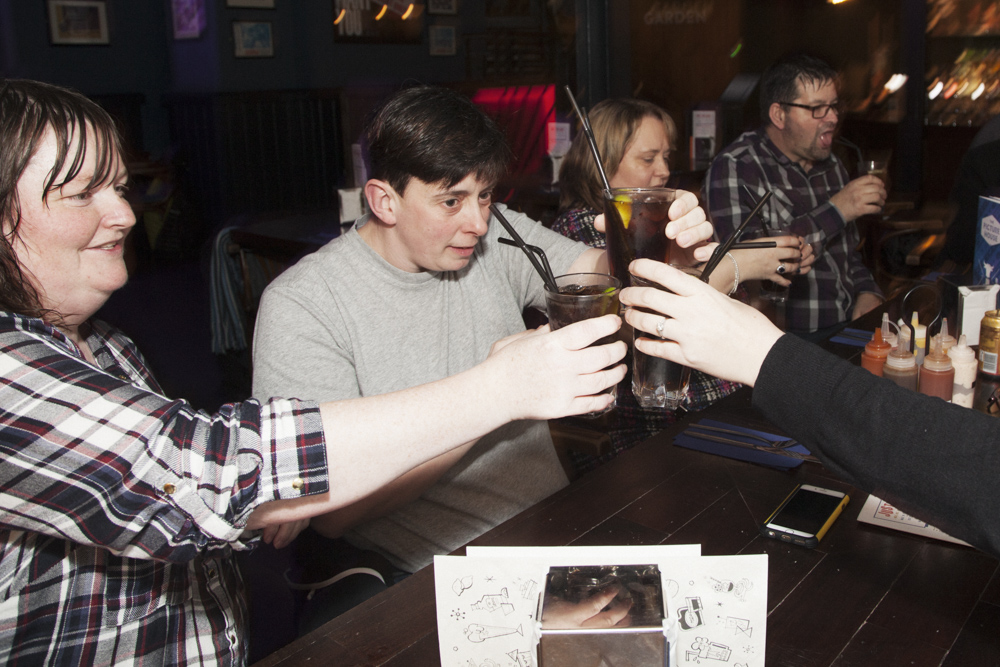 Turning to Rebecca, the Creative Scene producer who's thrown Gayna and Tracey in the deep end, "Has this project done what you've wanted?" I ask.
"They've both found it incredibly interesting and yet, at times, completely terrifying," she said as Gayna and Tracey nodded in agreement. "It's been a totally different way of working for them both.
"For us, it's been a taster to see how we could bring the amateur and professional sectors" –  she means theatre director Anthony Haddon – "together to create a entirely new piece. In that respect, it's been very successful."
"What would you have done differently?" I asked Gayna.
"Started much earlier," she said. "At times it has felt extremely rushed. And it would have been useful to have interviewed our subjects more than once."
As well as this production Gayna's been busy with her Dewsbury Collegians group. A couple of weeks ago she was stage managing Babes in the Wood. "And next week we're doing Aladdin with a flying carpet and a real life-size elephant," she said to some bemusement, "which is being delivered today and will need mucking out tomorrow."
Gayna and Tracey's piece goes down well with the multicultural audience and is followed by a Hebrew Choir singing about bringing an end to war.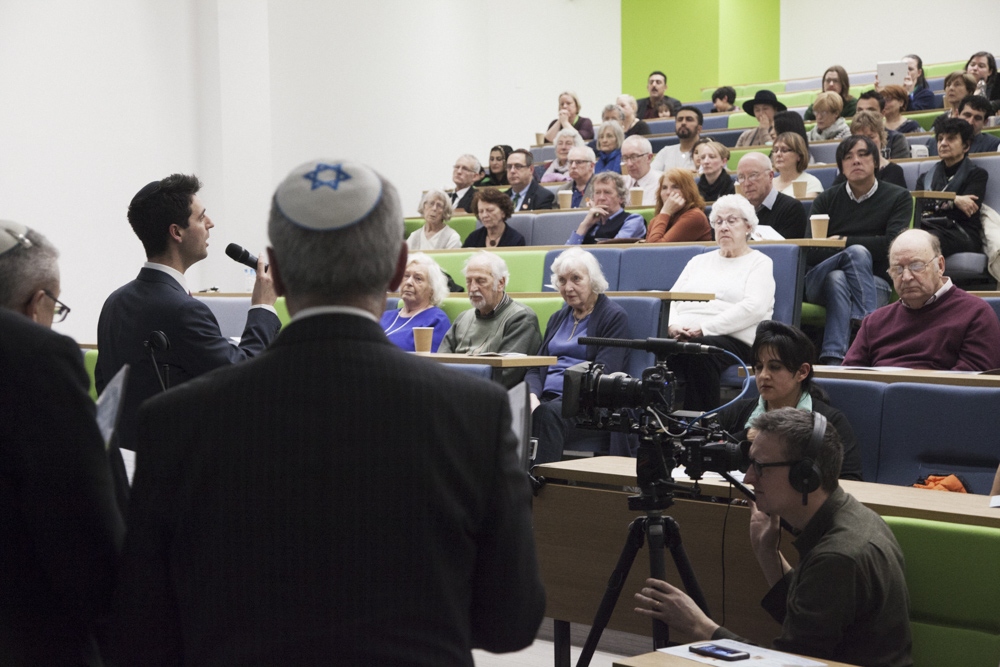 As the formalities close and after Fatima and Gayna have lit a remembrance candle together, there's some hilarity as the actors and their subjects are presented with curd tarts, wrapped in the Kurdish national colours.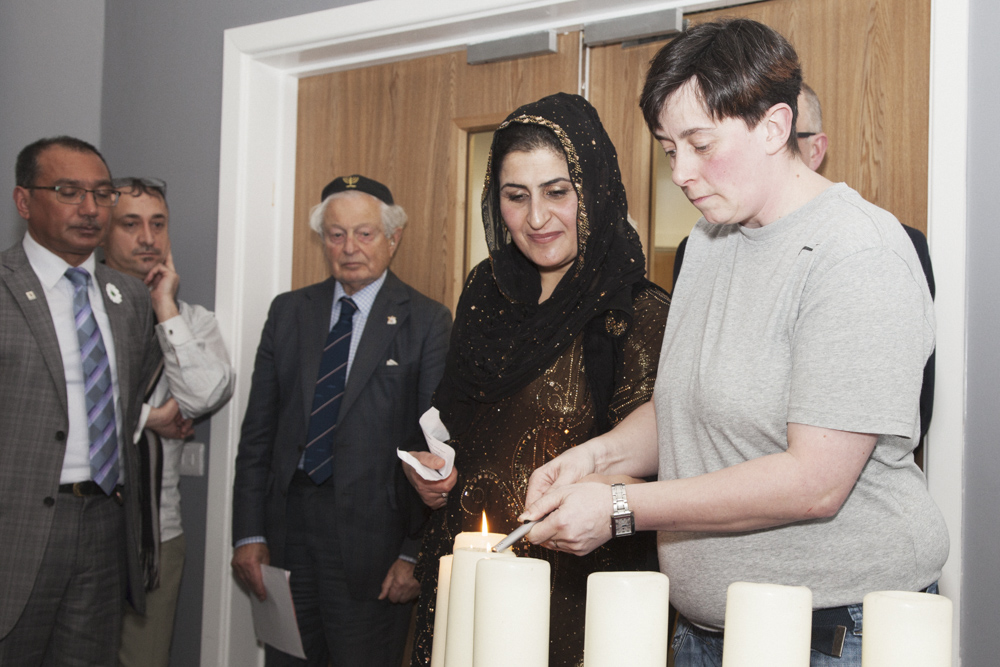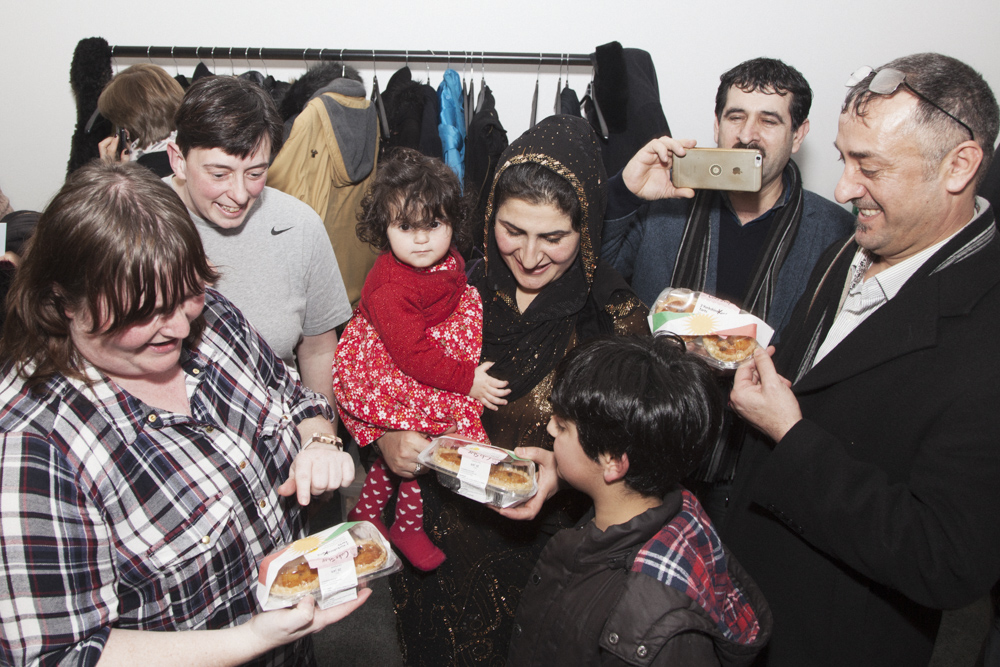 I put my tape recorder in front of Fatima, who is here with her husband and three children. The eldest is just nine, the same age as her when her community was gassed. "What was it like, listening to your own story?"
"It was really nice," she says, "sometimes quite emotional. When you're in the middle of times like those, you don't realise how hard they are. But when you hear someone else saying those words… it brings it all back.
"It was really well done, I can't thank them enough."