It's been a rollercoaster couple of weeks for Batley Community Choir. Ten days ago they hosted their first-ever concert at Batley Town Hall and had invited their local MP to attend.
"Unfortunately she was double booked but instead sent us a bottle of parliamentary wine for the raffle," says founder member Graeme Rayner ahead of tonight's rehearsal.
"And then last Thursday happened. While we were all reeling, we got a message on Friday morning from the producers of Channel Four's The Last Leg asking if we could get the choir down to London by 4pm to pay tribute to Jo Cox."
"That's a big ask," I say as I help him set out the chairs.
"I suggested they come up here – Batley is Jo's home town after all – and they could film us singing in the church, which they did. It was a strange day. We were still trying to process the dreadful news but also prepare for a performance on national TV. Very surreal.
"But we did it – we sang The Rose [hear it here] – and we've had nothing but positive feedback since. Now, three days later, we're rehearsing again for Cleckheaton Folk Festival, trying to get a bit of normality back."
Tonight is the second rehearsal with singer Bryony Griffith from The Demon Barbers, the hip-hop and folk band that the choir will perform with at Cleckheaton Town Hall on Saturday, 2nd July. The choir is just one of half a dozen community music and dance groups that will share the stage for a 'curtain-raising crowd-pleaser'.
I ask regular choir leader Gary how it's been going. "Bryony is fantastic," he says, "she led last week's rehearsal with a good deal of vim and vigour. We rehearsed at a pace we're not used to… it was very quick. And, of course, it's a different style of music.'
"So, you're out of your comfort zone again?" It wasn't that long ago I reported on the choir becoming opera singers.
"Yes. Perhaps not quite as much as opera… and at least for this we can stand still! The choir is enjoying singing with a normal voice – in their normal accent – which is different from the unity of vowels I encourage for choral singing. With folk that goes out of the window."
"You sing with your own voice?"
"Absolutely," says Gary. "And that's how it should be."
Bryony arrives and I grab a word as she distributes the sheet music: "We're trying to get four songs ready for the festival," she says, "and this choir will come together with another group of random people who are rehearsing on Tuesday nights. It's a challenge for them all but these guys sounded brilliant last week."
There's much needed hilarity as The Demon Barbers vocalist gets everyone to make the sound of a horse 'trump' as part of their warm-up routine. And then, for the first part of the evening, she fine tunes We Are Three Jolly Fishermen, a quick-fire ditty they started last week.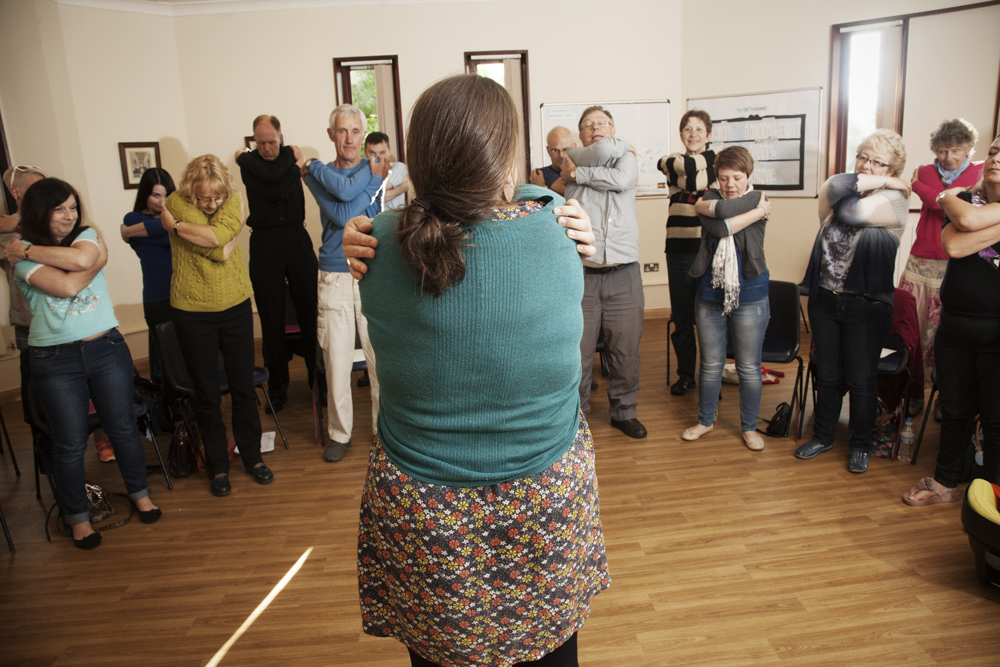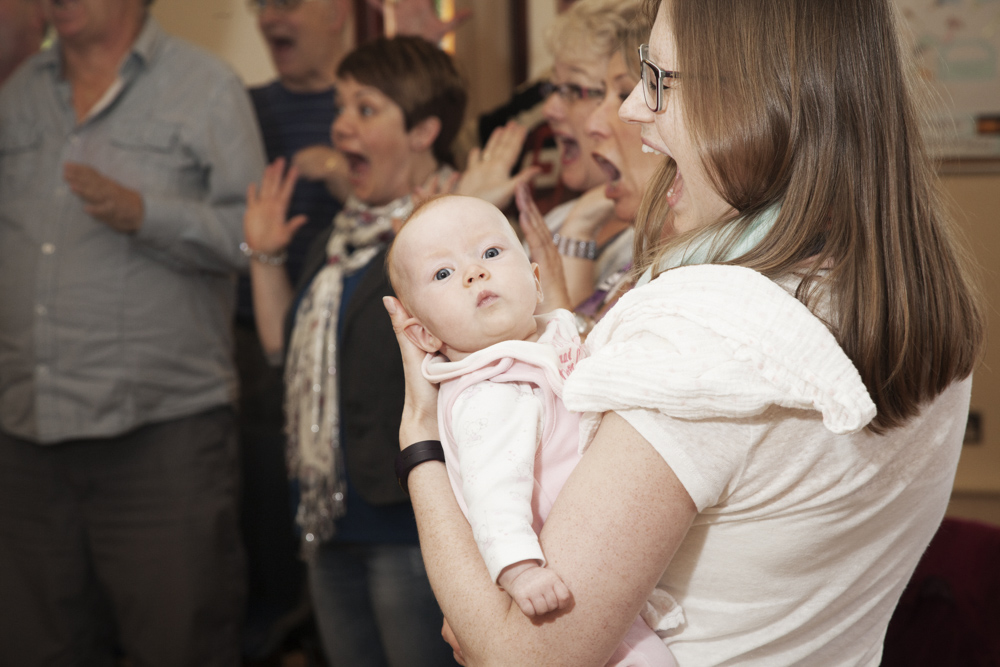 During the break, as juice is served from the hatch, I whizz round everyone asking the same question. And, apart from one soprano, a bass and an alto, it turns out this will be their first ever folk festival. And maybe it will be a first for their friends and family too, which is pretty much what Creative Scene is aiming to do here: extending people's experience of the arts, in all its forms.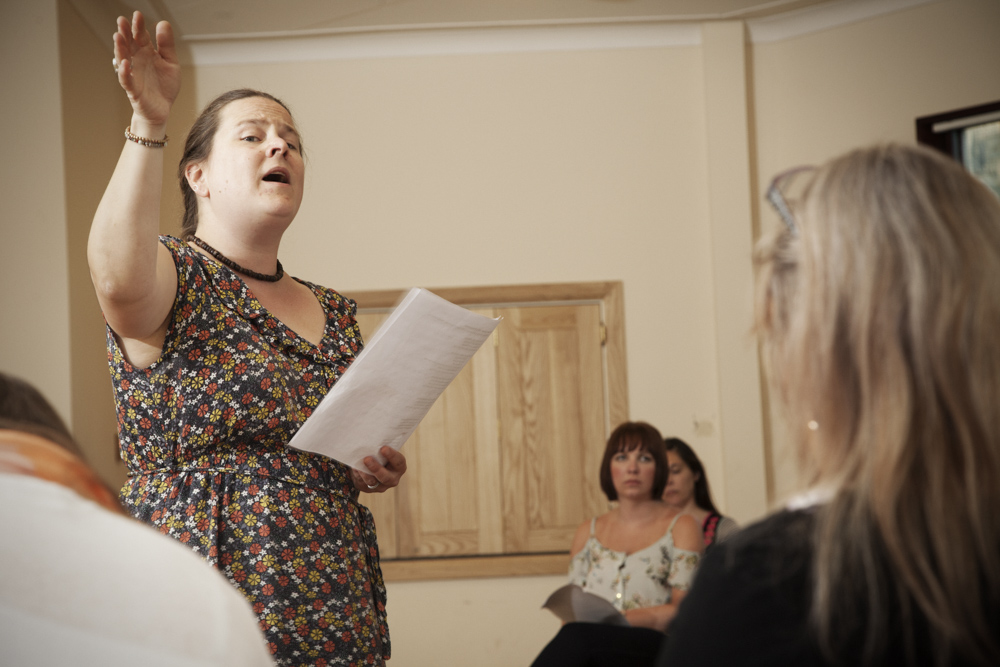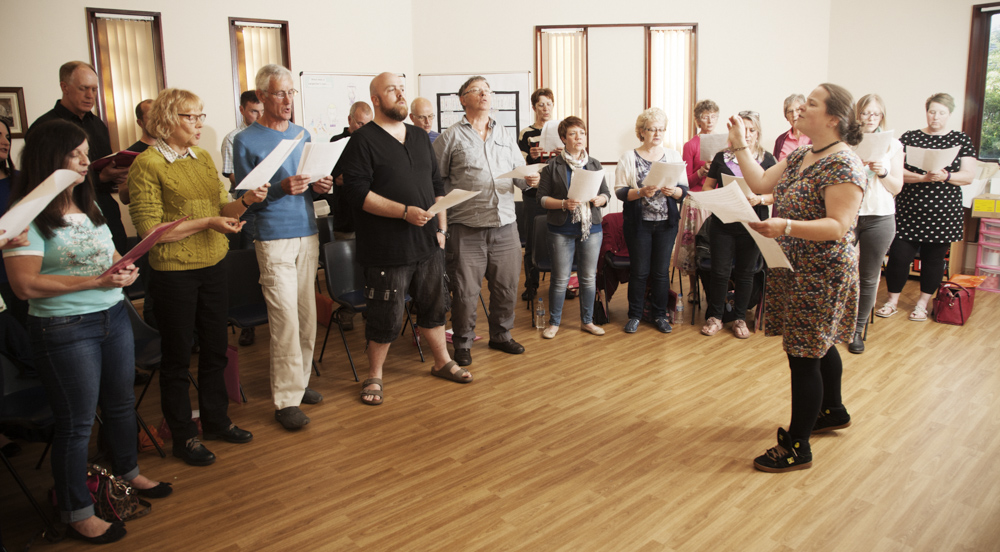 Definitely not 'newbies', David and Carol are both sporting festival wrist bands. They tell me they've been to Fairport Convention's Cropredy Festival for the past two years and are going back again this year.
"How long have you had these on?" I say of the sad-looking wristbands.
"Since last August!" exclaims David. "We're like kids!"
Batley Community Choir will be performing at Cleckheaton Folk Festival on Saturday, 2nd July. Tickets here.
The choir will release their rendition of The Rose as a charity single in July with proceeds to the Jo Cox fund. Follow the Facebook page for more details.