It's been nearly three weeks since the Batley Festival and we notice the waiter at Roberto's is still wearing his Festival wristband. Buon uomo.
The bar fills up quickly with Festival committee members and volunteers, Creative Scene bods and the odd bouquet of flowers. Not every post-event evaluation is like this.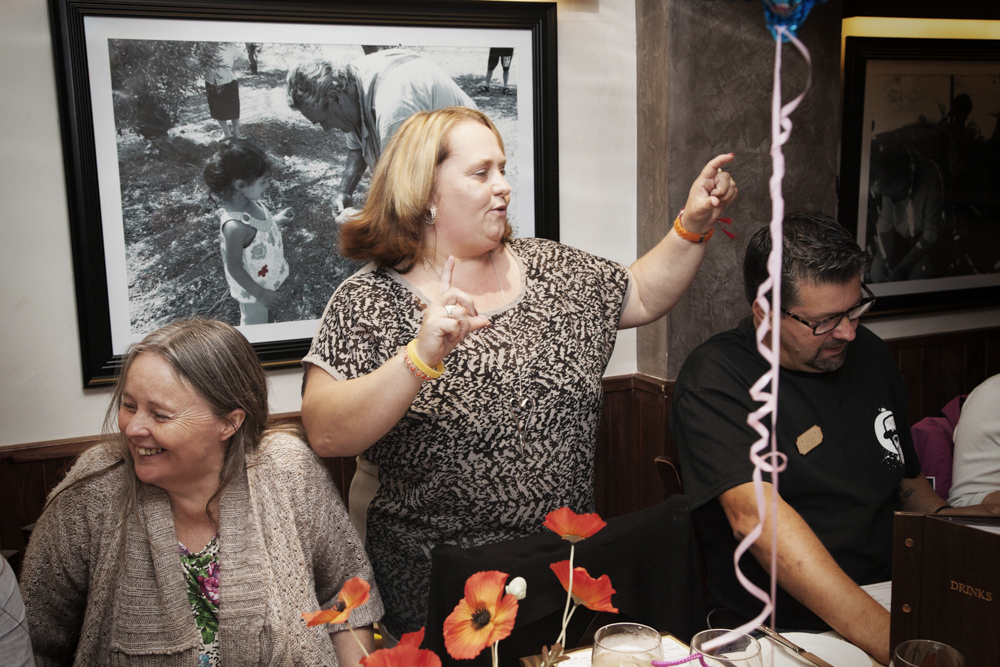 "Good evening everybody, thank you for coming," says committee chair Kimberley once we've all squeezed onto a long table at the back of the restaurant. "As you know, this is a double celebration: to mark the success of the fifth Batley Festival and, as Rebecca is leaving today, to celebrate her time with the Festival and with Creative Scene."
As we order our food there's a hubbub around the table. Some are getting together for the first time since September 10th, others are recounting their experiences of the Festival of Thrift the week after.
"I'd really like to bring that den building to Batley Festival," says Tracey, referring to the hands-on event we saw in a field in Redcar. "It was really family-orientated and had mums, dads and kids all working together and talking to each other. We seem to have lost that idea of communicating with each other."
At the opposite end of the table Donna is recounting her Batley Picture Show 'community performer' experience to Creative Scene's Nancy.
"Bells, balloons, balls and banners," she says, tearing a piece of garlic bread, "that's what they had us doing, and it was brilliant.
"I was so busy focussing on what I was supposed to be doing that I didn't pay much attention to the actual show. When I saw the video I was nearly crying… it proper moved me.
"I was born in Batley and have always lived here but those Periplum people showed me things about my town I never knew. Amazing."
Kimberley taps the side of her glass with a knife. "You didn't think you were coming here without doing any homework, did you?"
Creative Scene notebooks are distributed as Rebecca explains the format: "I'm going to fire some questions at you and, on each page of your notebook, we'd like you to write your answers. Then, at the end, we'll all hold up our books and reveal our answers together."
"A bit like Mr and Mrs," says Kimberley.
"Okay, here's the first one," says Rebecca, "and, remember, there are no right or wrong answers: write down three words that describe this year's Batley Festival."
For the next 15 minutes Rebecca throws out questions. What did you enjoy most? What did you enjoy least? What's the Festival's biggest challenge? How do we get more people involved? And between mouthfuls everyone gets stuck in, scribbling their thoughts down.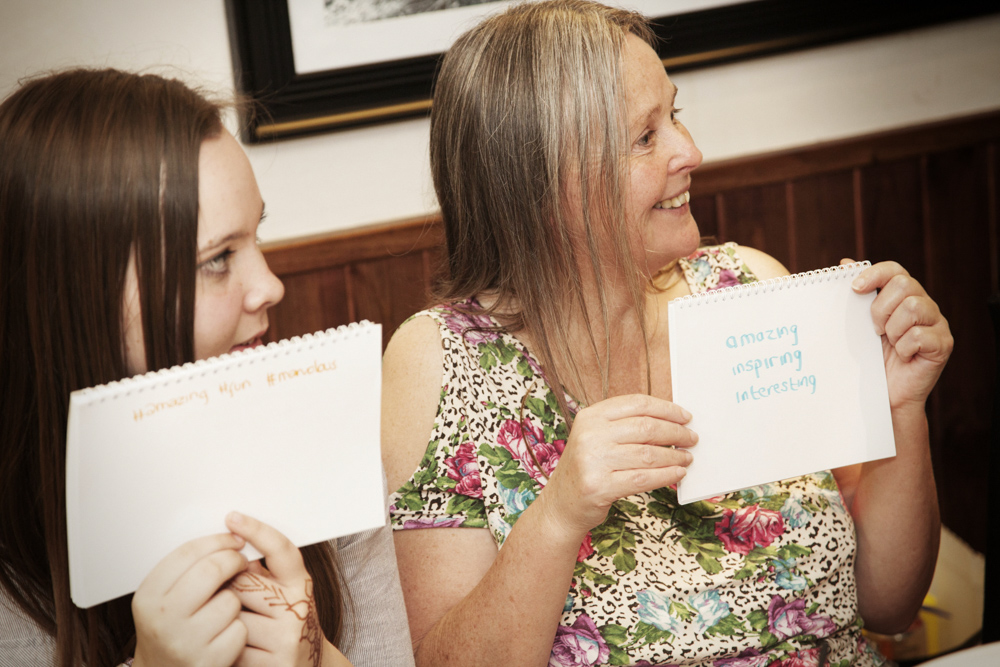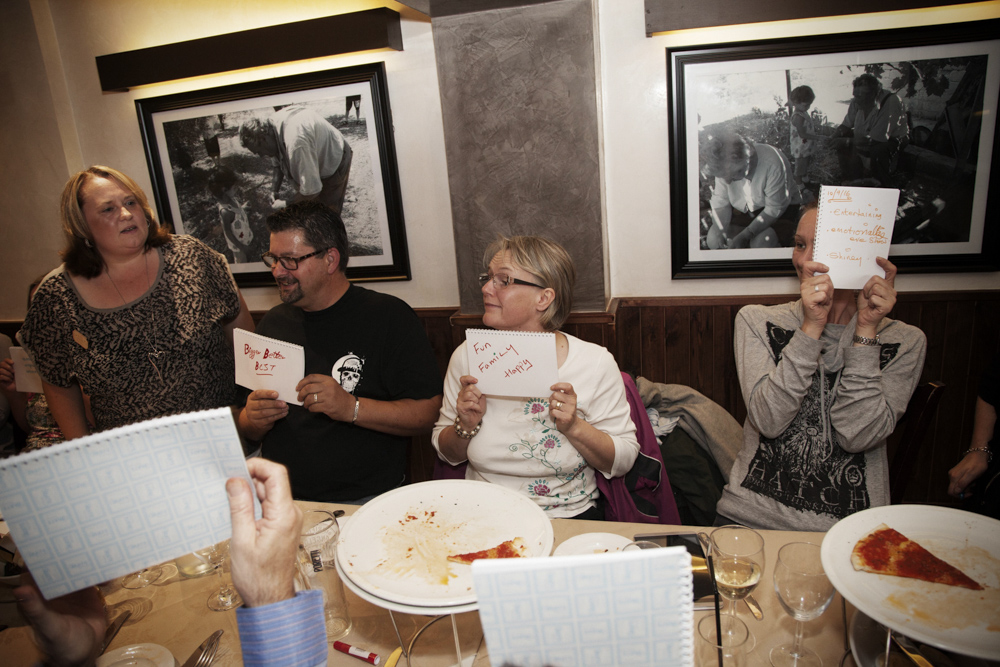 The big reveal is lots of fun. Necks craned to see what everyone else has written, and heated debate about our neighbour's answers. When we come to the question about what needs to change, there's broad consensus.
"It's all the stuff inside…" summaries Rebecca for my tape recorder, "… the town hall and the library… people want to be doing things outside."
"That's been great, very useful," says Kimberley, bringing the exercise to a close. "We'll gather up all of the books and we'll collate your responses.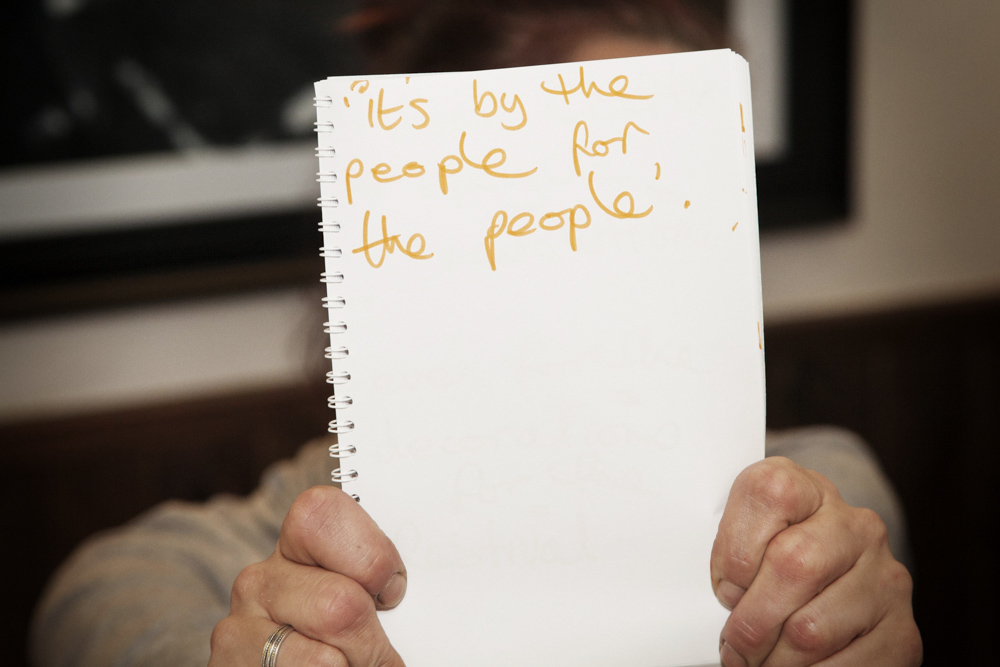 "For me, the great thing about this year has been all the new enthusiastic people on the committee, so thank you for that. On the day, I thought the new arts and crafts area worked really well but, I agree, we need to look at the use of the inside spaces.
"Let's wrap up the de-brief," she says as oversize plates are brought to the table, "and let's enjoy Rebecca's last evening. We've brought you some pressies…."
"Pepperoni? Whose is the pepperoni?" shouts the waiter with the wristband.