"Len follows us around. He tape records us and takes photographs," says Nancy to a small group on the steps of Batley Library and Art Gallery. "He's a fly on the wall."
"I'm a rather large fly," I admit.
By chance I've stumbled across Creative Scene director, Nancy and Batley Festival chair, Kimberley standing in the sunshine with artists from Halifax-based arts group, IOU.
"So what are you doing today?" I ask.
"We're introducing IOU's latest project to Kimberley to see if she thinks it's right for the festival next year," explains Nancy. "It has filmic elements that build on The Batley Picture Show and it has an engagement element where writers would work with local groups to develop a storyline."
"And are you all from IOU?" I ask the group.
Executive director Joanne Wain introduces me to her colleagues and to two freelance performance poets, Cecilia Knapp and Jemima Foxtrot, who are working with IOU for this project. "And we're waiting for our artistic director, David Wheeler," says Joanne, "who's stuck in traffic."
After Kimberley has explained where the Festival takes place, we all troop inside and sit in the empty children's section of the library.

"So the project is called Rear View," says Joanne to Kimberley as she opens her laptop, "and it's an immersive, location-specific, outdoor performance where the town is the backdrop for the story."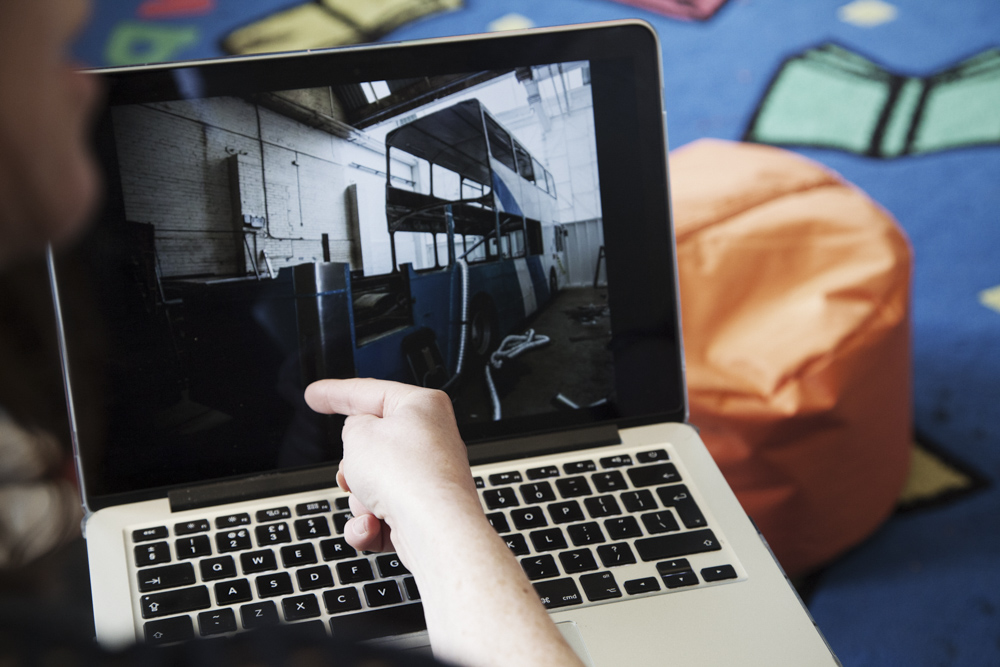 We see a photograph of a dismembered double-decker bus in a workshop. "It's called Rear View because the audience is facing backwards on a raked seating structure."
"And how many people can the bus take in one go?" asks Kimberely.
"Forty-four including a wheelchair," says Joanne. "And we can do upto six shows per day."
She explains how the performance works, how it starts and how Cecilia and Jemima get involved. Already the 'cut-up bus show' has been booked by half a dozen major festivals for 2017 and the performance is customised to make it relevant for each location.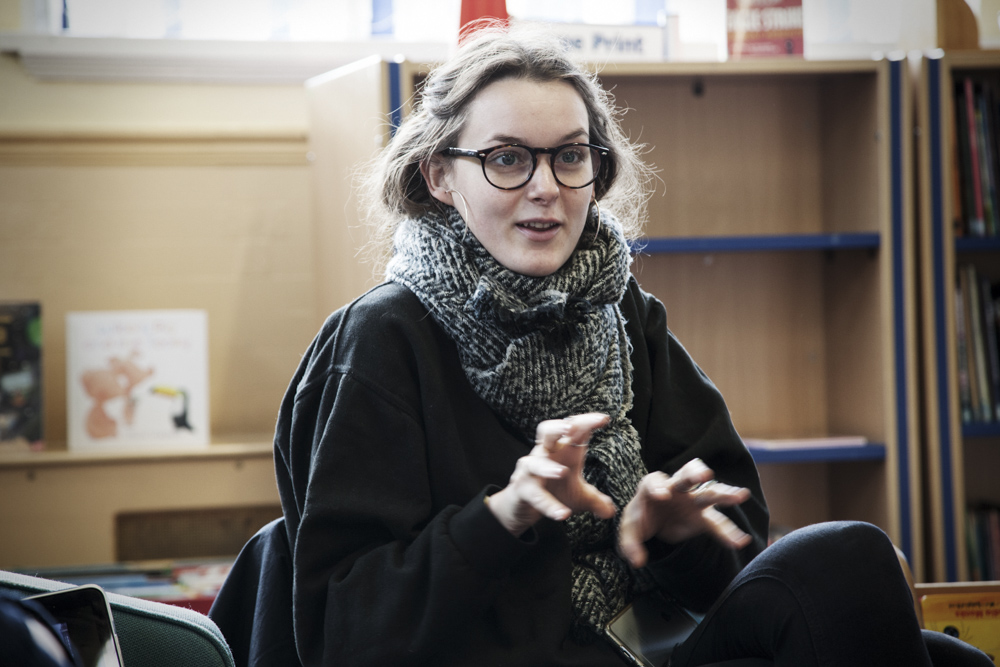 "We're looking for similar points of interest in each town," explains Cecilia, "and in the next few weeks we'll be thinking about the stories you might find in those places."
"I like it," says Kimberley.
"For The Batley Picture Show in September we used donated archive film footage," explains Nancy. "People liked that because they saw both the town's history and the way that related to their own.
"This takes people's stories and puts them in an existing framework which can make it even more personalised. And I like the way this can take you around the town."
"Yes," says Kimberley, "we've been looking at ways to make the Festival more visible. There are still people on the other side of town who say they don't know about it, no matter how much we market it. Can we promote our festival on the side of the bus?"
"Yes," says David who has now joined us, "we're working on ways to brand the bus for each location."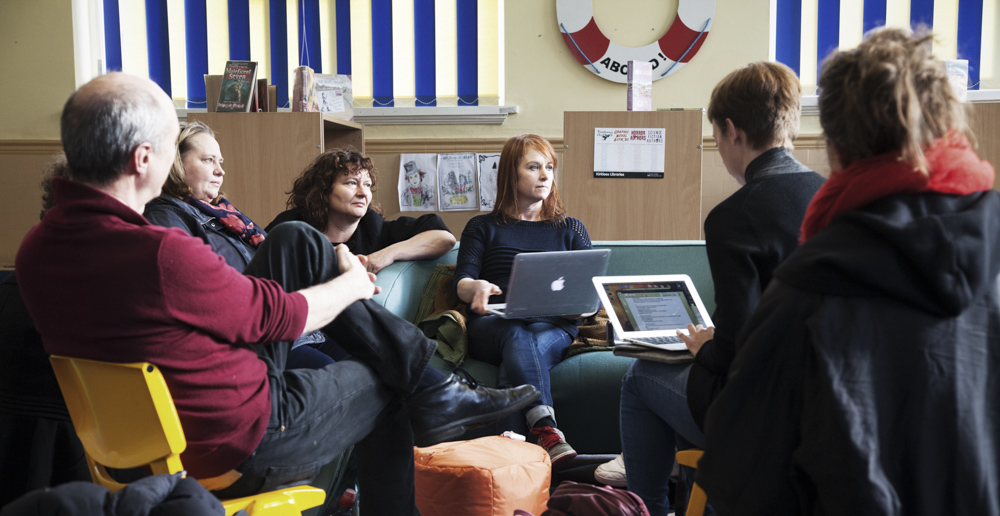 "Where did the inspiration for Rear View come from?" I ask.
"We did a show a few years ago where we took people around in a bus," says David. "We thought it could be more interesting if the journey was as important as the destination… if you could see the show as you went along. The obvious solution was to cut a bus in half so the audience could see out of the back."
"And was it easy to find a bus to cut up?" I ask.
"To get really nerdy, there is only one sort of bus we could have done it with – the mid-engined Volvo B10M – so it took us a while to find that."
"Ah yes," I say. "The mid-engined B10M."