I'm surprised to see Rebecca standing in an alley, two doors down from the Sea Urchin. There's a plastic box by her feet.
"The actors come out for a costume change from time to time," she explains in reply to my quizzical expression. "I have to look after these hoodies and bits during the show."
"So your official title this evening is…?"
She hesitates. "Prop… management… officer?"
"You're making it up."
"I am," laughs the Creative Scene producer.
Like Rebecca, I was looking forward to tonight's performance of #ChipShopTheMusical but I've been thwarted after freak lightning took out the signals near Marsden and delayed my train. Most of all, to be honest, I'm gutted to have missed the fish and chip supper served before the show.
A couple of weeks ago Rebecca and I accompanied playwright Emma Hill as we paid a visit to tonight's venue and met Denise and Lyn, both long-serving waitresses. "I was hoping to get some shots of them serving up fish and chips," I say to Rebecca. "I'll have to dive in afterwards and find out what they made of it all."
Remmie Milner, playing head-in-the-clouds grime-loving teenage Ayla, bursts out of the chippy and swaggers past the restaurant windows before heading for Rebecca's box.
"At least the light is better out here," I say, trying to find the positives.
"You're getting access to a rarely seen behind-the-scenes view of the show," says Rebecca as consolation.
I'm photographing an actress changing her hoodie in an alley. "Let's not go overboard."

After Remmie has returned I walk towards the nearest window, careful not to attract the attention of the packed audience. My image of a videographer's viewfinder is the closest I get to the action. Remmie, now Ayla, is amongst the tables distributing vinegar bottles.
"Can you hear anything?" ask Rebecca.
"Just some beats and a lot of shouting."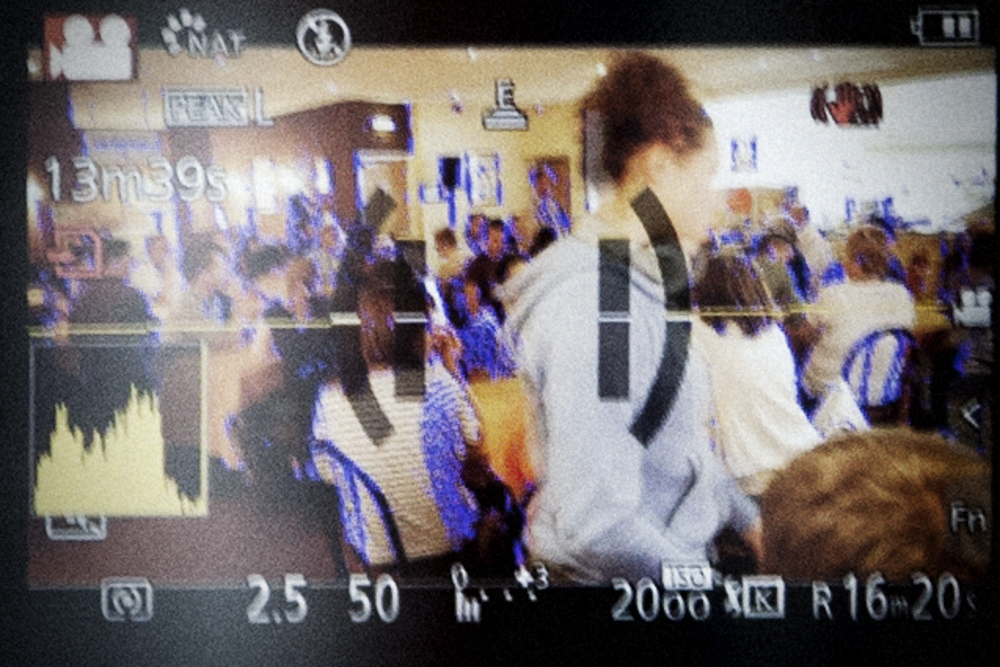 "It's sold out in there," says Rebecca. "Eighty-four people in all. It's part of the Yorkshire Festival so we've attracted people from Leeds, Bradford, a couple from Manchester…"
"… on an earlier train?"
"… as well as some chip shop regulars who've heard about it from Denise and Lyn."
"Brilliant."
The inside of the Sea Urchin breaks into loud applause. The show is over. I nip in quickly, eager to put my tape recorder in front of the waitresses.
Denise is already back in the kitchen clearing up when I ask her what she made of the show. "Brilliant, fantastic," she says with an armful of plates. "Lyn! Come here. The photographer fella wants a word."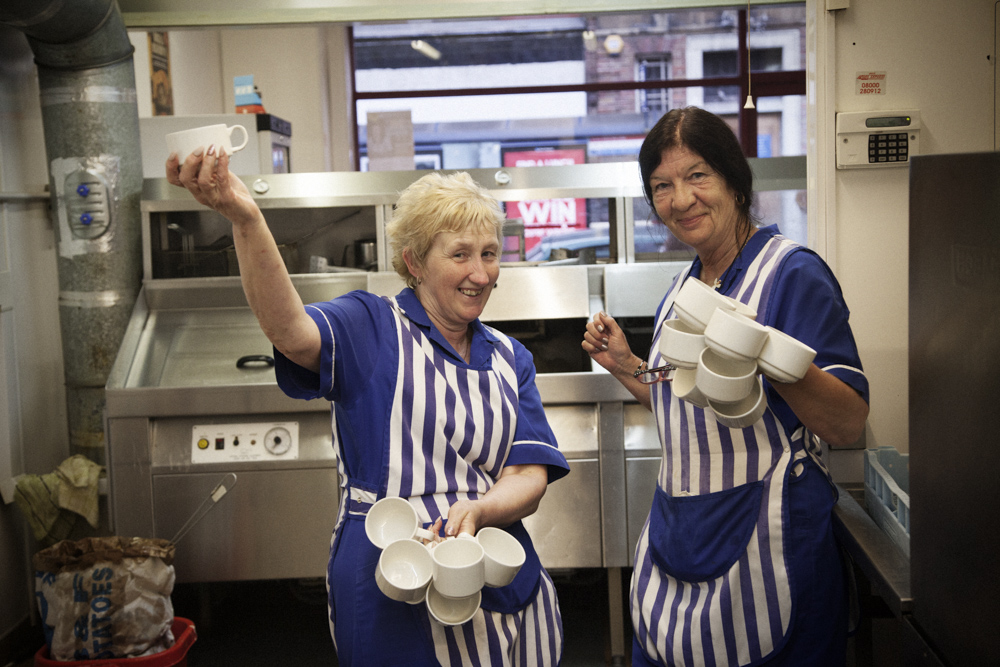 "Did it ring true?" I ask.
"Yes. It did ring true," says Lyn. "They were asking themselves what they were doing working in a fish shop and…"
Denise buts in, "… after 40 years, we ask ourselves the same!"
"Does anyone want to take some fish and chips home?" says Dave, the fryer, offering leftover packets. "It might be a bit cold by now."
I don't need asking twice. I put down my recorder and camera, unwrap the cod and chips and grab a vinegar bottle but nothing comes out.
"Am I missing something Lyn? Do you squeeze it or something?"
"Those aren't ours," she laughs. "Those are the props! These are the proper ones, darlin'."