"We want to understand the changes that are taking place for you all," says Steve after we've had our chilli and nachos. "We're interested to hear your reflections and aspirations."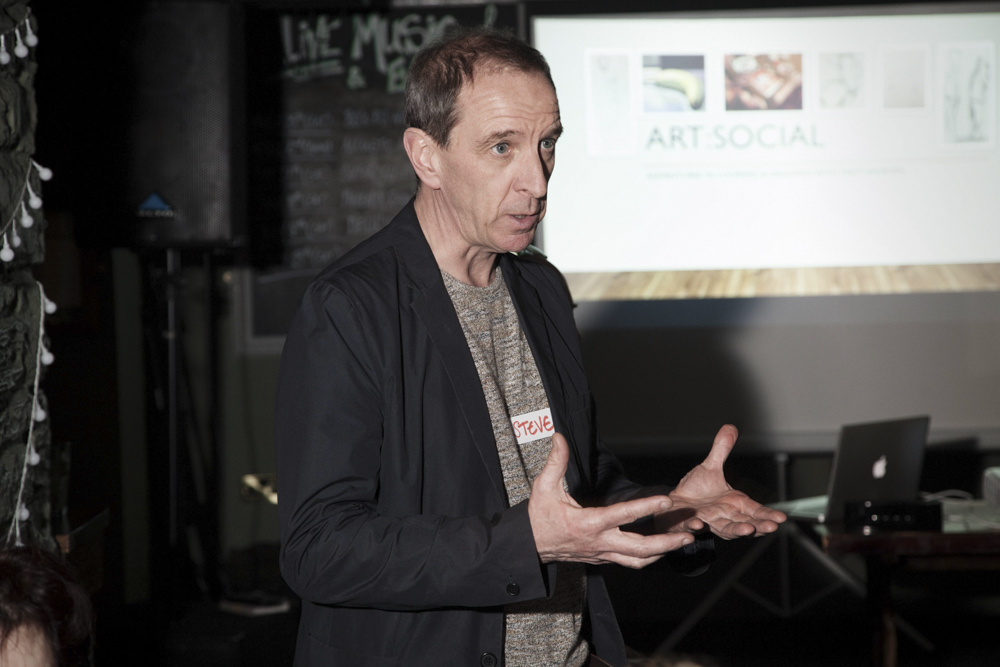 It's the second of Creative Scene's 'The Social', an opportunity for North Kirklees' creatives to network and learn from others.
But also, as evaluator Steve Swindells from Huddersfield University points out, a chance to hear from those who can help shape the direction of this innovative arts programme.
There's an eclectic mix here tonight and I'm pleased to see long-standing Creative Scene supporters, Sonja, Ashleigh and Duncan are among them.
On tonight's bill is visual artist Matt Worden who's planning to get us to see the world differently with an evening of observational drawing.
"First off, we're going to make our own sketchbooks," he says, demonstrating with an A2 sheet of cartridge paper and a craft knife. "Please be careful with those knives!"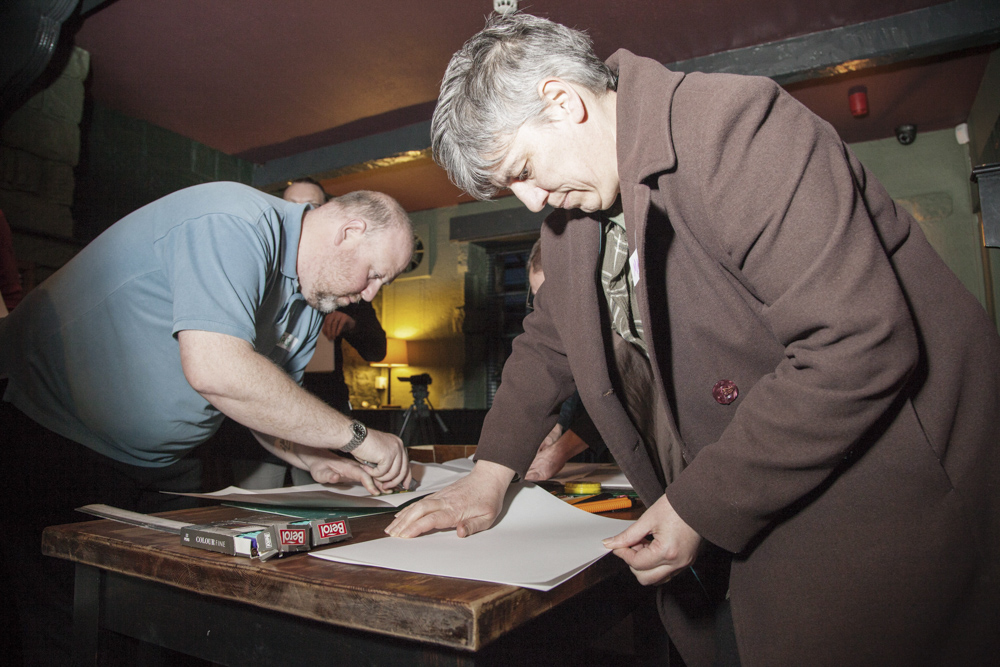 Matt now invites us to draw a self portrait. "But we're going to do it blind, so everyone shut their eyes," he says, "and don't take your pen off the paper."
The room falls silent as lines are drawn, marks made. Laughter follows after a couple of minutes as we reveal our efforts. "Oh yes," says poet Jason, "I've forgotten to draw my beard!"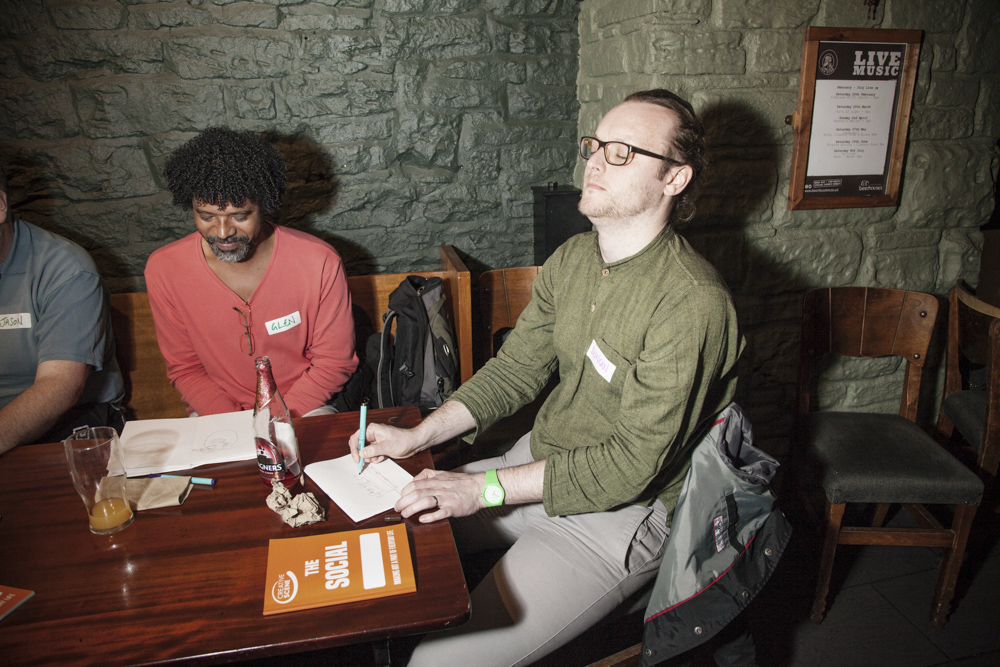 The self portraits are a starting point for us to introduce ourselves. "Mine is a bit different," explains Duncan, holding up his new sketchbook. "There's me, with muddy boots, on a narrowboat, holding our baby. Why am I here? New experiences give you new perspectives, don't they?"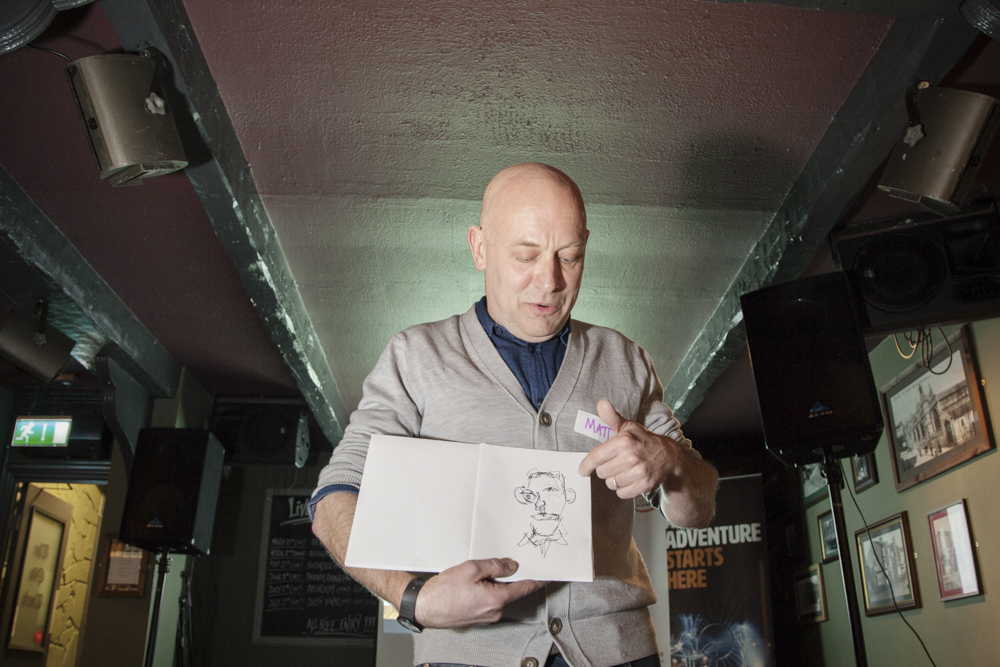 The evening unfolds into part drawing exercises and part autobiographical talk. Matt tells us of a career in the NHS involved in socially-engaged art practices. Fifteen months ago he took voluntary redundancy and now uses art in leadership training.
"I also set up a 'drink and draw' class in our area. I love showing people how to use different materials and getting images down on paper," he enthuses. "Whether it's locals coming to the evening classes, or corporate managers looking for new ideas, drawing helps people define themselves."
As we get onto our next exercise – drawing a horse upside down – it's clear Matt loves teaching people to draw. And it's clear people here are enjoying being taught.
"It's all about looking," he says, "and concentrating on shape and form."
When we turn our horses the right way up – hey presto – even the self-proclaimed non-drawers are surprised with their equine sketches.
"At school we'd have broken that image down on a grid," says Sonja. "But this was really useful, and quite straightforward. I could do that."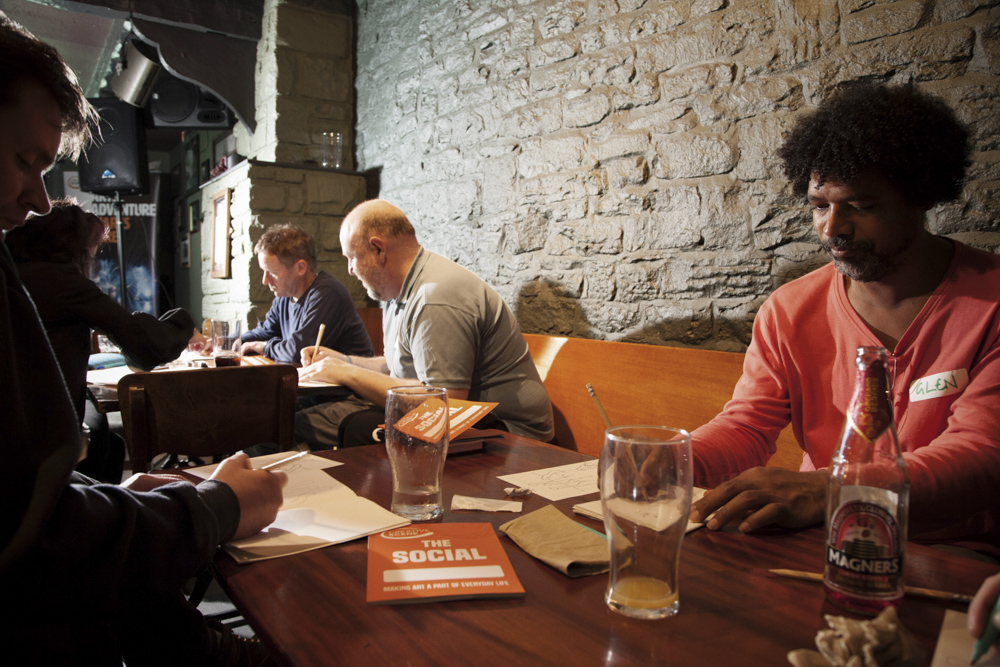 "Storytelling through images has always been very powerful for getting your point across," says Matt. "We're being fed information all the time through images and we don't always realise it. There's power in images."
Some more exercises. Next we're focussing on our own hands. First we draw just the creases in our skin and then we get to draw the whole hand.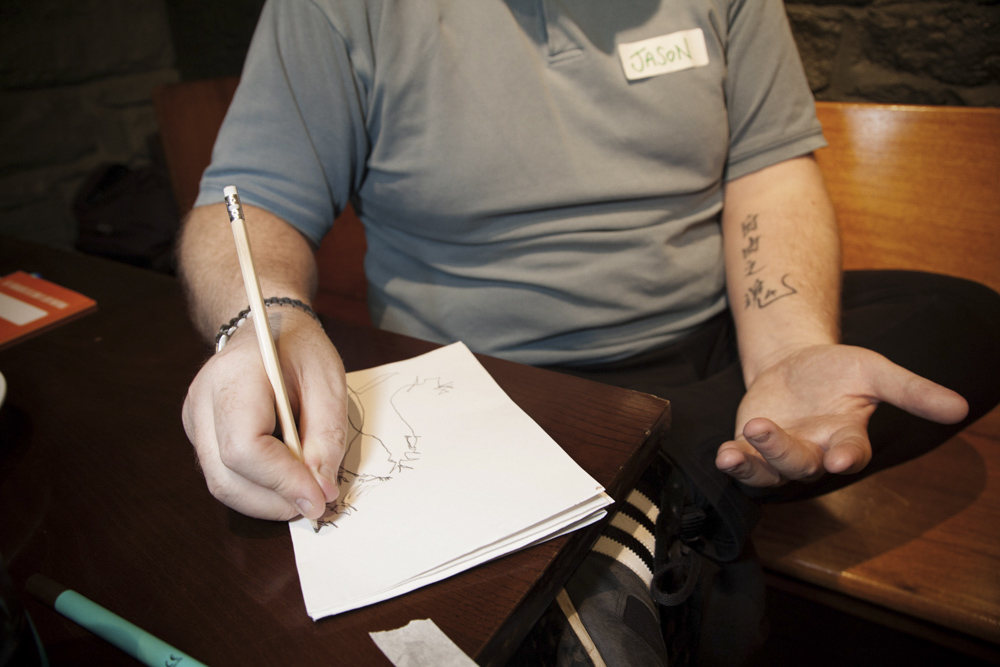 "Now draw with your 'other' hand," says Matt. "So, if you're right-handed, draw with your left."
It's great fun. My cack-handed drawing is better than the one with my 'proper' hand. But there's a more serious side to all this than just making marks on paper. Our participants are beginning to see how useful it could be to their own practice.
"I can see how you can adapt these techniques," says Fiona. "They help you look at things from a different point of view. If I were writing, for instance, it could help you think of a different way of approaching your subject, turning things on their head, using your non-dominant side. It's been really useful."
"That all really resonated with me," says Sonja as the pens are collected up, "particularly the upside-down technique."
"Your horse was amazing," I say.
"I'm going to get my mum to have a go. She'll say she can't draw but I think she can."
The next Social is on Thursday, 6th April and is all about socially engaged art practice featuring Bo Olawoye, from Nottingham's New Art Exchange. Email Creative Scene if you're interested in coming along.