The weathered sign above the blue door suggests the Dewsbury Collegians Amateur Operatic Society has been here for some time.
"We own the building," says Scenemaker Gayna as she gives Anthony and I a quick tour before the volunteer actors arrive. "We bought the whole mill back in the 60s when you could get one for a couple of hundred quid."
Also tonight there's a rehearsal for upcoming panto Babes in the Wood and musical director Jacques is already at the keyboard in the first floor rehearsal room.
"And this is our set workshop," says Gayna, showing us a whole floor of plywood scenery at the top of the building.
More comfortable with musical theatre, this latest project recounting life stories of Iraqi Kurds is going to push Gayna outside her comfort zone. It's just what Creative Scene had in mind.
She's been paired with experienced theatre director Anthony Haddon to produce a short piece next month for a Holocaust Memorial Day event organised by 6 million+.
"By telling the stories of local refugees we're drawing parallels with the Holocaust," explains Gayna as she arranges chairs in the downstairs costume store. "Tonight we're getting the actors together for the first time, so it's going to be a quick turnaround."
"Gayna and I have already done the interviews," explains Anthony, "so now we've got to work out a way of presenting them."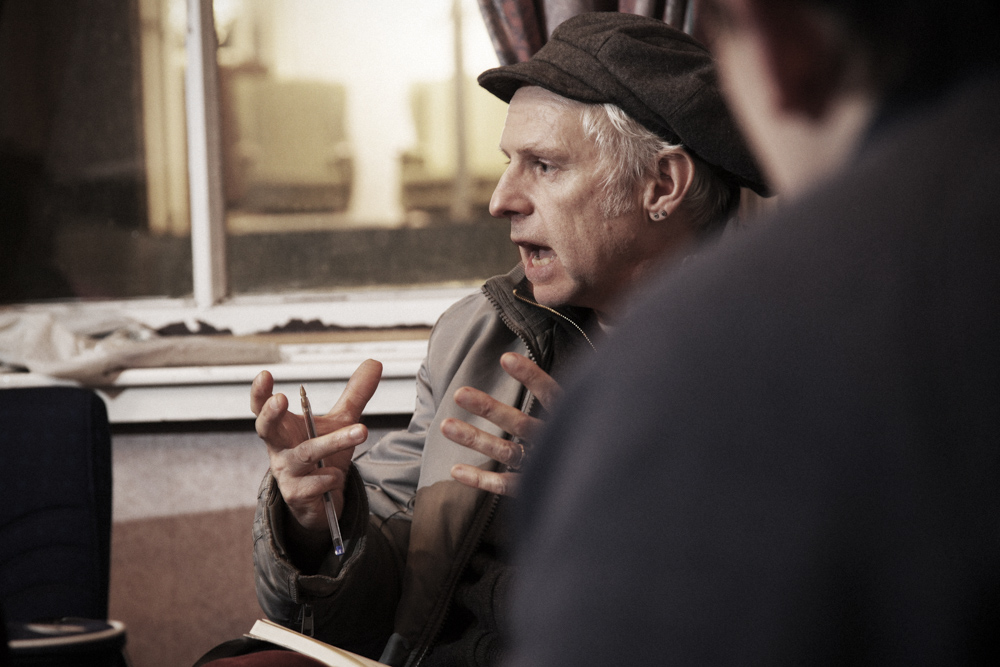 "What will be your biggest challenge?" I ask Anthony. It's one of my favourite questions.
He stares blankly at a crate of padded AAA-size bras, considering his answer. "Getting the actors to own the words of people they've never met," he says, emphatically.
The amateurs arrive. There's Angela who, says Gayna, has just played Norma Desmond in Sunset Boulevard; and Tracey who's been on telly recently as an Emmerdale extra. I wasn't expecting to see SceneMaker Simon here too but, given his immersion into all things creative, shouldn't be surprised.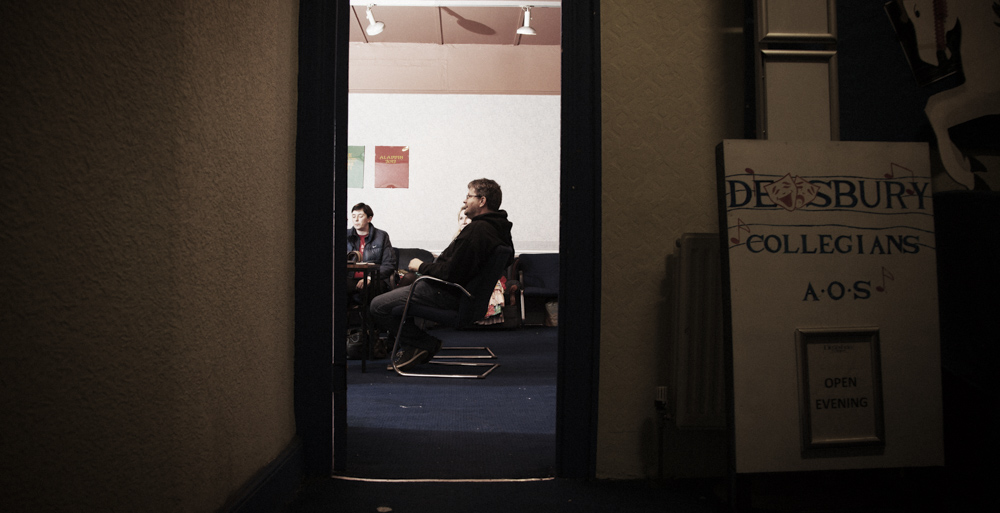 Surrounded by rails of colourful panto costumes, everyone introduces themselves before Gayna pulls some notebooks out of the box in front of her. "I have a little gift for each of you," she says, distributing the orange books. "The next few weeks are going to be very different: potentially emotional and certainly thought-provoking. We'd like you to keep a diary. It will help us with the evaluation and help you make sense of the process."
"Can we start tonight with a warm-up?" asks Anthony, encouraging a circle. "It's always good to get the blood flowing." He leads the group through a series of arm-swinging, head-massaging, lip-tickling exercises that my camera loves.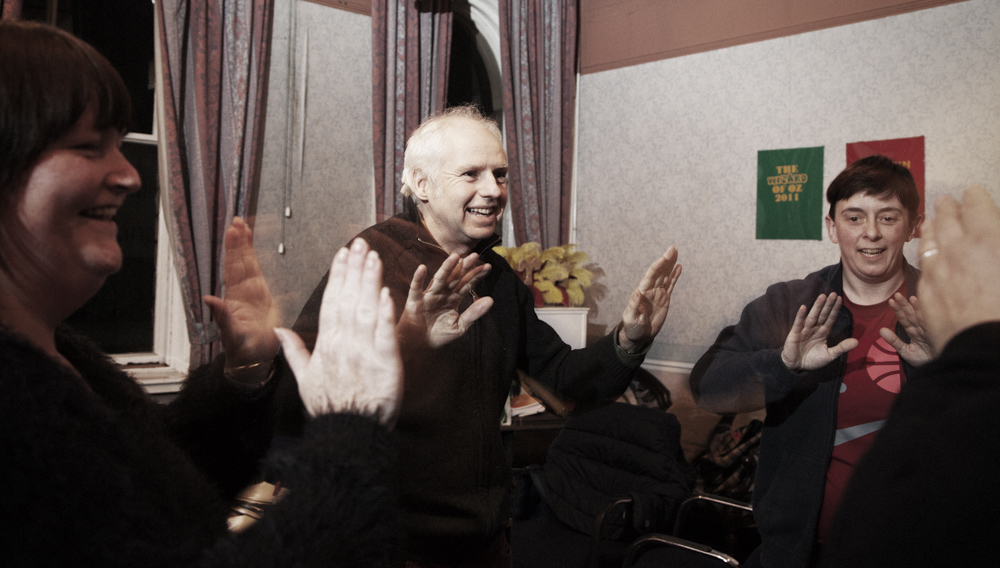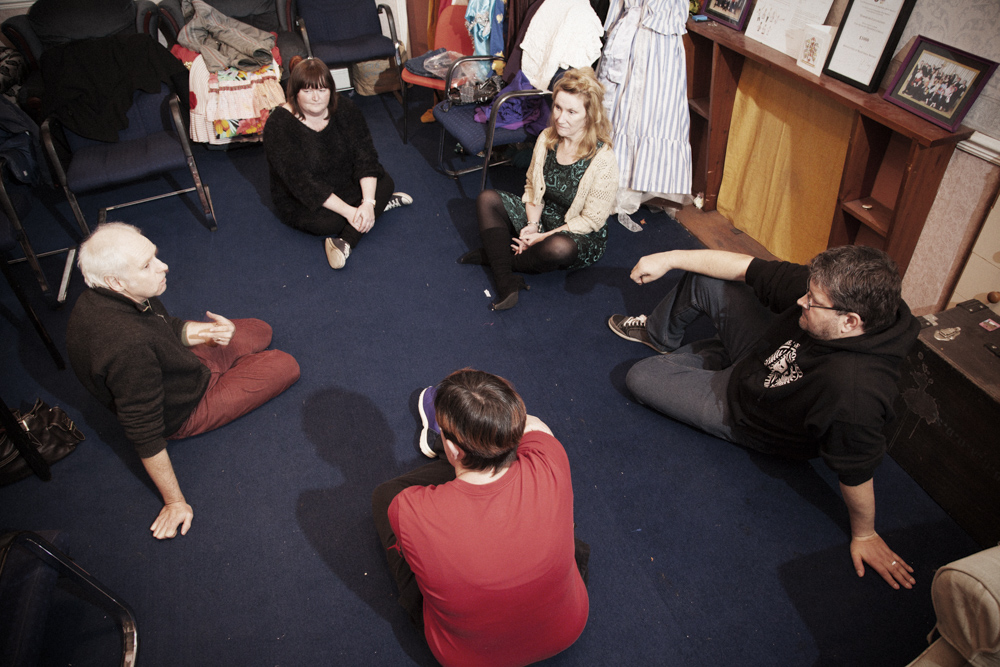 Then, sitting on the floor, he describes where he is up to with the project. "I knew absolutely nothing about the Kurds," he admits, "but already I feel quite submerged in the material.
"The Holocaust began because one group of people saw another as 'other'. In a sense the Kurdish community is, at the moment, 'other' to me and probably to you too. It seems foreign and mysterious. With this project, I'd like us to highlight the similarities between us and bring us closer. We should be trying to reverse that feeling of 'other-ness'."
I'd imagined I'd be listening to the words of local Iraqi Kurds tonight but Anthony isn't ready for that yet. As a precursor he splits the actors into pairs and asks each to tell the other about themselves. Minutes later, and to a backdrop of shrieks from the 'babes' upstairs, they candidly tell each other's story. We hear of drunkenness, heart surgery and murderers. It's a real life pantomime.
"I want you now to be Angela," Anthony says to Tracey, as she takes the hot seat to relay what she's just learnt. "I want you to speak in the first person, as if you were her."
It's fascinating. Without once coming out of role, Tracey becomes Angela and tells us about her theatrical family, her teaching career and the recent portrayal of faded movie star, Norma. I can see absolutely where Anthony is coming from. Next Gayna becomes Simon – the gender shift irrelevant – and the project becomes alive.
"Thanks Simon," Anthony says to Gayna.
Continued in "We have stepped into their shoes."