"That looks like a likely wall," says Chris as we drive into town.
Simon and a couple of his HeckmondLIGHT volunteers are waiting for us in the Westgate 23 pub. There's Liam – he has his own sound engineering business – and regular supporter Connor.
"So, what's the plan?" asks Creative Scene director, Nancy as we all stand under a portrait of Queen Elizabeth.
"Tonight's a test," explains Chris from Impossible Arts, "I've brought a generator and large projector. Because it's so wet, we'll have to project from inside the van."
This is the first of a number of 'guerrilla projections' where Chris parks close to a suitable 'screen', fires up his projector and advertises next week's light festival to passers-by.
"So no gorilla outfits then?" jokes Simon, "I'm quite disappointed about that."
Chris heads back to his van as the rest of us walk towards the bus hub. "Not long to go now. Is the excitement mounting for HeckmondLIGHT?" I ask Simon.
"Excitement and trepidation," he says.
"Why's that?"
"The Festival is much bigger this year. It's a massive leap forward. When it all kicks off with the Momentum Wheel, I think people are going to be in awe."
Simon and Chris have collaborated closely this year, wining an Arts Council of England grant to construct a bespoke structure that will make the switch-on go off with a bang.
Last week Simon visited the hilltop workshop of mechanical sculptor Andy Plant to check on progress of their giant 'wheel'. "What did you make of it?" I ask.
"It's far bigger than I'd imagined," he says as we cross the A638. "With all the chains and pulleys it has that industrial feel, doesn't it? It has one foot in the past but then, with all the digital lighting, it has another in the future. It works really well for what we're trying to do."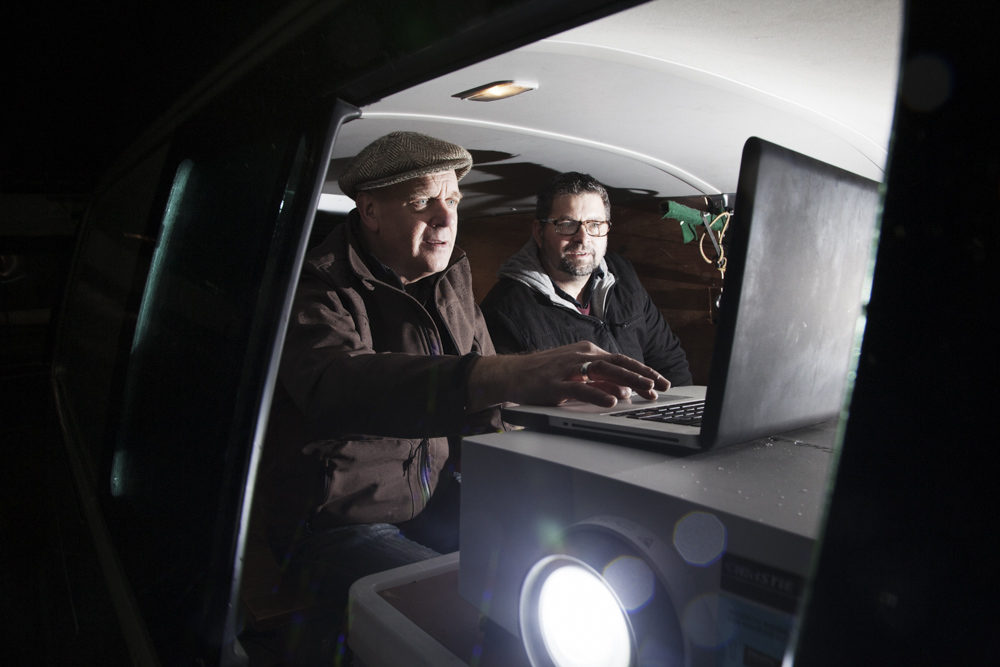 A huge projector points out of the van. Chris taps on his laptop and, after some tweaking, a series of animations begin, promoting the Festival and stirring the interest of passengers coming and going. Nancy hands out leaflets to a mother and daughter as they get off the 268.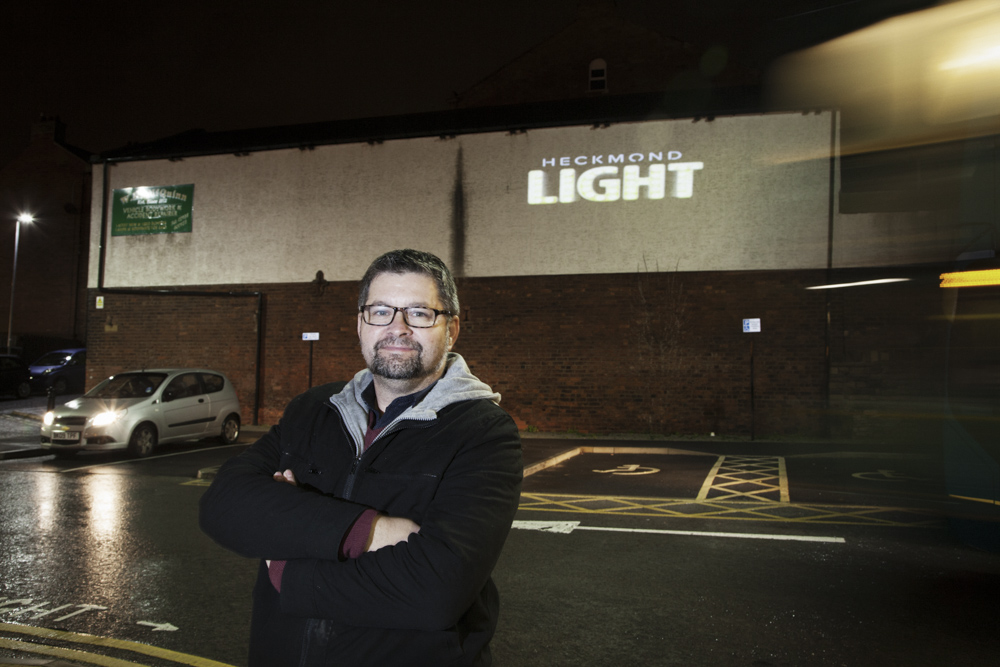 "What's all this?" asks one of the teenagers killing time in a shelter.
"We're advertising next week's HeckmondLIGHT," I say. "Will you be coming?"
"I go every year," says Lewis.
"Make sure you're there for the switch-on at 6.30. There's something special this year."
Our next guerrilla stop is Firth Park across the way. Chris is keen to see how the projection works on a darker wall. Within minutes an elephant is balancing on a circus ball on the side of the pavilion.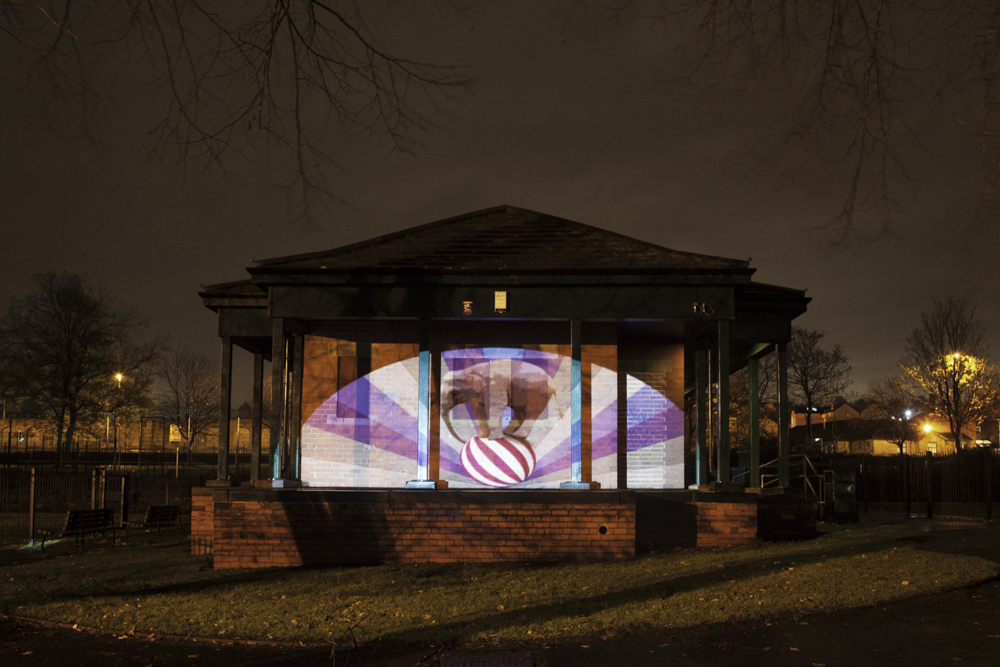 "That works," says Chris to Liam as they sit together in the back of the van, working through the technicalities.
"Liam provides a lot of the lighting for the local amateur dramatic societies," explains Nancy as we watch the elephant wobble. "We're helping him develop his projection skills with this project. It'd be good for his business."
The rain continues to lash. "Let's leave it at that for tonight," says Chris. "I'll be back again next week. We'll have another go then."