"I like the smell of fireworks," says Simon as the smoke from a lobbed firecracker wafts towards the pavilion in the middle of Firth Park.
Already a dozen or more have gathered for tonight's launch event for HeckmondLIGHT, a new light festival that is being built around Heckmondwike's historic illuminations event and Christmas lights switch-on at the end of next month.
Local café owner Simon Thirkill is the driving force behind some new light art commissions and, with his partner Kimberley, is a ferocious supporter of all things creative in North Kirklees. "Tonight is another step in the process," he says as we move inside, "we'll be explaining what we're hoping to do and encouraging more people to get involved. We're expecting a lot of new faces."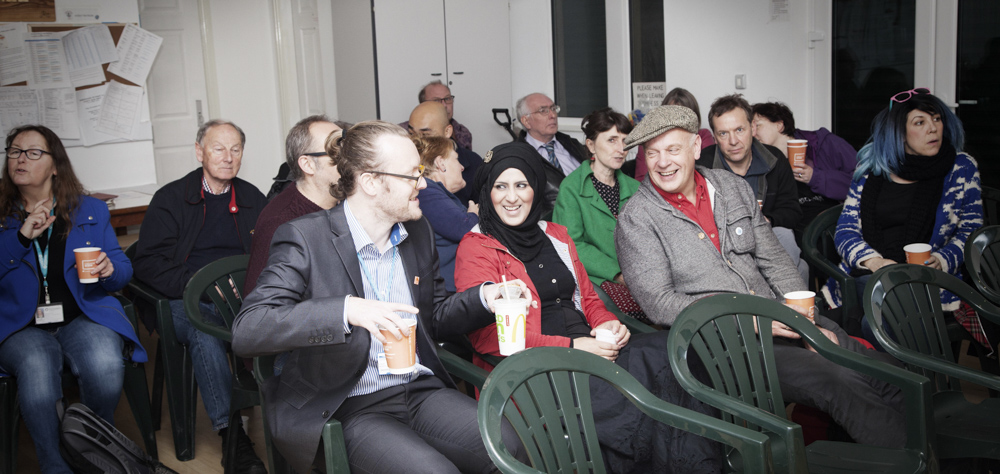 More gather. There's John from the local civic society; Councillor Steve Hall; Yong-Geun from the Salvation Army; Creative Scene supporters, Sonja, Duncan and Julia, and indeed lots of faces I don't recognise.
Artists Rozi Fuller and Liz Walker are grappling with a sand drawing and shadow projection set-up in the corner – a demonstration of their contribution to the festival – while newcomers help themselves to mulled wine.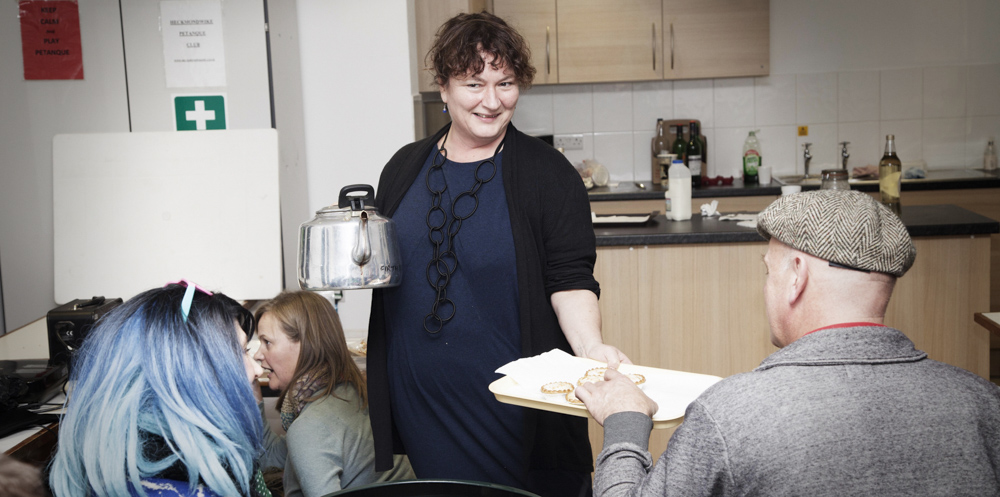 Following a short intro from Creative Scene's Vicky, Simon explains the historical significance of the town's illuminations which pre-date Blackpool's. "I think it's our community's responsibility to prepare HeckmondLIGHT for the next 150 years," he says.
Next up is Eleanor, one half of the Bradford-based Brick Box duo whose art, she says, often finds its way onto the street. "We love the big spectacles at light festivals but we also like the intimate experiences too, so we're bringing our electric fireside to Heckmondwike."
The 'fireside', she explains with a short video, is an amalgamation of electric fires around which people gather to share their stories. Love it.
Chris Squire of Impossible Arts is now on his feet. He and Simon have history. Last year, HeckmondLIGHT commissioned Chris to make the 'Hecky Heads' that literally put words into the mouths of the audience and projected them onto giant screens. Since then the Heads have been seen at light festivals all over the country.
This year, after a successful bid to Arts Council England's Grants for the Arts, Simon and Chris will bring something new to the festival.
"It's called the Momentum Wheel," explains Chris excitedly. "Imagine as part of the countdown to switch-on, some big blue touchpaper is lit… it hisses and fizzes, and then finally flames erupt from this giant sculpture…"
As he waves his arms to suggest flames erupting, the local firework lobbers send a loud one towards the pavilion door that makes us all jump. It is Halloween after all.

After Vicky has given us a flavour of other artists on the festival line-up – glowing jugglers, a walk-through LED installation and a luminous brass band – she introduces Dr Steve Millington, tonight's star turn.
"Steve and his team at Manchester Metropolitan University has been researching light festivals and their place and tradition in communities worldwide," she says.
"There's nothing new about light festivals," Steve begins, "they are part of many communities' cultural inheritance."
For the next 20 minutes the senior lecturer in Human Geography has us all enthralled about light festivals. We hear about their social and cultural significance; their potential to produce a wide range of emotions: the 'transformative capacity of light'.
Steve and his colleagues have already researched why local residents deck their homes with Christmas lights – the most basic of light festivals, he says – and why Blackpool maintains its allure for the thousands who visit the Illuminations year after year.
He introduces us to his colleague Gail, herself a producer of a community lights festival in Salford, and between them they'll be chatting to festival-goers in Heckmondwike to help evaluate the event.
"What did you think about that?" I ask Simon afterwards. "He talked a lot about creating a space for people to come together."
"That's really important and that's exactly our motivation for putting on HeckmondLIGHT. He's put into perspective all our thinking. That talk has been really good for me."
HeckmondLIGHT is on Saturday 26th November, from 4.00 to 8.00pm