"Was it always your intention the show should be set in a real chip shop?" I ask writer Emma Hill as we all stride down Westgate towards the Sea Urchin.
"Yes," she says. "I was walking to a meeting with a Bradford theatre company to pitch some ideas when I went past a chippy called the In Plaice. At the end of the meeting I said I'd just had this idea of doing a musical in a chip shop and that's what we've ended up producing."
"Chip shops aren't usually very big," I say, trying to visualise a theatrical production in my local, the Battered Cod.
"You're right, there are loads of chippies we can't take it to. There needs to be a restaurant section for it to work, and good sight lines."
#ChipShopTheMusical comes to Dewsbury on the 7th June as part of a Yorkshire Festival tour and fits perfectly with Creative Scene's ethos of getting art 'out there'. There's even a fish and chip meal thrown in with the ticket price.
"When I wrote the original script the fish and chips were served as part of the action but," she laughs, "I was persuaded that was a step too far. The show's complicated enough."
From what I've read #ChipShopTheMusical is a clash of grime and brass bands; of dreamy youth and grumpy middle age, that develops into an unlikely friendship. All to the smell of salt 'n' vinegar.
For the last couple of hours Emma has been running a workshop in the Cocoa Lounge café for young people eager to learn something about her writing methods. We've had plenty of beat and bass in videos from grime MCs and a grime lyric-writing session, all totally over my head.
"So this is the Sea Urchin," says Creative Scene producer Rebecca as we wander up Crackenedge Lane. It's the first time Emma has seen the venue. "It seats 80, so plenty of room."
Denise is mopping the vinyl floor next to the restaurant counter. "It's me and Lyn you'll have to put up with on the night," she jokes.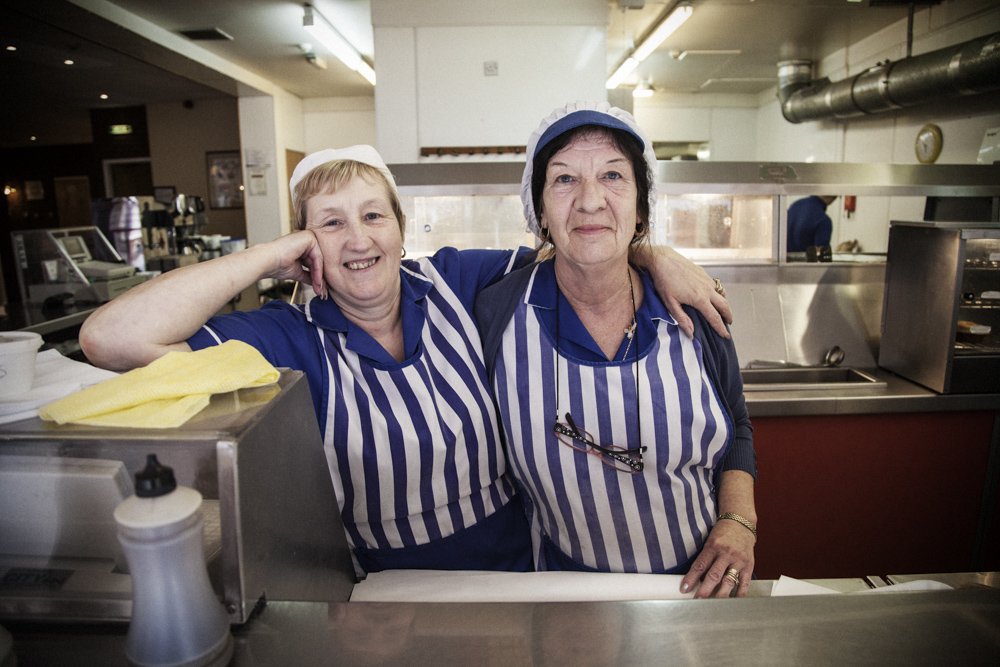 "What do you know about it?" I ask Lyn.
"Not a lot. Only that we're having a musical."
Denise is more clued-up. "Is it about a lady that fell in love with a fish man?"
"It's about a teenage girl – the one on the poster – who comes to work at the chip shop but really she wants to be a grime MC," explains Emma. "I used to work in chippy in Wakefield, that's where I got my inspiration."
"So you wrote it?" asks Denise, "Oh, very good."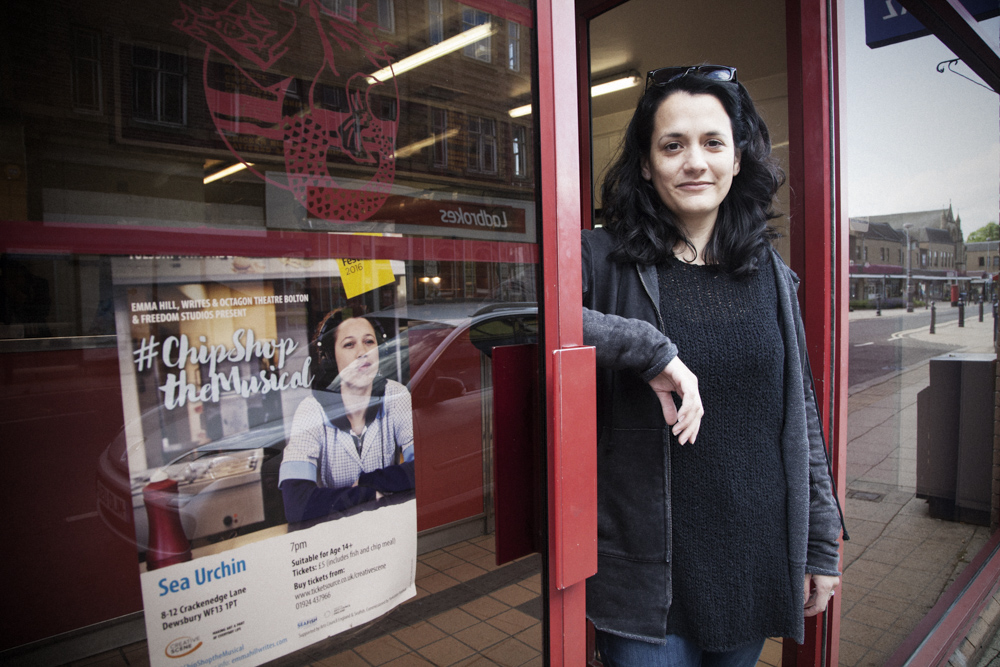 "This is a great space," I say, taking in the now-empty restaurant, "I'm surprised you haven't had any musicals in here before. You should bring your dancing shoes."
"I might be jiving," says Lyn.
"I'm not sure there's any jiving in it," I say, thinking back to the beat and bass. I can't wait to hear Denise and Lyn's reactions on the night.
Book tickets for #ChipShopTheMusical on 7th June at The Sea Urchin, Dewsbury here.