Our three sheds – now resplendent beach huts – sit incongruously in the Princess of Wales Arcade, taking pedestrians aback as they head for Greggs or The Card Factory.
Any apprehension about no-shows amongst the volunteer actors is unfounded. Everyone is here, eager to quash last minute nerves and get on with the dress rehearsal.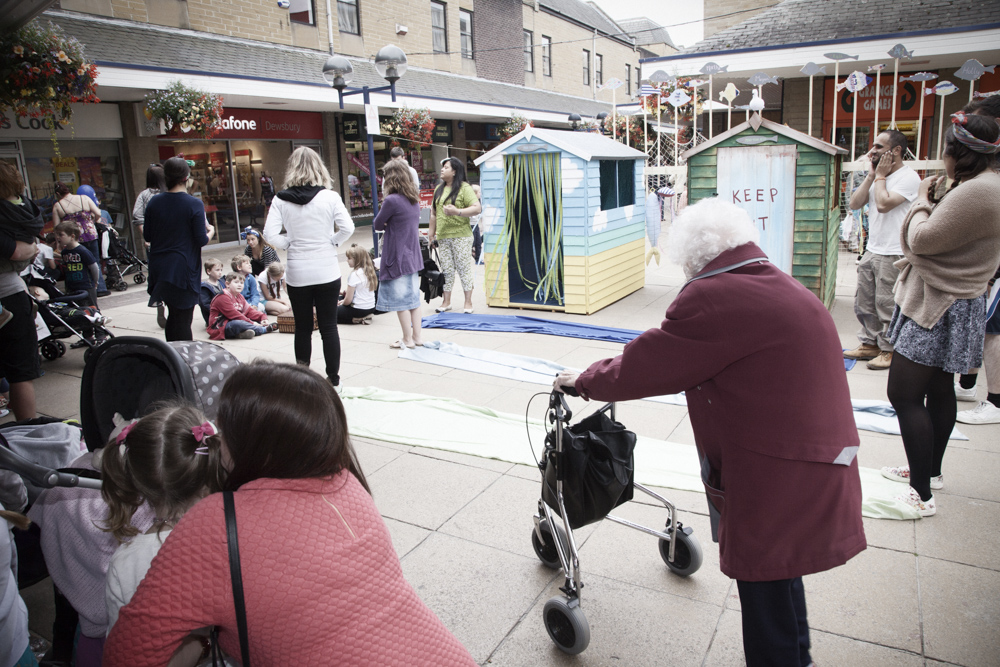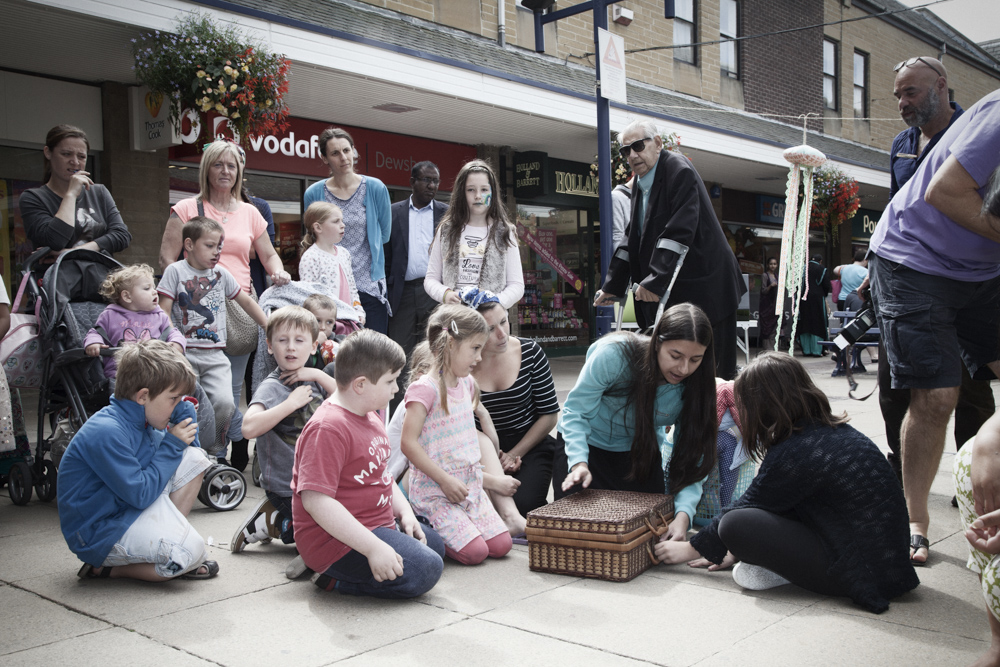 SceneMaker Ashleigh is already handing out Creative Scene rock from her plastic seaside bucket. Someone tells me later that lettered rock was invented in Dewsbury, but I don't believe them.
"They look good," she says, nodding towards the beach huts, "I hope we get a good audience."
"We've got to do better than the balloon man," I say of the joyless character round the corner making balloon toys for a burgeoning crowd.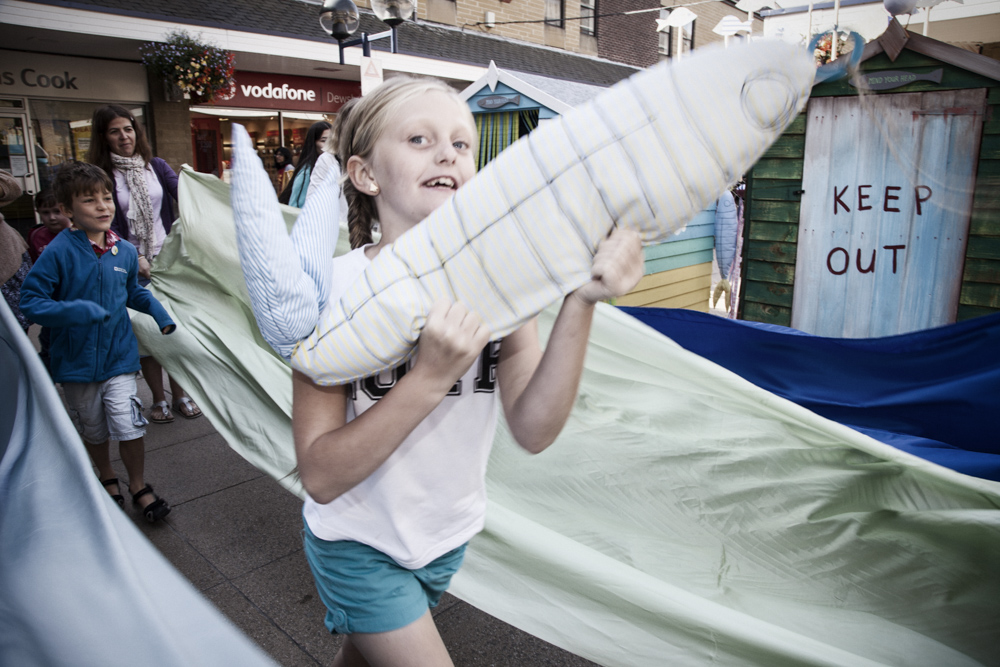 The dress rehearsal goes well and before the first of the two 'proper' shows, I take a walk around town. It's a warm morning and already the place is buzzing with kids playing in the giant sand pit in front of the town hall and parents shouting out quiz answers to the local radio presenter.
As well as the beach hut performance Creative Scene has installed a giant whale in the market and organised a pavement artist to create a huge seaside-themed artwork. I have to imagine the colourful bathing caps and fixed grins because I miss the dry land synchronised swimmers.
Back in the arcade Ashleigh has taken it upon herself to do some evaluation. She's brought a small whiteboard and marker pen and is planning to ask people what they think of 'art'.
"It's one thing to put on something like this but we should really be asking if it's doing what we wanted it to do." She nods down at her whiteboard. "I'm going to ask the audience and the performers what art means to them. Just one word. They write the word on the board and I'll take their picture. But I'm feeling a little nervous about asking people I don't know."
"Just dive in," I suggest, "they can only say no."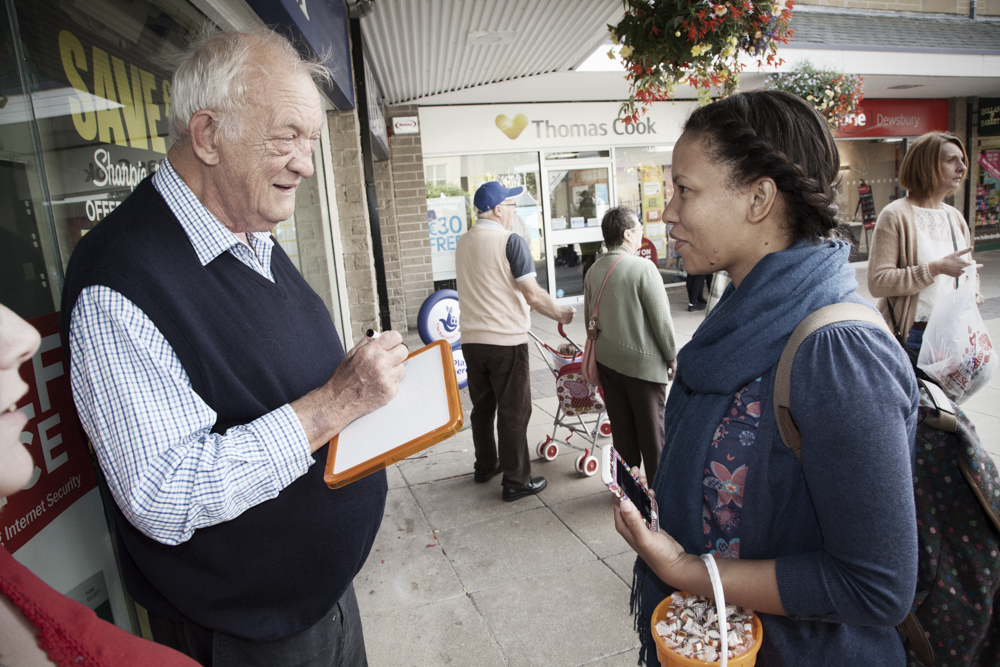 After the first advertised show I chat to Sharon, mum of eight-year-old performer Georgia. She's likes that her and her daughter's seaside memories have been written into the play and their embroidery efforts are on show.
"We like to get involved in lots of different things," she says, "What they've done here is fantastic, isn't it?"
Sharon is later collared by Ashleigh and writes the word, Interesting, on her board. "You were a little nervous about asking people," I say to her later, "so how has it gone?"
"Okay," she says cheerfully, "people are a lot friendlier than you realise."
"And what have people written?"
"One man wrote, Enlightening. And one of the mums wrote, Outlet, which is intriguing." Having seen her son enthusiastically charging around the place, I can see what she means.
The sun peeks over WH Smith's for the final show which attracts the biggest audience of the day. For twenty minutes Greggs sells no pasties and the grumpy balloon man takes a break.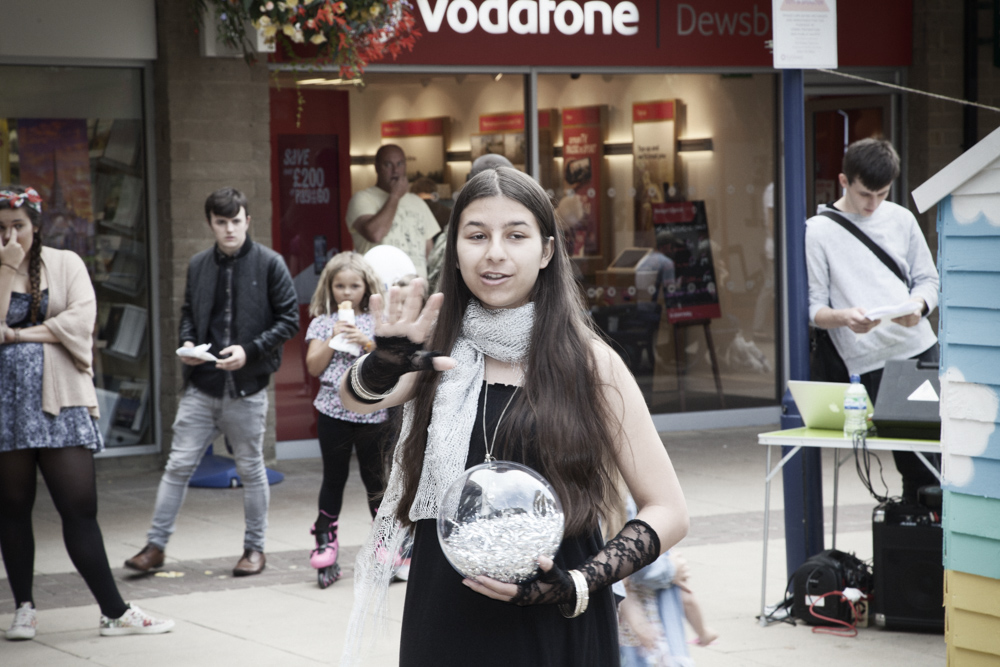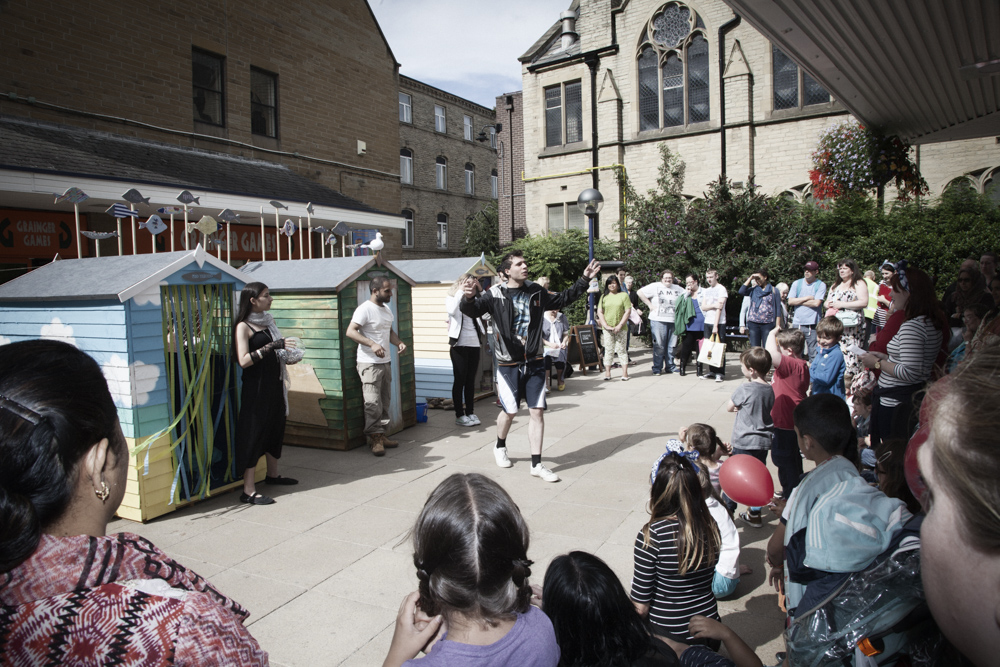 Before I pack up I put my tape recorder in front of Elaine, one of Connect Housing's clients who, inspired by the Chol Theatre people, has made some of the 'cushion fish' and had a bit part in the play. She's staying at a refuge for domestic violence victims just now.
"What do you think you've got out of being involved?" I ask.
"I'm a long way from home," she says frankly, "and this has made me realise that whatever my past, I can still start all over again. I've got my confidence back working on this project. Life's worth living again."
Back at the station I'm impressed that the staff have installed a shower to wash the sand off your feet before getting the train home.