"We did The Navigation Tavern in Mirfield last night and they were lovely… all on board from the off," says Becca as she plasters on yellow make-up in the back room. "I've forgotten my brush so I'm having to use my finger."
The second leg of It's Your Round – where Becca Morden plays quiz mistress-cum-pub landlady – kicks off in half an hour at The Leggers Inn on the banks of the Calder and Hebble Navigation Canal in Dewsbury.
"It's basically a theatrical pub quiz with big daft characters," she says, now doing her lashes.
As artistic director of Scary Little Girls, Becca has been splashing on the yellow make-up for a little while now. "We've done a pub tour of the show down south," she tells me, "and adapted it for a library tour. Each time we tweak it to fit the venue. There'll be some tricky questions about Dewsbury tonight."
Creative Scene's 'The Local' has been running for a couple of years now, touring pubs in West Yorkshire and building audiences along the way. The Leggers is one of two new venues on the circuit but the performances are well known to pub manager Joel.
"I used to work at the Old Turk in town," he says, from behind the bar, "and we had Early Doors play there which the locals still talk about. Anything that brings new people into the pub has got to be a good thing."
"Are you playing tonight?" I ask as the bar begins to fill.
"Yeah," he says, "I've got my team all sorted."
Becca is now in character and introducing herself to a table of three older woman and one older bloke, all unsure of what to expect but up for a fun evening.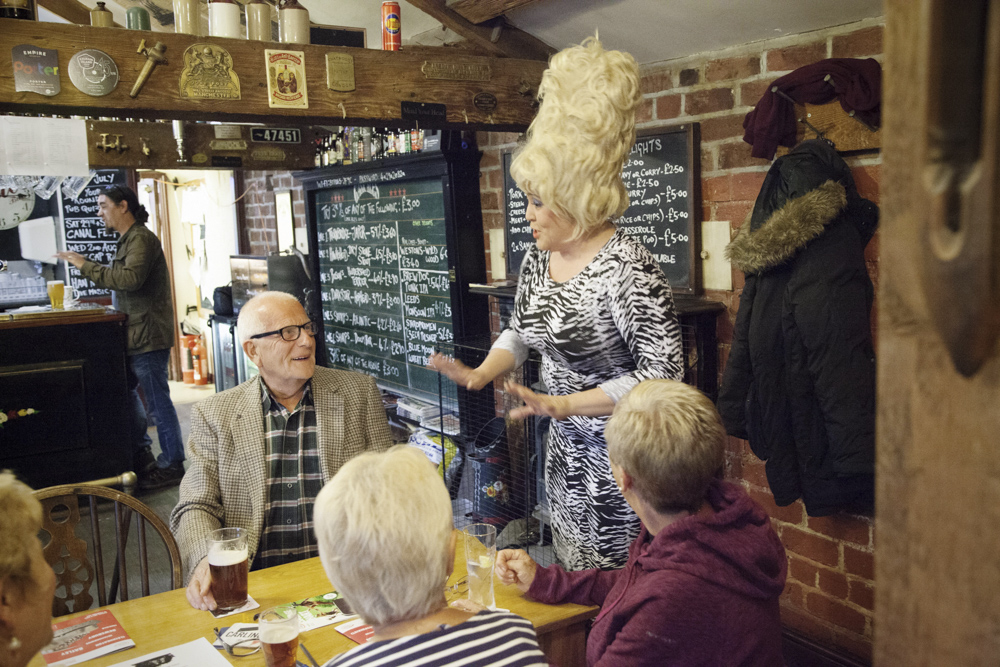 "What have you chosen as your team name?" she asks as she steadies her beehive.
"'Stuart's Harem'," splutters one of the women to a chorus of laughter.
"Oh, he wishes, does he?" retorts Becca, in her 'Bet Lynch' persona, "Let him dream, eh?"
"That's all I do nowadays," jokes Stuart to even more hysterics.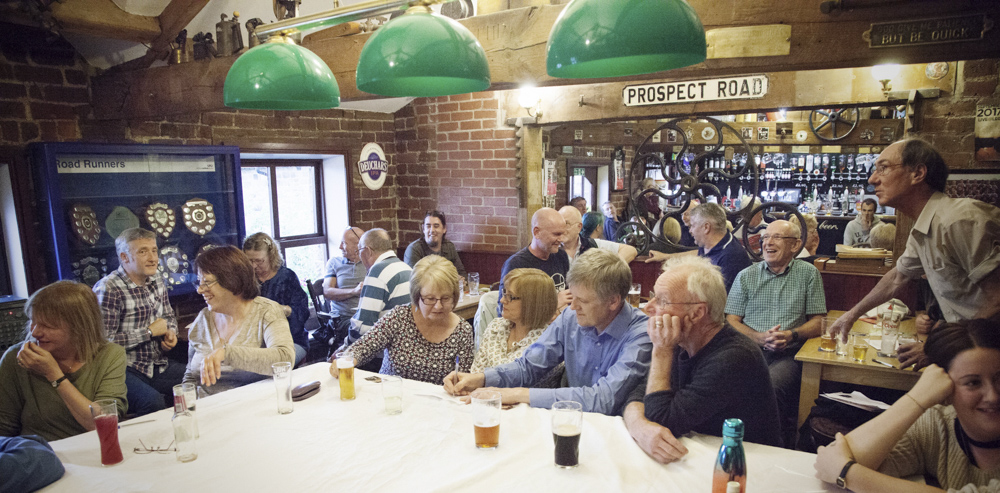 The room is now bulging and late entries huddle around the covered pool table. "Hello Dewsbury," declares Becca. "My name is Pat Pinch and I come from a lovely pub called The Rhubarb and Ferret. I'm a Southerner, from South Yorkshire."
'Pat' introduces the format of the quiz and sets out a few ground rules. "I'm going to be really strict," she says, tongue firmly in cheek. "I don't what to see any smart phones – although I think there are a few teams here who haven't quite caught up with smart phones.
"But there's no point in cheating because the prizes are shit. It's simply not worth it."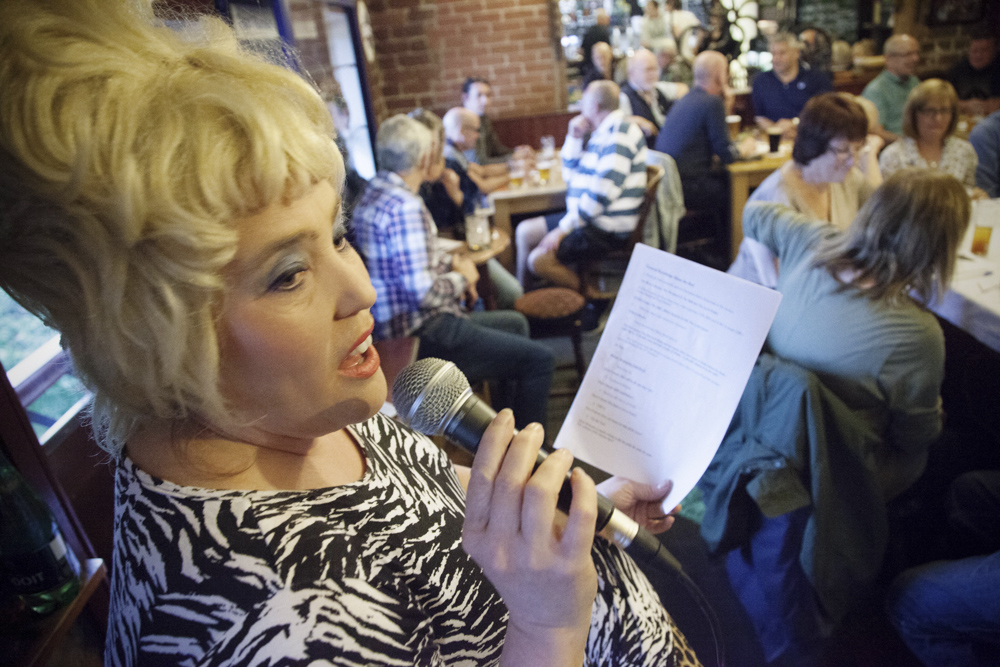 There are questions on general knowledge, films and a surprise music round. The local questions get heads scratching, and there's even a round that, as Pat puts it, requires the keenest of taste buds.
After hoots of laughter and plenty of banter back and forth, there's a break as the scores are totted up.
"How did you find it?" I ask Stuart and his 'harem'.
"We did all right with the music ones," they say, still chuckling.
"And are you pleased you came along?"
"Oh yes," they say in unison, "it's been good fun."
Pat is on the microphone again. "Okay, the scores are in, are you ready? Oh, blimey, it's very close…"
It's Your Round continues for the rest of the week at:
Mill Valley Brewery Tap, Cleckheaton on Thursday, 13 July at 7.30pm.
Roberttown Community Centre, Liversedge on Saturday, 15th July at 7.30pm.