My final destination will be Nantwich in Cheshire where I am going to see my family for Easter.
Station supervisors Sham and Ilyas stand side by side next to the glass waiting room on Platform 2. "It's something different for Dewsbury train station, isn't it?" says Ilyas when I ask them about the projection. "The passengers are really curious and we tell them all about it."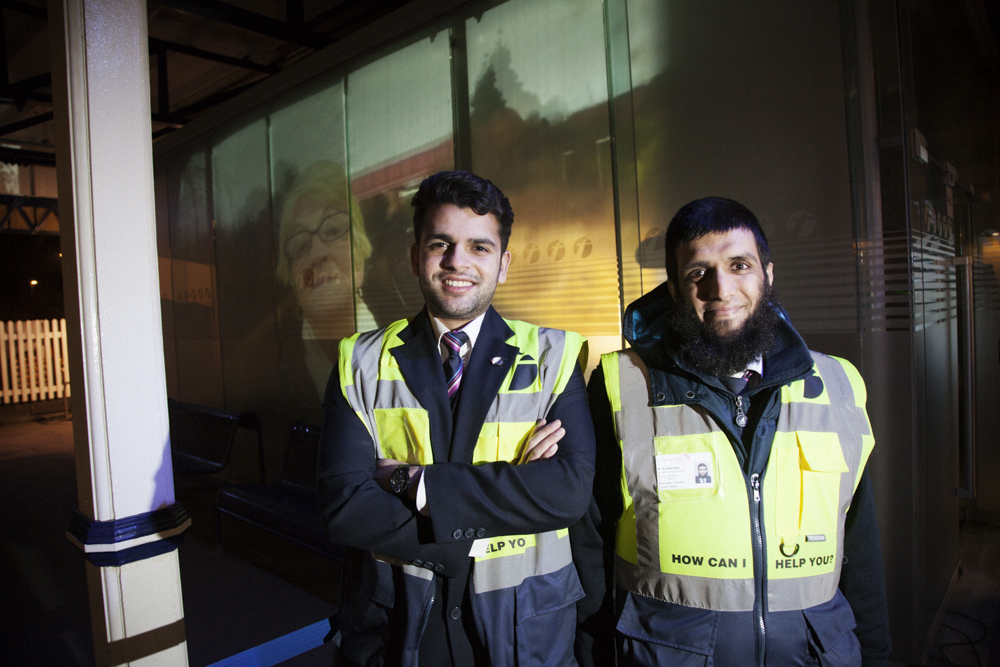 "It's been very positive," adds his colleague, "and very busy. People are going over to the other side and watching it from the sofa, eating satsumas," says Sham.
"Oh really? Have they all gone?"
Sure enough, across the tracks on Platform 1, I can see an orange three-seater sofa, a coffee table and half a bowl of satsumas. This is a Creative Scene event, after all.
Ticket to Ride is the creation of artist duo, Shanaz Gulzar and Steve Manthorp who together make up Adept Projects. They've filmed the driver's view of a local train travelling between Huddersfield and Leeds, laid 'talking heads' of passengers on top and back projected the whole thing from inside the glass waiting room. A perfect fit.
Looking straight into camera, the passengers tell us where they are going and why.
My final destination is Huddersfield and I'm going there for college.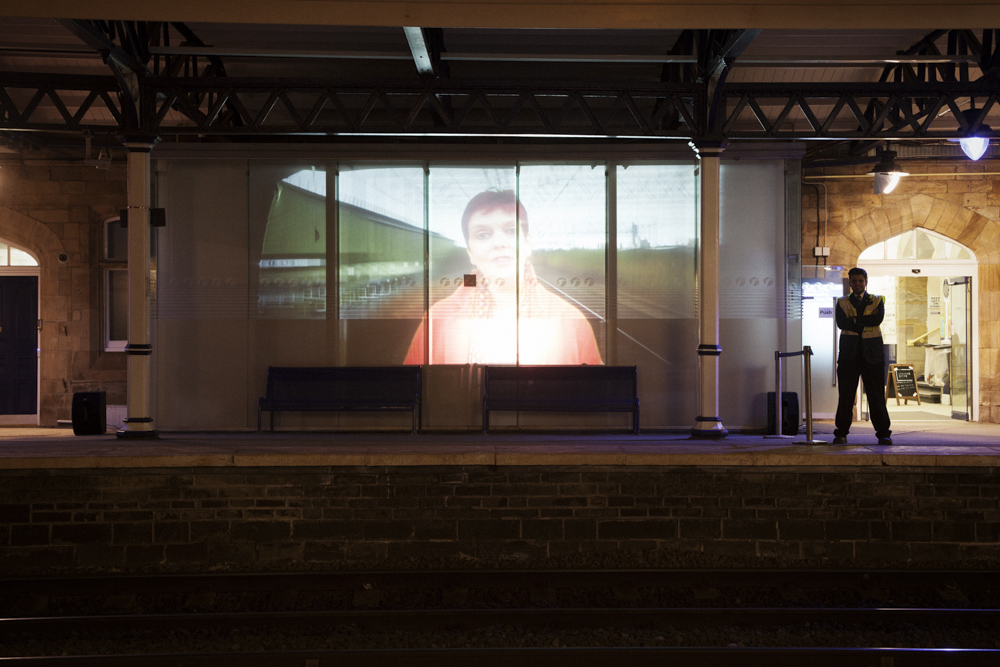 On the footbridge I bump into SceneMaker Ammaarah who has helped Shanaz and Steve get the content together.
"What was your involvement?" I ask her.
"I recorded train sounds from the platform which was fun because I'd never done anything like that before. And I stopped some of the passengers to interview them… anyone I thought was going somewhere interesting."
"How did you decide who to ask?"
"No one with a briefcase because that was too obvious. I tried to speak with people who looked out of place. There are people from all walks of life, coming and going. Some were travelling to Florida, or coming from London, it was amazing to see how many different people were going through Dewsbury Station and the different stories they had to tell.
"Which is your favourite?"
"There's a woman who'd just passed her UK Citizenship Test and when I asked her if I could interview her she was so enthusiastic and immediately said, 'Yes, this is what British people do…'"
"You mean, get involved in art projects?"
"Yes. And I thought that was really heart-warming. She was so happy to do it."
"My final destination is Dewsbury because I go to Batley School of Art."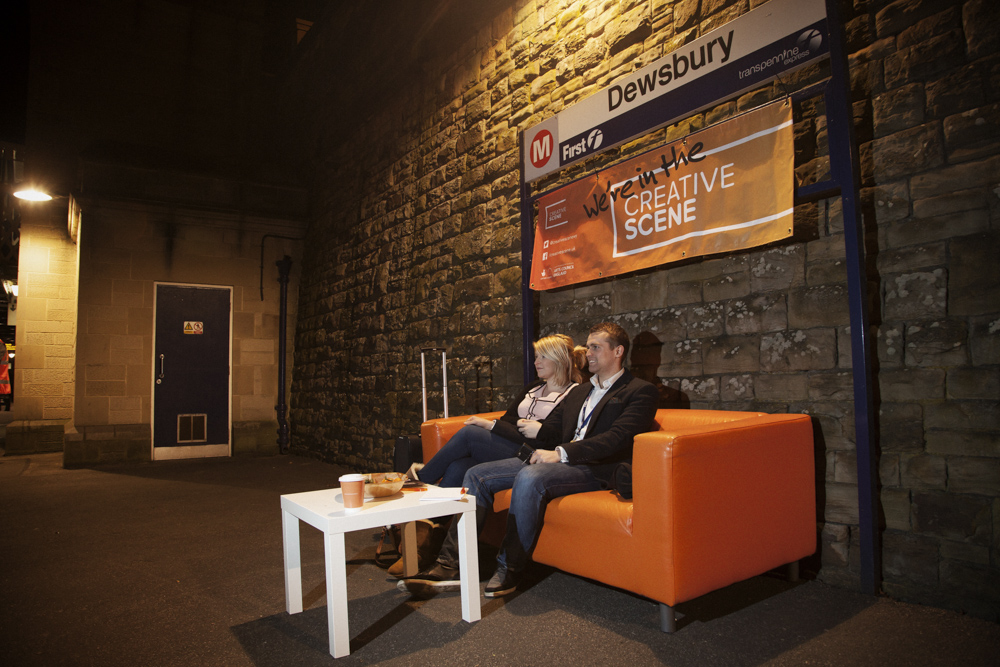 There's a couple sitting together on the sofa on Platform 1. I've already been given the nod this is someone I should interview.
"So you're the Station Manager for West Yorkshire?" I ask.
"Yes," says William Munton. "We cover Leeds, Dewsbury, Huddersfield and Stalybridge."
"And what did you think when Creative Scene first proposed staging this at the station?"
"We thought it was a great opportunity to get involved in something creative and totally different," he says. "I think it looks excellent… it's a winner all round."
William's wife Lucy is here too. "It's not exactly an exciting Friday night out… sitting on a sofa on a breezy railway platform," I joke.
"I'm really enjoying myself, it's like I'm in my own lounge," she says. "It's lovely. I think it's brought the station to life, a fantastic idea."
"Can I take a photograph of the two of you on the sofa?"
My final destination is Halifax and the reason I'm going there is because I live in Halifax.