Golden sunlight streams across the Market Square as the shutters are pulled down at Batley Bargain Centre. Metal barriers, heavy electrical cables and theatrical paraphernalia populate the Memorial Gardens. It must be nearly time for the Batley Festival.
"So describe to me what's going on here," I ask Festival chair, Kimberley as we stand next to a row of portable toilets waiting for the volunteer performers.
"Apparently this is the watchtower," she says, pointing out a scaffold structure, "and the films will be projected onto three of its sides."
I can see Claire and Damian from Periplum Theatre Company amongst the technical people adjusting spotlights and clutching gaffer tape. Tonight is the first rehearsal for The Batley Picture Show, specially commissioned by Kimberley and her committee.
"This will be unique to Batley," I say.
"I know. I'm so giddy, so excited about it all. We've seen some storyboards but really we don't know what's going to happen."
We're expecting a group of local people to play a supporting role in the performance and a crowd of junior rugby players. Duncan is one of the volunteers: "The call-out mentioned flaming rugby balls and exploding tea cups, which I couldn't resist," he says. "I enjoy taking myself out of my comfort zone."
Already a supporter of Creative Scene, Duncan tells me he has some proposals to get his town on the artistic map. "Liversedge is underrepresented in North Kirklees and I'd like to work with Creative Scene to change that next year," he says.
"Sounds good," I say. "I'll come along and tell that story."
As the library clock chimes six, Claire gathers everyone together for some introductions. "Damian and I are directors of Periplum and we co-wrote this piece; Damian has done all the film editing and I'm directing the show," she says, "so I get to boss people around a bit.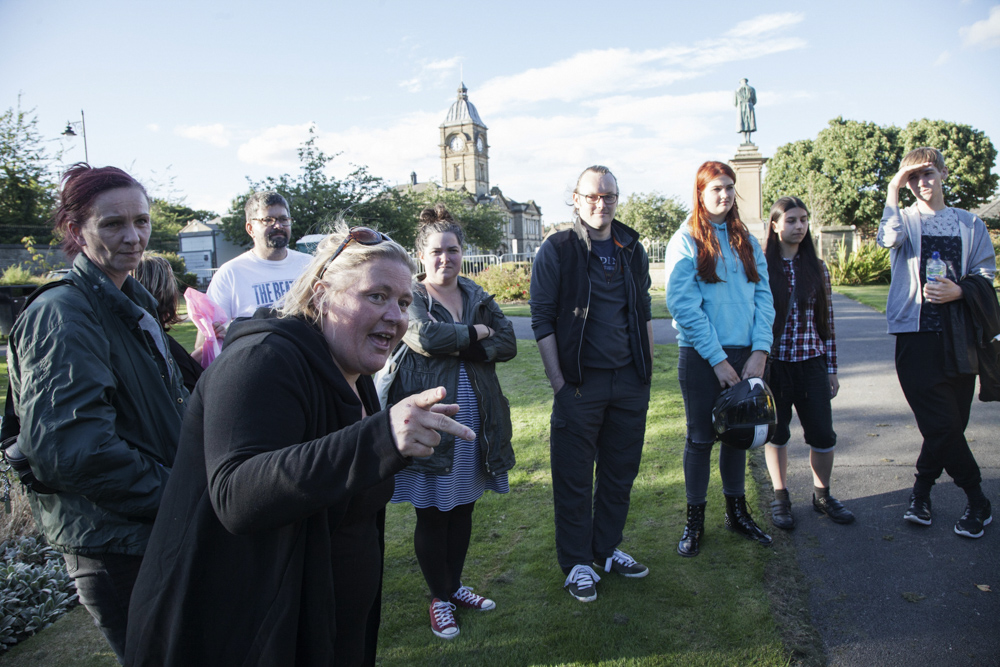 "We've been going for 15 years or so and we like to make new theatre each time: new writing, a new story and an original composition. That's our artistic vision."
We get to meet the rest of the small team: performers, musicians, composers and technical bods although, it seems, everyone does a bit of everything. "And this is Graham," says Claire, "who will be working with you this evening."
It turns out the rugby 'flash mob' can't make it after all but Claire's not fazed, they can be incorporated into the show when they show up on Saturday.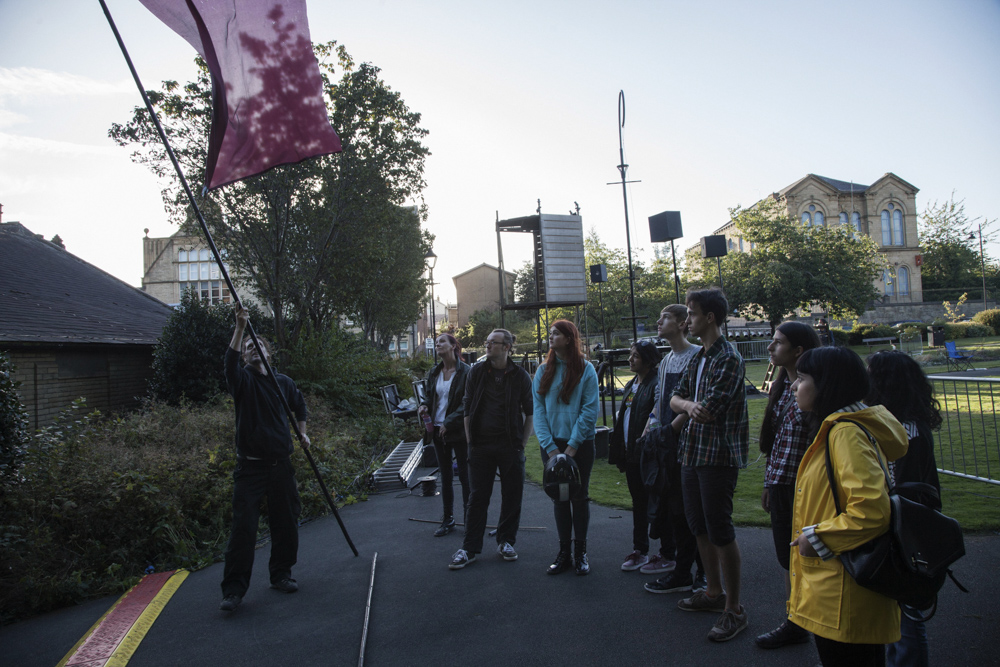 For the next couple of hours Graham and his colleagues work with the volunteers and a variety of props. After huge purple banners have been erected Kimberley introduces me to Batley Festival's newest committee member. Donna has been encouraged to get involved so she can be, "a voice of the residents of the council flats where I live," she says.
"Have you done any performing before?"
"Not since drama at school," says Donna, "but I'm not shy, I'll get stuck in."
"And have you been to a Batley Festival before?" I ask.
"Me and my daughter have been to the last few and they've been fantastic. Last year we were sitting up there watching the night-time performance and I said to myself, 'I want some of that', and here I am."
"Right guys, come and get a lantern and a bell," says Graham, standing over a couple of large boxes. "Don't worry if they don't work, we'll have new batteries for them on Saturday."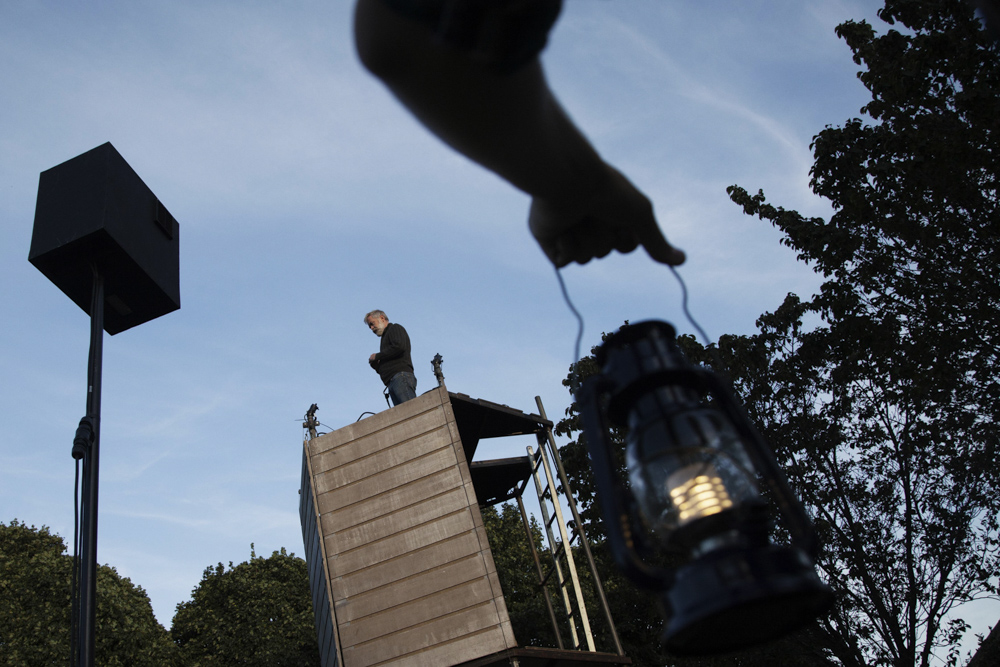 As the light fades I capture the Periplum team and their enthusiastic band of volunteer performers roaming around the gardens with lanterns, bells, balloons and torches.
By eight o'clock they are passing around costumes – donkey jackets and flat caps – trying to find ones that fit.
"Have we got enough jackets for everyone?" shouts Claire.
"This is too small for me, and that one too big," says Duncan. "I feel like Goldilocks."
The Batley Festival runs from 11am-5pm this Saturday, 10th September. Its finalé, The Batley Picture Show, starts at 8.30pm with gates open from 8pm.