Already people are lining the streets in the centre of Cleckheaton eager to get the best view as the riders sweep by. They've a long wait.
In the King Edward VII Memorial Park, a large screen set up between Mr Super Scoop ice cream van and the face painting tent shows the peloton riding through another grey part of Yorkshire.
"When are they due here?" I ask the guy next to me.
"Not for another hour and half at least," he says, bending down to wipe blue ice cream off a child's face.
On the other side of the war memorial the pedal-powered sculptures – Les Espaces Cyclophones – are piquing interest from the ever-growing crowd.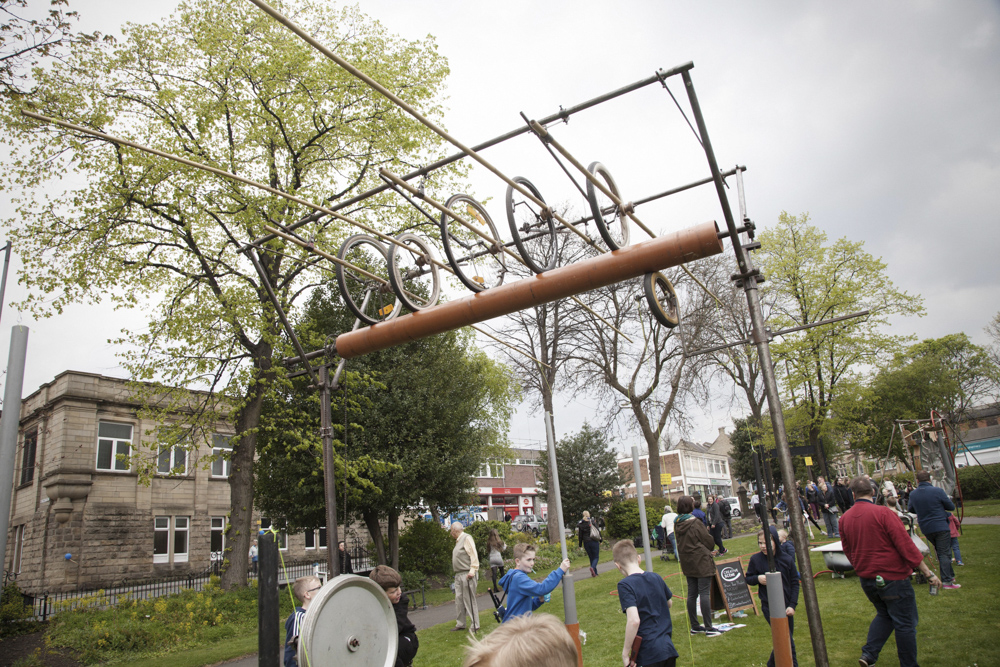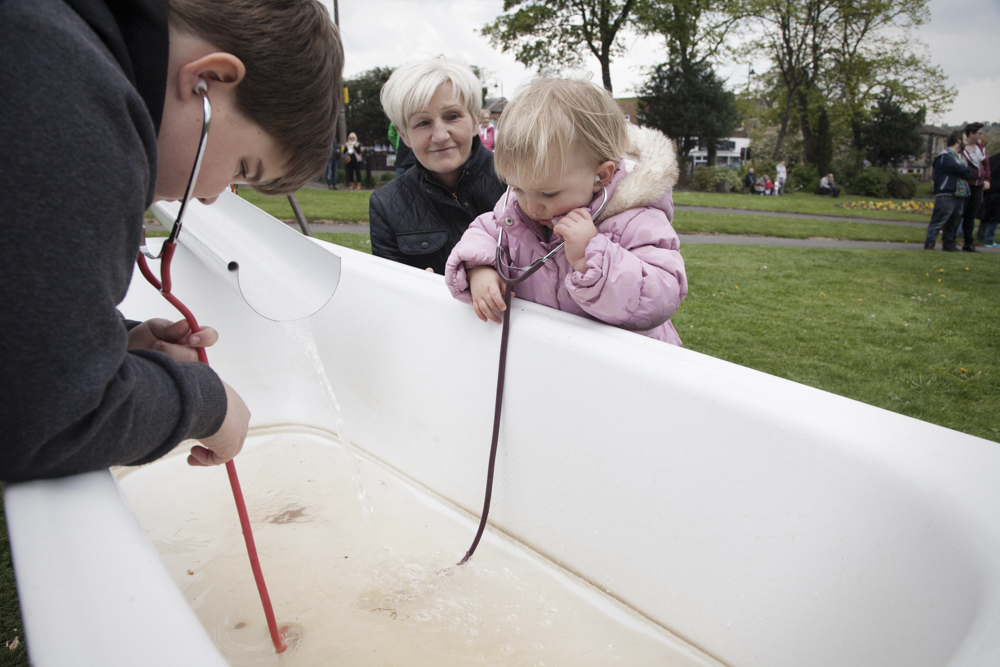 "They've brought these over from Belgium," I explain to a group of young lads as one pedals the stationary bike as if he's about to take the yellow jersey.
"Jacob, keep going, peddle, peddle!" encourages his mate as water cascades around a waterwheel.
"Is it for charity?" asks Jacob, out of breath.
"No, no. It's just for your enjoyment. That's François," I say, pointing out a man tinkering with one of the mechanisms. "You should go and say hello."
"Bonjour. Je m'appelle Liam," practices Liam.
"Very good."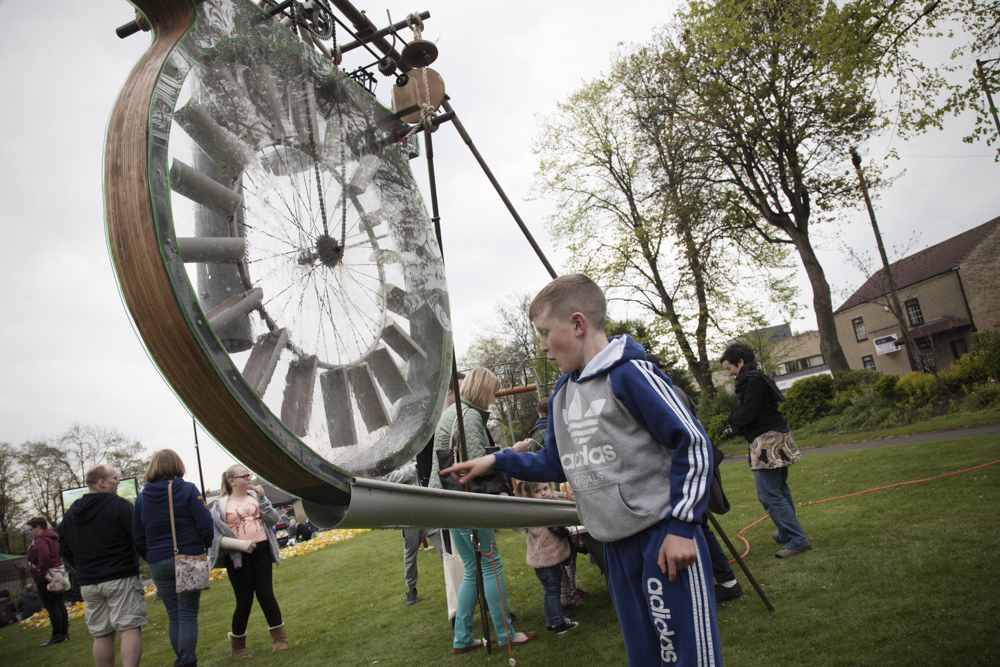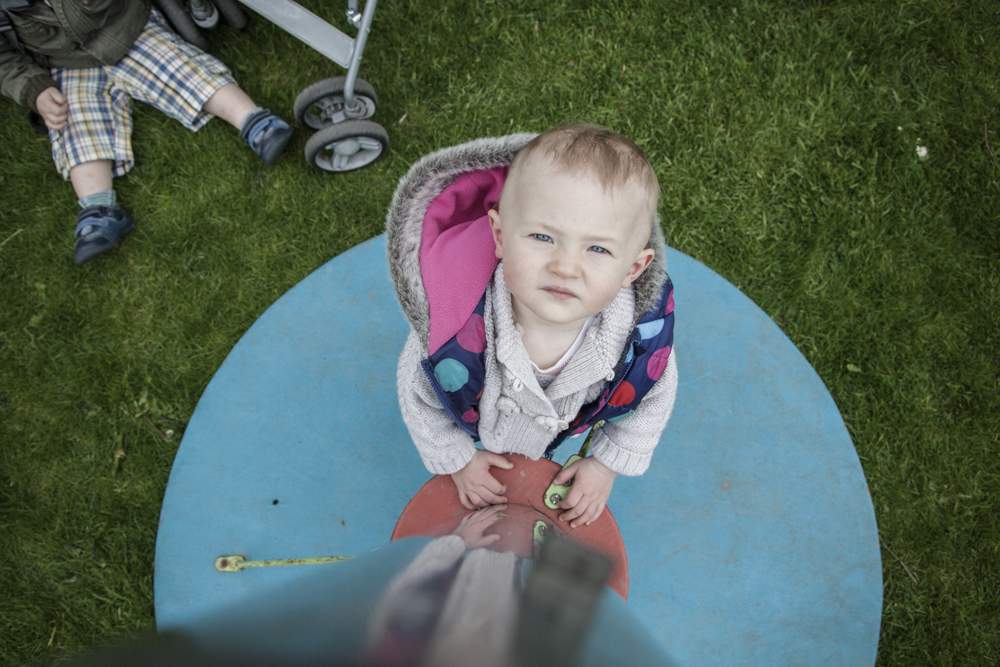 Lisa and Anna from Creative Scene are giving out leaflets and collecting email addresses. Sporting bright orange 'Art Adventurer' T-shirts they look as if they've just got off their bikes.
Seven-year-old Lucas is stood next to a water-filled old bath with a stethoscope round his neck. "What sounds can you hear?" I ask.
"It goes splishy sploshy, splishy sploshy," he says.
"It's like an echoey swooshing sound," his mum adds.
Lucas puts the end of the stethoscope up to his lips. "I can hear myself speaking," he says.
"We saw all these being put up last night while we were walking the dog," says Dan, one of the dads standing back, surveying the scene. "We brought the kids down at about 11 – it was nice and quiet then – and they had a play with all the different contraptions.
"It's intriguing, isn't it?" he says. "The kids love it. Listening to the different noises, especially the water."
"Have you had a go?" I ask.
"I have, yeah."
With the help of some translation from Silvia, François's collaborator, I find out the velo-powered sculptures were originally built in 2004 and this is the first time they've been to the UK.
"Tell me something about these pieces," I ask. "What can the children and grown-ups experience?"
They converse quickly in French. François's English is only slightly better than my French. "It's a visual installation," Silvia tells me.
"Aussi important…" says François.
"He's saying that the view and the sound are equally important, and we leave the public to discover it for themselves."
"… very simple… but the people are Wow, they don't… d'habitude?" continues Francois.
"Normally," translates Silvia. "People don't normally play with something so tactile. They are so used to clicking their computers. And everyone knows how to ride a bike, it's not complicated."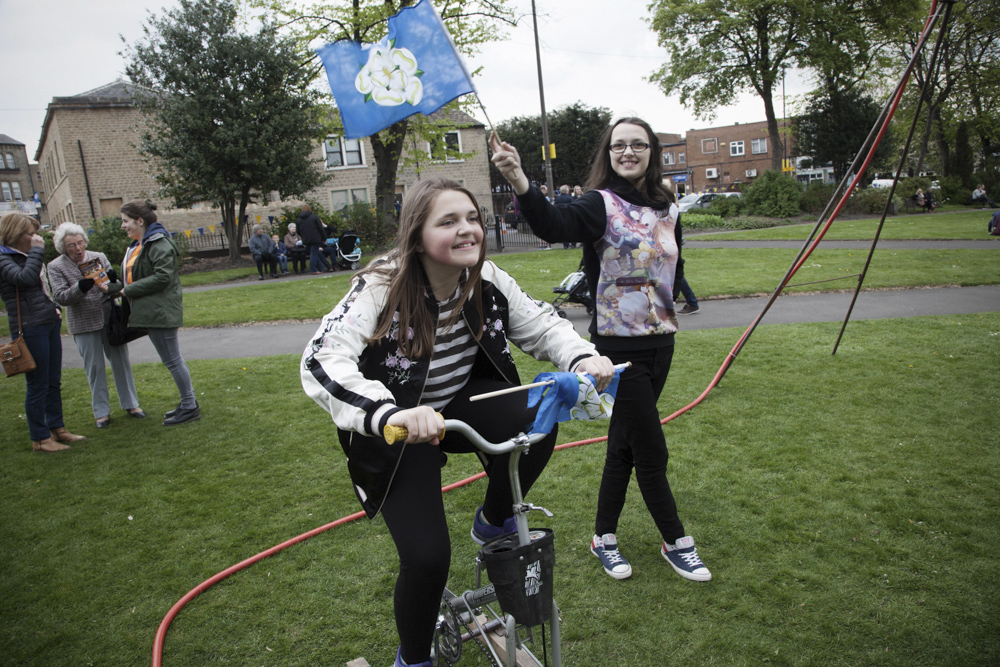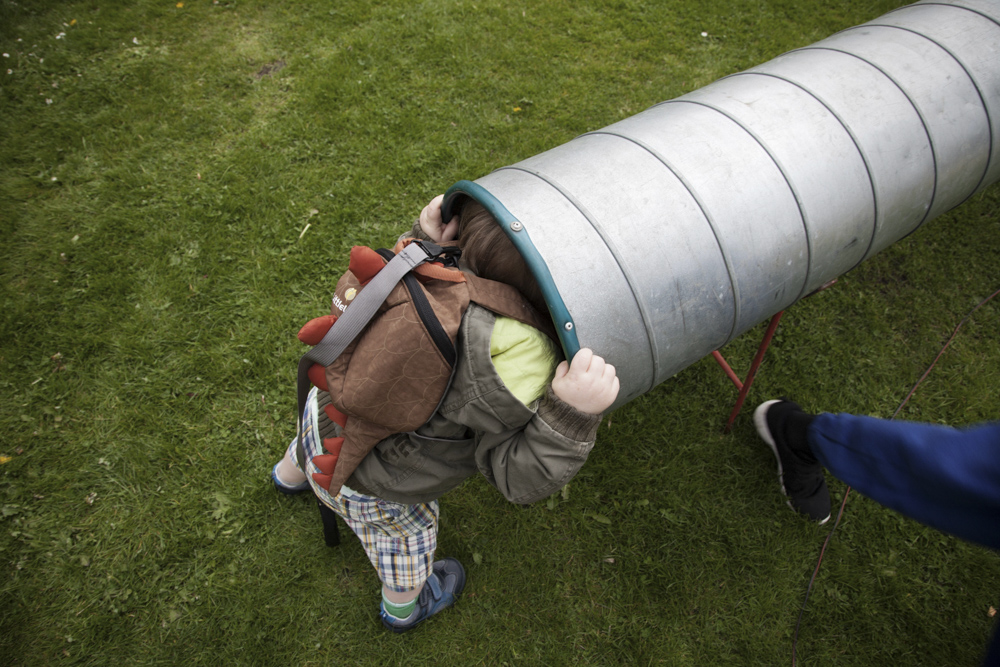 Chloe is pedalling the water wheel now. "What do you make of all these in your park?" I ask.
"Good," her mum says for her, "it should be a regular thing."
"So these guys have brought all these from Belgium."
"Wow!" says Chloe.