"The idea is we start off as fans and then we change into our kit," says Joyce. "Is there time for you to take your tops off?"
I'm in the attic space at the Lawrence Batley Theatre in Huddersfield, snapping away during this morning's rehearsals for The Ruck which premieres on Friday.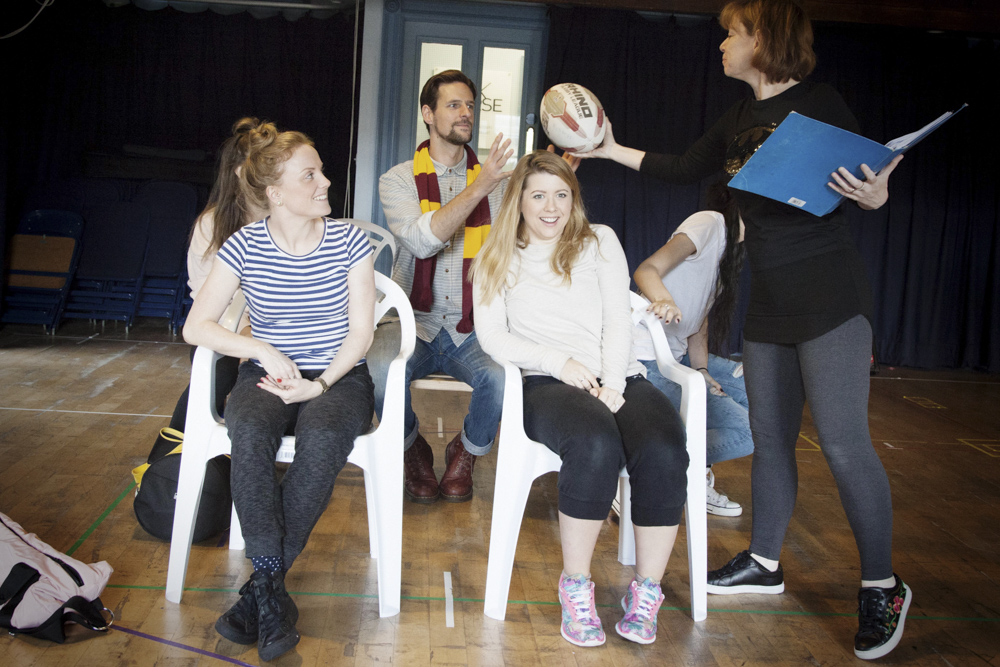 Written by Kevin Fegan and commissioned by Creative Scene, it's a play about the Batley Bulldogs Girls' Under 16s team tour to Australia, the first ever tour by a girls' rugby league team.
I've been following the evolution of this play on this blog since the girls and their families flew out from Manchester Airport in November 2015. I can't wait to see how their adventures translate onto this stage this Friday.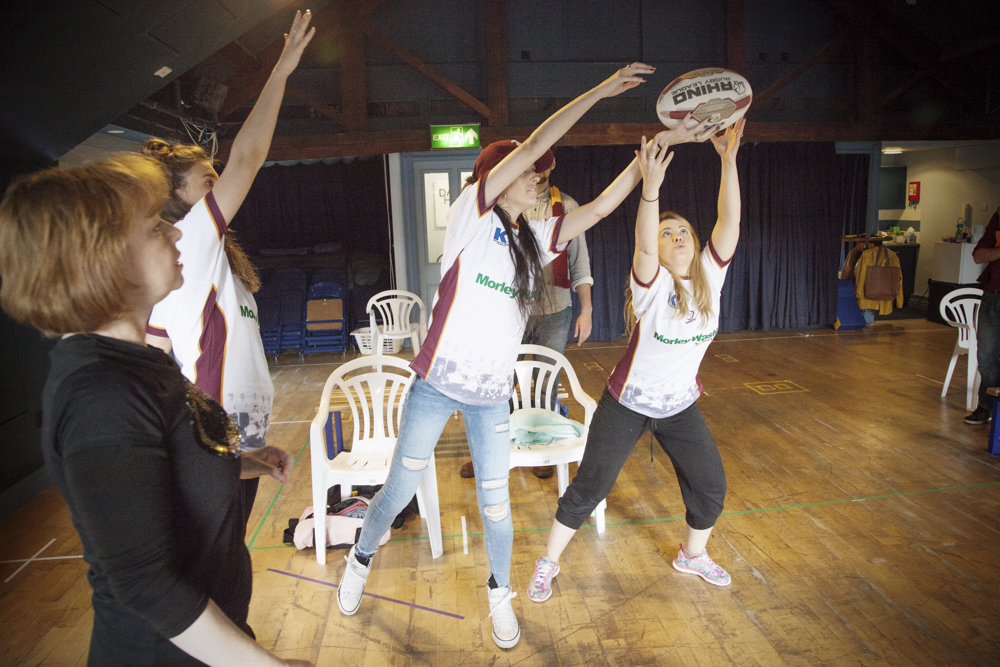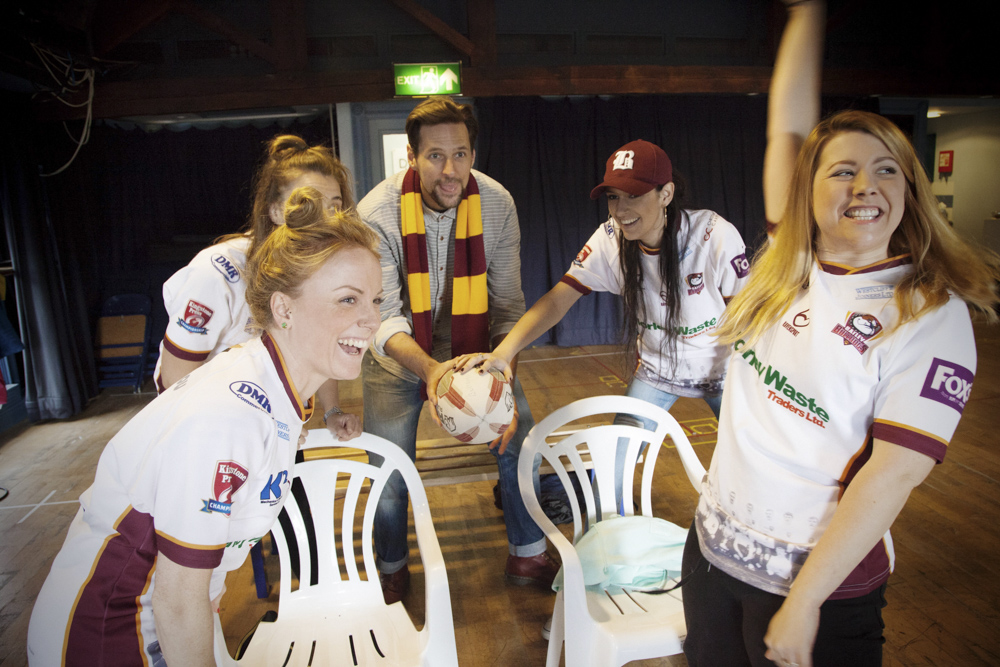 Director Joyce Branagh and the eight-strong cast are having a good laugh trying to work out a passing sequence where the Batley Girls triumph down under for the first time.
"What if I run round this way?" asks one of the girls.
"Great," says Joyce. "And now let's try all that again to make sure it wasn't a fluke."
This whole time the assistant director is recording new stage directions and cues on her copy of the script. Creative Scene stalwart Rebecca Foster – who runs the West Yorkshire Drama Academy – has been invited to work with, and learn from, Joyce.
"Her direction is so imaginative and creative," Rebecca tells me at the tea break. "As a young director I wouldn't know where to begin in staging rugby match sequences with just four actors, but Joyce does this fantastic job of making it exciting and fun to watch.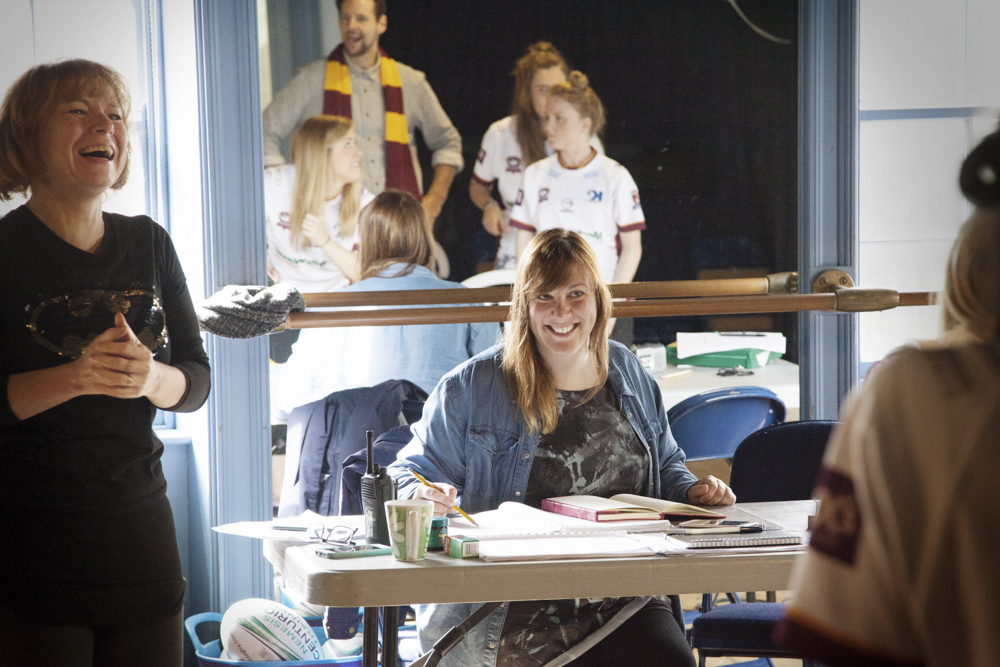 "As you've seen she creates an environment where all the cast contribute their own ideas. It becomes a real collaboration and there's an amazing team spirit in rehearsals.
"Kevin writes very intricately. Every line has got so much to it. He's really keen to get across the rhythm of his piece and so I've been working with the actors to make sure they've been hitting the right beats."
"And what about accents," I ask, "are any of the actors from Yorkshire?"
"Most of them are from the North," she explains, "but I'm the only one from Batley. And Batley does have its own fantastic accent. So I've been briefing them on how to say 'Tesco' properly!"
While Rebecca gets a cuppa, I turn my recorder on Joyce. "How important is a woman director for this play?" I ask.
"As someone who continually bangs on about there not being enough good parts for women in theatre I was very excited to get this role as a female director but, you know, I think it would be fine to have a male director too.
"It's not just a female story about girls. It's about their coach and their families and, as all plays are, about miscommunication and its resolution."
"And, apart from the ball rolling to the back of the stage after an incomplete pass, what would you say has been your biggest challenge?" I ask.
"It's a wonderfully dynamic play," says Joyce, "with so many different styles going on. Some bits are kitchen sink drama, some daft comedy, some stylised movement with singing and dancing in there too. Trying to get all those elements feel like they're the same play and they flow from scene to scene, that's been the challenge."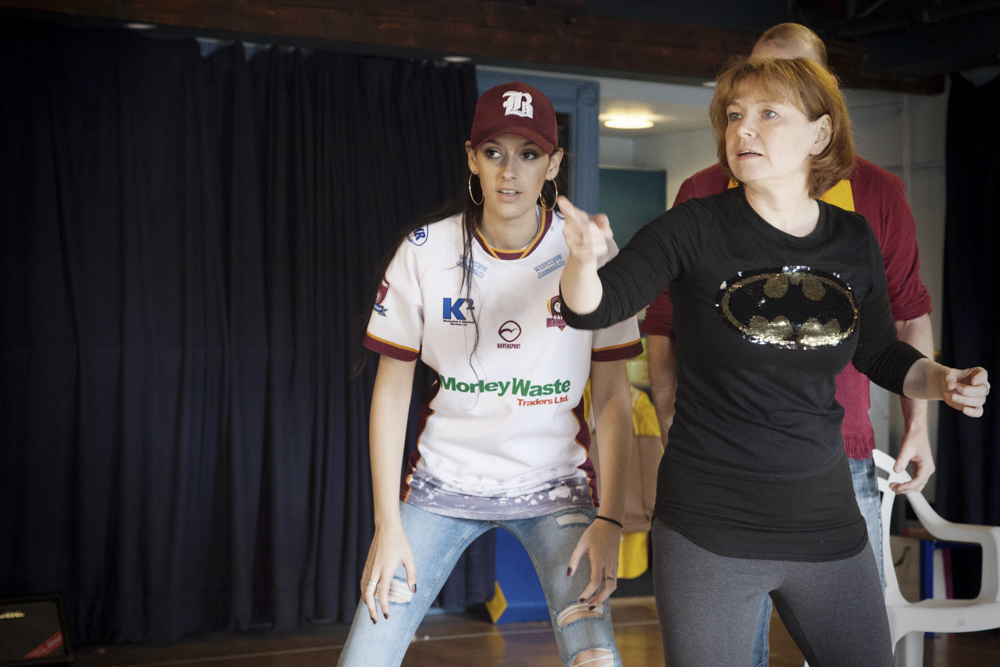 Before the mugs are back in the sink I ask actor Josie Cerise about their trip to the Mount Pleasant Stadium when some of the Batley Girls gave the cast a spot of coaching during a publicity photoshoot.
"We threw the ball around with them," recalls Josie. "I like to think we picked it up quite quickly. We just have to look as if we know what we're doing!
"But what really struck me was how passionate the young women are about this play. It's a story about how they proved something to themselves and I feel a responsibility for telling that story with real truth and authenticity."
"Okay, right," calls Joyce. "Let's get back to it."
The Ruck is at Lawrence Batley Theatre this Friday and Saturday (tickets here) and then tours from the 18-22 September to the Theatre Royal Wakefield, Cast in Doncaster and finally The Civic, Barnsley.