There are Sharpies, watercolour pencils, 'tiger fur', glue and paint brushes strewn over a low table in the corner of the café. Two women stick cardboard leaves onto drinking straw branches that dangle from an elaborately-decorated wooden chair.
It must be another Creative Scene event.
"So you invite people who come into the café to interact with this chair in some way?" I ask.
"They can add something to it, or draw something on it," says SceneMaker Sonja who's helping out, "and that gives us an opportunity to talk to them about art."
"Is that glue strong enough, do you think?" asks Liz as Sonja attaches another leaf.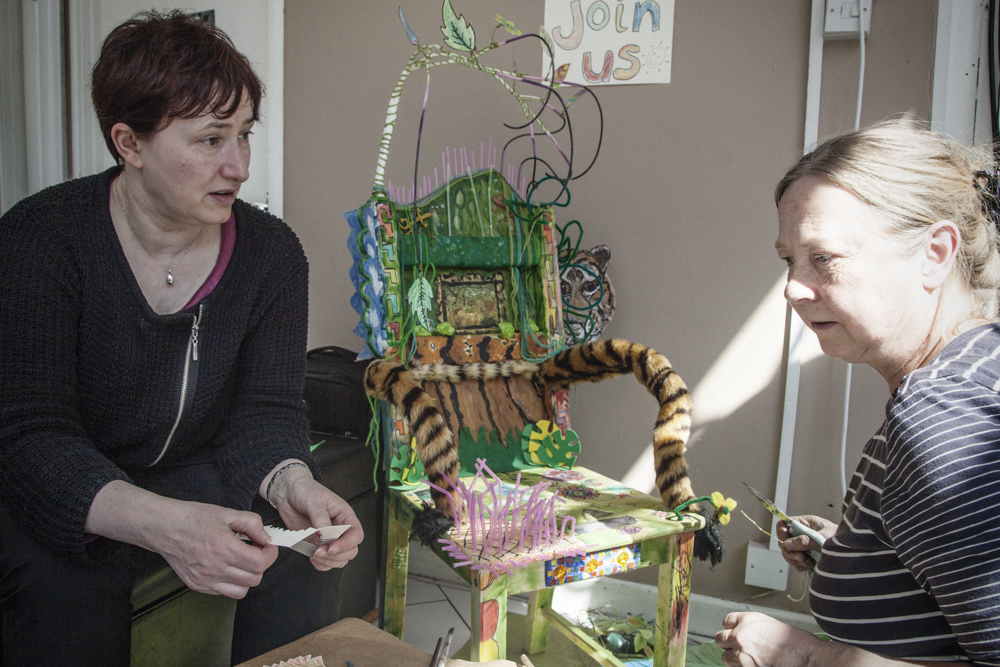 Liz Walker who is one of three artists (with Rozi Fuller and Jim Bond) who've spent afternoons here at the Cocoa Lounge in Dewsbury and at The Cobbles in Birstall for this Art Tea Café project. That's 'Arty' Café.
For Creative Scene it's an obvious extension to the Artists@Work project which takes art to the people… in a factory, an Indian restaurant, on the market and in shopping centres.
"Workmen come to The Cobbles for their all day breakfasts," says Liz, now with paintbrush in hand, "so we had builders, engineers and tree surgeons all having a go, which was really nice. Is this too much green?"
"People feel more relaxed in a café, don't they?" I suggest. "It's a good way of striking up those conversations."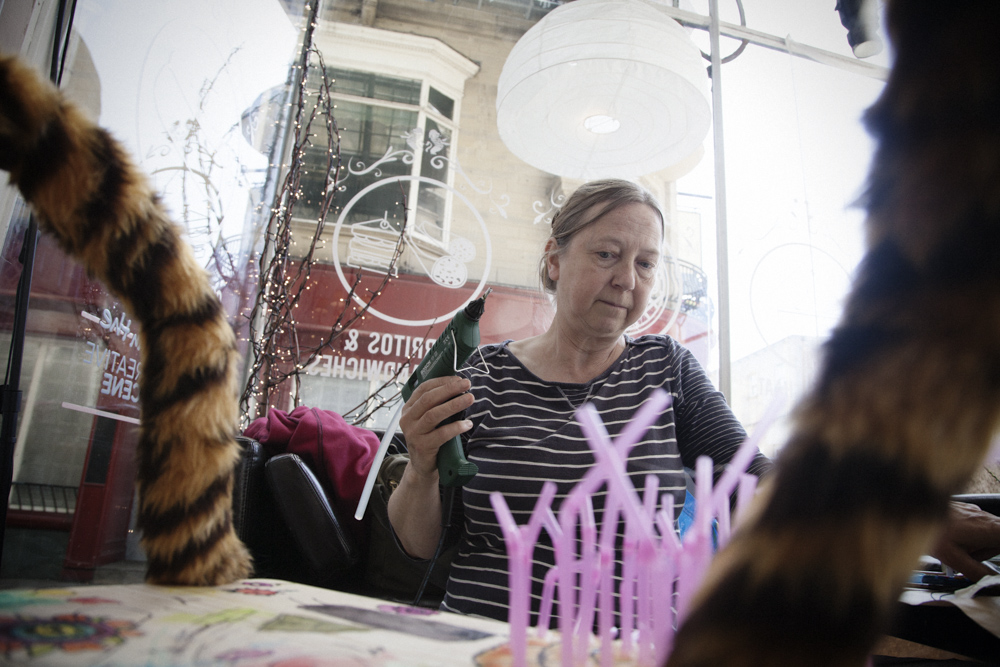 Sonja has form. I've already reported on her sitting with shoppers at The Mill in Batley as they crochet with textile artist Cassandra Kilbride. "Do you feel comfortable talking to strangers?" I ask.
"I used to work in a shop," she says, "so it's no problem."
Sonja tells me about one customer who'd come for a brew at The Cobbles with his family. "I asked if he did any art. 'No, no, no,' he said, 'it's not my sort of thing. I leave that to the wife.'
"I asked him if he'd been to see the poppies at Yorkshire Sculpture Park and he said he had, and enjoyed it. 'That's art,' I told him.
"Then Liz and I told him about the copper sulphate room at the Sculpture Park and that interested him, so I hope he'll go."
"So it went from 'No, I don't do art,' to 'Oh yes I do, don't I'?" I say. "So you're finding ways in?"
"Many people see art as just painting and sculpture," says Sonja, "but if you talk to them about music or theatre or photography, then they see how much they do interact with the arts.
"I have to admit I'd never have thought of going to an opera before I saw Batley Does Opera."
"People have enjoyed getting involved," says Liz as Sonja encourages a little girl from a nearby table to join the creative fun. "We've given people a simple task, sometimes just a a one line doodle, to encourage them to pick up a pen and have a go."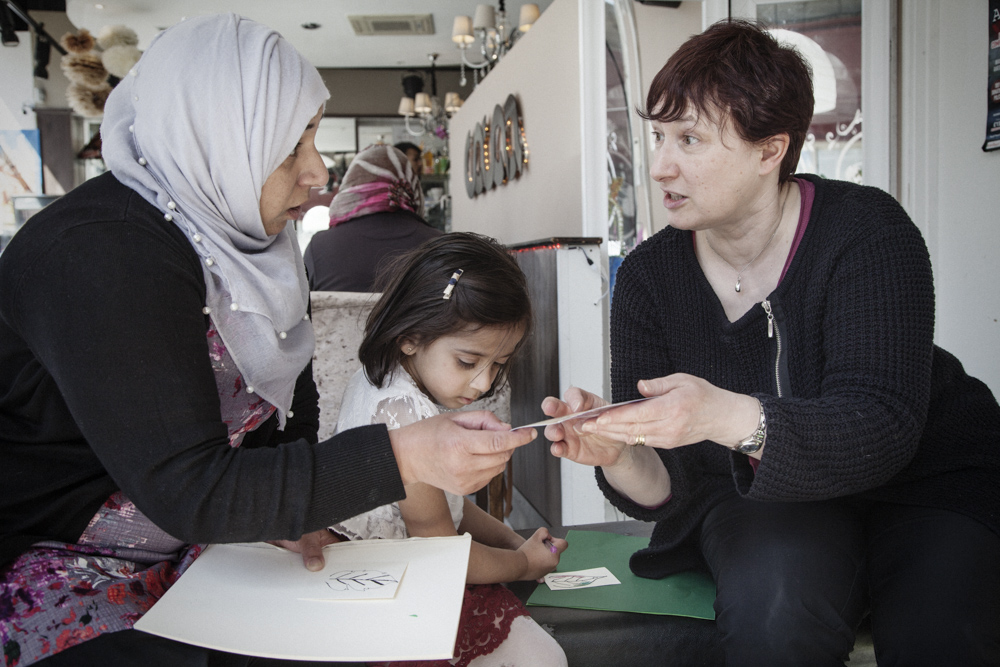 Three-year-old Muzaina is soon followed by her mum, Mehmuda and they each start to draw a leaf.
"Give it your best," says Liz as Mehmuda hesitates with her Sharpie.
"Do you do any art?" prompts Sonja.