"Tonight we're going to get some things done," says Ruth, as the SceneMakers finish their sandwiches and Bakewell tart. "We're starting the pop-up strand of our programme and your local knowledge will be incredibly helpful in our planning."
Less chatting and more action. This evening's gathering of Creative Scene's art ambassadors sounds intriguing.
We're at the Mirfield Creative Hub, run by SceneMaker Mark Milnes, who has just given us a short history of its conversion from cinema, bingo hall and night club to artists' studios.
"Did you ever come to the cinema before it closed?" I ask Mark.
"I remember trying to get in to see Predator when I was 14. It was an 18 certificate. The kiosk staff practically laughed at me and I went to see Innerspace instead. It was rubbish."
Ruth's colleague, Vicky is the Creative Scene producer in charge of this part of their programme. She gives us a short presentation on pop-up arts activity.
"It's about having conversations with the general public; creating 'access points', capitalising on busy events or places," she says.
Vikcy shows us images of pop-ups she likes. There's a café in Manchester where your latté is free if you perform a little ditty. An abandoned unit on a housing estate renovated with no particular agenda and one of those American-style metal caravans where ideas are exchanged for sweets.
"But please," emphasises Vicky, "don't think of pop-ups shops. We're talking about any space… anywhere."
So the SceneMakers' job is to suggest lots of West Yorkshire venues where, with Creative Scene's help, art can just pop up.
Already there are labelled maps pinned to the wall – 'highly populated', 'hard to reach', 'wild card' – and like an efficient school teacher, Ruth splits everyone into groups. "We want you to come up with fresh ideas," she says, giving out pens and sticky notes.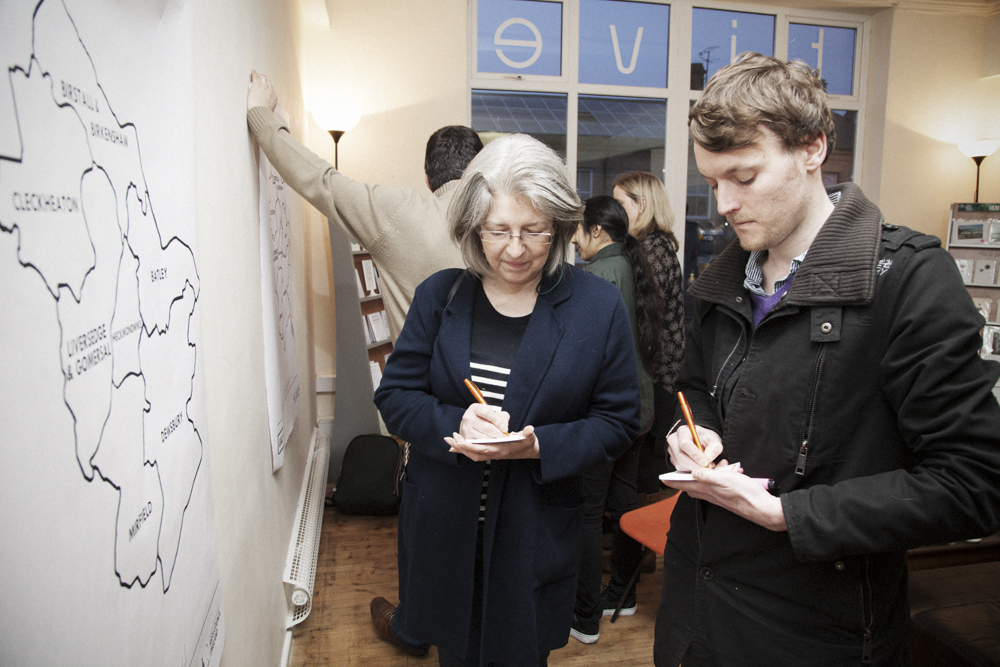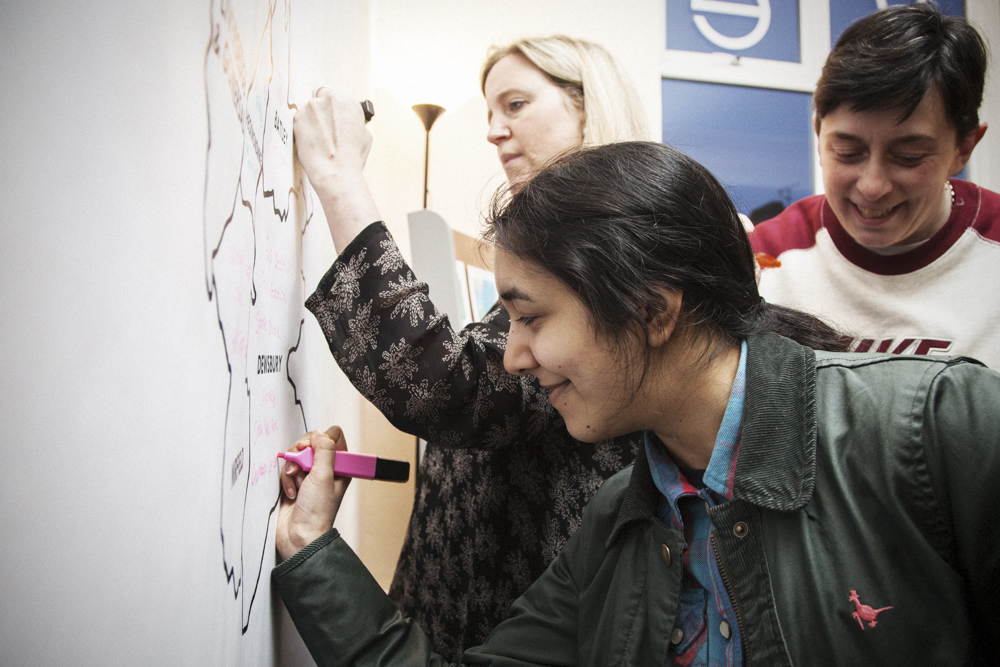 After five minutes the groups move from one map to another, adding suggestions to those already made. "What about that garden centre," says Ammaarah, standing in front of the 'highly populated' map, "is it called Whiteleys?"
"Of course!" says Gayna. "That gets hordes of people at the weekends."
"Dewsbury Rams," suggests Simon.
"Batley Bulldogs," retorts Gayna.
"Thirty seconds left!" shouts Ruth.
Within 15 minutes the maps are bursting with suggestions and as the SceneMakers re-fill their tea and coffee cups, Vicky chooses one from each that she will explore further.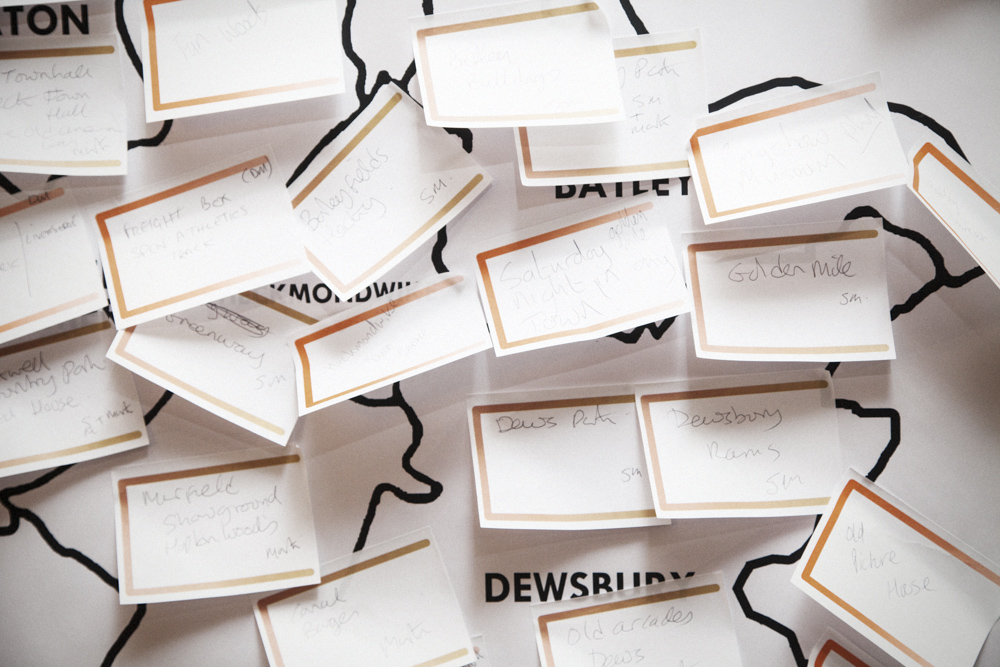 From 'highly populated' she chooses the retail park at junction 27; from 'hard to reach' she chooses a housing estate nearby in Mirfield, and from 'wild card' she picks the Golden Mile on a Saturday night.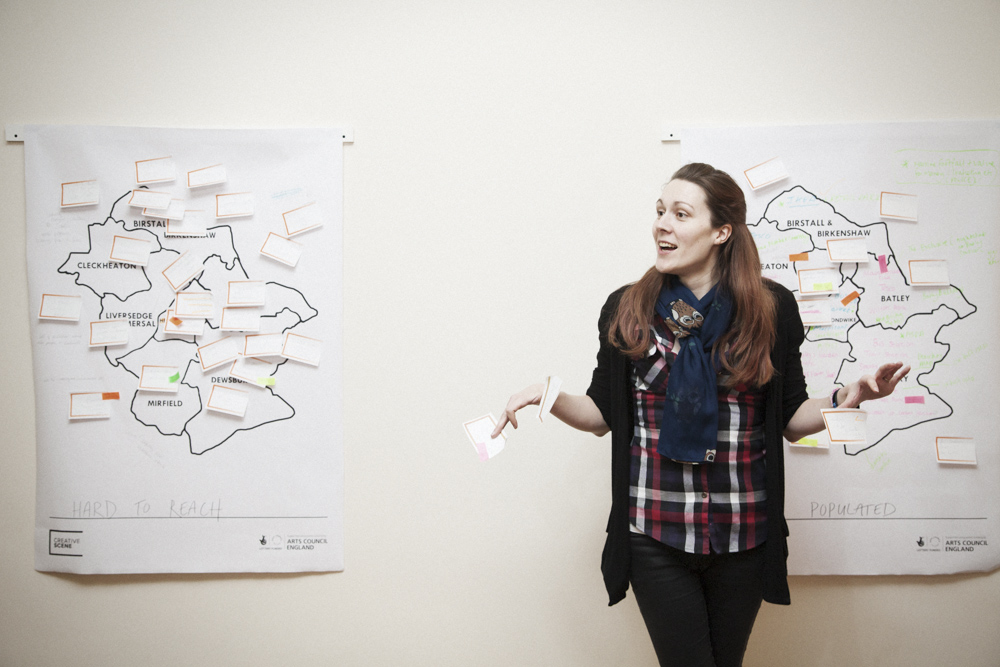 "What's the Golden Mile?" I ask, not being from these parts.
"It's a strip of pubs and night clubs between Dewsbury and Batley," she says, "and I like the idea of having something that's time-related."
"I think these are my choices," declares Vicky, clutching three sticky notes.
"It's like a game show," I say.
The SceneMakers' job is not over yet. They're in three groups again and this time Ruth wants them to analyse each of Vicky's three locations.
"Consider the target audience for that particular space," she says. "What's its unique selling point? Its challenges? And tell us if you have any connections with that space… perhaps your uncle or neighbour works there."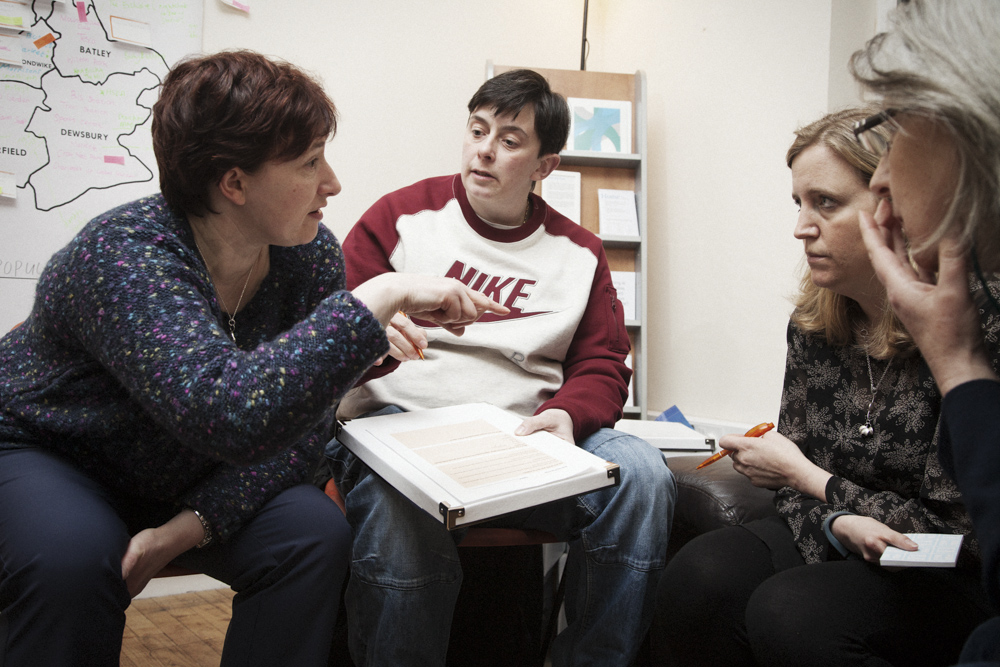 And after a 15-minute huddle each group reports back. Gayna enthusiastically extolls the virtues of Ikea at the retail park. "People often go with a creative mindset so they'd be open to some art activity. It's got real potential for something imaginative."
Duncan feedbacks with ideas for engaging young people on a housing estate: "Maybe industrial-style sculptures or graffiti art," he says. "Something edgy."
Simon and Philip's assessment of pop-up art on the Golden Mile is suitably light-hearted. A booze treasure hunt involving local landlords; inviting revelers to make some art while half-cut or, says Philip, "one of us could be dressed as Pavarotti encouraging them to sing into a microphone…"
"A Cornetto microphone?" suggests Duncan.
Vicky's got a lot to think about.