I've dug out my thermals. The Met Office app says it feels like -7. It's not wrong.
The Weeping Sisters are already leaning against the neo-classical façade of Huddersfield railway station as our procession gathers.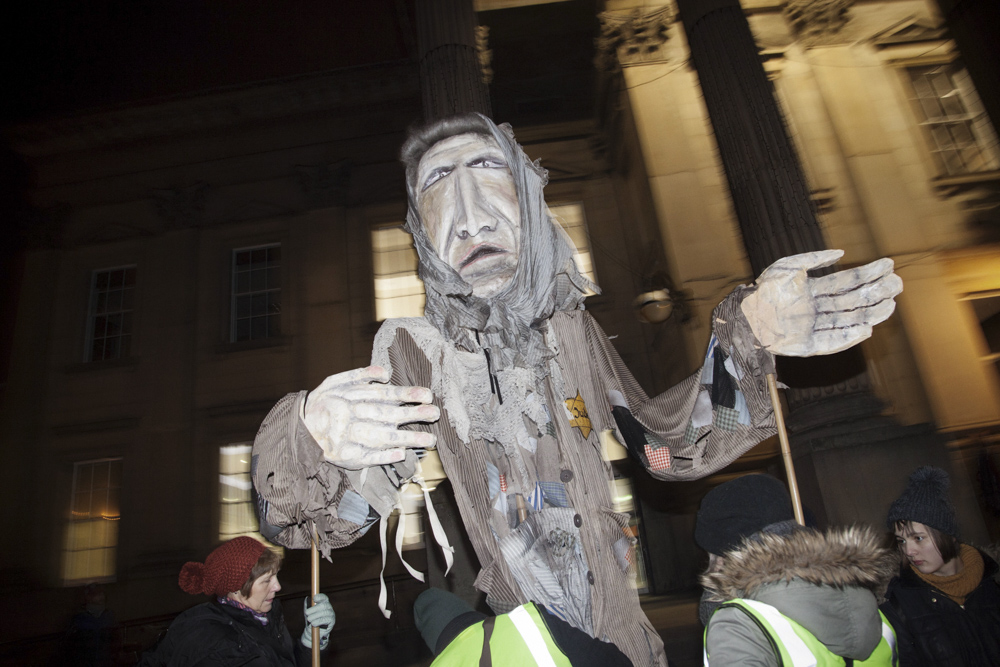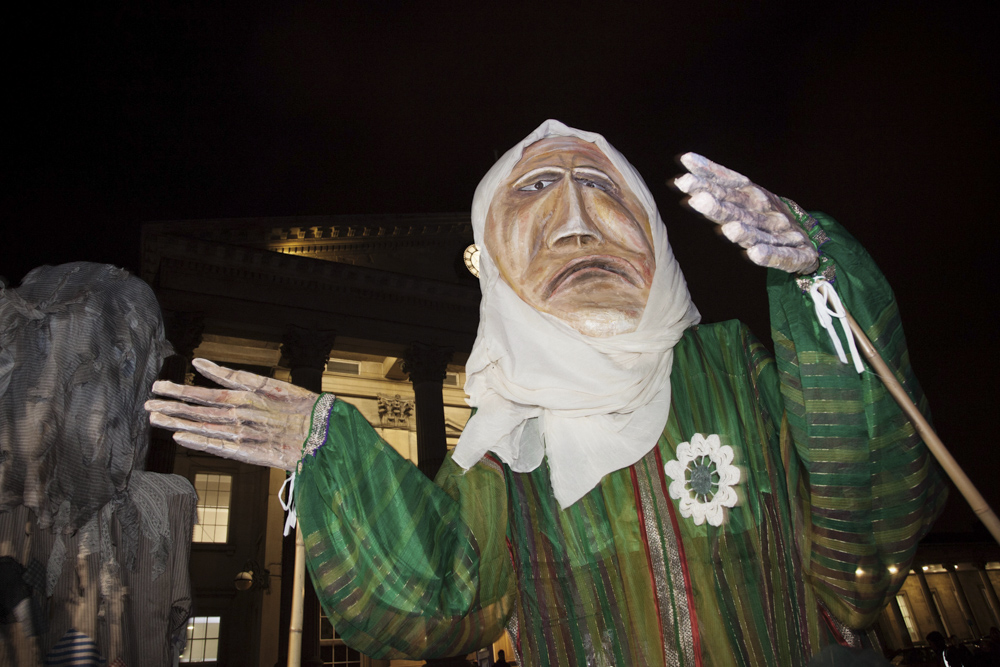 "Your 'sister' looks very different from when I saw her last," I say to Joanne who is here with her daughter Iris.
"We've done a lot haven't we? She looks lovely, and it's great to see the two 'sisters' together. We had a rehearsal on Saturday and it was good to meet the Bosnian women who've been working on theirs."
Adam from the 6million+ charity gathers us together for a briefing. "Thanks everyone for coming, it's wonderful that you are all here. It's a cold night but it's better than wind and rain. Okay, this is the plan…"
For the last couple of months 6million+ has partnered with Creative Scene and local people to create these two Weeping Sisters, representing the suffering of the Holocaust and of the Srebrenica massacre in Bosnia.
The idea is to make a massive visual impact ahead of this evening's Holocaust Memorial Day commemorations at the University. Judging by the number of onlookers we're attracting, it's doing just that.
"They look terrific," I say to Jasmina who is standing under Hava – our Bosnian 'sister' – with her own daughter, 20-year-old Melissa.
"Yes. We're very proud of what we've done in such a short time," Jasmina says.
"She's put in such a lot of work," says Melissa as the samba band strikes up with a mournful beat.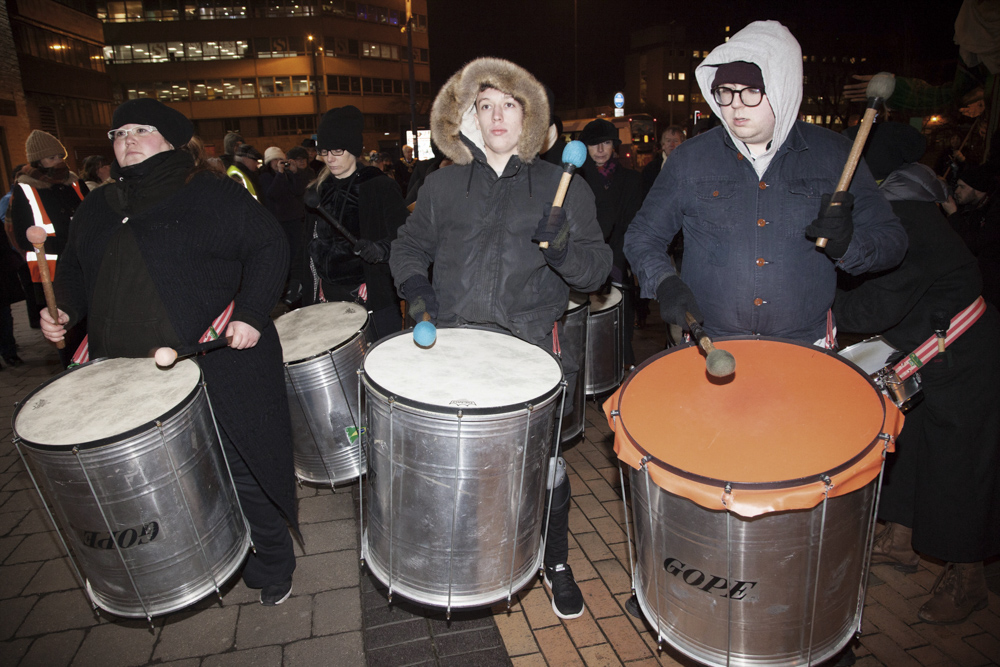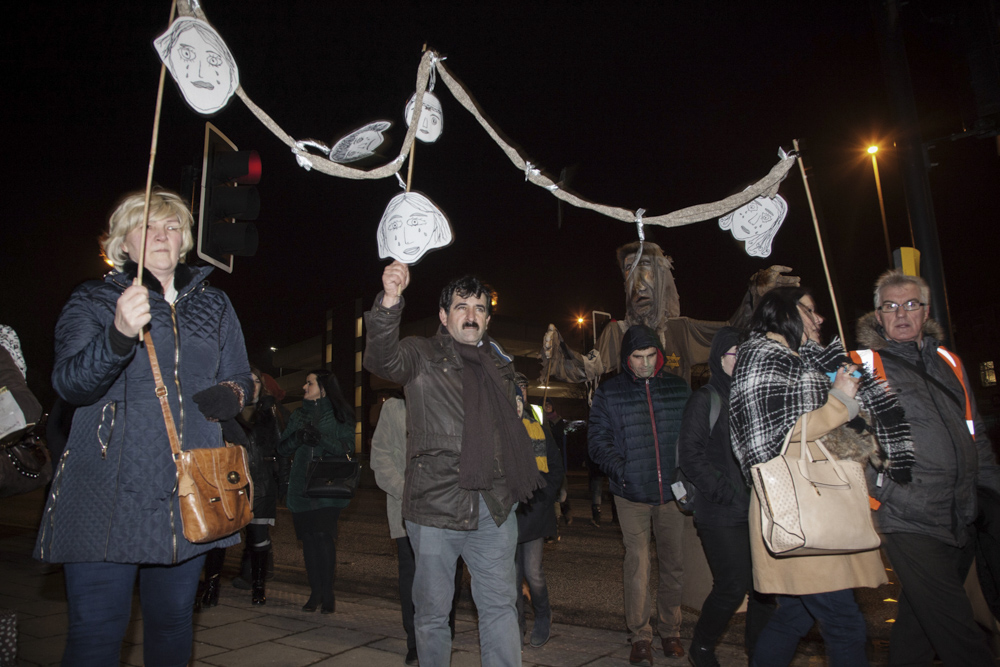 It's time. Alan leads us past the taxi rank towards the bus station where our procession officially begins. "Watch that bollard," says one of the stewards to Kitty, our Jewish 'sister' as we pass SpecSavers.
"It's amazing," says Creative Scene's Parveen, "just watching people's reactions. They catch sight of us, stop, and try to figure out what's going on. They're transfixed."
We're joined by the Mayor outside the Plumbers Arms who, like everyone else, whips out his mobile and takes a few snaps. A trio of singers from the University, led by lecturer Ben Spatz, sing a Jewish lament. With Medina on the accordion, a group from the Bosnian community reply with a melancholic song about estranged lovers.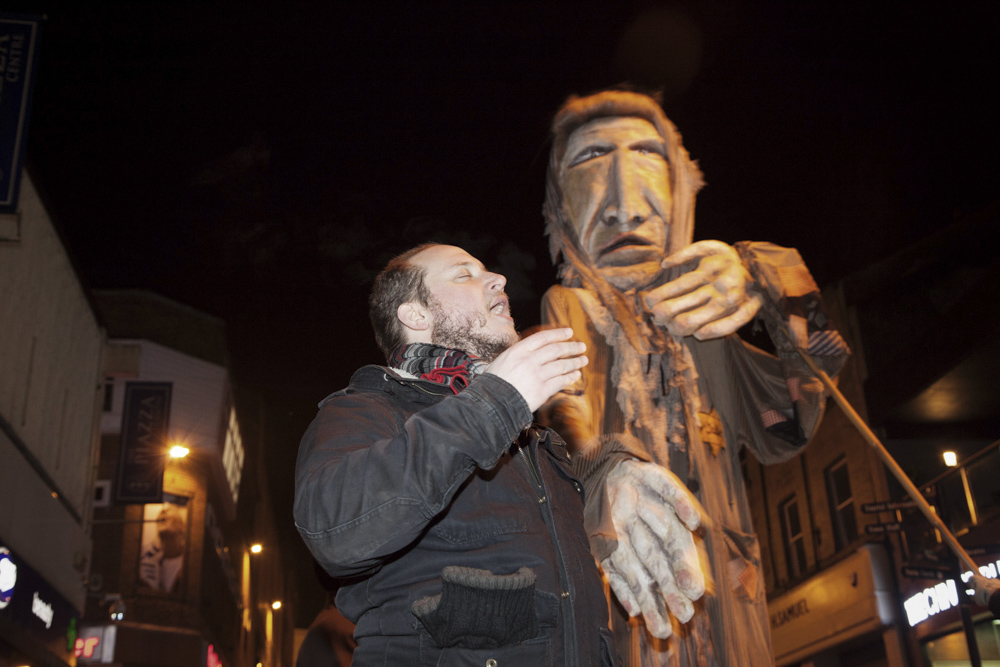 And then we're off again, across the dual carriageway and towards the shopping area.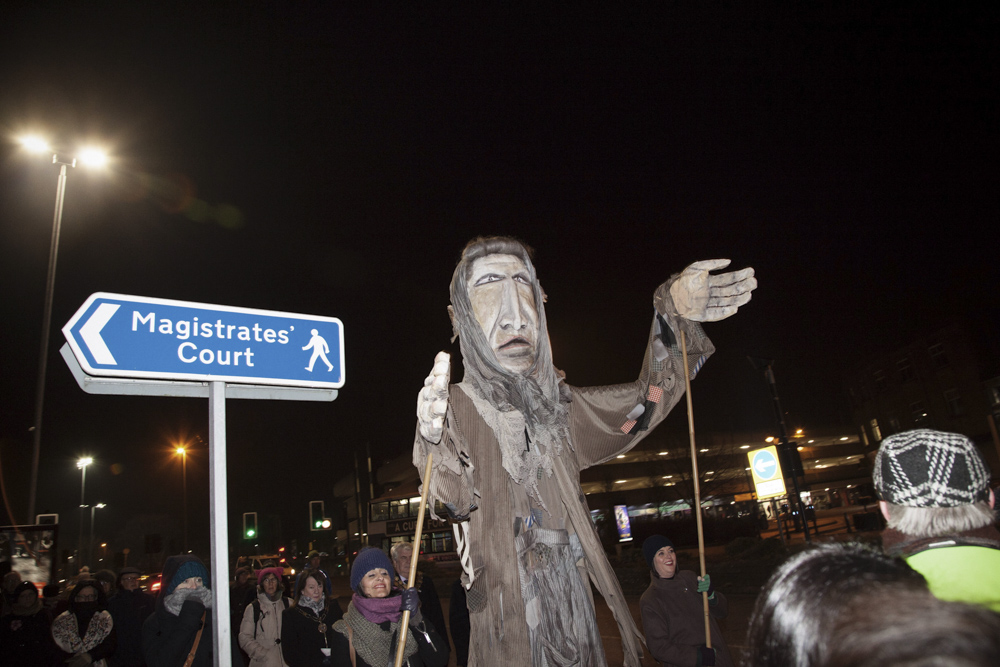 Outside VapeSuite I put my tape recorder in front of two women who've just been handed one of our leaflets. "It's for Holocaust Memorial Day," I tell them.
"It's really nice of them to do that," says one.
"I've never seen that happen before… not in our town anyway," says the other.
As we pass down King Street hairdressers stand with clients in their doorways, scissors in hand; restaurant staff and diners peer from their windows.
Outside Boots I say hello to a woman ladened with bags and clutching her shopping trolley. "I was on my way to the bus station," explains Shirley, "but then I saw this. It's very interesting. I'd rather get cold and watch this than go home. It doesn't happen every day."
After an hour our procession reaches the University for the main event. We're relieved to be in the warm. "How was that?" I ask Jasmina.
"Very special," she says, "but very cold. It reminded me of being in Croatia, after we'd fled Bosnia. It was snowing. It was so, so cold and we were sleeping outside for 23 days. It was horrible."
As the giant figures are dismantled to negotiate the doorway I notice Shirley following behind with her shopping. Still not on her way home.