I haven't been at St John's long before I realise this group of singers is very different.
"I sing on my own, in pubs or wherever," says Carol, "mainly folk and some blues."
"So this is straightforward for you?" I ask.
"Reasonably. But I've never sung in a choir before. Singing harmonies with other people is new. Normally I've only got myself to please."
Tonight is the fourth and last rehearsal for this festival choir, brought together to perform with Batley Community Choir at this weekend's folk festival. Whereas the Batley choir is well established but new to folk music, tonight's singers barely know each other although, it seems, have some folk-singing experience.
The two choirs will combine this Saturday night with the festival headliners, The Demon Barbers and a handful of other West Yorkshire community groups who, with Creative Scene's support, have been working towards a show-stopping extravaganza.
Barber's vocalist, Bryony Griffith, has been rehearsing four songs with both groups. "These singers have responded to our call-out," she explains to me. "Yes, most have some folk experience and some know the songs a little already."
"So it's been easier working with this lot?" I ask.
"The same really," she says, "I go at the same sort of pace with each group."
"And will both choirs come together seamlessly?"
"They should do," she says with a big grin. "I've taught them both in the same way, and it's the same songs, so it should be perfect!"
"And you've enjoyed it?"
"It's been great. I love making other people sing. You get a lot out of singing. It makes you forget everything else. Especially at the minute."
Once the choir has settled into the 150-year-old pews Bryony warms them up with stretching, shaking, rubbing, hugging and deep breathing. All wonderfully photogenic.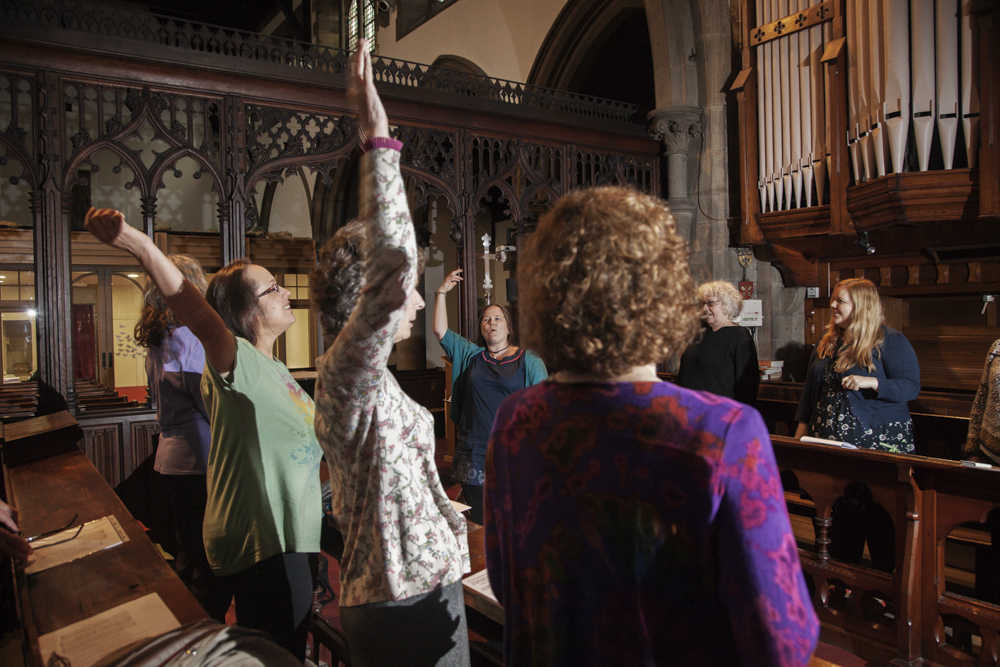 "Okay, let's start with The Grey Goose and Gander," she says, "we'll sing the first verse and chorus together and then stop and remind ourselves of the harmony part."
I take my camera and tripod out into the nave where a man I haven't seen before is sitting, listening to the rehearsal. "Are you not singing?" I ask by way of introduction.
"No, no," he says, "I'm the festival director."
Brilliant. I exchange my camera for my tape recorder and, over the top of the choir's rendition, grab the opportunity to ask Dave Minich how the collaboration between Creative Scene and the Cleckheaton Folk Festival came about.
"At last year's festival Creative Scene asked if we could accommodate the Matthew's Coffee House band which they'd put together in much the same way as this one. We welcomed that and it was great."
Said the gentlemen to the ladies, well how do you do?
"And then, last October we spoke with Creative Scene about how they might get involved in a slightly bigger way. I knew the The Demon Barbers did workshop groups – I'd seen it work really well at other festivals – and Creative Scene were keen to get local groups involved in different art activities."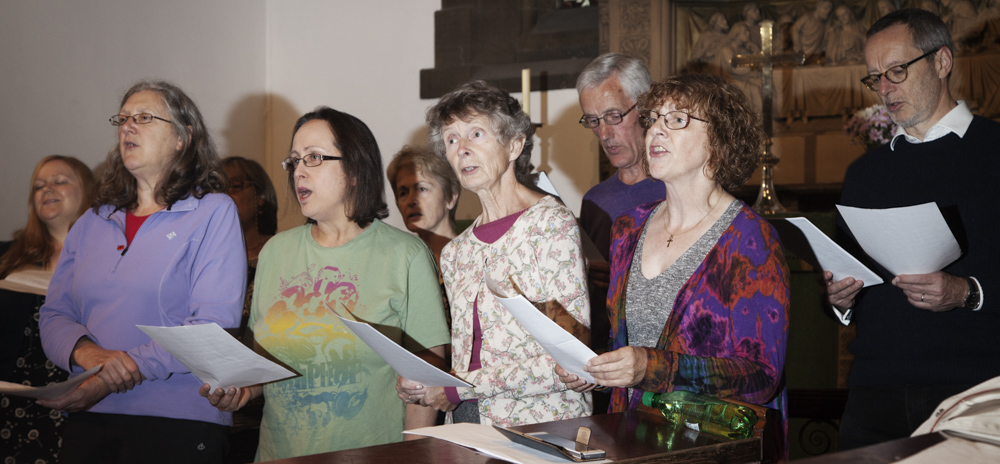 "So it was perfect fit? And you're going to get an audience of friends and family who might be coming to their first ever folk festival."
Well how do you do, my boys, by the light of the moon.
"One of the reasons for us to get involved is to increase our audience which I'm sure will happen. There will be people from the community choir who will never have sung a folk song before, but they're embracing it."
"They're loving it," I say.
"And the Timestep young people would never have dreamt of dancing to the type of music they'll be dancing to. It's going to be great."
The Festive Choir and Batley Community Choir will join forces and perform together at Cleckheaton Folk Festival on Saturday, 2nd July. Tickets here.