---
I first met SceneMaker Simon Thirkill on a soggy cricket pitch this time last year. He and Creative Scene were over the way at Heckmondwike Cricket Club investigating the possibility of staging a theatrical experience at deep square leg.
Money, space and time thwarted that particular extravaganza, but in these last 12 months Simon has – in many other ways – thoroughly embraced his role as a SceneMaker.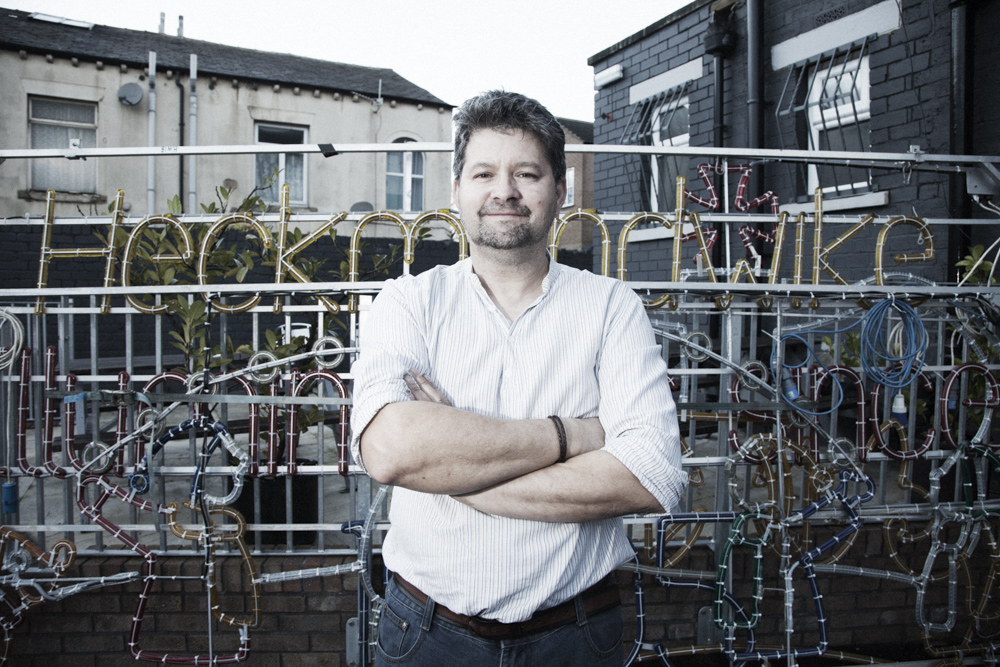 This afternoon, I'm sitting in his Blue Moon Café eavesdropping on a planning meeting for this weekend's HeckmondLIGHT event. It's the annual Christmas lights switch-on, with a Creative Scene spin.
"At 6.30 we'll have the countdown and, as soon as we hit zero, Santa and our special guest will push the plunger and the lights will come on," Simon is telling creative producer Vicky.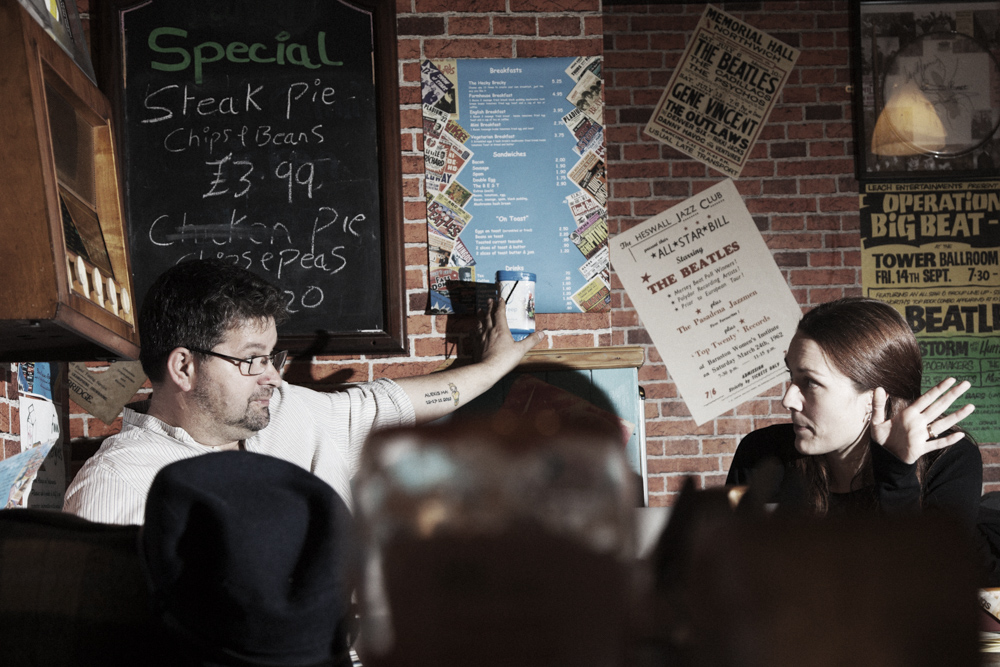 Heckmondwike's illuminations are legendary. A gas-powered version first appeared in the town in 1893, beating Blackpool as the earlier illuminations: a cheeky first back then for a small town that felt more confident than its larger industrial neighbours.
This year, to boost the stage show and fun fair, Creative Scene has booked a number of alternative performance artists to bring some creative chaos to the town's green.
"Look, the lights are going up," says Simon as two hi-vis-clad workmen walk past the café window with a frame of coloured neon. I'm besides myself at this bizarre scene and, grabbing my camera, race down the high street after them.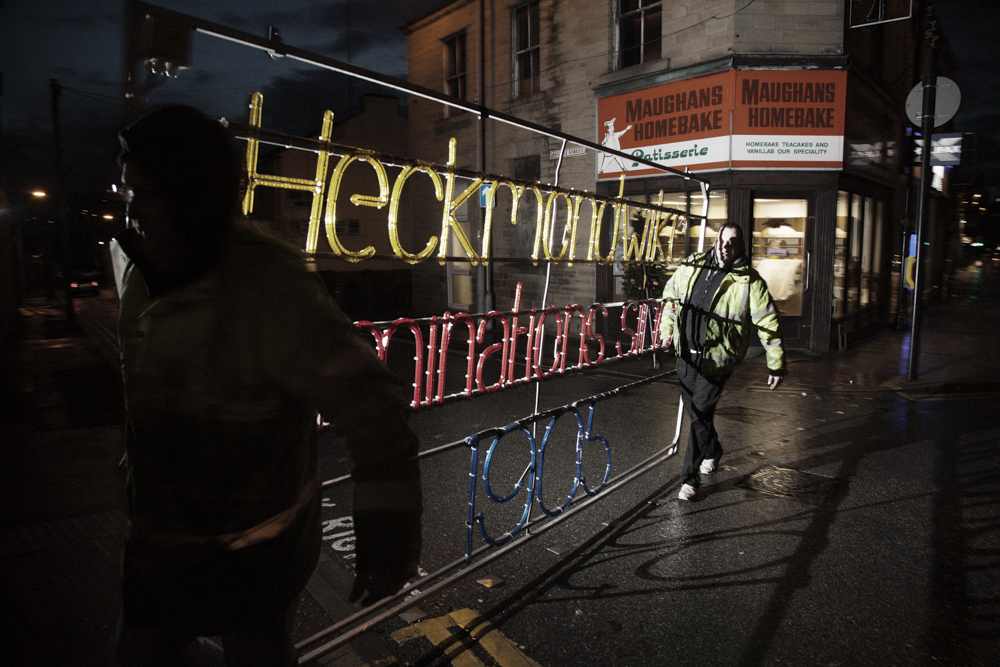 Vicky and Simon are working their way through the running order on my return. There's talk of dance troupes and X Factor finalists. "For the blog piece," I interrupt, "can you describe some of the new acts that'll come to Hecky this year?"
Vicky tells of an ice cream van that gives away tea lights in wafer cones; illuminated stilt walkers and a street orchestra; a digital fun fair, and a giant coloured heart that only lights up when two people hold hands to connect the circuit.
"And then there's the Hecky Heads," Simon says, "which are three enormous plastic heads onto which people's faces are back-projected. Chris from Impossible Arts makes the lips move, eyes blink, that sort of thing. Hopefully they'll be talking, singing and humming tunes. This town's got quite a few famous musical connections, you know."
I didn't know but I'm about to find out a whole lot more about this West Yorkshire town that punches above its weight.
In the corner of the bar next door Chris is introducing the Hecky Heads idea to two women I haven't met before. "Three giant heads… illuminated… people come along and have their faces projected…"
"Sounds wacky," says one of the women.
"Yes, it is quite wacky," says Chris, "and then we manipulate the lips to make them say things… hopefully some of the things you'll tell me."
"So it will be someone else's voice?" I ask, only just keeping up.
Erica Amende is Secretary of Spen Valley Civic Society and Kathryn Harrison is Chair of Spen Valley Historical Society. Chris has brought these two knowledgeable women together to sit in front of his microphone. Theirs will be two of the voices coming out of the giant plastic heads on Saturday night.
The bar is too noisy for recordings so I ask if we can use the function room. "It's a bit cold," says the manageress, "I'll put the heating on for you."
For the next twenty minutes we hear about some of the famous people who have come from these parts. There's a chairman of the National Coal Board; the 'inventor' of rugby league; the composer of the Archers theme tune and a Sunday school teacher who used a novel way of teaching illiterate children and adults to sing.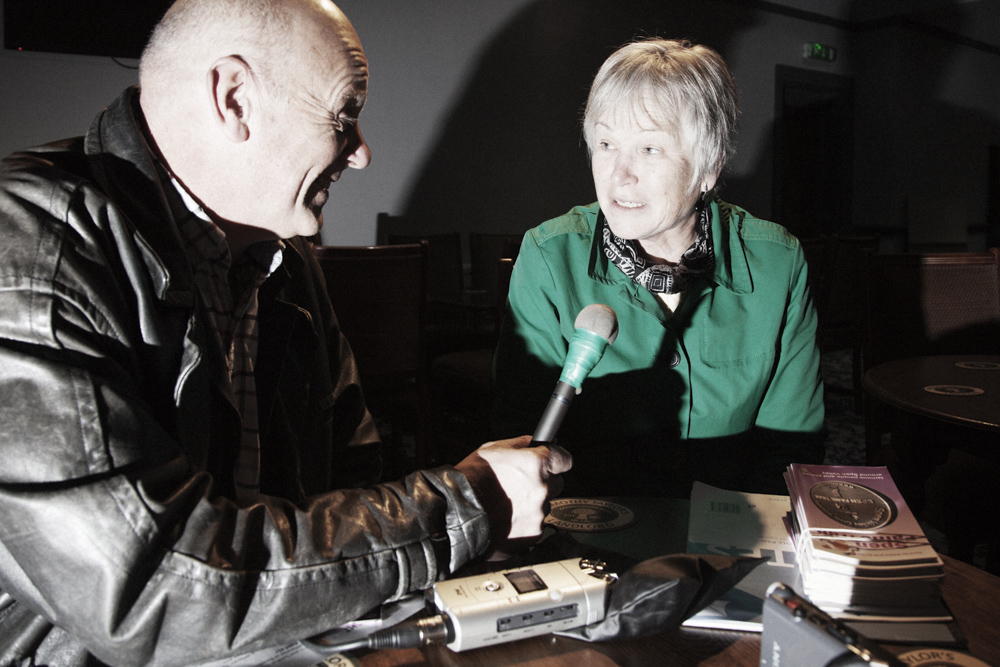 "There's a plaque in the middle of The Green to John Curwen," says Kathryn, consulting her notes, "who was born in Heckmondwike in 1816. He developed the radical do-re-mi teaching method that was made world famous in The Sound of Music." Erica sings the line in accompaniment.
"Singing would have been a big thing in Heckmondwike a century ago," explains Erica. "The Green was surrounded by well-attended chapels and singing was very popular."
"As it will be again… on Saturday night," I suggest.
"This is really good stuff," says Chris, "so thank you. I've got some great material for the heads now."
Check out our next post on Making a Scene to read what happened to the Hecky Heads.