"The inner sanctum," someone says quietly as we are led from the theatre's stage door up an ornate Victorian staircase, across a modern glass bridge and finally into the meeting room of Opera North's education team.
Things are moving quickly on the Batley opera idea. Andrew and his colleagues, Ruth and Richard from the Batley Business Association are here, together with Simon Thirkill, a SceneMaker from Heckmondwike.
This Monday evening they are meeting Jacqui Cameron, education director of Opera North who has just led us through the labyrinth.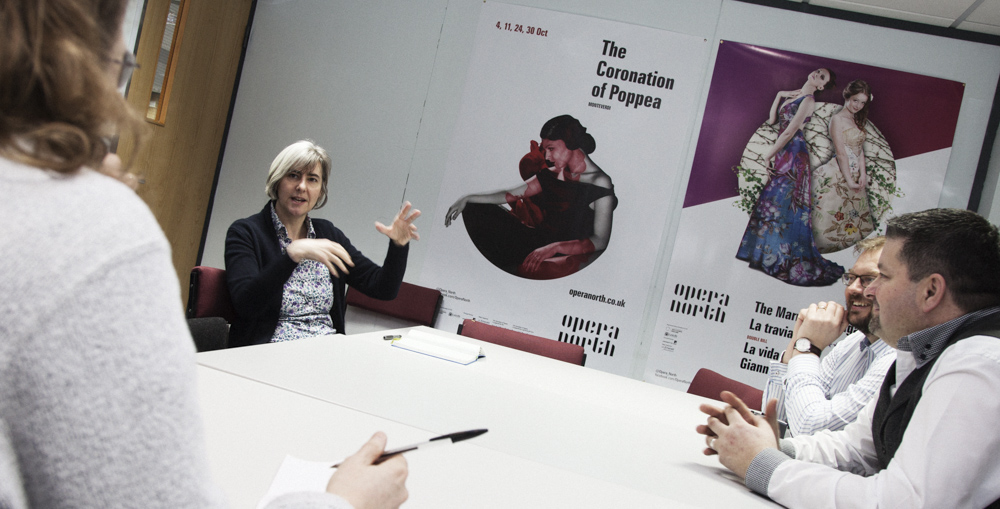 "Batley is probably not one of the top opera towns," begins Andrew, explaining again how the rather unorthodox suggestion came about.
"It's pretty much a blank page," he says as Jacqui asks how far the idea has progressed, "other than wanting to bring something to the town that local people would not normally experience. If we could build a project that involves schools and community groups then all the better."
Andrew's aspirations – in opera terms – are relatively modest: a stage out in a public place, a few performers, musicians, some well-known tunes. Enough to put on an 'opera experience'.
"There is something that might fit," says Jacqui. "Next year we are experimenting with a project called Whistle Stop Opera. We're devising a shortened version of one of our main stage operas which might only be up to half an hour long with three musicians, three singers and a narrator.
"From each of our touring theatres we'll also visit community venues such as care homes or museums and perform to those who might not necessarily come to the main performance. Would something like that be of interest?"
"That's almost exactly what we were thinking of doing," says Andrew from the edge of his seat.
"It's quite easy and effective to do," continues Jacqui. "You don't need any scenery, probably just a handful of props."
"Fantastic. And could we programme some work with schools around it?" asks Andrew. "Maybe the young people could hear about the background of a particular piece, about the composer, or even learn to sing some of it?"
For Opera North's education team this is bread and butter. Jacqui says that this year they've been working with 15 secondaries and seven primaries as well as an immersive project with one particular school in south Leeds where all 450 kids get to play a classical instrument.
I can almost see Andrew's cogs whirring. Hosting the ready-made Whistle Stop Opera sounds ideal; linking with local schools seems straight forward enough. But there are other considerations he needs to explore.
"In Batley we have a varied ethnic community," he says, "is there any way of taking a very traditional musical form and putting a spin on it?"
It's a challenge the professionals are familiar with and, Jacqui explains, although they don't like to mess with Mozart's or Verdi's compositions, they do make other attempts at making opera relevant to different audiences.
"I know the Whistle Stop team are considering contemporary costumes, for instance," she says.
"If the 'opera experience' is the centrepiece of an evening of performances," suggests Ruth, "then maybe we can wrap other types of music around it."
I'm beginning to visualise a programme here: one type of audience might come for the opera but experience bangra or hip-hop by default and a different audience might get the opposite. Perfect.
Andrew and his team are this evening invited to the dress rehearsal of an opera double bill: Gianni Schicchi and La vida breve. It starts shortly and so there's a brief discussion about programming. Opera North has a packed schedule and a single performance in Batley would have to fit in. March next year is suggested but that would scupper the aspiration of an outdoor event.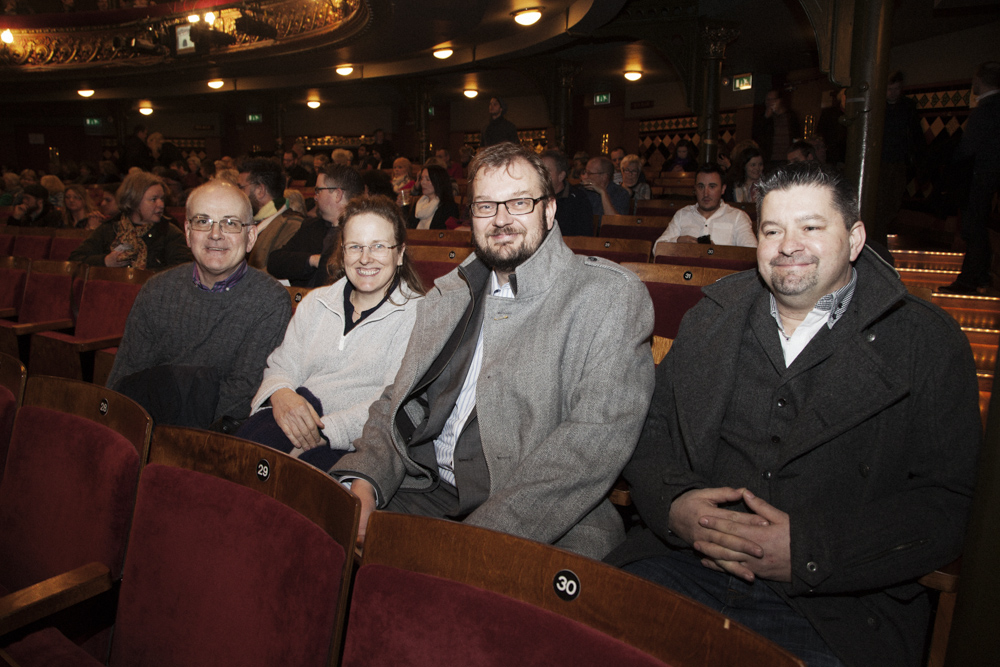 "Maybe I could investigate late summer 2016," suggests Jacqui, helpfully. "Once we've done it on our tour, replicating it again could be quite easy."
It's been a productive meeting and already there's more than a skeleton of an idea that Andrew and his colleagues can work with. As Jacqui leads us across the bridge again and back into the entrance of the Grand Theatre they agree to talk again soon and keep the ball rolling.