The psycho burger sounds intriguing but in truth the Blue Moon Café is singularly famous for its 'Hecky breakfast'. That's any combination of 12 breakfast items including black pudding, spam and hash browns. "You could have a dozen rashers of bacon if you really wanted," explains Simon.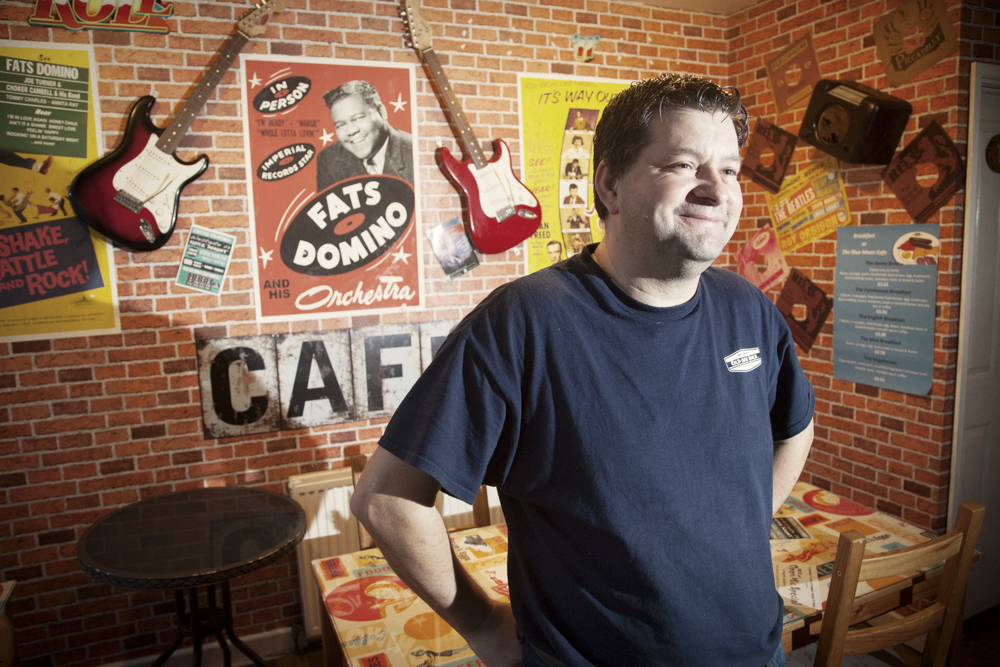 "Or 12 portions of baked beans?" I suggest, surveying the 50's memorabilia that adorn every wall.
Although not as legendary as his all-day breakfast, Simon Thirkill has made an impression on Heckmondwike since he and his wife took on the café some years ago. He heads the Christmas lights committee – they're older than Blackpool's illuminations – and is passionate about bringing people together through culture.
"From day one the café has been a lovely little hub with really nice customers," he says, "and we got involved in the community straight away."
Sadly we're not here to eat. The café is now closed for the day and Nancy from Creative Scene has organised a reccé to discuss some of Simon's ideas. Chris from Impossible Arts is here too, to give his professional opinion.
We negotiate the traffic on Westgate to stand outside the HSBC Bank in front of two forlorn-looking red phone boxes. Simon's idea – which came out of a conversation with customers – is to adopt the boxes and convert them into some sort of beacon of creativity on the high street. A traditional icon with a cutting-edge twist.
"If we can preserve these by doing something that is modern and up-to-date, that'd be perfect," he says.
"I think they're great," says Nancy, "it's about keeping the old structure but doing something totally contemporary… maybe with digital imagery."
"It'd be good to have something back-illuminated, some sort of glowing images," say Chris.
As I take some photographs in the fading light the three of them discuss the possibilities and the potential for getting young people involved in the project: "You could create some game-based console which you could play, control or affect it in some way. That could be fun," says Chris.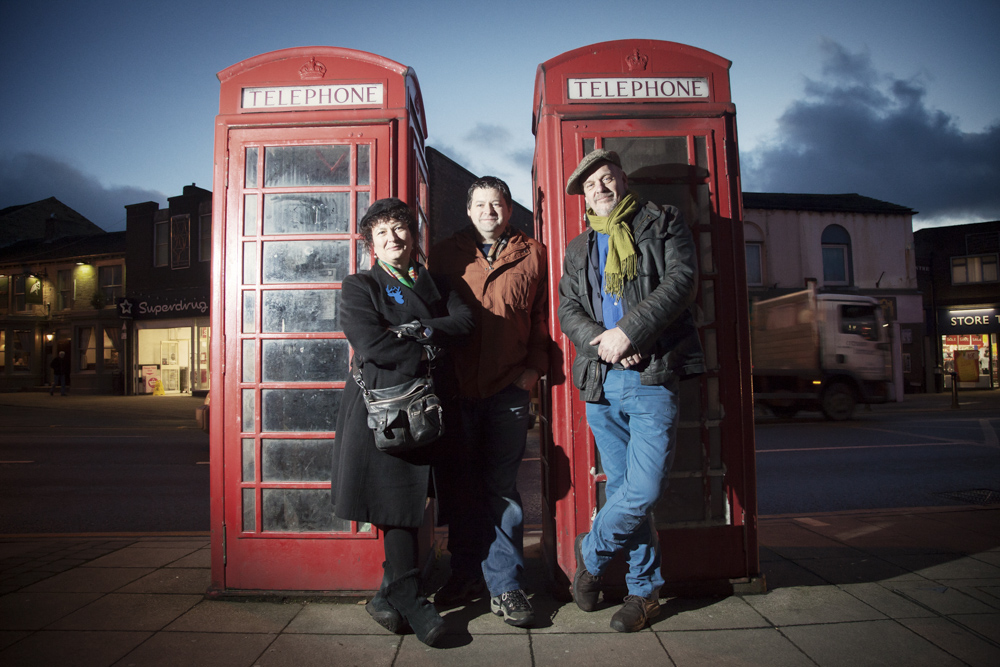 Next we walk a few yards to the site of the new bus station. Sparks fly as a workman with an angle grinder helps install a brand new shelter. We're looking for potential walls on which large-scale digital projections could be thrown.
"The space in the middle will be open and landscaped," Simon explains, "and we'll be moving our Christmas lights switch-on here from next year."
There are dark stone walls on two sides but a stretch of white wall along McQuinn's Bodyshop. "It's harder to get the contrast and detail on the darker walls but that's wide and flat," says Chris, "so that might work."
We're across the main road again and into Westgate 23, the newly-refurbished pub next to the Blue Moon. Ben is behind the bar and the banter flies between them as Simon asks his neighbour if we can have a look in the function room.
"Smells like it's been newly painted," I say as we all troop in as if we're inspecting wedding reception venues.
"How many could it seat, do you think?" asks Nancy and Simon begins to pace the brand new carpet.
"35 or 40," he says, "with others propping up the bar."
One of his customers has passed on a reel of Super 8 film which apparently includes 1960's footage of the famous Heckmondwike Christmas lights. The plan is to show the film as the first in a series of workshops to get local people involved in some, as yet unspecified, art activity.
"Creative Scene is having the film digitised," explains Simon. "We'll see what's on it and take it from there."
What with the café, the phone boxes and the Super 8 film I can see Simon has a strong sense of nostalgia and local history intertwined with his love of art. "History's not something that's gone," he tells me. "We're creating history all the time as we move forward. And that's something I'm just beginning to appreciate."