"Did you get very, very wet?" I ask on the phone.
Heckmondwike café owner Simon Thirkill has been a SceneMaker for twelve months now and I'm keen to hear his reflections but first I must get an update from Saturday's event.
"I got soaked through to the skin," Simon laughs. "Four changes of clothes in one day."
Driving wind and torrential rain forced other West Yorkshire towns to cancel their weekend Christmas lights switch-ons, but not Heckmondwike. I'd already heard that the Hecky Heads had to be dismantled and moved into the market hall for safety.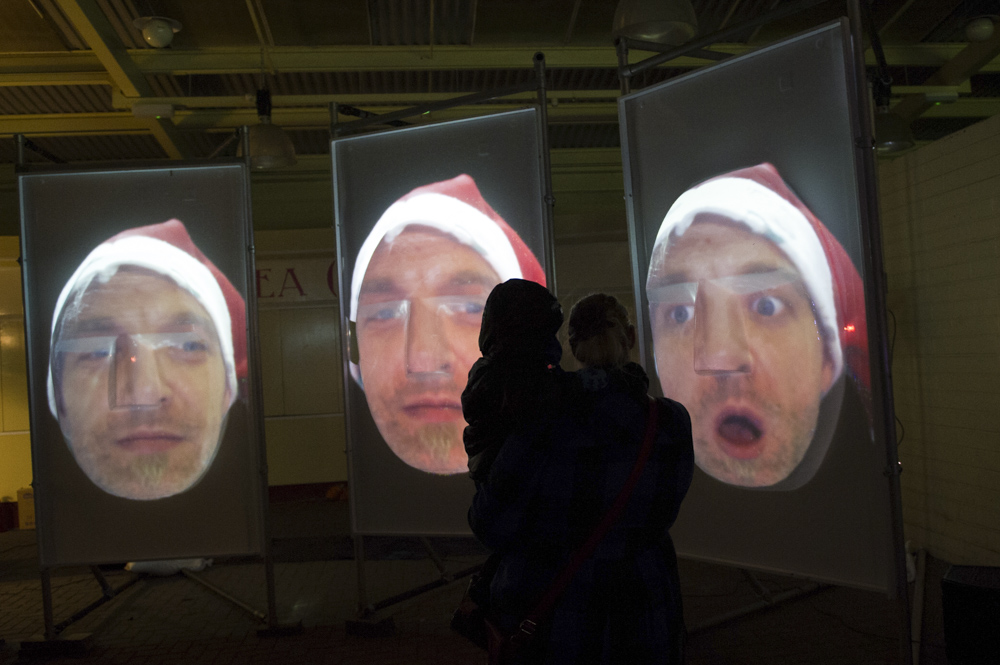 "Presumably you didn't get a big crowd because of the weather?" I ask.
"Not at all," says Simon, who I can almost imagine still dripping, "We had a fantastic turnout. In previous years we'd have 4-5,000 people. I guess there were upwards of 2,000 braving it on Saturday." Not bad for a town with a 17,000 population.
"What was your highlight?"
"I think having Conner pushing the plunger with Santa." Conner, Simon explains, is a young man with learning difficulties who volunteers at every Heckmondwike event. "He's always really enthusiastic, a real asset to the community. It was good to acknowledge a local person rather than wheeling in a celebrity… and he was made up."
"Did you imagine the last twelve months would turn out the way they have?"
"Back then my motivation was commercial: to get as many people into the centre of town to support the businesses. But my mindset has shifted dramatically. Now the focus is on staging quality events for the community to come together and enjoy. It's their experience that's critical, not footfall."
"And what feedback have you had so far from Saturday night?"
"After past events there'd often be some criticism," says Simon. "This time the first person I heard from was the cashier at Morrisons. She told me everyone coming in the store after the event was absolutely buzzing. In fact, I've not heard one negative comment and that's fantastic."
Part of Simon's SceneMaker 'training' has been a series of investigative trips to other art festivals and big events. He's been to see light bulb clouds in Durham; shadow theatre in Bromsgrove and aerial choreography in Greenwich.
"It's not like visiting a gallery or seeing a play. I want to know how these events are produced, what's gone on in the background. For Luminaire in Durham, Creative Scene arranged for me to go early to see the set-up. Now I can transfer all that knowledge to my own community."
"Do you remember back on the cricket pitch you told me your tastes were quite traditional?" I say.
"I was a purist," he says, "but now all that has changed too. Bizarrely I've developed a passion for urban street art and am in touch with street artists all over Europe."
"So, has the SceneMaker experience changed you personally?"
"A year ago things were a bit mundane," Simon admits. "Now we," – he and his wife, Kimberley – "go to the theatre at least once a month and spend weekends on creative breaks to different cities: we've seen three Gormleys now. It sounds corny but art now feeds my soul."
I was aware Simon had been on his own cultural journey but hadn't realised just how transformational it had been. The whole idea behind the SceneMakers programme is to build skills and confidence amongst local cultural entrepreneurs like Simon, that will sustain and inspire them. Does he, I wonder, feel he and his fellow volunteers could stage quality local events post-Creative Scene?
"HeckmondLIGHT – and HeckmondFRIGHT before it – have been massive learning curves. It's opened my eyes to how much detail there is organising events like these. I've still got a lot to learn. My priority now is to get more local people to volunteer but we're on the right road and maybe in two or three years we could – subject to funding – be putting these events on ourselves."
HeckmondLIGHT photographs courtesy of Charlotte Graham