"This is the first time we've gone public," says Parveen as platters of sandwiches and samosas are laid out in preparation, "so I'm really excited about that."
It's Friday night and yet again we're at Sensory World in Dewsbury for the fourth edition of Creative Scene's spoken word event.
Up until now organiser Parveen has invited local writing groups and poets first hand. "For tonight's event we had some postcards printed and I put them in libraries, in the railway station and around the pubs that I know do open mic events. Let's see who rocks up.
"This is tonight's host," says Parveen introducing me to a man rubbing the front of his T-shirt. "I've just been for something to eat," says Phil Pearce, "and got mango chutney all down me."
Phil and I find a quiet corner for a quick interview. "What did you make of it when Parveen asked you to compere this evening?"
"I wrote my first ever poem and performed it on stage last October, so all this is very new to me," he says, "and this is the first time I've been asked to host. It's brilliant."
Phil tells me he started to write when he was in prison. "In 2013 I was convinced for drug offences – I'd been addicted for 10 years – and the first poem I'm going to read tonight is about my addiction."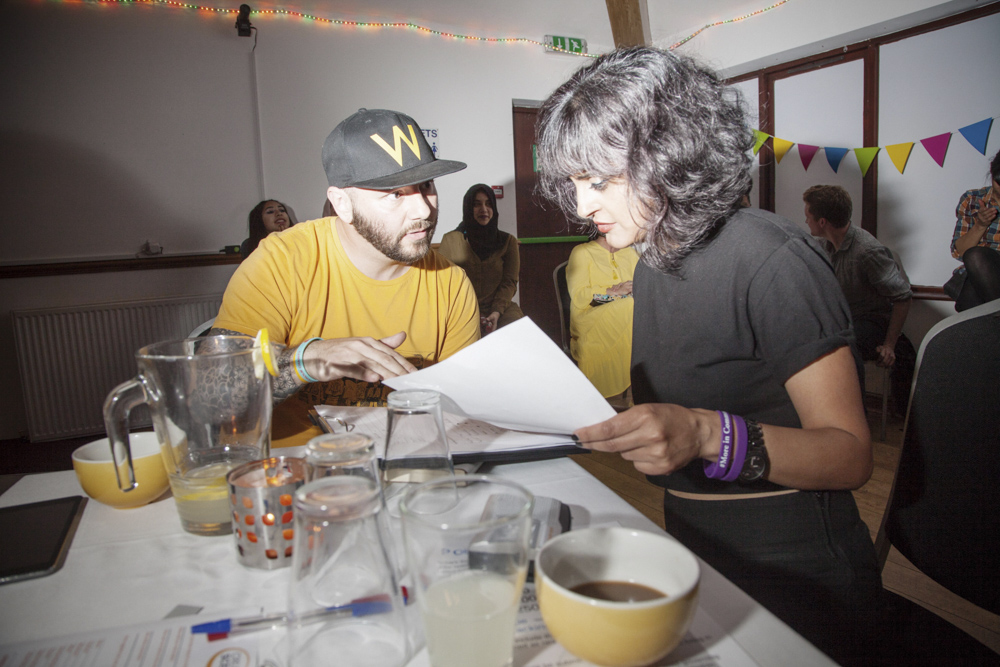 More people arrive, most are regulars but I spot a couple of faces I haven't seen before. "I work at Dewsbury Library," says Katie. "And this is Ash."
"Do you write and perform?" I ask Katie's friend.
"I'm in a band and write music," says Ash, "but no, we're just observing tonight."
"Well, last time a young woman was so inspired by what she heard in the first set that she wrote a piece in the break and performed it in the second half," I say. "So you never know. Have you got a pen?"
After a brief welcome from Parveen, Phil is on his feet and, by way of introduction, apologises for the chutney stain.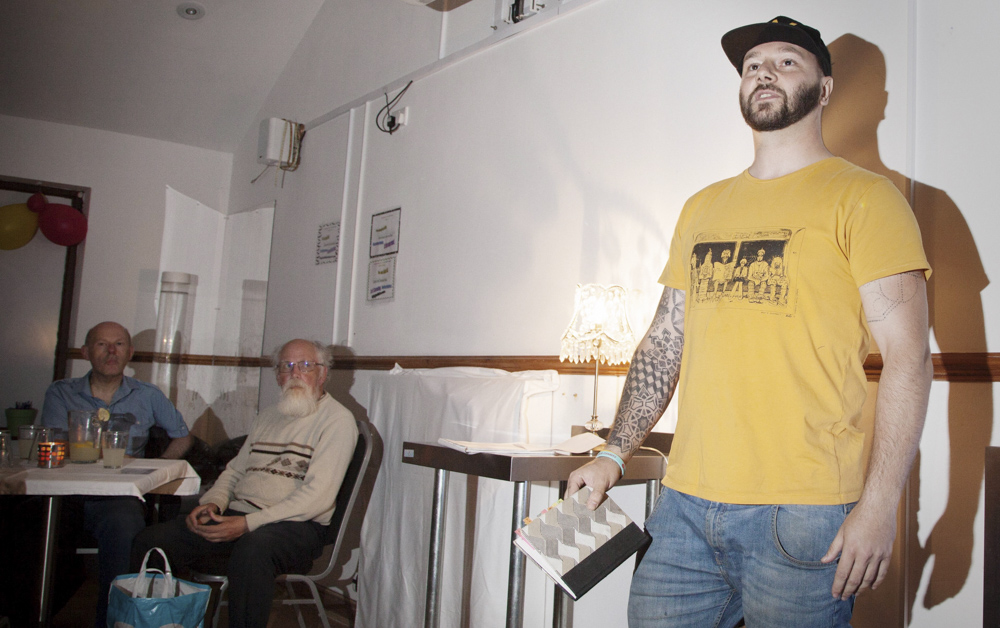 His poem about drugs – "Hello, my name's Phil and I'm an addict" – is followed by a very personal one about cancer and a third about knife crime.
"Let's get all the heavy stuff out of the way in the first half," he jokes, "so we can lighten things up after the break."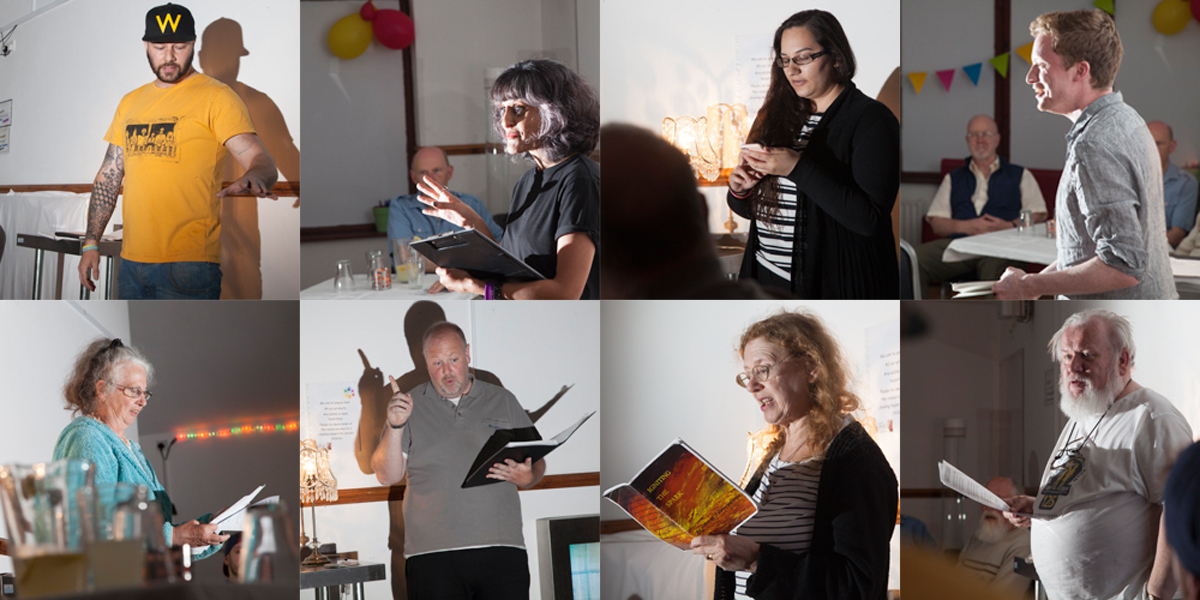 One performer follows another. There are pieces about dementia, loneliness, volunteering, NHS privatisation, community unity and a lament for the passing of the X33 bus.
While we all tuck into the sandwiches and samosas at half time I notice we've been joined by a group of five young woman.
Maariya tells me she's been writing a blog for a couple of years now and she heard about tonight's event at the library. "What's your blog about?" I ask.
"Contemporary topics about Indian life," she says. "I write about marriage, friendship, forgiveness, the future, ego, that sort of thing. But I've never read anything in front of a group before."
"Are you nervous?" Maariya holds her hand flat above her head.
"You'll be fine. They're a friendly and supportive bunch."
Before the second half kicks off I catch up with Katie and Ash again. "Written anything yet?" I ask Ash.
"No, but, to be fair, it's been very inspiring. It has actually made me want to give it a go. Maybe for the next one."
"Wow, brilliant," I say genuinely. "And Katie, I've just been chatting to Maariya."
"Yes, she was talking to a colleague about her blog and I gave her one of the postcards Parveen had left. And yeah, she's come along tonight."
"Okay," shouts Phil, "Are we ready for the second half?"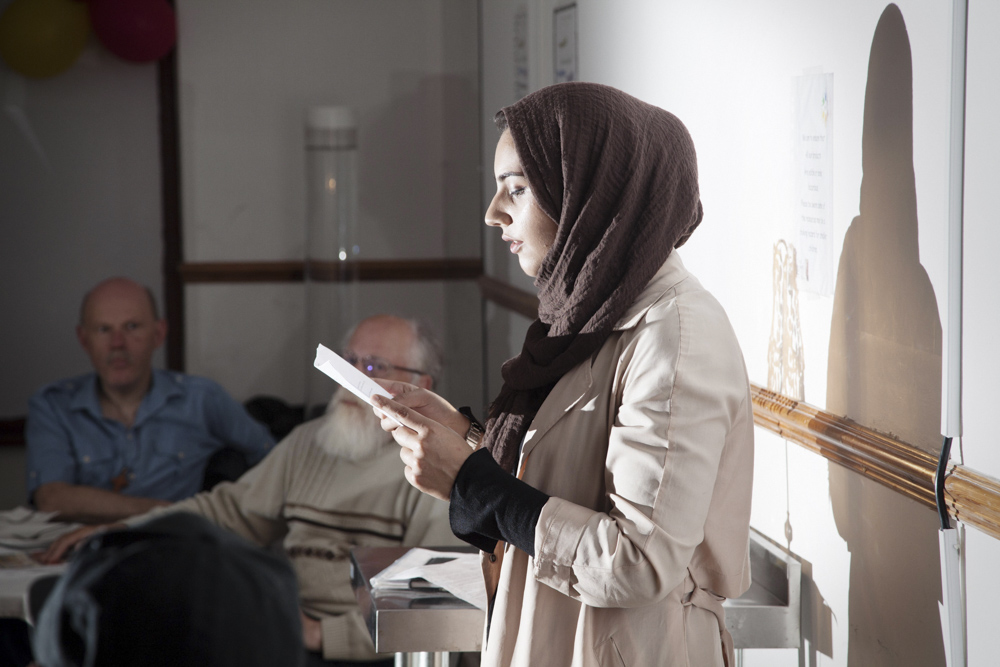 For details of the next It's a Word Thing, keep an eye on Creative Scene's website or email parveen@creativescene.org.uk