continued from Spreading a creative response to oppression across Europe
There's consternation in the hotel this morning. The water supply for the whole city is to be switched off this evening until 6pm tomorrow for emergency repairs. Not everyone in our group is happy.
Today the market next to the Roma office is buzzing. We've arrived a little early for our workshop so we can take a look. Joanne goes in search of dry shampoo but comes back with chocolate.
Our session kicks off with a short talk from Stevan about the work of the Edukatiuni Centrar Roma, supporting and advocating for the local Roma community. "To make change we need to partner with other mainstream organisations," he says.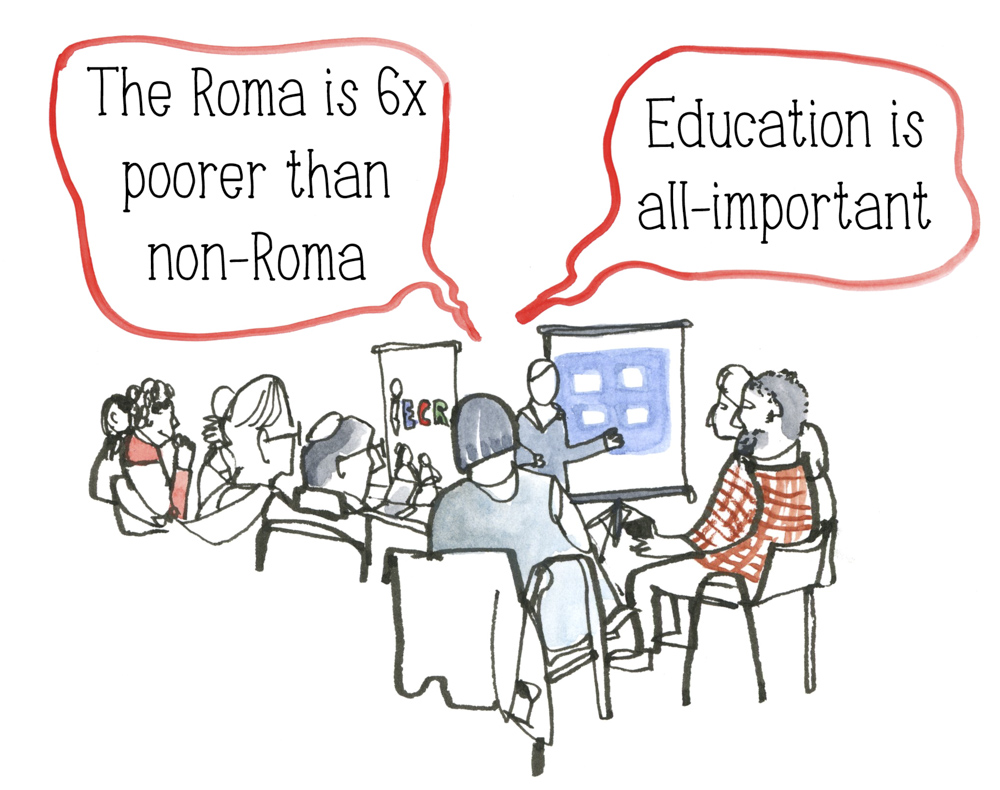 "We'd like to show you some of the work we've been doing in Yorkshire," says Chris, preparing his laptop, "and then tell you some snippets of the stories we've heard from survivors who live in our community."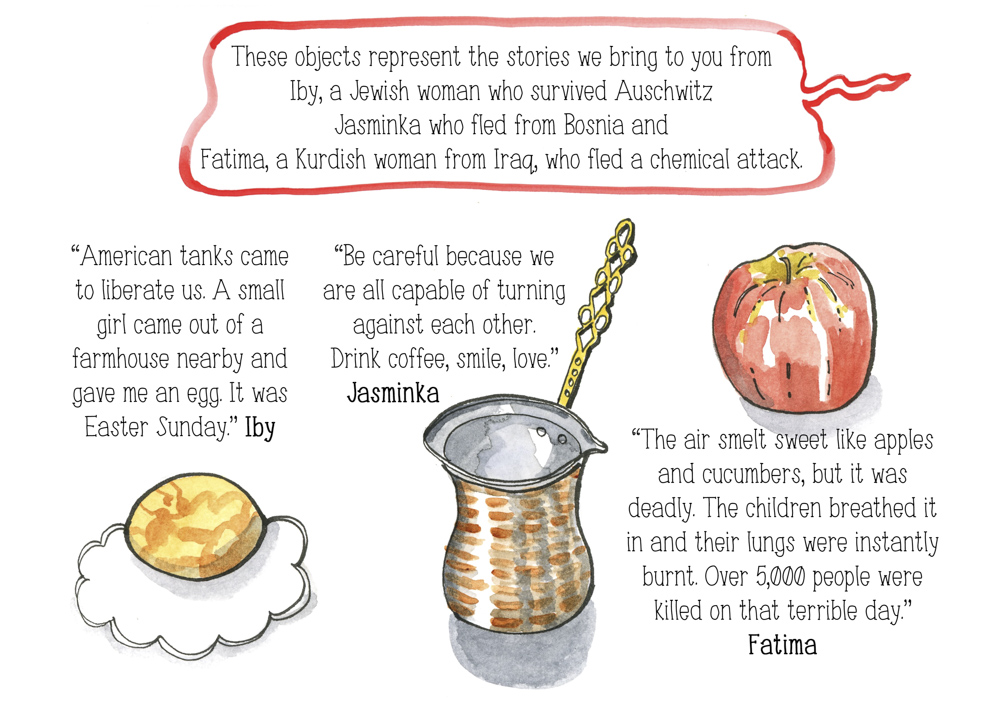 The lights are switched off. "The film you're about to see shows some giant puppets that me and Joanne and her daughter Iris helped to make," says Parveen. "Next year we'll be working with the Hungarian community in Kirklees to make a Hungarian Roma figure."
We watch the Holocaust Memorial Day event from last January where local schoolchildren work with survivors to re-enact their stories.
"How did the young people react?" asks Filip as the credits fade.
"Very positively," says Kim. "They knew nothing of the issues and wept when they heard Fatima's first hand account of gassing in Iraq. They asked her what they could do, how they could make a difference. 'Just tell my story to others,' she told them."
At lunch Parveen helps Rejhana and Nada prepare an impressive spread of salads, fruit and traditional pita pastry.
"I've just made a discovery," Parveen tells me as we're eating. "I've learnt that the Roma migrated originally from India over 2,000 years ago.
"Rejhana showed me a video on her phone. She dances to the same songs that we do and she loves the same Bollywood actors as us! The style of dancing and the dress is so similar… I hadn't made that connection before."
"This afternoon we'd like to hear some of your own stories," says Parveen after our food, "but first we'll have a little warm-up exercise. When you're handed this ball of ribbon tell us your name and why your parents gave you that name."
Everyone forms a circle apart, that is, from Sanja's ten-year-old daughter who prefers to draw, but is taking it all in. Soon everyone is connected with a criss cross of green ribbon. And again simple creativity reinforces a message.
Muhamet is the first to volunteer to tell his story. He tells of fleeing Kosova with his family in June 1999. Translated by Filip, he recounts an exodus to Montenegro, hoping to board a smugglers ship to take them to Italy, across the Adriatic Sea.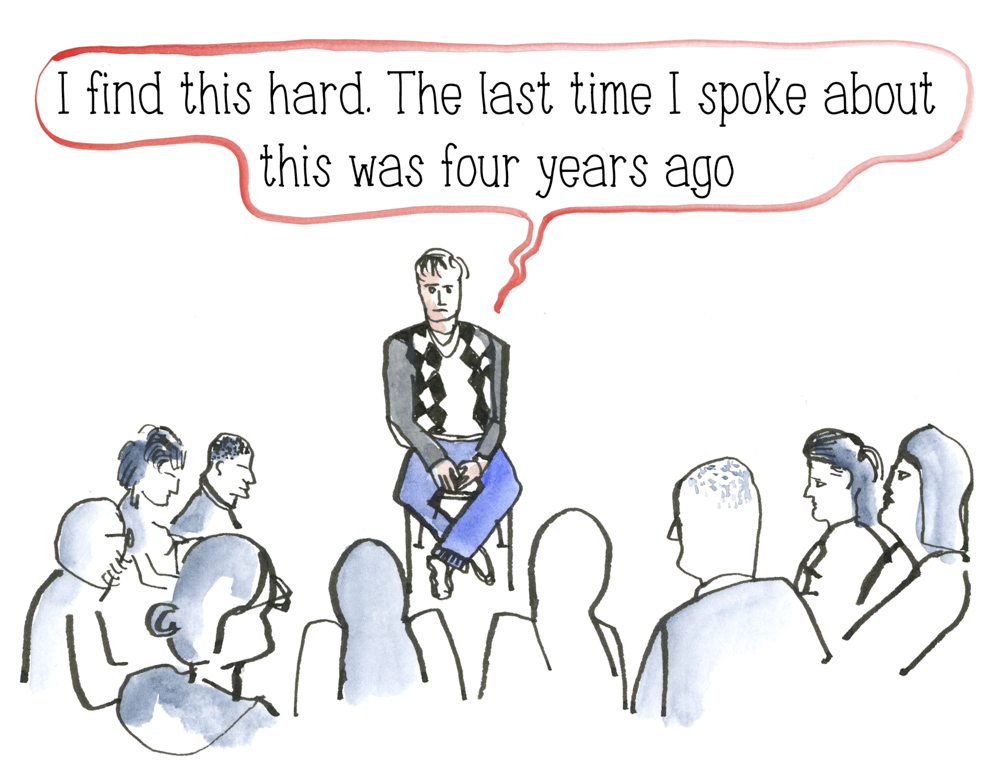 "He says they were living in parks and public spaces," says Filip, "and, on the night they were due to board ship, the military arrived and moved them on, so they were unable to get to the port. They heard later that the ship sank that night and more than 200 people drowned. They would have been on that ship."
Rejhana is next to share her family's experiences of leaving Kosova when she was just ten. She and her siblings faced discrimination at their new school in Belgrade. They made no new friends. Eventually they settled in Subotica which was more welcoming. "You have to be positive," she says, "and try not to rely on anyone."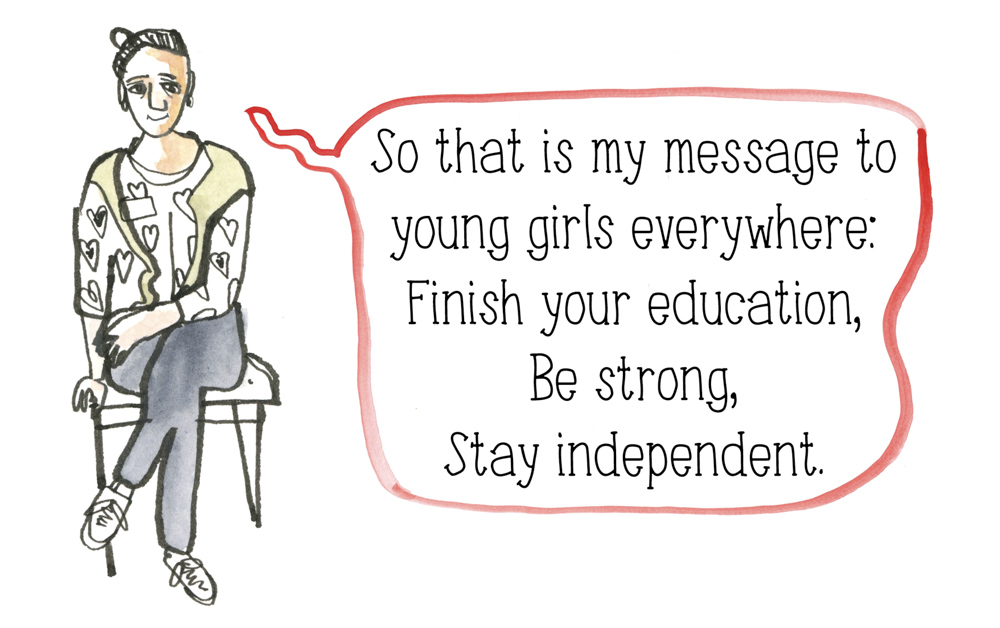 More creative activities follow – aspirations are written on paper 'buttons' and a collaborative poem is composed – and the whole time the message trickles down.
"It's like we haven't learnt anything," says Filip. "In Serbia we learn one side of the story, in Croatia they learn another. In Bosnia there's a third and in Kosovo a fourth. And in the UK they have their own version of our war. None of us know the truth."
"This is not about what has happened in the past. It is happening right now," says Dušica. "A lot of people are still dying. We know it's wrong. Why is someone not doing something?"
The final story from Serbia is here.