"I'd imagined it was going to be all old ladies with purple rinses, sitting around marking their cards. It wasn't like that at all."
Ahead of tonight's 'Bingo Balls', SceneMaker Gayna is telling me about her trip to Mecca Bingo in Dewsbury, the inspiration for tonight's wacky event.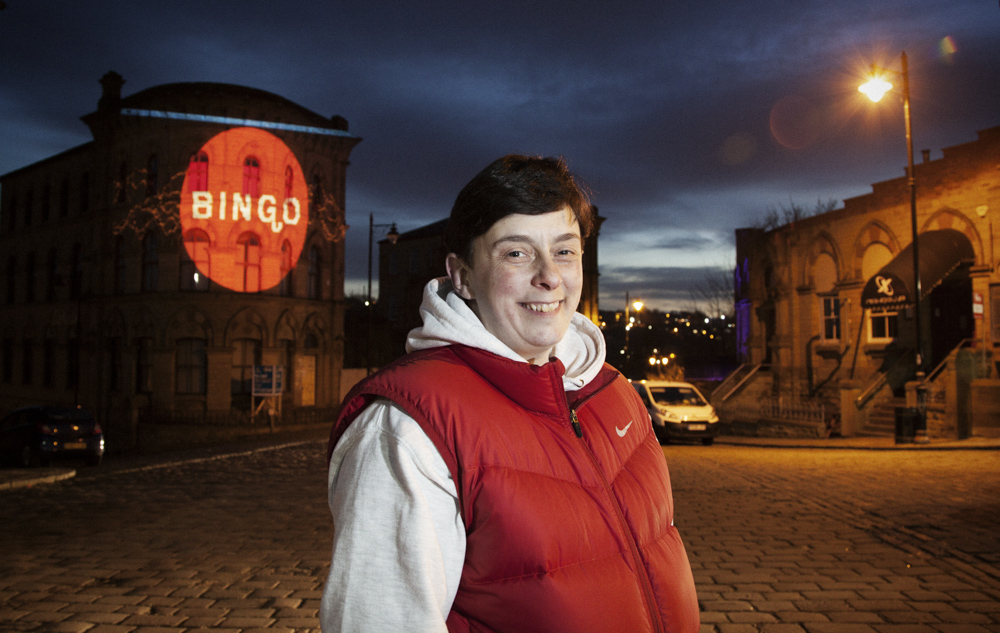 "The age range was huge. The older ladies said it was a safe and friendly place, and some of the older men said that too. They were there for the social interaction.
"And then you had a bunch of younger people who were out to win. When we were there some guy from Halifax won £40,000 in the national game that everyone plays."
"So it challenged some of your stereotypes?" I ask.
"Definitely. With my faith background, gambling is not something we do… so that made it more interesting. I wanted to see why people did it.
"I was surprised how friendly it was. One older man, whose wife had passed away, said it was like coming to see his family once a week. Some of the ladies gave him a hug, asked how he was. It wasn't the playing of the game for him, it was the meeting other people."
Gayna has been working with Let's Go Global artist Karen Shannon who, as well as interviewing Dewsbury's bingo punters, has created an oversize bingo game projected onto a Victorian facade outside Batley train station. And Gayna will be calling the numbers.
I notice a mother and teenage daughter looking quizzical on the other side of the road and cajole them to come and find out more.
"I saw you setting up the other night," Mum Hayley says to Gayna, after I've introduced them. "But I don't get the bingo thing. Will there be an actual bingo game later?"
"Yes, there will," says Gayna. "And there'll be prizes, tickets to arts events, that sort of thing."
Gayna does a great ambassadorial job explaining her role as a SceneMaker: "We advise Creative Scene on what needs to happen, and tell them what's already going on in the area. You could apply to be a SceneMaker, if you'd like, get more involved, help run some events."
The microphone cackles into life. "Good evening ladies and gentlemen, boys and girls," announces Karen, station master for the evening. "Has everyone got a bingo card?"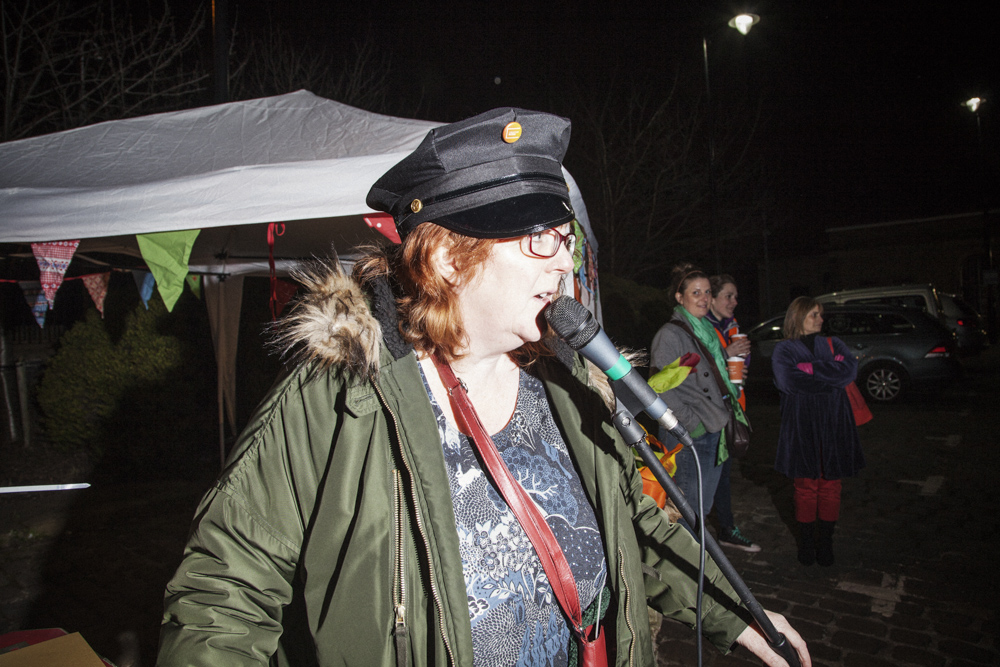 As we wait for more players to arrive by train from Dewsbury, SceneMaker Duncan whips the crowd into a frenzy with his announcement about free tea on his stall. "We have seven varieties on offer," he proclaims. "Yes, that's seven varieties all blended locally in Cleckheaton."
The train arrives, the crowd swells and the rules of bingo are explained. "Are you ready for your first game?" asks Karen. "Eyes down, ladies and gentlemen. Look in."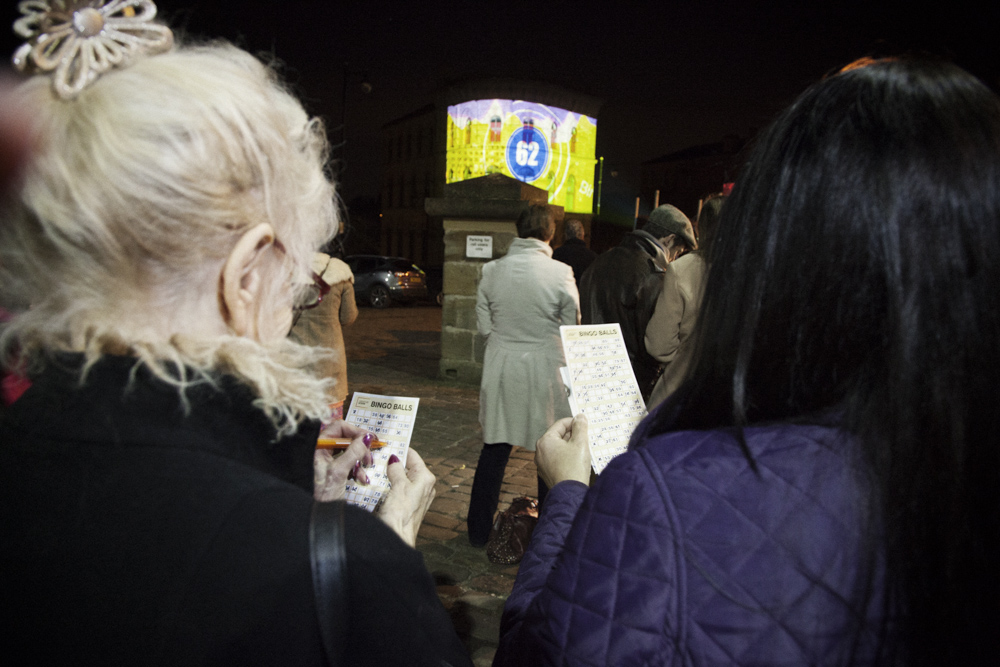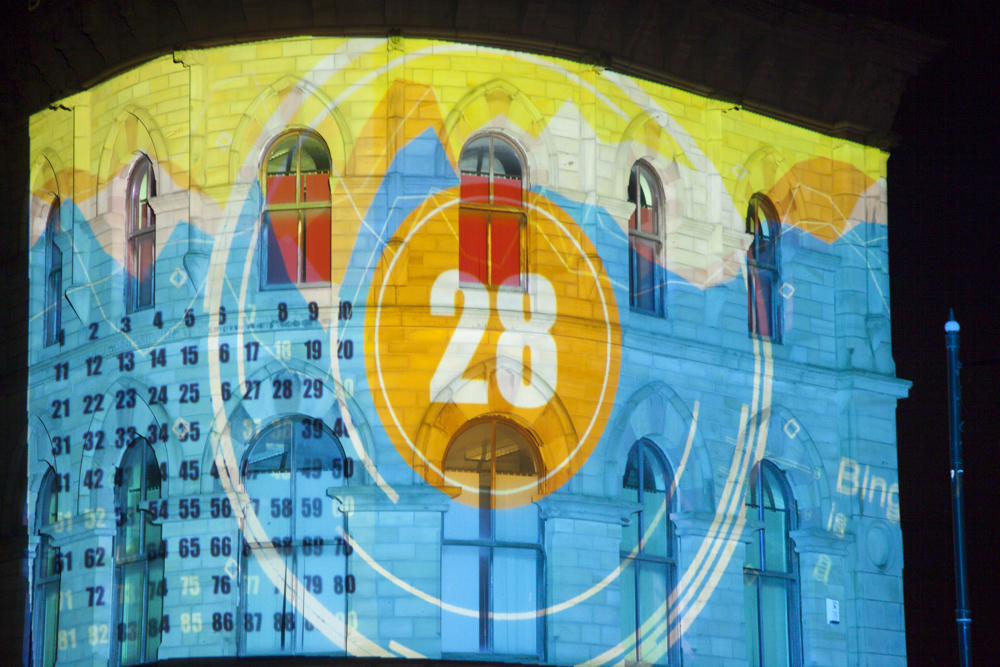 To a backing of organ fairground music, Gayna's pre-recorded voice announces the numbers.
"Rise and shine, four and nine, 49."
"Two and seven, stairway to heaven, 27."
"Cup of tea," – there's a cheer from Duncan –  "number three."
After another half dozen more numbers someone calls out, "Bingo!" and the rest of the players groan.
Karen checks the card. "Has 26 been called? Oh dear, false call. That's a false call, ladies and gentlemen. So we're still on! Eyes down, Look in!"
"All the beans, five and seven, 57."
"Winnie the Pooh, four and two, 42."
"Thee and me, two and three, 23."
"Bingo!"
Check out the amazing Let's Go Global video, featuring SceneMaker Gayna, projected as part of the Bingo Balls evening.