The driver does some serious maneovering before he's parked in a fashion acceptable to the local cabbies at Dewsbury train station. He promptly gets out and poses for my camera.
"John Rigby?" I enquire, reading the side of his coach.
"No," he replies. "Nigel."
Tonight is the first of what Ruth is calling 'art adventures', where Creative Scene takes SceneMakers (and others) to art events they'd not normally attend. It's about broadening horizons and getting people together. This evening there's a 38-seat block booking at the Lawrence Batley Theatre.
"So, who chose Bromance?" I ask.
"Rebecca chose this one," says Ruth. "It's going to quite dynamic: three lads who use circus skills to perform contemporary dance. People won't have seen anything like it before and it's not something you'd normally associate with the theatre… Hello Sian, how are you?"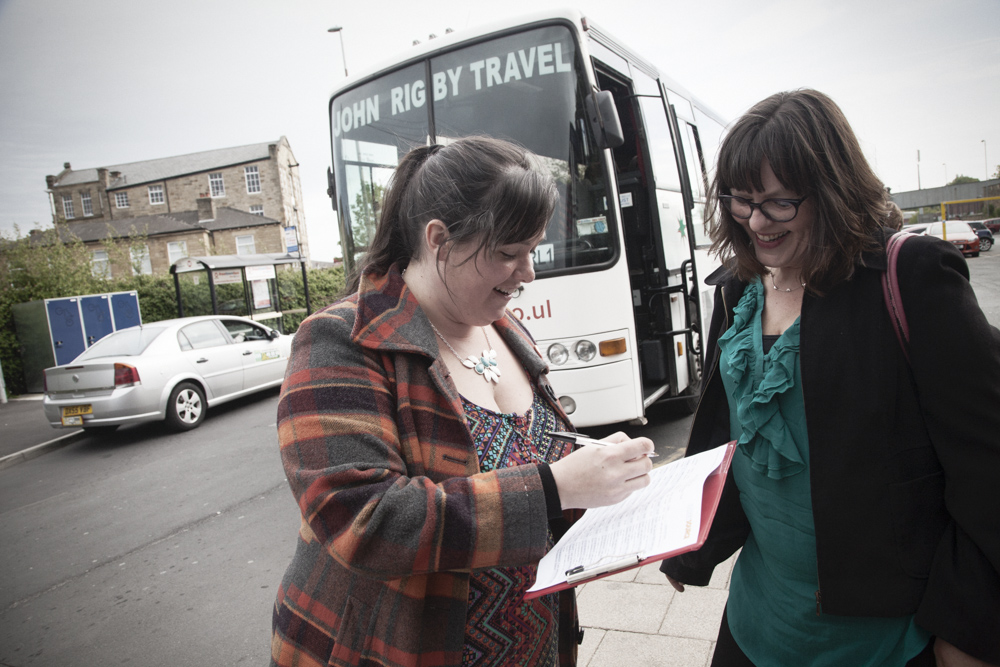 Sian Dawson is the newest SceneMaker. The owner of the Reunion Café in Batley, she has recently got to know Creative Scene after hosting an artist at work.
I ask why she's here tonight. "To be honest I needed a good night out and this ticked all the boxes: culture, friends, fun and a bus trip," she says. "I plan on sitting on the back seat."
Unfortunately for Sian the back seat is already taken and, before we've reached the A638 turning, the teenage girls from Fieldhead Youth Club are in full voice.
I 'opped off the plane at L.A.X.
With a dream and my cardigan…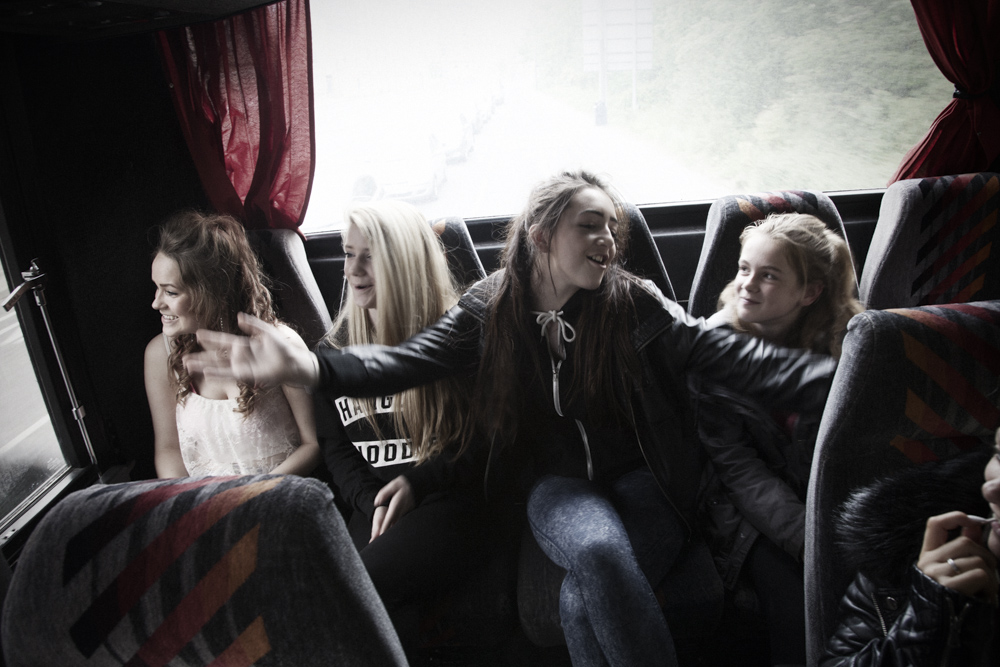 "Who's that by then?" I ask between verses.
"Miley Cyrus!" they shout in unison.
"Yes, of course. Sorry."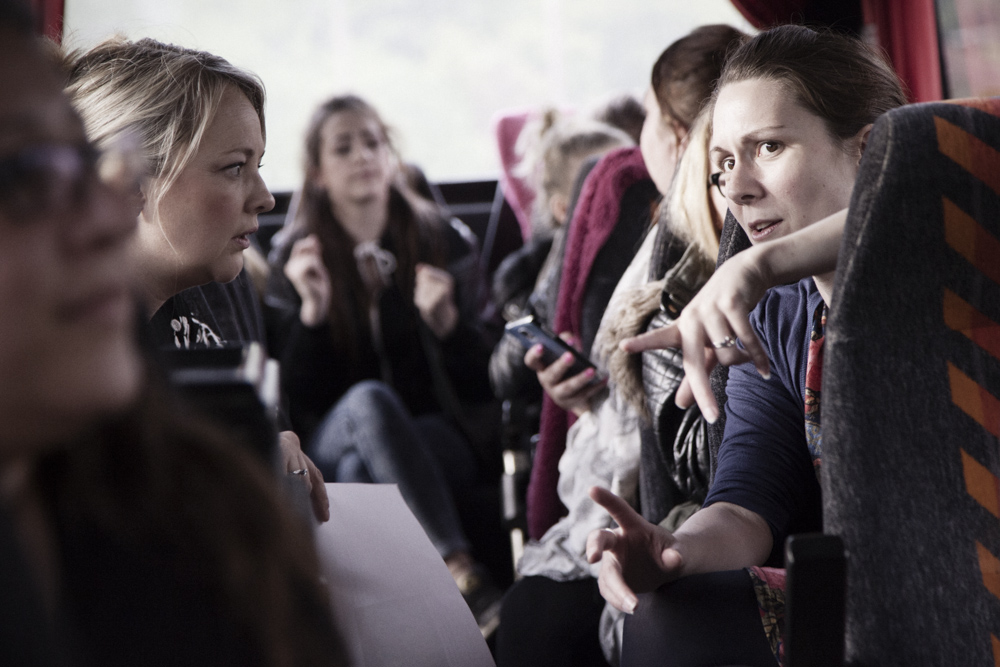 Without a working microphone, Rebecca shouts from the front of the coach: "Welcome to our creativity coach… we're very pleased to have you…"
"Love you!" shouts someone from the back.
"…. Tonight we are going to the LBT. Does anyone know what they're going to see?…  I'm coming round with your tickets… If you need anything, there are lots of Creative Scene staff around… Enjoy!"
"Is this an educational trip?" I hear the driver ask Rebecca.
"Kind of," she says. "Everything's part of your education, isn't it?"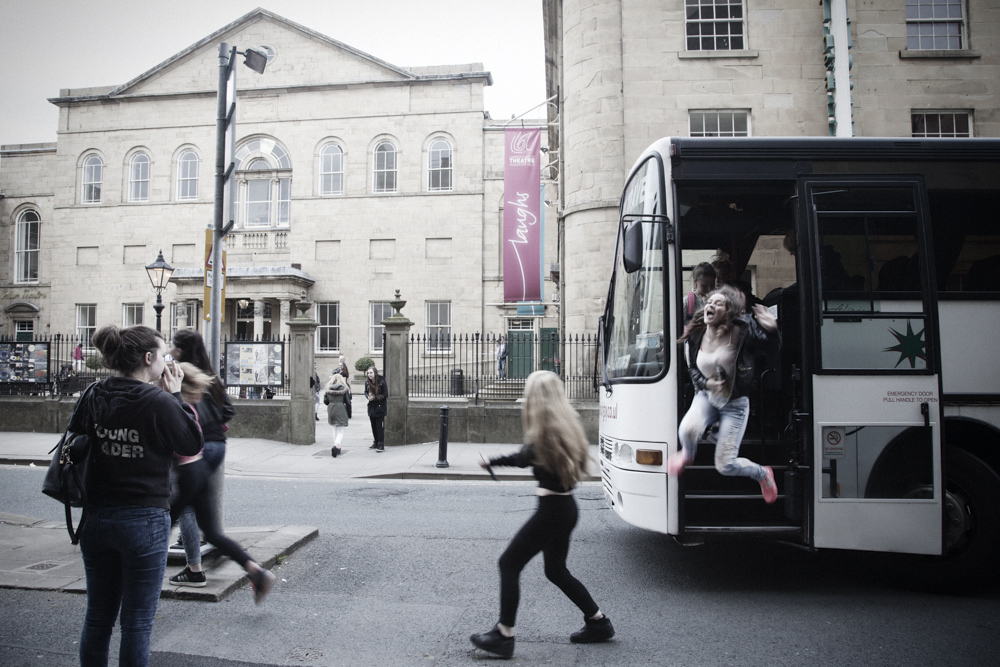 More than half the SceneMakers are here tonight and we meet up with Sonja, Duncan and Andrew in the theatre courtyard. Philip's here too, with some friends.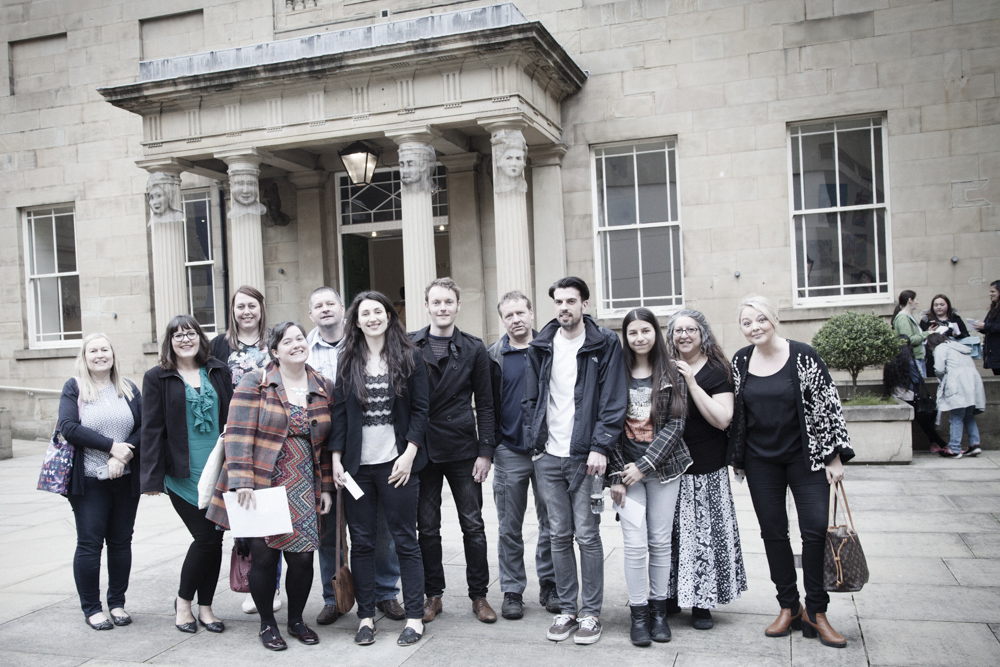 It's indeed a unique performance with some unimaginable stuff with a six foot metal hoop. The atmosphere is somewhere between teen pop concert and middle-aged hen party. As Louis, Charlie and Beren strip down to their boxers for the finale the collective 'phwoars' are clearly audible.
"That was absolutely brilliant," says Sian afterwards. "The dance was great and I loved the fun of it all. It was absolutely captivating, completely wonderful. My favourite bit was with the ring, that was just stunning. I was literally on the edge of my seat, I couldn't take my eyes off him."
Outside I put my tape recorder in front of Rebecca who is collecting feedback forms. "Have you seen all the women coming out with big smiles on their faces?" she laughs. "One of our guests has just written, 'the hoop and the stripping off' for what she liked best. Anyone reading this will wonder what we've been up to."
Everyone piles back on the coach. Nigel has had the 'best pizza in Huddersfield' while we've been in the theatre. Maybe he should come with us next time.