The irony is not lost on me as I walk through the Edinburgh Woollen Mill outlet at The Mill, Batley. For over a hundred years Cheapside Mills – as these buildings were originally known – played their part in West Yorkshire's woollen trade. Now they're home to outlets whose merchandise most likely arrived by container ship.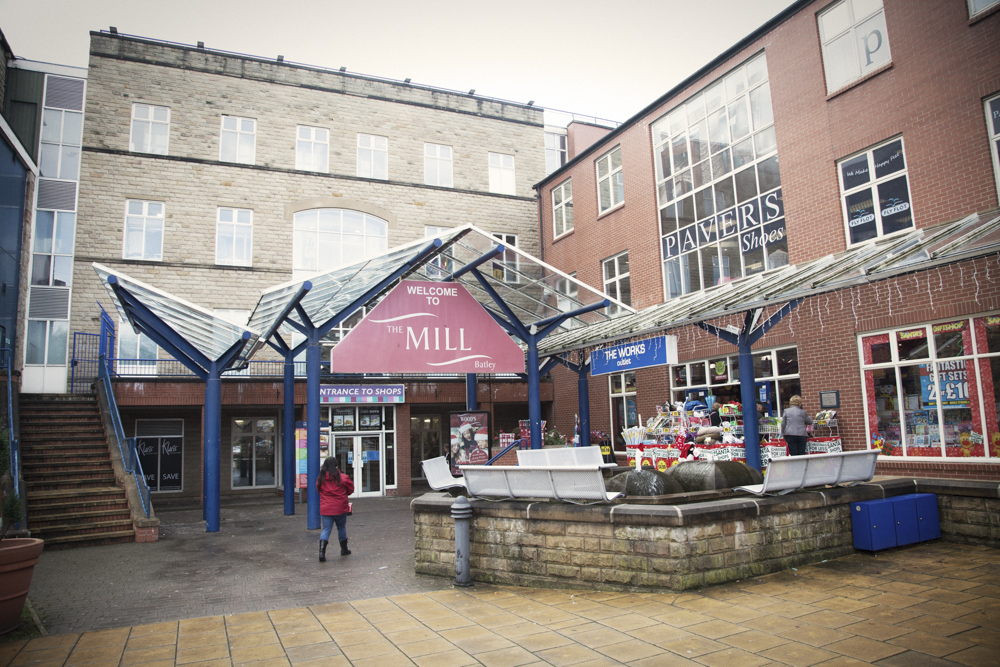 I'm here to see Sonja Martin, a SceneMaker from Heckmondwike and Cassandra Kilbride, a maker who is running workshops on the top floor.
Between Yankee Candle – apparently the world's most recognised name in the candle business – and Massarella's Restaurant, I find the two of them sitting at a small table covered in large balls of coloured wool.
Another woman is here too and, as Cassandra offers low key encouragement, Lyndsay and Sonja start to weave stands of wool and strips of random material in and out of the seven upright wooden pegs in front of them.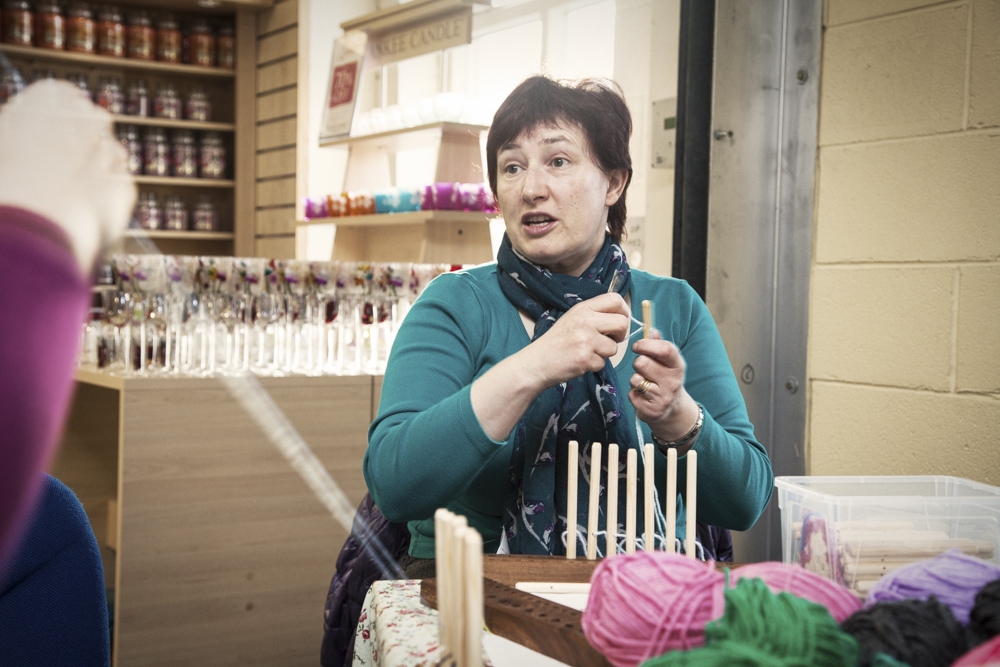 "So how did you hear about Creative Scene," I ask Sonja as she adds her second weft.
"From a friend," she says, "and I thought it was fantastic. Nothing much happens in my home town so it'd be great to help make a real difference there or anywhere in North Kirklees really."
Sonja is passionate about the arts and feels Creative Scene has the potential to bring communities together, to touch people's everyday lives. I wonder how it started for her.
"As a child, I was always making things, usually something from Blue Peter… but not always following their instructions. I think I've always been more arty than crafty."
From picking up a leaflet at a playgroup when her boys were still toddlers, more than 15 years ago, Sonja enrolled on an arts taster course which lead, as these things do, to an NVQ in Youth and Community Arts and then an AS level in Fine Art.
I know that Cassandra's workshops here at The Mill were recommended to Sonja by Creative Scene, but how, I ask, did Lyndsay get started?
"I just randomly walked past the sign a few weeks ago," she says, pointing up at the board that advertises peg board weaving on Mondays, Bavarian crocheting on Wednesdays and 'pudding pom-pom' making on Sundays. "And now, pretty much every free second of the day I am crocheting. And when I'm at work I'm thinking about crocheting."
"Really?" I ask, as if I'm some concerned counsellor. "And how long has this been going on for?"
"Only about a month. But I do get obsessed by certain crafts," she says, "and crochet is my new obsession."
I had no idea just how dedicated enthusiasts can get over their slip and chain stitches and it hadn't crossed my mind that these two-hour sessions would be such a hotbed of informal mentoring and experience sharing.
As the wool strands are woven in and out, Sonja tells us about Enchanted Parks, an after-dark arts adventure in Gateshead she saw over the weekend; Cassandra describes her design for an installation she's making for the shopping complex; and Lyndsay puts her two-penneth into our debate about arts versus crafts. It's all really quite sociable.
As we are chatting, Fareeda arrives and quietly takes up the only remaining seat and begins to weave.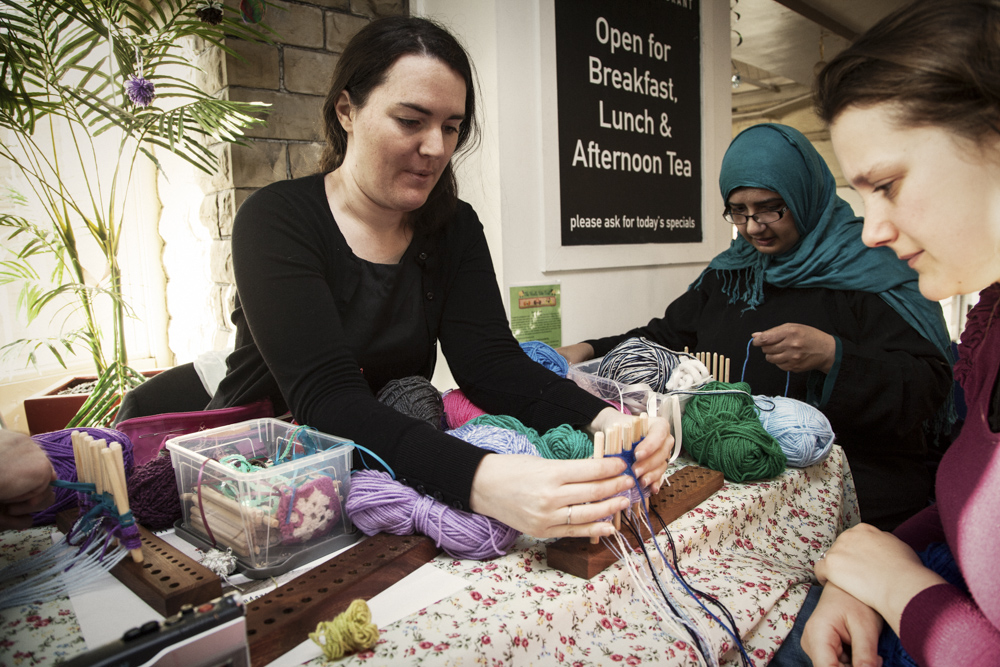 "You're going to need a bigger table," I suggest to Cassandra.
Fareeda lives locally and sat down at the peg boards for the first time only last week. "I like it," she tells me, "it's really interesting."
"Have you done anything like this before?" I ask.
"No, nothing," she replies. "This is the first time I've done anything like this."
As I pack my bags I hear Fareeda ask if Cassandra could show her how to crochet and, walking up the hill back to Batley Station, I contemplate on what's happening on that small table outside the restaurant.
In much the same way that playgroup leaflet changed Sonja's life – and she's about to help change others – it's clear Fareeda's interest in the arts has been ignited by these informal workshops and there's no amount of evaluation that will uncover where that might lead.