continued from Creative Scene: "They're not following someone else's rules."
After an hour or so of creative fun we're invited to take our seats beneath the giant chandelier and, after a game of 'bingo balls', Nancy takes to the microphone. "I've got the very happy job of being director of Creative Scene," she says, "and I'm pleased to welcome you all here tonight."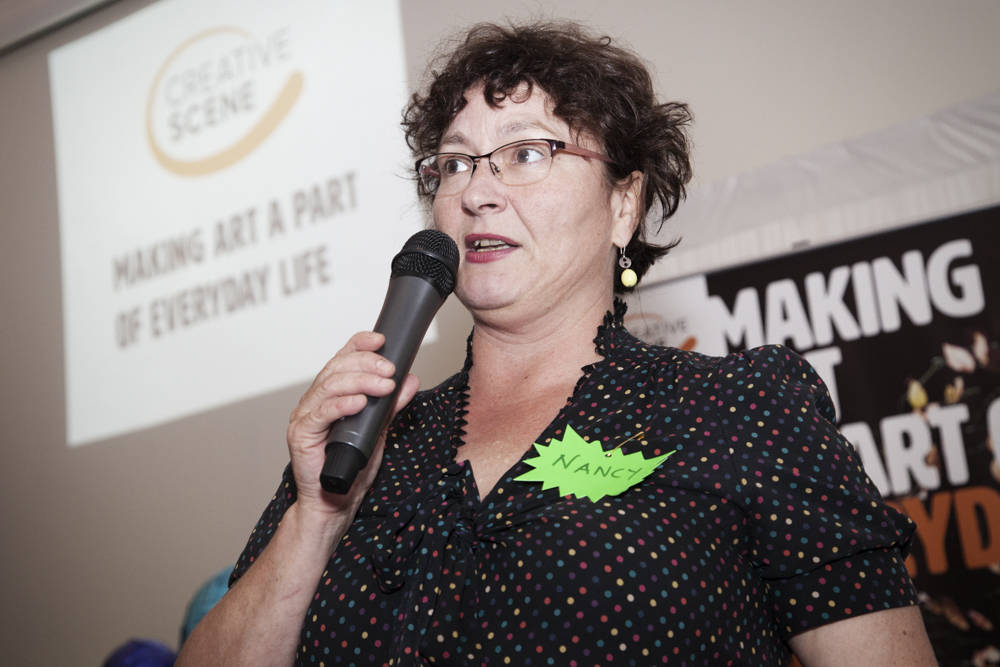 Four young people take to the stage and Sammy, Lucas, Kira and Sonia introduce themselves. "We've learnt how to make a giant snake out of wicker baskets… we've seen dodos roaming around Batley… and sunk our heads into bee hives."
As confidently as seasoned after-dinner speakers they eloquently describe how their experiences with Creative Scene have helped them discover their own creativity; inspired them to be themselves, make new friends and grow in confidence. "We've even received an award from the mayor for volunteering in the arts." They return to their seats to whoops and applause.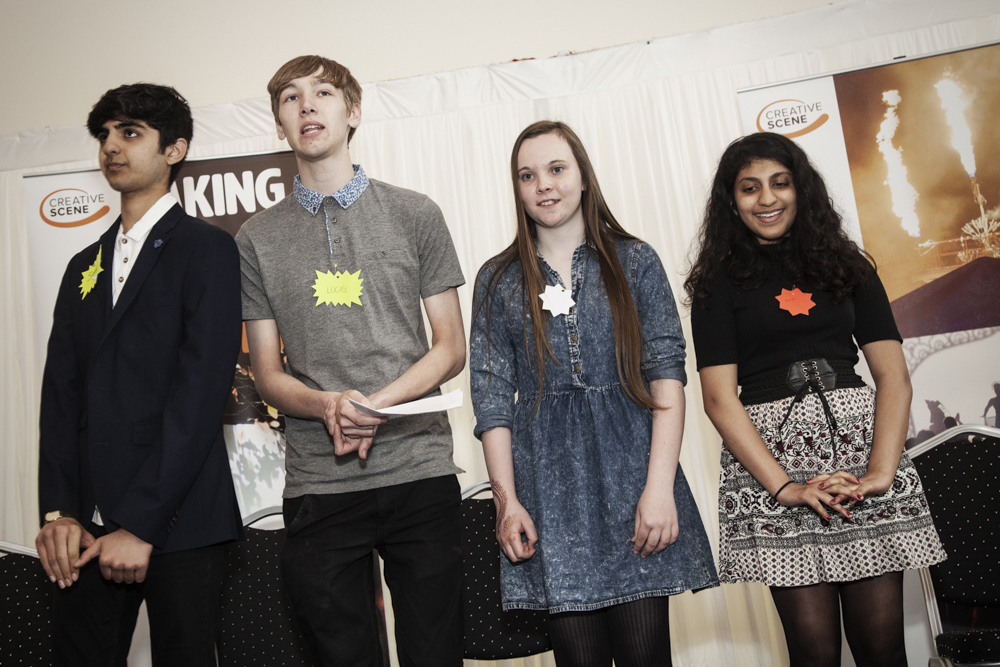 Others follow to tell us about their projects. SceneMakers take the stage explaining how their collaborations have pushed them personally and artistically.
Simon talks of the 'Heckmondnights' series, working with scriptwriters, artists and technicians: "That experience has been invaluable to our community. People have been inspired to take on challenges they wouldn't normally take on."
We hear from Andrew and the hugely-successful Batley Does Opera; we hear how Creative Scene has, year on year, helped inspire Batley Festival and how local artists  initiated the increasingly-popular annual fire and light show at Crow Nest Park.
"We're investigating new ways of supporting the amateur sector," says Nancy as she introduces Robert Meadows and the Scene Together initiative, "to develop collaborations with professionals."
Robert wanders the floor interviewing local people involved in the rich seam of West Yorkshire's amateur dramatic and musical societies, whose words about what they love about taking part are bobbing about on the end of heart-shaped helium balloons. Creative Scene's Lisa puts it all into context as she explains how an action research project is helping to bolster amateur creativity.
To round off the reflections, evaluator Professor Steve Swindells brings SceneMakers together on stage and asks what difference, do they think, Creative Scene has made to their area.
Speaking for Heckmondwike, Simon says, "It's given locals a renewed passion for their town centre, and given the community an opportunity to gather and celebrate together."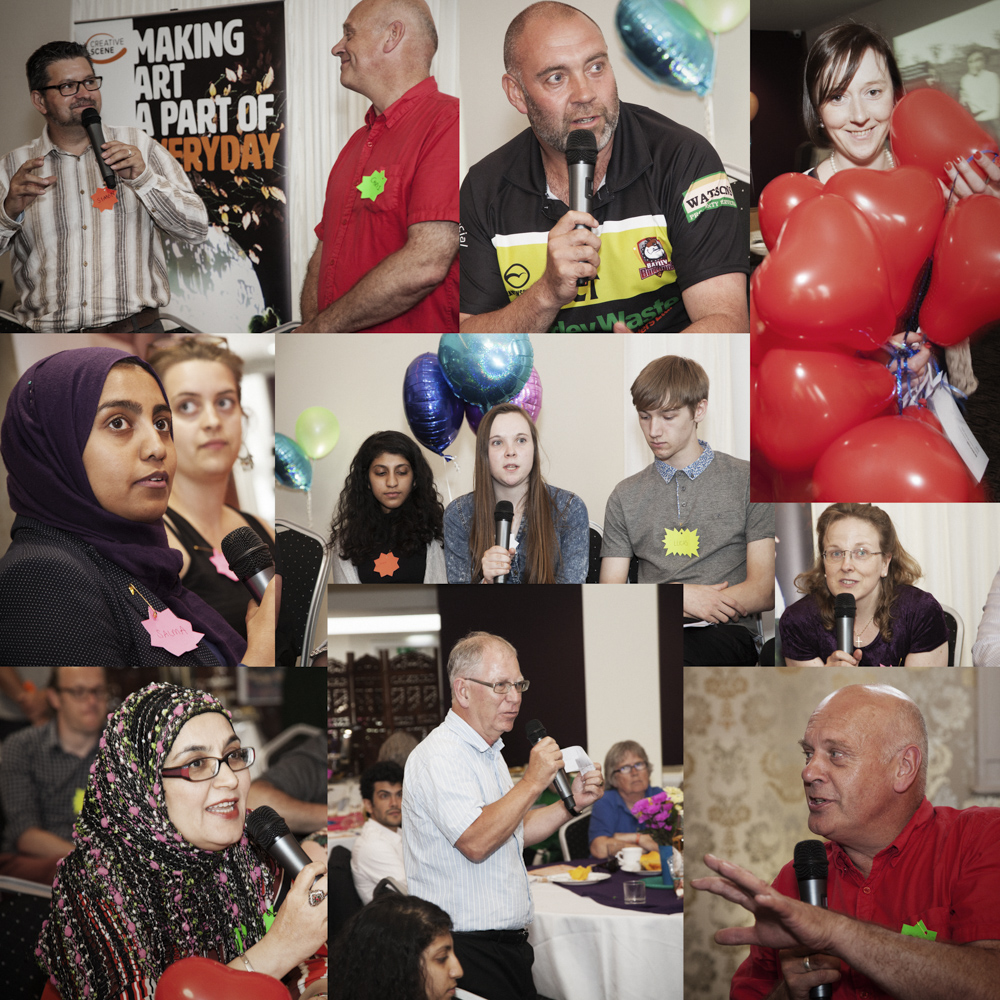 Craig, coach of the Batley Bulldogs Girls' team – who will soon see a new play commissioned by Creative Scene as a result of writer Kevin Fegan's residency at the club – is in no doubt about the power of the arts: "I would never have imagined this but I can see how sport and the arts run hand in hand. If we'd not had playwright Kevin at the Bulldogs, then the story of Girls' Rugby League might never have got out there. The arts are helping send that sport into the spotlight."
"Thank you," says Steve. "I wanted to ask the young people what they've enjoyed most about working with Creative Scene."
"I'll talk," says Kira, practically wrestling the microphone from Steve. "I live on an estate and people judge you because of where you live. You don't feel the same as everyone else. But when you do these art projects, then it makes you feel part of everything." More applause.
The evening finishes as creatively as it started. Before Batley Community Choir serenade us, opera improvisor Omar jumps between the tables, teasing out lyrics and tempos from the audience. Within minutes, and as if from thin air, he composes a Creative Scene 'aria', and a fitting anthem to the event.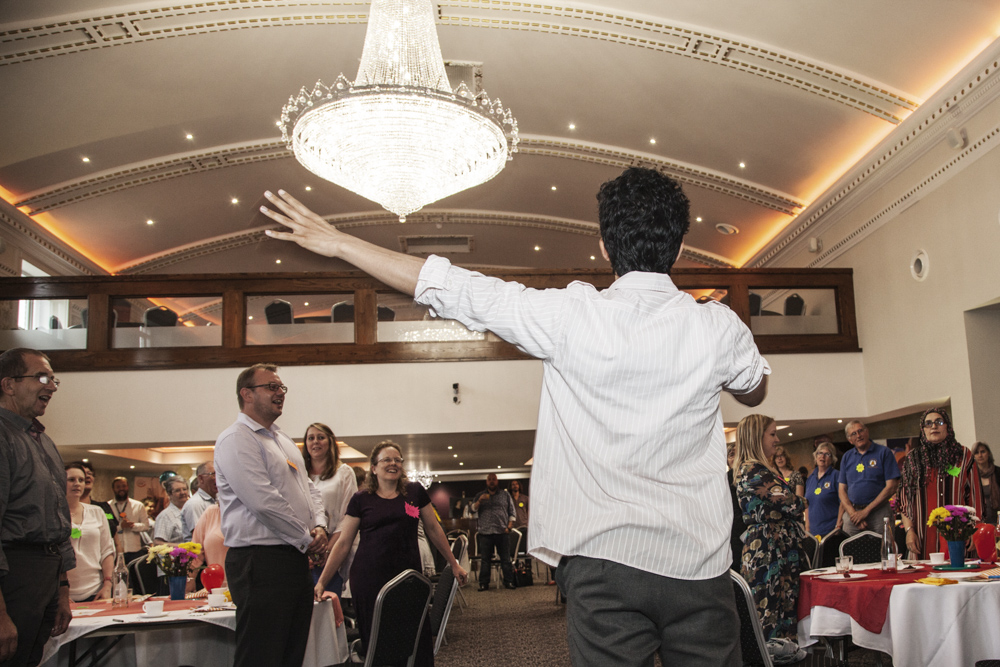 "We're going on a journey," we all sing. "Must be positive, it's exciting… must be positive, it's exciting… must be positive, it's exciting… we are HOT!"