"Good afternoon everybody and welcome to our life class. It's great to see so many new faces."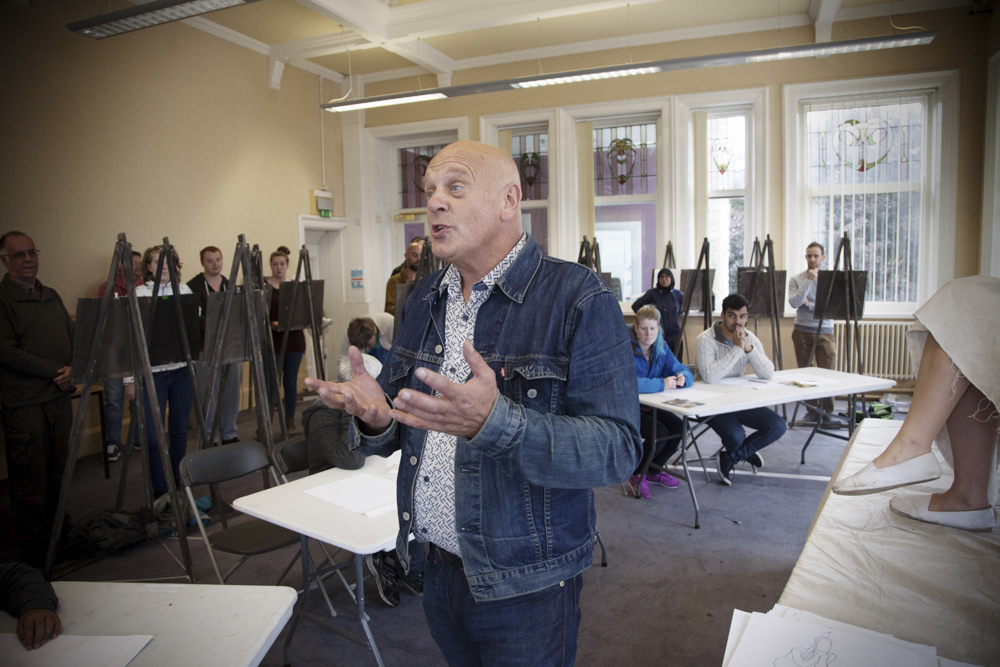 It's Sunday afternoon and our 'tutor' kicks off the last performance of IOU's Rear View for Batley Festival. "Let's start off with something really simple," he says, as the model sits rooted to her chair. "Let's start off with the best stick figure you've ever drawn."
As I make my way around the room, carefully weaving in and out of easels, I review everyone's efforts, some more confident than others. "You've done this before," I whisper to one woman.
"Not for a long time," she laughs.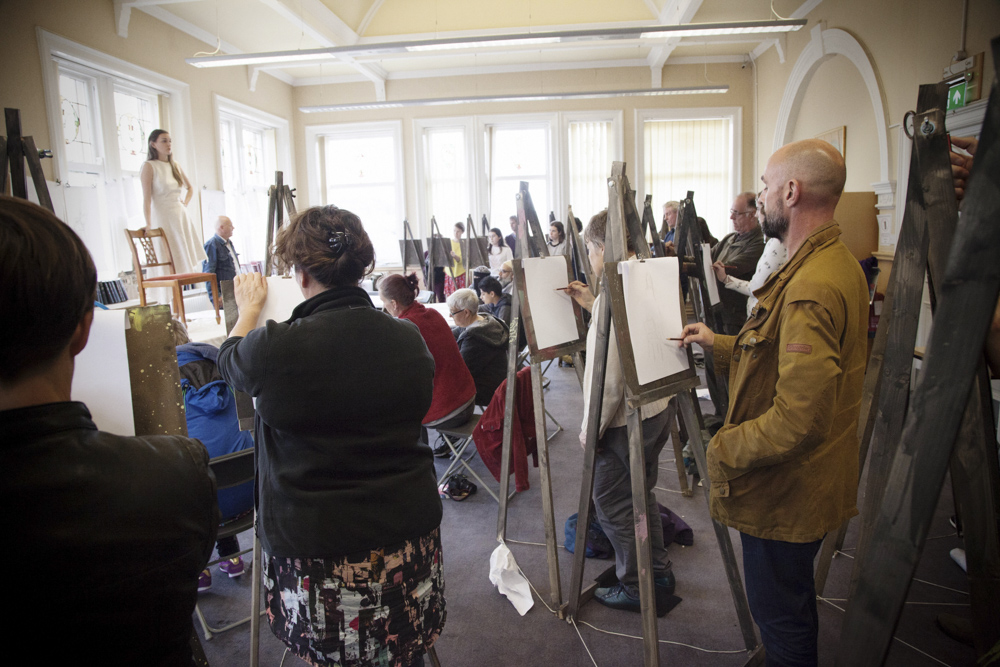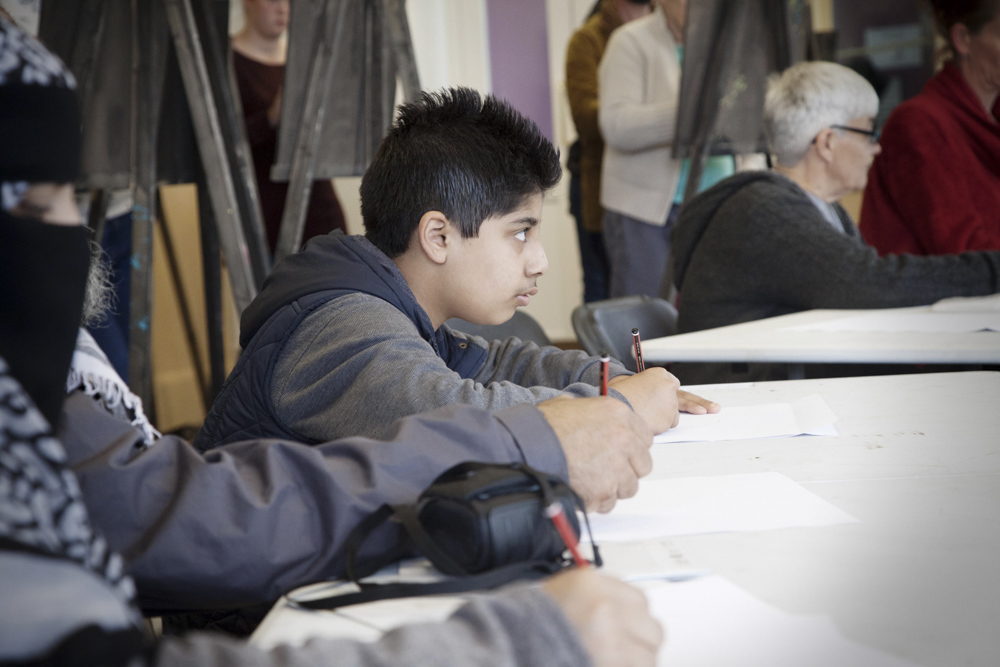 After some advice about shading, the instructor quietly slips out of the room as the model comes 'alive'. She tells us what she thinks about as she poses, the surrounding artists scrutinising every inch of her now ageing body.
Pencils down, we follow performance poet Cecilia Knapp out towards the cut-up bus. Twelve-year old Elyas is here with his parents. "Did you persuade them to come?" I ask after I've introduced myself, "or was it the other way round?"
"My mum actually persuaded me," admits Elyas.
"Well done mum," I say, "you'll have to tell me afterwards what you thought of it." Elyas is one of the first on the travelling auditorium and bags the back seat.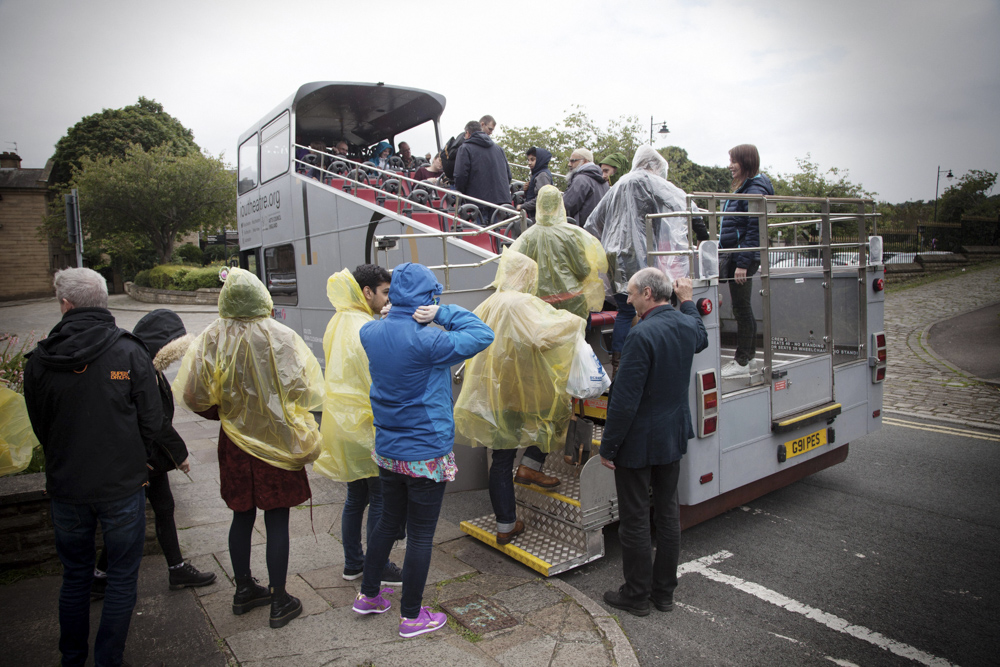 "Hello and welcome to Rear View," says IOU's executive director Joanne Wain. "In front of you is a set of headphones. There's a small dial in the headrest in front of you to adjust the volume. If you'd like to put your headphones on now, we can get started."
I ride shotgun inside the cab with David Wheeler, the theatre company's artistic director. This is the eleventh circuit in the last three days. He must be getting to know Batley well by now. "So what sort of reaction have you been getting?" I ask him.
"I think local people have enjoyed seeing their town in a new light," he says. "And the audiences have built up steadily over the weekend. As more people have seen us travelling round, they've been intrigued and have come to see what it's all about."
We park up on a side street where Cecilia is sitting, waiting, as if she's been magically transported from the life class. From a distance, and without the necessary headphones, it's like watching the TV with the sound turned down.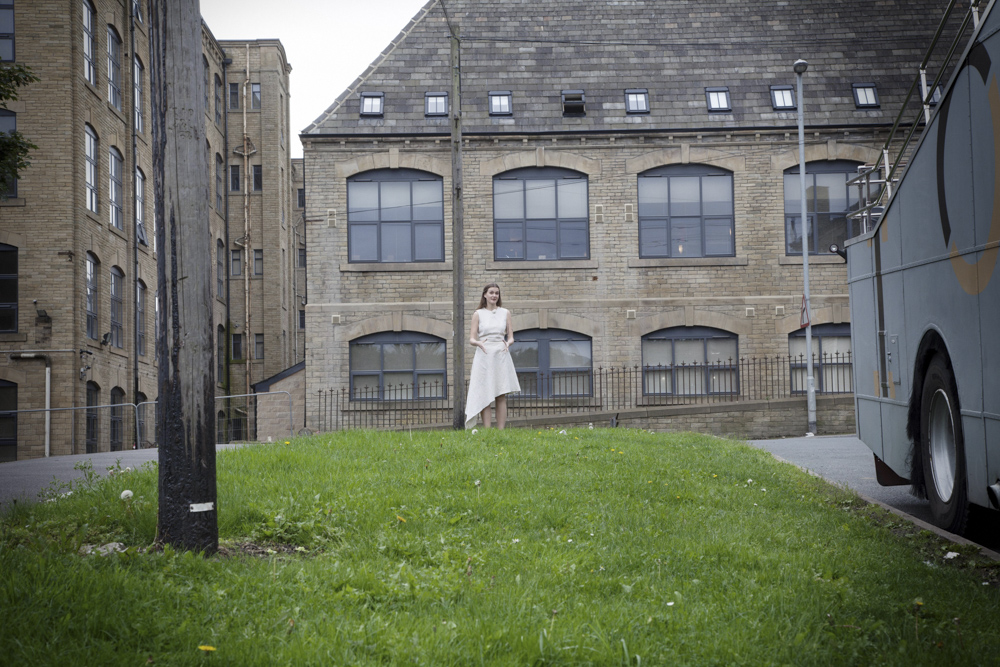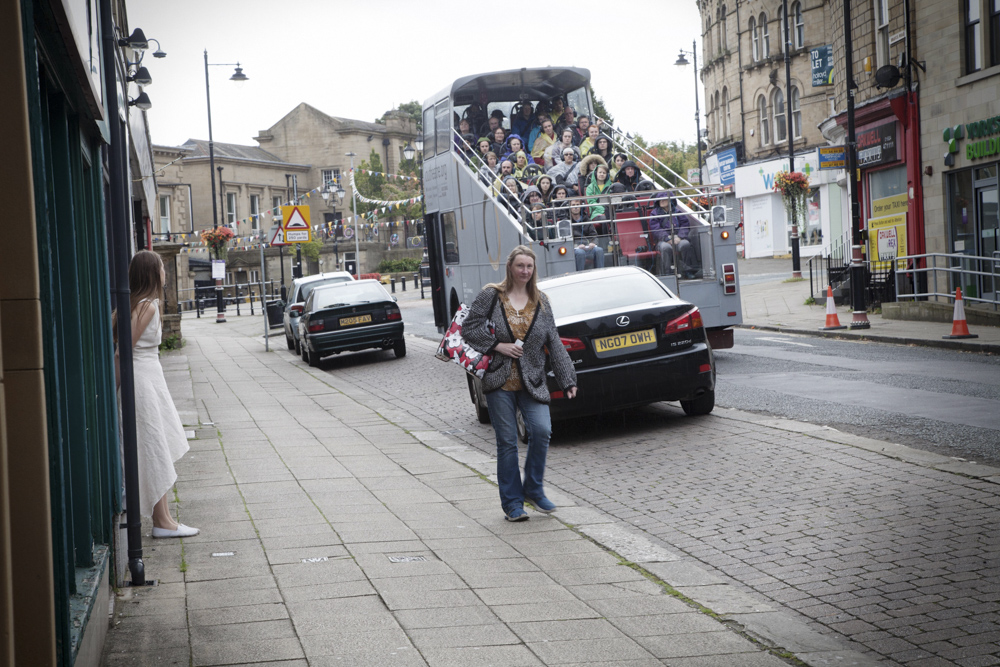 Next she is outside the Croaky Frog Café and I position myself down the street to get a view of the poncho-clad punters. All are totally immersed, eyes fixed on our protagonist.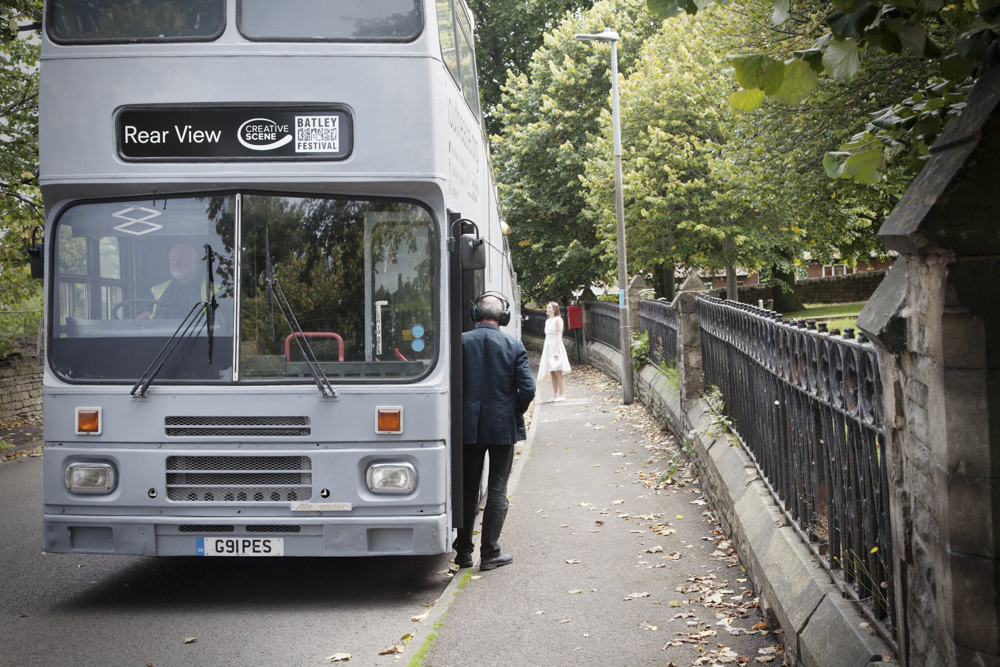 After we've visited Fox's and parked up next to Batley Cemetery, we make our way back and I get to chat to Dave the driver who, with an engineering background and a career in the bus trade, has been a consultant for the project since the beginning.
"Didn't you think it was a bit bonkers when you first heard about the cut-up bus?"
"Yes," he replies, far too quickly.
"And have they proved you wrong?"
"They have. But I'm glad they have. It's the first time this has ever been tried in this country, maybe in the world. It's a strange idea but it's really worked."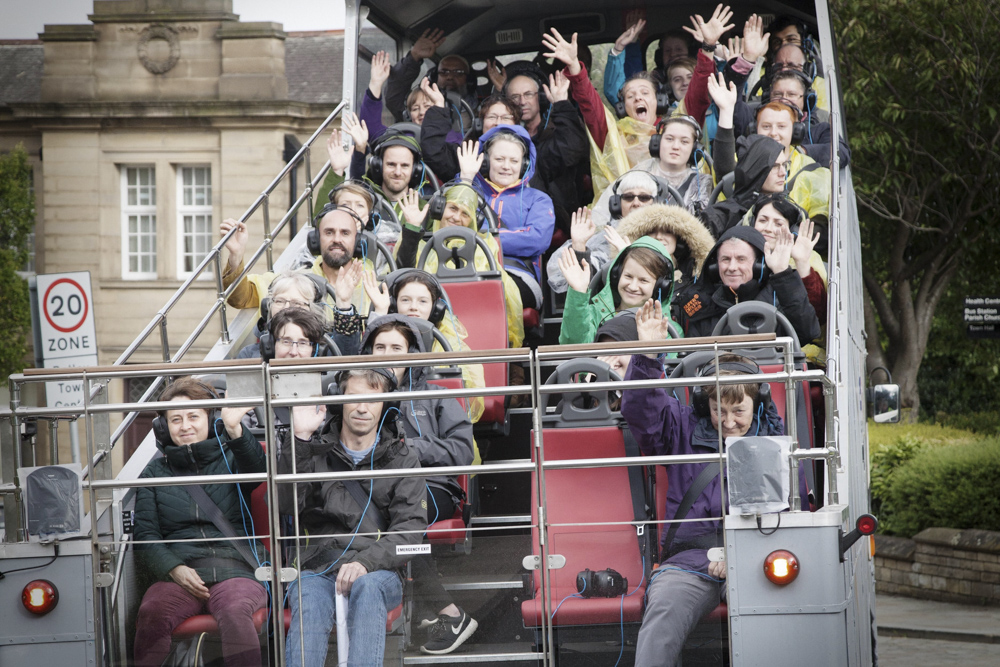 Dave reverses back into the starting position next to Batley Library and, before the audience disembarks, Cecilia reappears for the final time to take a bow.
"I thought it would be different," says Elyas who I think was expecting a scenic tour of Batley. "I didn't imagine we'd hear a woman telling us all about her life. I was surprised. I'm pleased we came."
"The hardest part was sitting still and not speaking," jokes Batley Festival volunteer Donna as she fills out a feedback form. "It was very Batley. I've worked in those places. And some of the things she referred to like her father's sore hands, that really rung true for me.
"Was her character totally fictional, or was she based on a real person? I don't know. It blurred reality with fiction. Even the sounds in the headset: that police siren. I'm still not sure whether that was a real siren or part of the show."