… continued from Parveen makes a discovery
They share their office block with the Open University, a theatre and a cinema – Despicable Me 3 is showing this week.
Stanka Parać, the head of Subotica's Local Democracy Agency, welcomes us for our final session with our hosts and members of the Roma community.
While craft materials are laid out on the table I ask Miloš what he thought of the previous day. "It was very inspiring," he says genuinely. "It wasn't just talking. You could see actual objects which helped visualise what you were learning. There were no dry words."
"We'd like you to think of the characters from the stories you heard yesterday," begins Kim once the group is settled. "And to make a small figure for us to hold in our hands and think about a message they might give us."
There's barely elbow room around the table which adds an intimacy of cooperation as scissors, tape and balls of wool are passed around.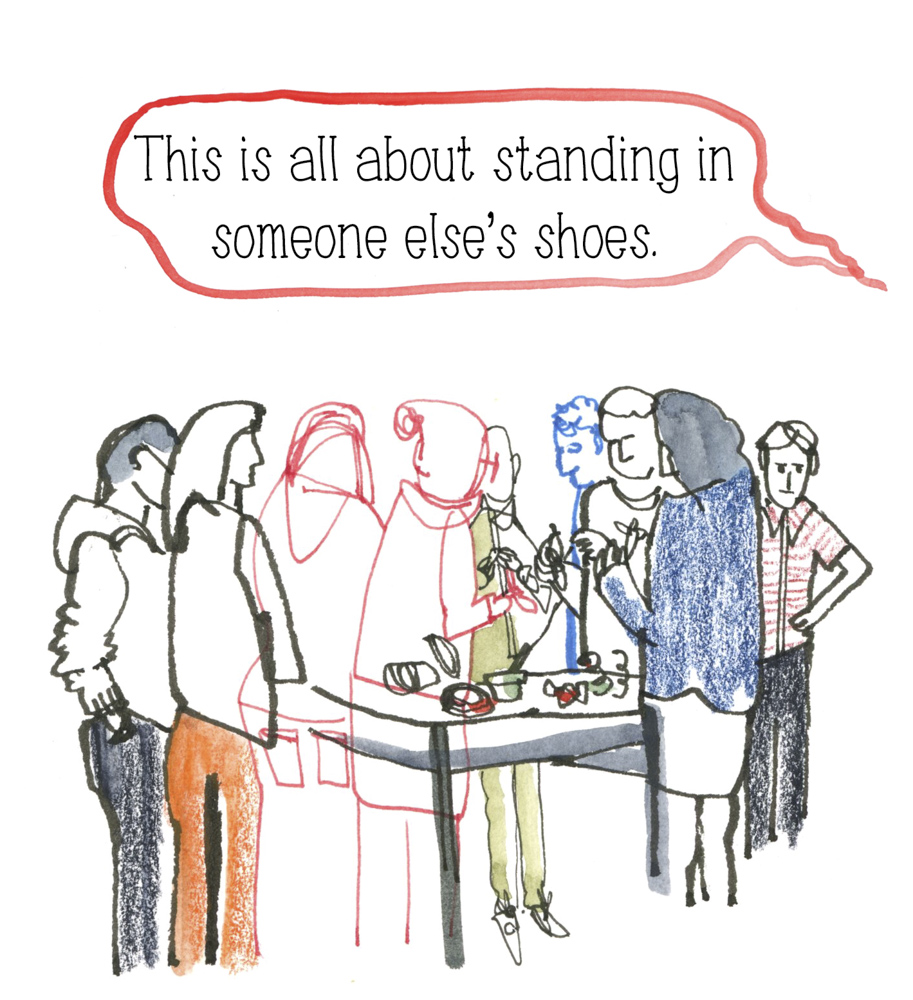 "Who are you making?" I ask as I walk around the table with my tape recorder.
"I'm making Muhamet," says Filip. "His story from yesterday really inspired me."
"My grandmother," says Rejhana.
"I'm making my grandfather," says Miloš.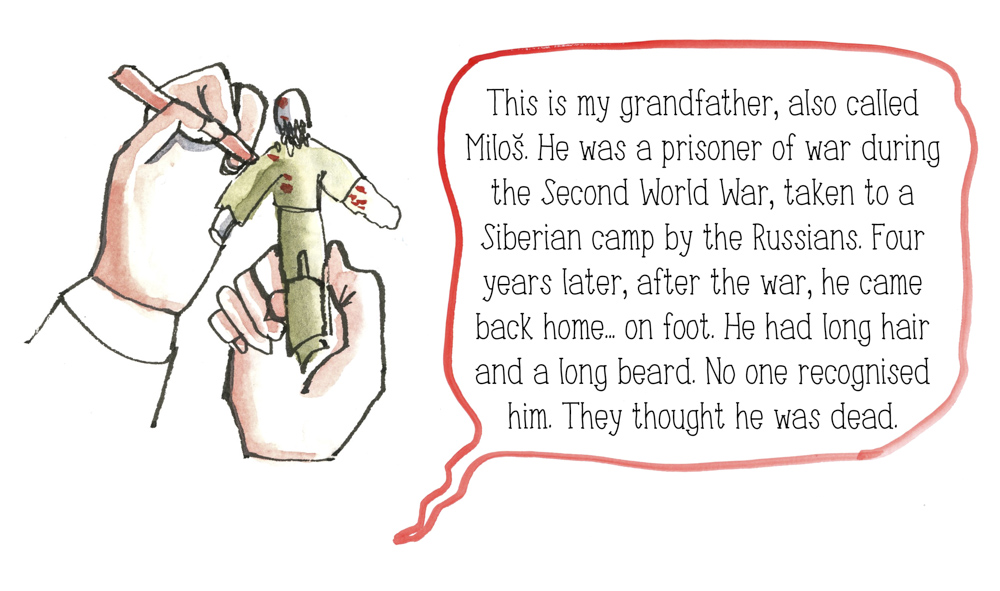 "Who are you making Dušica?"
"I'm not sure yet," she says. "I think it may be an older woman I know of who survived Auschwitz."
Half an hour later a dozen or more small figures from wooden clothes pegs, wire and scraps of material are complete. "And now attach a message that your figure might have for us all," says Kim.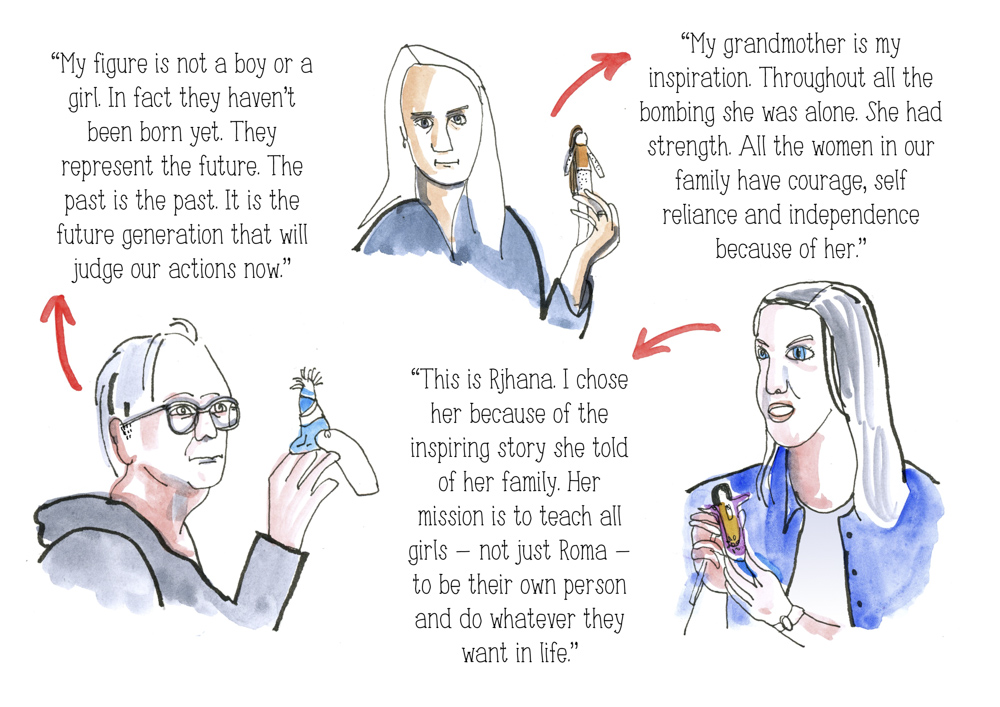 After the final messages have been shared Chris and Kim bring the session, and our trip, to a close by outlining the next steps.
"Our visit here is just the beginning," says Chris. "We're inviting participants from each of the countries we've visited – Poland, Italy and Serbia – to come to Yorkshire in October. We'll share our stories and create new work together.
"And then we'll ask you to come back again in January – all your costs will be met – so we can present our creative work at Holocaust Memorial Day. The international theme this next year is the power of words."
It's been tiring but hugely rewarding for our small team this week. Early tomorrow we set off back across the border to fly home from Budapest. As we walk back to our hotel – in the hope the water is now back on – I ask Joanne and Parveen to reflect on the last week.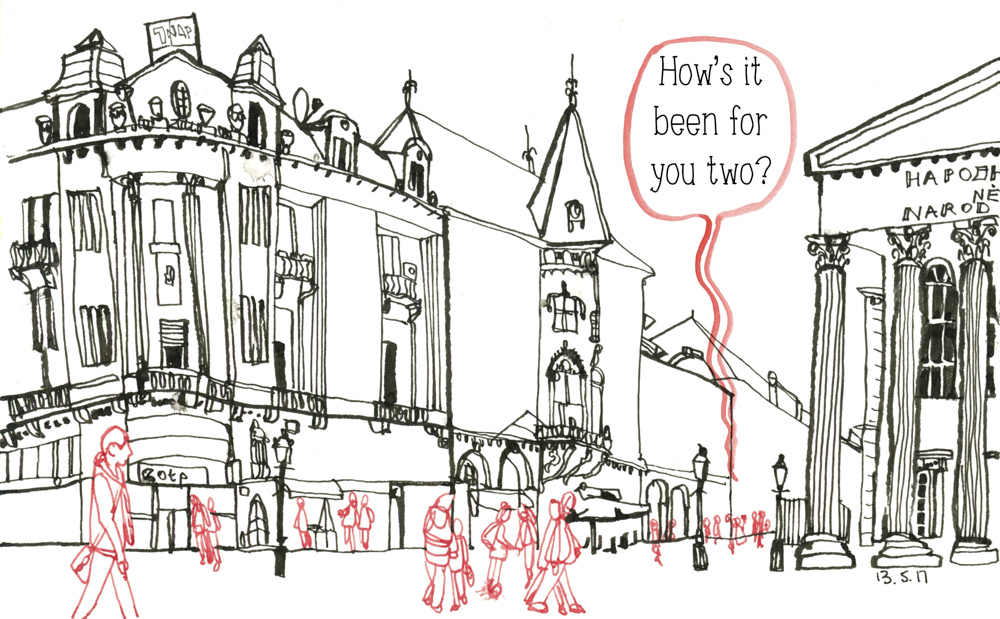 "I knew I'd be out of my comfort zone," says Joanne, "but it's been a real privilege to meet  new people and hear some very personal stories. I like to think I've got a good sense of justice, and this has made me more aware of everything that's still going on in the world."
"And we've been reflecting on things together, haven't we?" says Parveen. "It's been good to have someone to share it all with.
"As well as discovering my own connection with the Roma community I'll take away something that Stanka said to us today. She talked about integration versus interaction."
"What did she mean?" I ask.
"When a host community welcomes newcomers they expect them to assimilate into that community," explains Parveen. "Whereas perhaps what we should aspire to is an exchange of ideas and cultures between us that we all benefit from."
"And what memory will stay with you, Joanne?"
"Yesterday Sanja's daughter drew me a picture. On it she'd written the word, love. For me that crystallised everything we've been talking about. If our young people will keep that feeling of love that's all we need isn't it?
"Perfect," I say.