It looks like a production line to make goodie bags for a children's party. The long table in Creative Scene's office is full of stickers, coloured card, small gifts and a pile of orange stripy paper bags.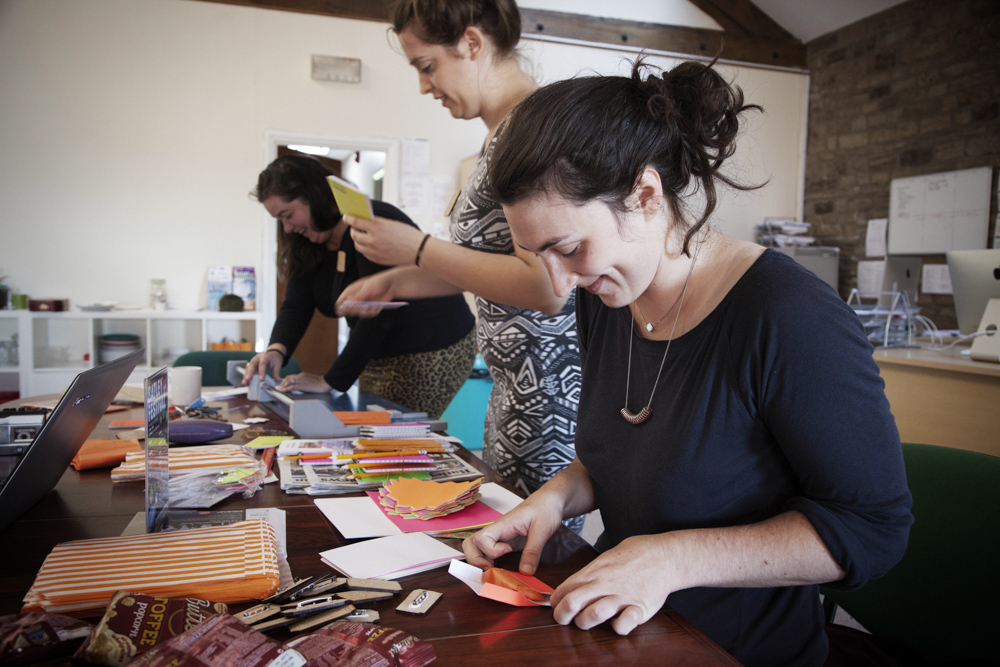 The fifth annual Batley Festival is only a couple of weeks away. Leaflets have been distributed and social media is abuzz. Local artists Harriet Lawson and Ruth Bridges from Dewsbury Free Art Fridays have been invited to add to the build-up, which explains the crafty cacophony.
I last met the artists a couple of months ago as they were planning to shinny up lampposts. Since then their playful art intervention has included replacing Dewsbury's litter with coins and Olympic-inspired medal making.
"We just try and make it fun," says Harriet. "And yes, we often get some strange looks."
She and Ruth are both graduates of the Creative People and Places artists' professional development programme. The Faculty brought together emerging artists across the North to encourage debate and new thinking around social arts practice.
"Free Art Fridays is a great way for us to test new ideas," explains Ruth. "We can see what people like, and don't like, and it's giving us confidence as practitioners."
The strategy is paying off. Their 'real-temporary' tattoo workshop has already been a huge success at an arts festival in Morecombe and is booked for other 'gigs' too.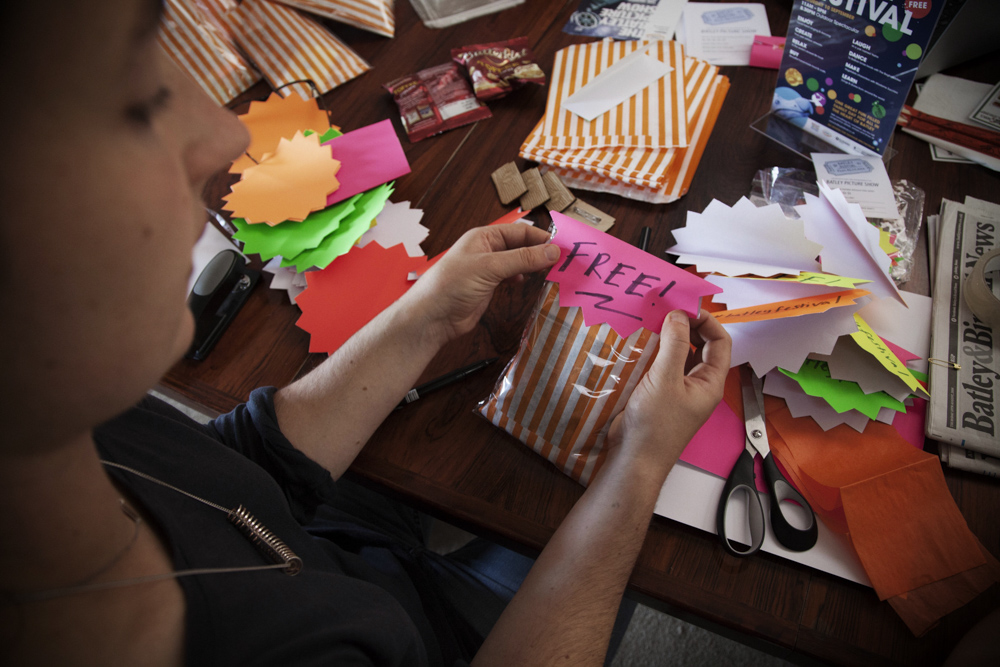 "So, what have we got here?" I ask, eyeing a laser-cut wooden badge.
"The evening spectacular is called The Batley Picture Show," says Creative Scene producer, Rebecca, "so it's a great theme for these guys to pick up on."
Harriet wraps a notebook and pencil to make a 'reviewer's pack'; Ruth adds some leaflets and a bag of toffee popcorn and Rebecca puts it all together in a stripy bag. Soon we have 20 bags of arty goodness to give away.
In Batley's Market Square we decide to split up. Rebecca and Ruth head towards the library and Harriet eyes up the Town Hall as we set off in the opposite direction.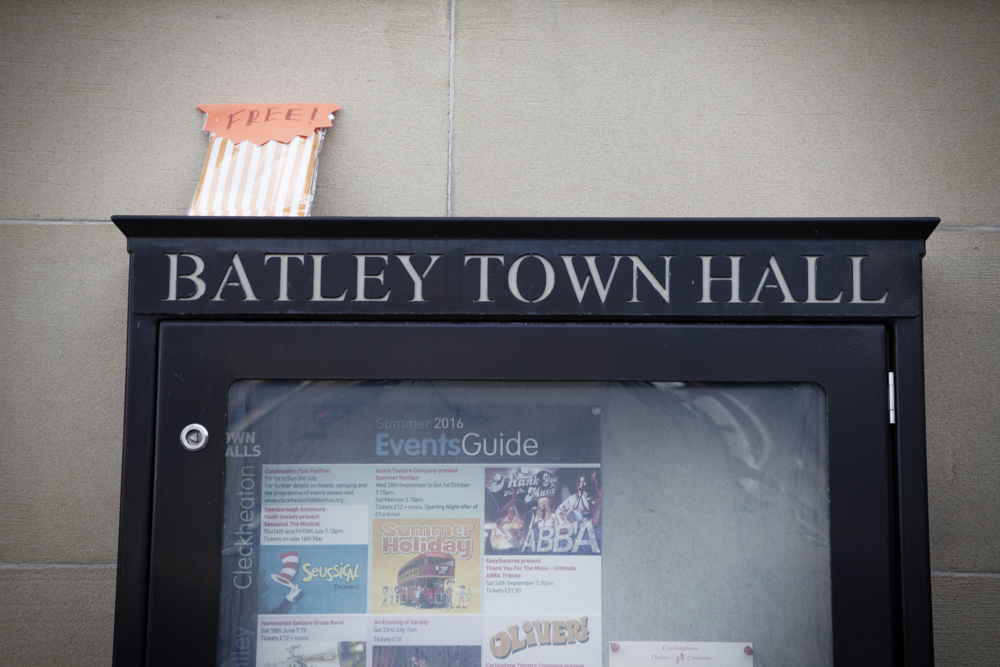 A man on a ciggy break clocks the first bag going up above a noticeboard and asks what we're doing. "They've been a lot coming in the Town Hall asking about it," he says, once we've filled him in.
"Brilliant," says Harriet.
"Well, two or three," he says, "which, for Batley Town Hall, is quite a lot. Someone said they'd gone last year and had a really good time. I've seen the leaflet. It looks great. I'll have to bring the kids down."
Buoyed by his enthusiasm, Harriet strides past a bookies and a mini market to leave a bag in the doorway of an empty shop; another under a bench and a third amongst a display of bedding plants.
This is what Free Art Fridays is all about: little bundles of art left for members of the public to stumble upon and enjoy.
There's another on a window ledge and on the pavement outside a barbers. "I'm tempted to leave one in the ladies," Harriet says as we reach The Taproom pub. And she does.

We walk together back up Commercial Street. "Two of mine have already gone," she tells the others as we reconvene.
Within 20 minutes Rebecca is checking her computer back in the office. "Someone's already posted one!" she exclaims as we crowd around her screen to see one of our bags with its new owner. Instant success.
On Friday, 2nd September Harriet and Ruth will be running workshops for young and old at Batley Tesco from 11am-2pm to make film-related props for the Festival.
Batley Festival – one great, fun-filled family day for all in the heart of Batley – is on Saturday, 10th September, 11am-5pm with The Batley Picture Show at 8.30 in Memorial Gardens.