"The children have adored Ryan and his teaching," Rachel tells me as she welcomes me to her TimeStep dance studio. "They're definitely benefitting from it."
This is choreographer's Ryan's fifth rehearsal with the young dancers, with only a couple to go before the big performance at the Cleckheaton Folk Festival with folk-and-hip-hop-fusion group The Demon Barbers.
Supported by Creative Scene, this is one of a series of workshops where West Yorkshire music and dance groups work towards a main stage collaboration with 'The Barbers'. Soon I'll be reporting from Batley Community Choir and from rehearsals of a second choir pulled together just for the festival.
"Creative Scene asked if we'd be interested," recalls Rachel, "and I thought it'd be a great opportunity for the children to get involved in something they're not used to."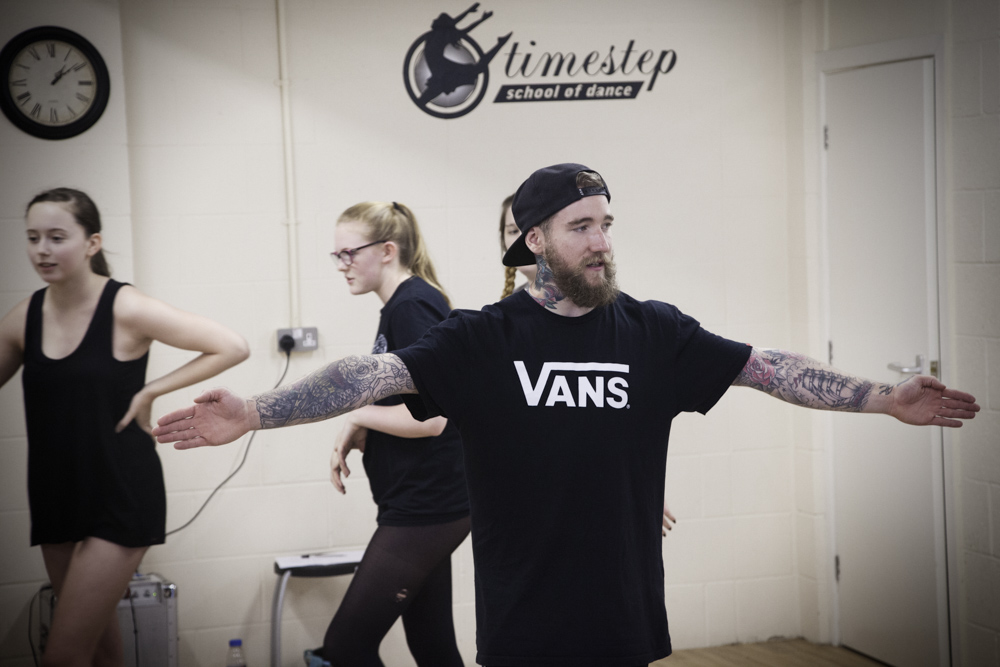 In the studio the young people are working on individual moves that get incorporated into their routine. I interrupt one group and ask their names. Molly and Harriet are sisters then there's Nieve and Milly. "And what's your name?" I ask the last girl.
"Nieve," she says.
"Nieve as well? That's confusing. What style of dancing do you normally do?"
"I do gymnastics… musical theatre… ballet… senior theatre…" says Nieve.
"And what's the best thing about all of this?" I ask, gesturing towards the other dancers.
"We get to learn different styles of dancing," says Milly. Their energetic routine with The Demon Barbers apparently features street dance, tap and folk with a sprinkling of morris dancing for good measure.
"And have any of you been to the Cleckheaton Folk Festival before?" I ask.
"No," they reply in unison.
"It's going to be exciting doing this in front of so many people," someone says.

I let this group carry on with their pieces and put my tape recorder in front of the youngest group. "My name's Nieve, and I'm nine," says nine-year-old Nieve.
"Nieve? Everyone's called Nieve here! What are you all enjoying the most?"
"It's just fun," says Joshua, "we get to do our own solos."
"And we've learnt some new moves," says 10-year-old Katie. She tips backwards.
"What's that's called?" I ask
"A back walkover," she says, practically upside down.
Ryan has a lot to get through in just three hours every Saturday afternoon. "These young people haven't danced together as a group before," he tells me during a short, well-earned break. "They're all from different classes so this is the first time they've been put together. But it brings them out of themselves a bit more. The younger dancers won't feel so isolated on a big stage and they'll have the older ones to look up to."
Collaborating with a diverse range of local talent wherever they play has helped earn The Demon Barbers a BBC 'Best Live Act' accolade. The weekend before they're at Cleckheaton Town Hall, Ryan and the band will be at 'Glasto' with a beatbox and hip hop routine with breakdancers.
"And are you happy with where you're up to at this point in the rehearsals?"
"Yes," says Ryan, "it's a little bit stressful at times, but they're all doing brilliantly."
TimeStep School of Dance will be performing at Cleckheaton Folk Festival on Saturday, 2nd July. Tickets here.