Dewsbury seems to have escaped the snow for the second SceneMakers' meeting downstairs at the Cocoa Lounge.
Tonight both the owner, TJ and his partner, Asyia are joining in. Intrigued by last month's gathering, and both a bit 'arty', they are keen to support any activity that sees North Kirklees prosper.
Nancy welcomes everyone back declaring there are lots of opportunities in the coming months for the SceneMakers to really influence the Creative Scene programme. "Even so," she says, "we'll still only be at about 10% of our capacity, so loads more to come."
And then: "I'd like to welcome the lovely Ruth Bridges who has taken over the coordination of the SceneMaker programme."
Ruth is a freelance project manager as well as illustrator and, she says, is passionate about the power of the arts in bringing communities together. "My own small contribution is that I'm a founder member of the New Picture House, a community cinema here in Dewsbury that many of you will know."
Before Nancy leaves – she's got another meeting – she's keen to hear how the SceneMakers got on with their 'colour cards' from the last session. Each has a word on one side – oasis, link, mirror – that's intended to start off conversations about other people's attitudes towards the arts.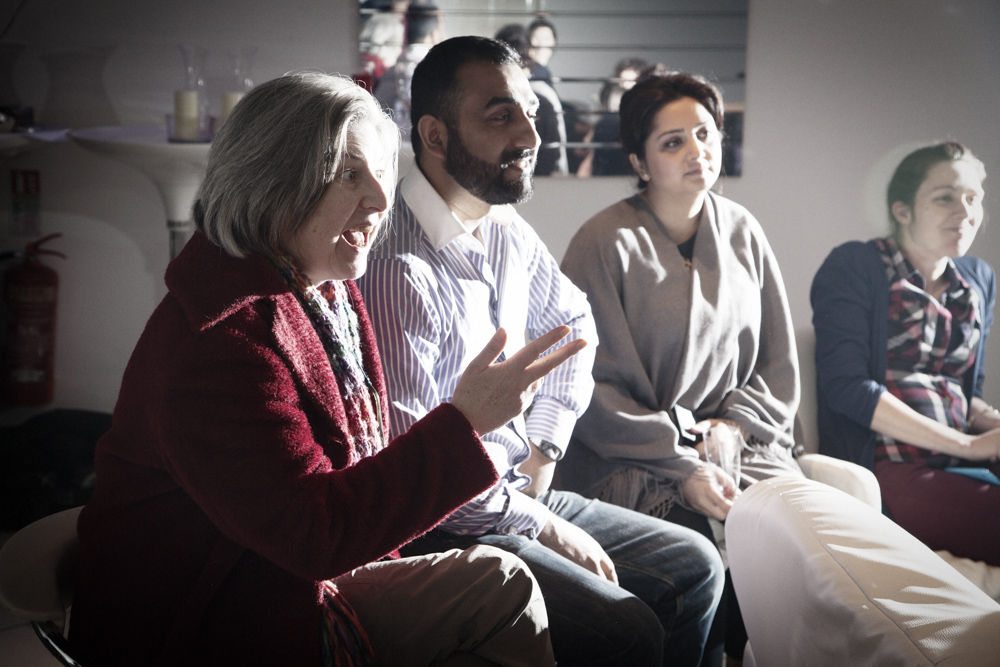 There's plenty of feedback and most everyone has a story to tell. Phil recalls his conversations in the pub: "Most people say they hate contemporary art but they're not willing to discuss why they don't like something, instead they just dismiss it as rubbish. That's a mindset that we need to try and overcome."
"Art has to resonate with people," says Duncan. "Sometimes you can look at a piece of art and it feels like it's laughing at you. People are intimidated, especially in this area."
"Remember last time," says project manager Rebecca, "Andrew talked about wanting people to be awake. Some people are just not tuned into trying new experiences."
The group is fired up – it doesn't take much – and now there's talk of how Creative Scene is able to combat a deep-rooted apathy for the arts. "People have pushed art and creativity out of their lives," says Hillary. "It's not for me, they say. We need to think of ways to combat that negativity."
With her experience in local theatre Gayna emphasises the power of 'getting art to the people' rather than expecting audiences to travel. There's universal agreement from around the white sofas, which is a relief as Creative Scene, we are told, is already compiling a list of day-to-day venues – community centres, pubs, working mens' clubs – to stage art activities. With a dearth of cultural venues around North Kirklees, it's the way to go to attract new – maybe unsuspecting – audiences.
In many ways the SceneMakers are the eyes and ears of Creative Scene. They feedback about the festivals, plays, concerts and exhibitions they have seen and, if inspired, pass on recommendations for what they think other local people would enjoy.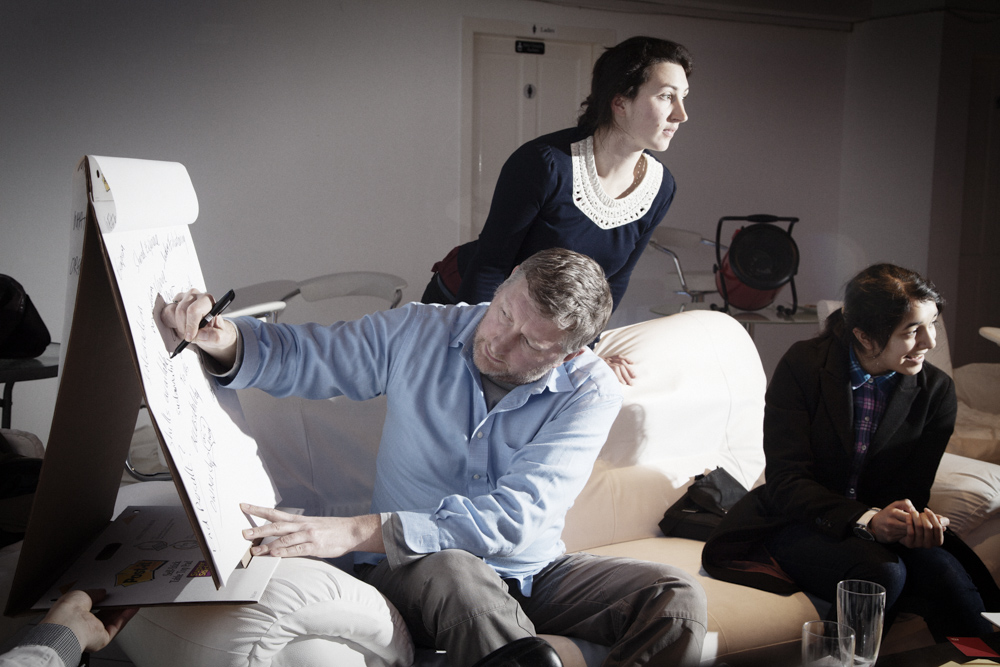 After a brainstorm about critically evaluating an arts activity, Ruth asks the group how they'd like to present their reviews. "I really don't want to give you a feedback form," she says, "that would be just so dry."
To some hilarity, Simon responds: "I really like feedback forms!"
"What about scrapbooks?" someone suggests. That would be interesting.
Before the meeting draws to a close the SceneMakers hear about the projects they can get involved in. There's a 'really big digital project' in Dewsbury to do with robotics and coding; a visit to Blackburn to see a pop-up arts centre; and a theatre production about the Brontë sisters, performed exclusively by local, young South Asian women.
"Just let me know what interests you," says Ruth in conclusion, "and I'll act as matchmaker between the projects and you SceneMakers."
I can't wait.