Yeshe the Yak is lolling around the Memorial Gardens as I arrive. "Go on, tickle him under his chin, he likes that," encourages his trainer.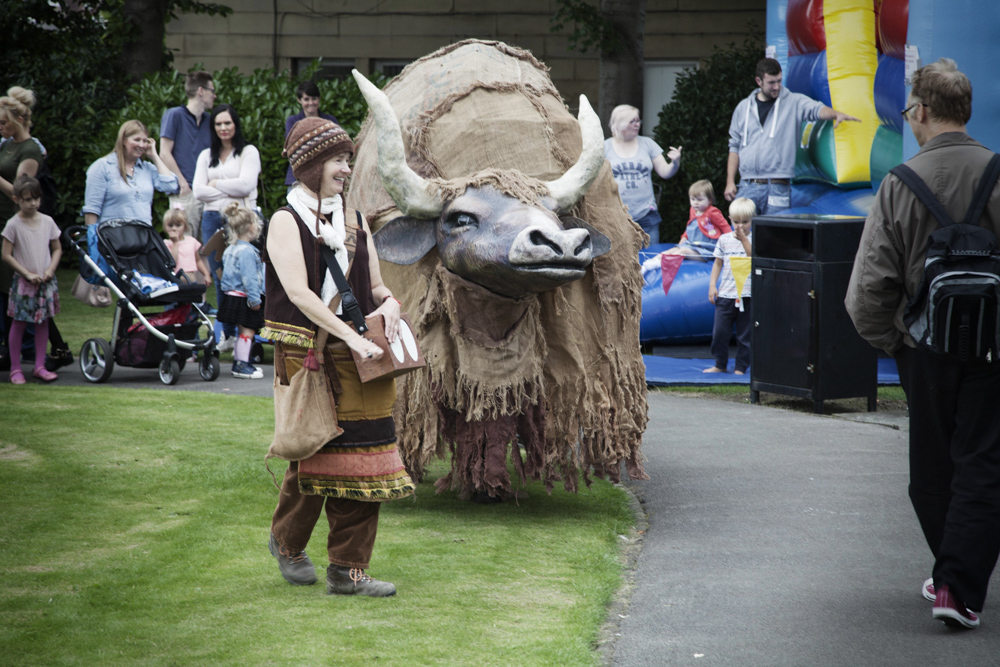 The fifth Batley Festival is well underway and the town centre has been transformed into a cornucopia of craft stalls, performances, walkabouts, workshops and all-round artiness.
A giant henna-inspired pavement mosaic is being created outside the police station; a Balkan brass band belts out the beats and Madame Zucchini entertains the crowds with Boris the Butternut Squash.
Six-year-old Evie is spraying water at a couple of performers dressed as hedges. Her parents tell me they're regulars at this annual Batley celebration.
"And have you heard of Creative Scene before?" I ask.
"Oh yes," they say emphatically, "we helped decorate a chair at the Cobbles café, didn't we Evie?"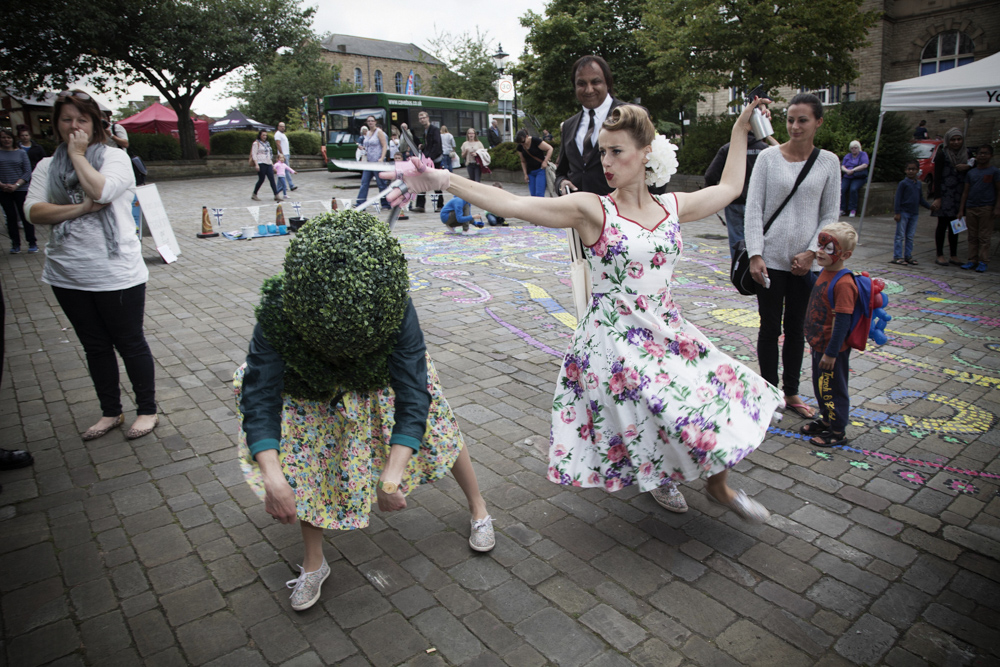 Between the bouncy castle and circus skills workshop there's a queue to ride on the Life Boat, billed as 'the slowest ride on earth'.
"I've never seen anything like this before," I say to Jason from the Institute for Crazy Dancing, as a colleague slowly pushes the merry-go-round of hammocks, reciting the Life Boat A to Z as she does.
J is for joy
K is for kindness, and 
L is for love, and is there ever enough?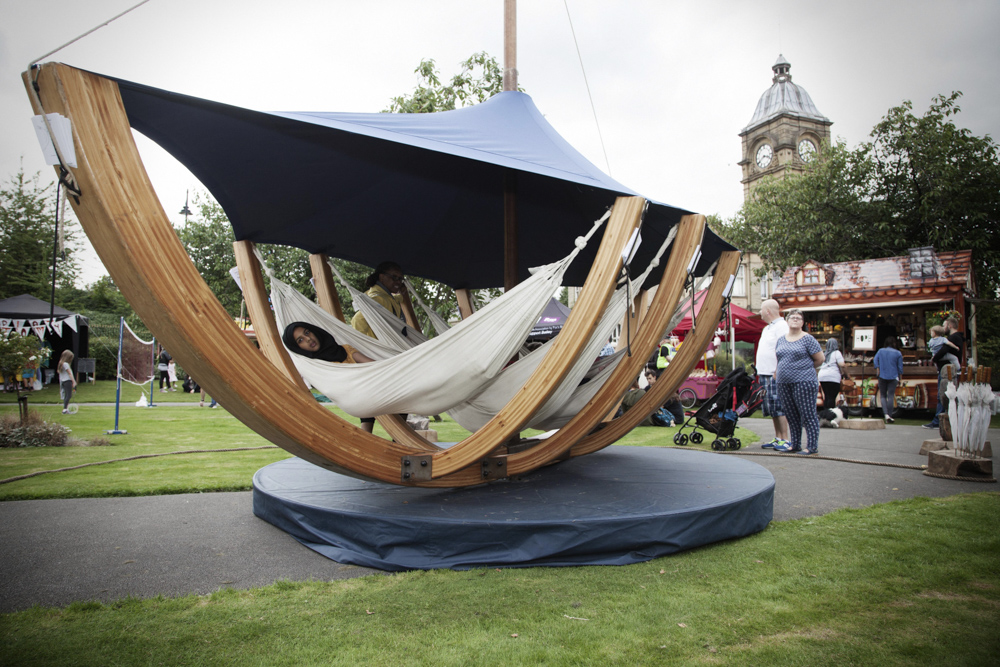 "It's the only one of its kind," says Jason, beating a drum and rattling a chain, "you won't find this on eBay."
"And what experience are you giving your punters with Life Boat?" I ask.
"It's about slowness, kindness and gentleness," he says. "Everyone is endlessly racing around. It's an opportunity to slow down, relax and think about the world differently."
"I could do with some of that."
As the afternoon progresses, I meet more and more people I've written about before. It's a Creative Scene's Who's Who: local people who've been getting involved in the arts seem to have descended on the festival as stewards, performers, volunteers or supporters. It's good to see.
There's teenage Kira who performed in The Jungle Book production as part of Lawrence Batley Theatre's Young Company, now toting a festival donation bucket; Graeme and his colleagues from Batley Community Choir – a hit as part of Batley Does Opera – have just sung in the Town Hall; Tracey from the Put Yourself in Their Shoes performance at Holocaust Memorial  Day is sporting a volunteer's yellow hi-vis and Rebecca from West Yorkshire Drama Academy is here with her young mentees.
"I like the way everything is mixed together," says Rebecca. "It's helpful for community groups to work alongside established artists as it widens their creative exposure. Without realising it, they're learning new skills."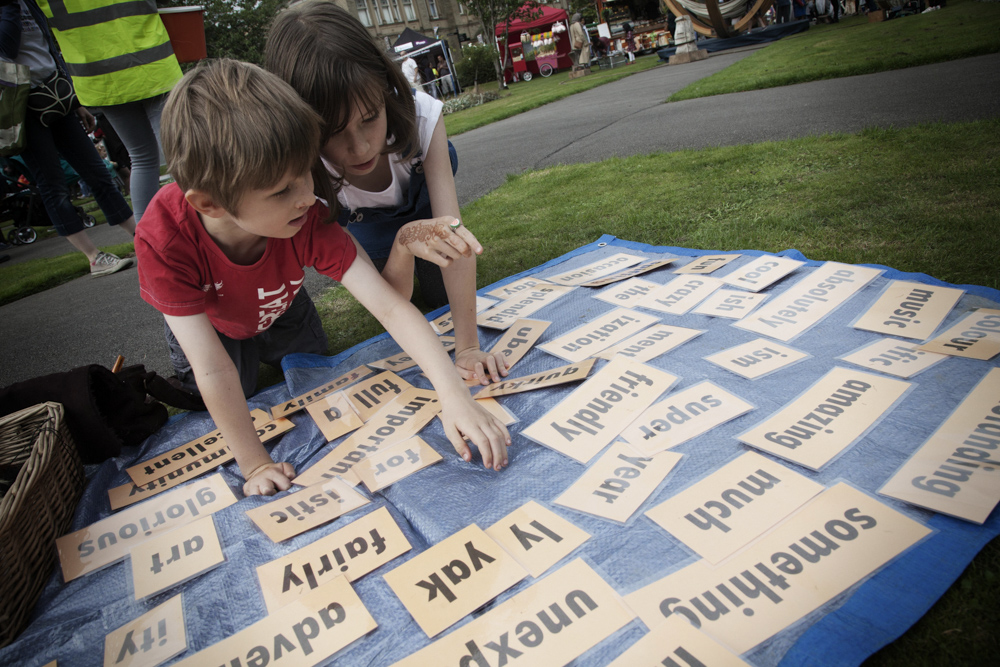 Towards the end of the day, performance trio Kitch and Sync make another appearance, this time as synchronised swimmers. Young and old are encouraged to follow their lead and seven-year-old Ammaarah tells me later that she did her best to tire them out with some outrageous dancing.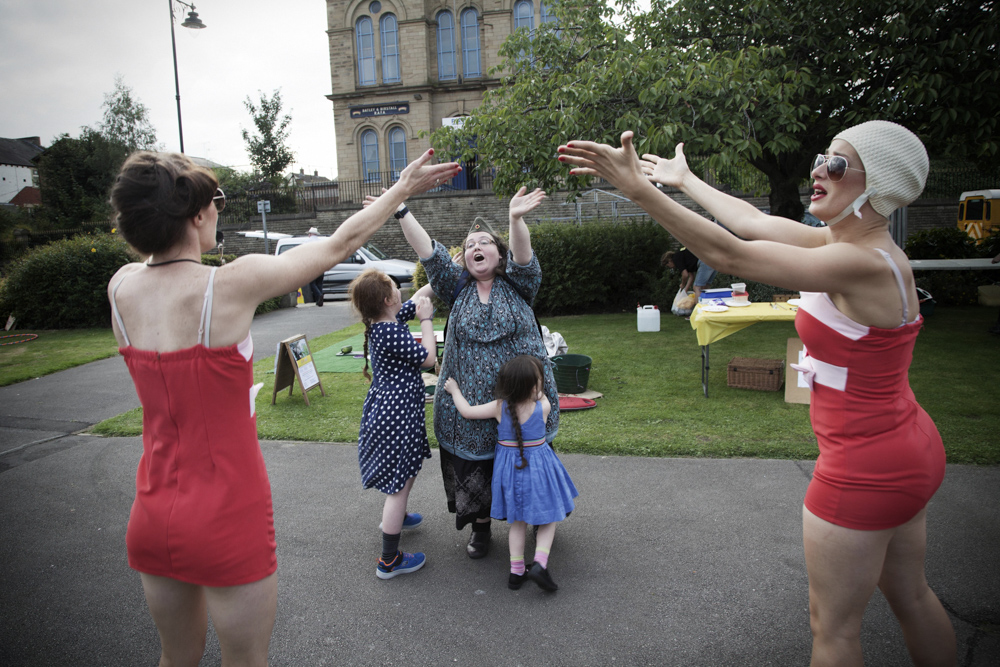 "What have you enjoyed about the festival today?" I ask her dad, Zaheer.
"Everything," he says. "We've been here since one o'clock and haven't made it home yet. We were thinking of going to Blackpool today but came here instead. We're glad we did. Everyone has enjoyed themselves, the children, the adults, even my mother."
"Are you coming to The Batley Picture Show this evening?"
"Yes," interjects Ammaarah, "I'm going to go on my dad's shoulders."