I like Creative Scene's philosophy. Pretty much everything they do is with one eye on the future. I envisage them building a big imaginary springboard off which the arts can launch themselves.
I haven't met Madeleine Irwin before. She's a new part-time Project Manager who'll be in charge of a Creative Scene programme called Future Talent.
Part of her brief is to support young people's artistic development and today she's looking for allies. So SceneMakers Rebecca and Gayna are sitting on a settee in Dewsbury's Cocoa Lounge with Madeleine, Ruth [SceneMaker Project Manager] and I.
"Can you all bunch up a bit?" I ask. "It'll be better for the photographs if you're all in a line."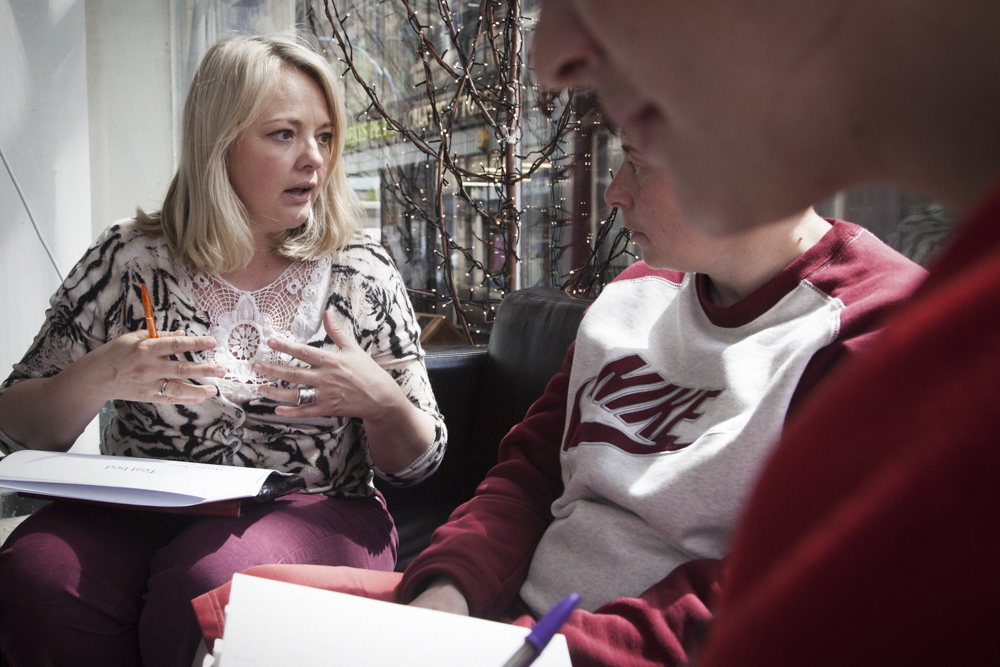 Ruth starts the introductions but stops short. "I'll let Madeleine tell you," she says.
We hear some of her background and in particular she tells of the Orange Box, a venue for young people in Halifax which she worked tirelessly to set on its way.
Madeleine, I can see, has young people's interests at heart and she's in good company.
"For Future Talent, we want to develop a sophisticated mentoring scheme around the arts," she explains. "And work with young people who have a specific interest but don't know what to do about it."
This is where Rebecca and Gayna come in. Rebecca runs her own drama academy in Heckmondwike and Gayna, who until recently worked at a local school, heads up Dewsbury Collegians and, we find out, is well connected to all things theatrical.
The coffees arrive. "Americano?" asks the waiter. "Tea?"
"Mine's the Americano," says Madeleine.
"I used to teach him," says Gayna as he heads back to the counter.
"It happens everywhere you go!" exclaims Ruth remembering back to the Aakash Restaurant where Gayna knew the barman.
Rebecca tells us about the West Yorkshire Drama Academy which she runs voluntarily in what spare time she has after teaching English. "I love it," she says. "Our focus is on helping young people get started in the arts. And some of our older students work as directors, mentoring the younger ones.
"There's no transition period for them," she says, "They are with me until 18 and then it's university. So if the mentoring opportunity can happen before they go, that would be amazing. I have lots of young people who would be interested."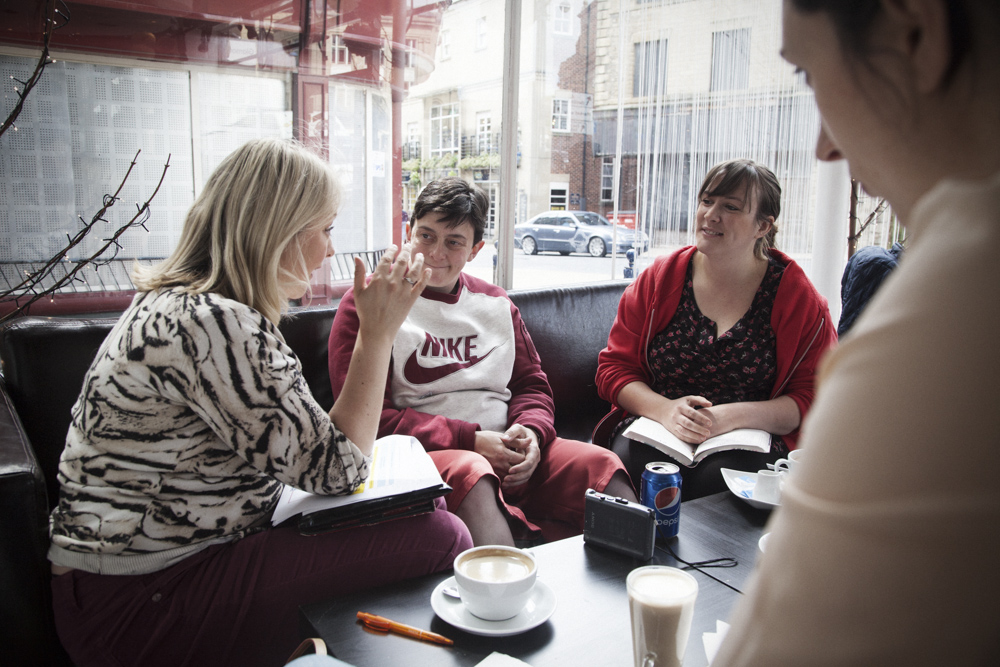 Madeleine explains it might be a while before the mentoring gets off the ground and so, in the meantime, she has another opportunity to divulge.
"The Lawrence Batley Theatre is staging Jungle Book in August and the auditions are in the half term holidays. As well as performers, we're looking for local young people to work on some flash mob activity to promote the show."
"Flash mob?" I ask, imagining riot shields on the streets of Dewsbury.
"There might be half a dozen performers in costume who'd just appear in say, a shopping centre," says Madeleine, "and do a sketch to get people's attention."
"I could be Baloo the Bear," I suggest, flippantly.
"You'd make a good Baloo," says Rebecca. I take it as a compliment.
After another 15 minutes of the SceneMakers and Madeleine bouncing ideas about I get a little bemused. "There's obviously a spark between the two of you," I say to Rebecca and Gayna who clearly share the same passion, "and you're both involved in groups that are geographically quite close to each other. Why have you never met before?"
"Each town is very segregated," explains Gayna. "That's part of the problem, people haven't mixed in the past."
"Historically people have thought of Heckmondwike, Dewsbury, Cleckheaton and Batley as being worlds apart," says Rebecca, "but we'd like to challenge those perceptions and break down the barriers."
It's going to have to be a very large springboard.