It feels like an end of term school trip to the seaside which makes Ashleigh the new girl in class.
Actually it's another art adventure with Creative Scene and we're off to Crosby beach to see Anthony Gormley's iron men and then to meet the artist himself. To mark its 10-year anniversary he's talking at the magnificent St George's Hall in the centre of Liverpool.
"What do you know of Antony Gormley?" I ask Ashleigh who's become the latest SceneMaker.
"Well, I know of The Angel of the North obviously," she says, "but I've never seen any his work in the flesh."
"Or in the cast iron," I suggest.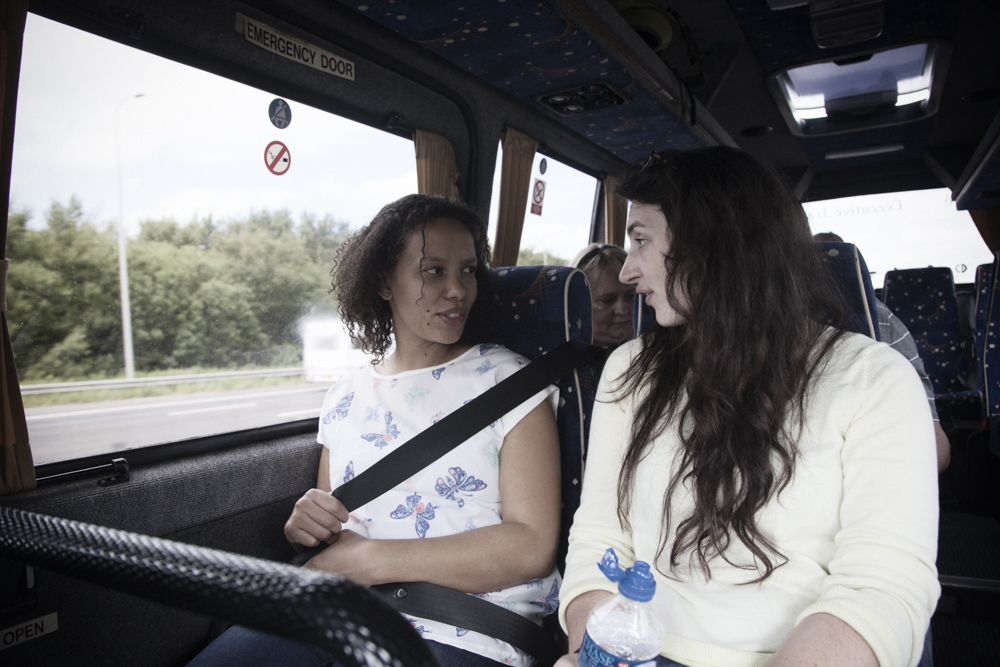 Ashleigh and her husband have recently moved to Dewsbury where he's the assistant pastor at an Evangelical church in town. Originally from Zimbabwe, she's a practicing artist who came across Creative Scene after seeing the Museum of Hidden Delights project on the market.
"And what do you make of West Yorkshire?"
"It's really pretty and the people all speak their minds," she says with a laugh, "which is a good thing. But it seems all the arts activity – exhibiting opportunities, workshops – are in Leeds or Huddersfield. There's almost nothing around here."
The minibus is buzzing with shared experiences around the arts. SceneMaker Simon is showing Creative Scene's Rebecca a video of an outdoor dance performance he's recently enjoyed at the Greenwich and Docklands International Festival in London, and SceneMaker Sonja – here with her friend Liz – is telling me about how public art in Filey and Scarborough has become a magnet for each resort.
Our driver, Naz parks up by Crosby Leisure Centre and we pile out and make a beeline for the ice cream van. We're at the seaside after all. "I'm surprised how widely spaced they are," says Liz as shoes are discarded and we step onto the beach, "you could mistake them for real people."
We make our way to the nearest rusting statue, each of us chipping in what we know about Another Place. "100 all together… 17 different casts of the artist's body… all numbered… this one's number 64…do you think they've been embellished in certain parts?"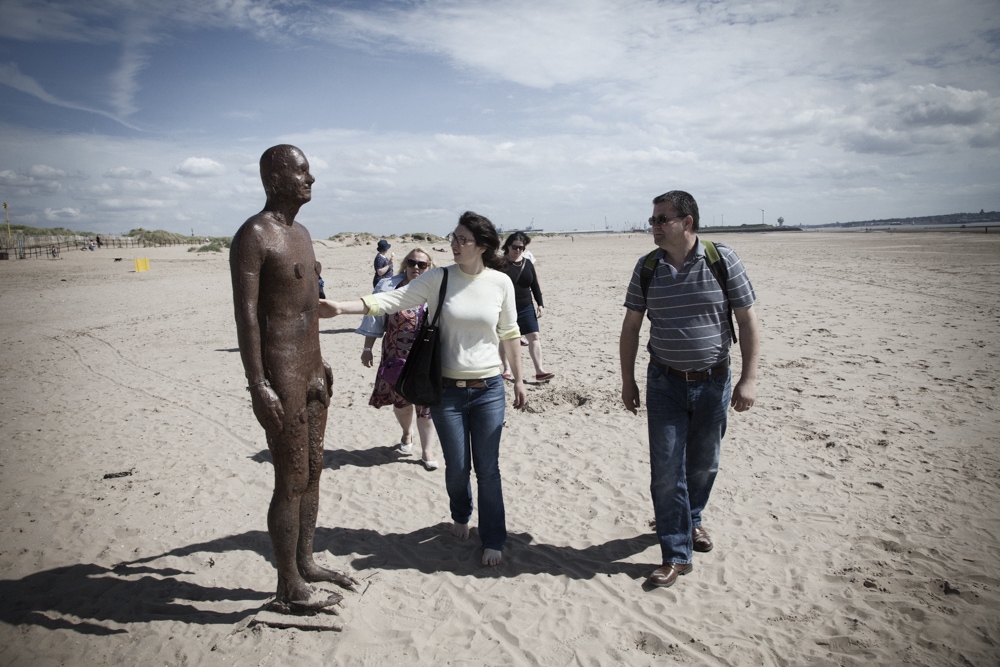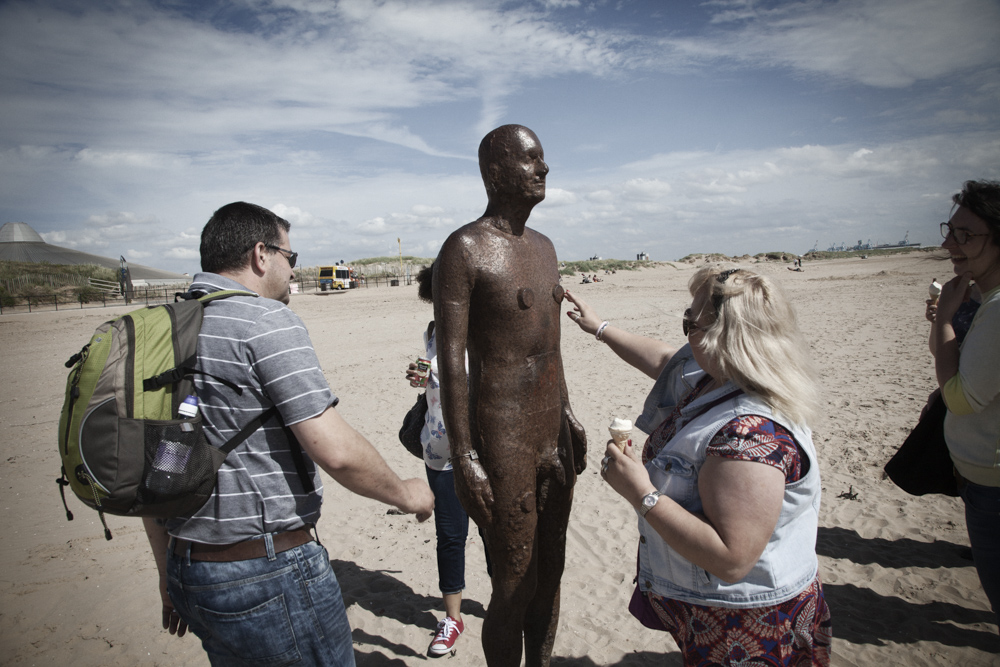 "They look sad," Ashleigh says after we've seen a couple of 'men', "their eyes are closed and there's no expression on their faces. I like that there are lots of them and not just one, it feel like it's about all of us."
While we walk between one version of Gormley to another, I take the opportunity to ask Simon about his SceneMaker experiences. "How has it changed your view?"
"It's changed me and my opinions," he says frankly. "When we first spoke I was a bit  blinkered but now I understand much more the relationship between art, economy and place. I can see art as a way of anchoring a community.
"Look at this place," he says, waving an arm, "this was only meant to be temporary but local people demanded it should stay because it was having such an impact. Heckmondwike too has the potential to be really creative and attract people to do creative things.
"Creative Scene has empowered me and hopefully I can empower the town. I know that sounds a bit arrogant and ambitious but people have to do what they believe in doing."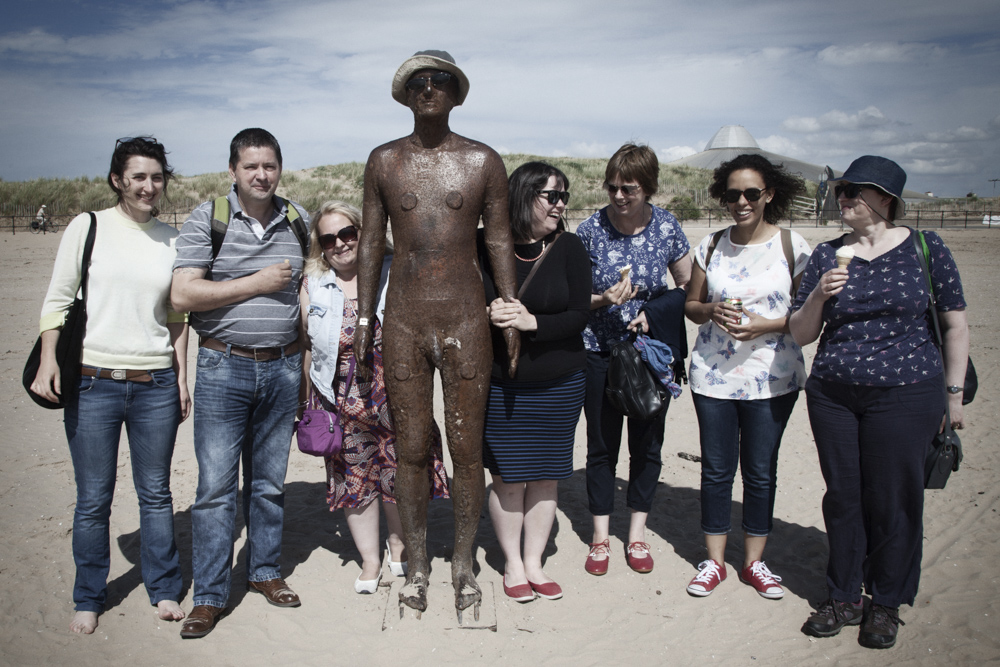 After negotiating the jellyfish and leaving a Creative Scene badge on number 76 – it's already wearing a waistcoat – we head into town hoping to see a dazzle ship in the Albert Dock. Instead we run out of time and end up racing across St George's Plateau eating our fish and chips, much to the disdain of Albert and Victoria looking down from their bronze horses.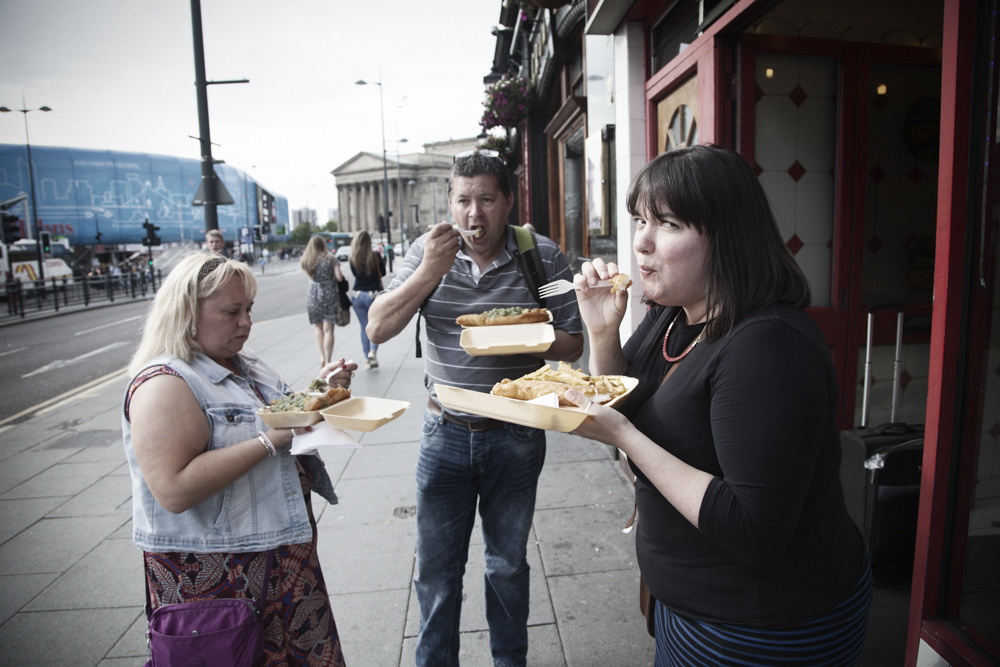 This Liverpool Biennial event is in the resplendent Small Concert Hall dominated by a huge crystal chandelier. Steered by his interviewer, Gormley talks briefly about his iron men: "It doesn't feel like my work anymore," he says, "it's now become part of the place."
The highlight is when his comments on heroism, Classicism, Stonehenge, place-making, collecting birds eggs, and natural selection culminate in a fan asking if she can have a selfie with Sir Antony.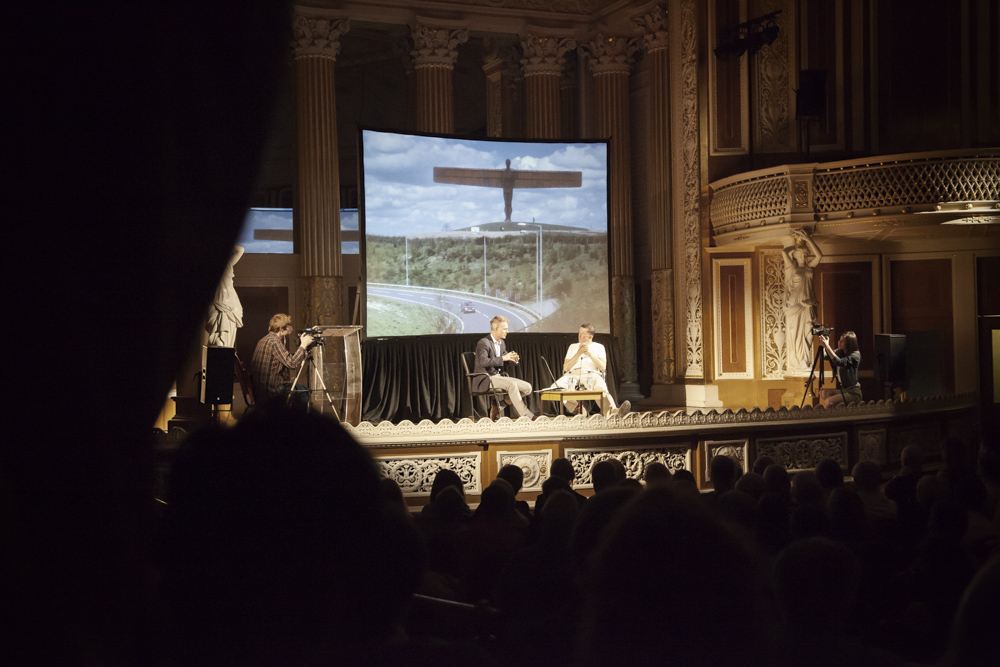 There's mixed views afterwards. Some hoped to be inspired or know more about the process of putting his 100 men on the local beach. "I like what he said about trying to make people think and feel in a different way," says Sonja.
"I tweeted that I've been listening to Antony Gormley with Crosby beach sand between my toes," declares Rebecca, "which is now getting a little unpleasant."