Batley and opera. Not two words that naturally go together. But in three weeks time, and for one night only, Batley will 'do opera'.
Some months ago I was in the Leeds offices of Opera North next to the Grand Theatre. "It's the least obvious thing you would stage in Batley," SceneMaker Andrew Marsden had said as he and Batley Business Association colleagues scoped out their idea.
And now, with the support of Creative Scene, Opera North is working with three community groups and two local primary schools to rehearse the ambitious Batley Does Opera production.
Only last week all the performers – from schoolkids to street dancers – took a trip to the Grand to watch L'elisir d'amore [The Elixir of Love], a version of which they'll perform.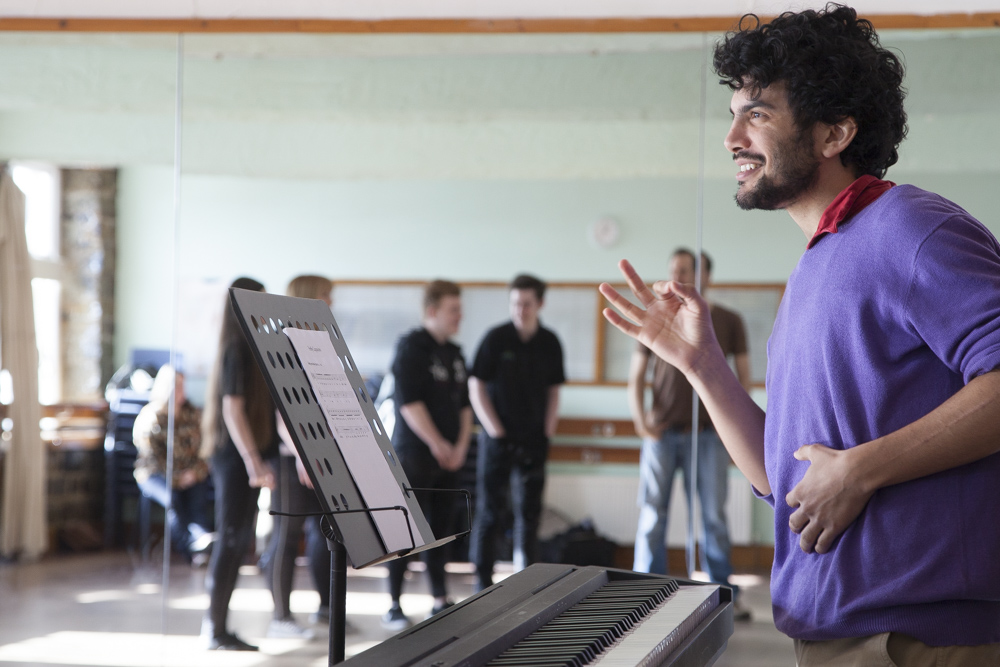 "Had you seen an opera before?" I ask the teenagers from Acorn Youth Theatre in Dewsbury before their Sunday morning rehearsal with workshop leader Omar Shahryar.
"No, never," says Nicola.
"And was it (a) interesting? (b) boring? or (c) long-winded? And did you need a big bag of sweets?"
"By the second half it was really funny," says Jordan. "And even in Italian you could tell it was funny because of all the body language and exaggerated expressions."
As the young performers step into Studio 1 for a warm-up with Omar I put my tape recorder in front of Andrew who's come to watch. "What's it been like working with Opera North? Has it given you more confidence as a SceneMaker?"
"Opera North is a huge, internationally-renowned organisation," he says, "they know everything there is to know about opera. I like listening to it but know nothing about it. But I now feel I can talk to them about coordinating a community opera – and not just as a small part in the process – but as an equal partner, someone who is significantly involved."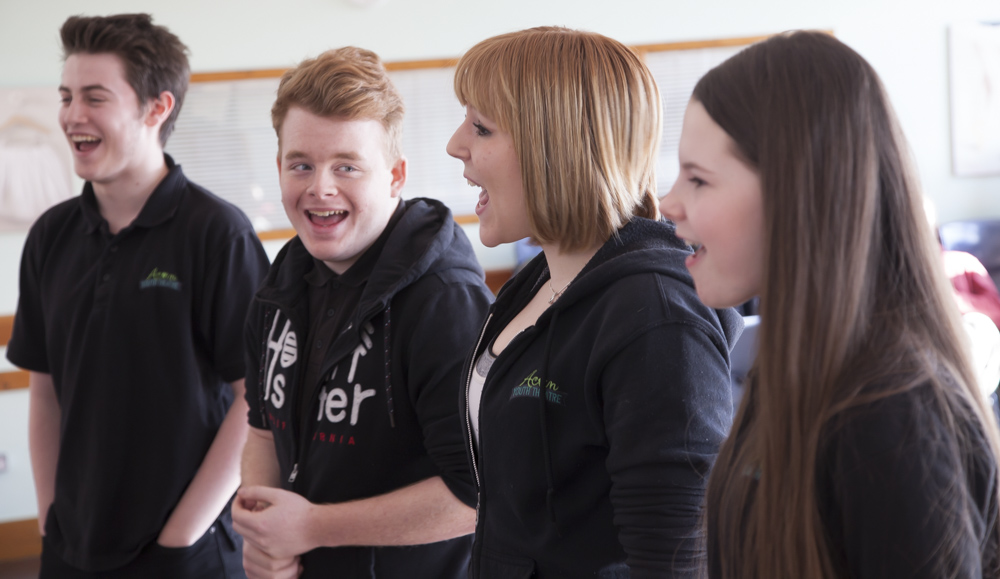 As well as all the organising, I know Andrew is very keen to at least get a walk-on part. "And are you actually going to be in it?" I ask.
"I hope so. There's some pressure on them to write me a role," he says, smiling. "I can't sing but I'm sure there is something. I've got to be able to say I've appeared on stage with Opera North. I might never have that opportunity again!"
In the mirror-walled dance studio the young singers are recapping on L'elisir's storyline. From what I can make out there's Adina, a beautiful café owner; Nemorino, the doting but penniless waiter; a suave army captain and a travelling salesman who claims his potion can cure everything from warts to sleeplessness as well as making women fall in love. The perfect Italian opera plot then.
After learning some lines Omar splits the four performers into pairs, "One of you is not listening, closed off," he explains, "and the other is trying to get their attention."

They walk around the room, taking it in turns to implore and to ignore. In a impromptu modern day re-working, Jordan takes out his phone, pretending to check Facebook, while Nicola sings to the back of his head.
"Brilliant," says Omar. "We must put that in the final piece."
More familiar with Les Misérables or Cats, I can't believe how quickly these four singers get to grips with the opera snippets in just two hours. "Can we devise a heart shape?" asks Omar as they each sculpt their arms. "And can we get it to beat?"
Before they finish Omar invites them to suggest what Adina might have said to Nemorino to spurn his advances. Within minutes they have some lines of lyrics that are put to music. It's spontaneous stuff.
"It was fun, different from what we're used to," says James as they pack up.
"He's ace, I like him," says Jordan heading for the door to buy a sandwich. I imagine him singing an aria as he walks across the car park.