[Continued from "Wait for the WHOSSH, that's your cue."]
Inside the Market Hall Eleanor, Chemaine and Lou from The Brick Box have set up their Electric Fireside installation. Adorned with twinkly lights the three hosts have also created a 'drawing room' where rolls of wallpaper hang from the ceiling.
Five-year-old Thomas is doing his best with a length of bamboo cane with torch and marker pen taped to one end.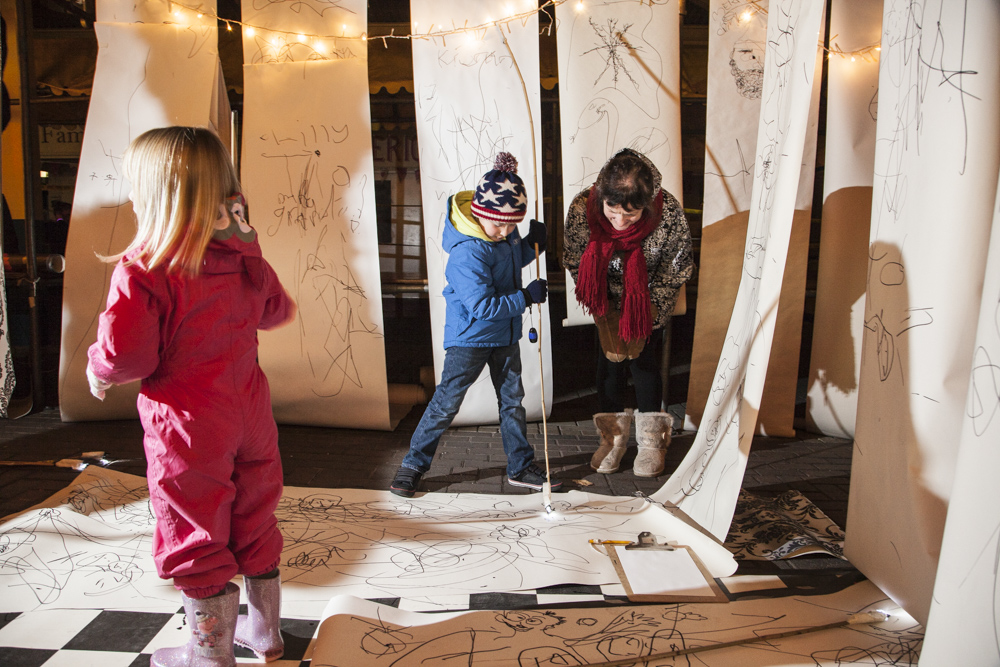 "We only recently moved from Brighouse and I was determined to bring my grandson to the lights this year," says his grandma Ellie.
"He's going to have someone's eye out with that," I say as Thomas charges about with his giant pen.
"Bizarrely my old neighbour back in Brighouse, who is now in her 60s, recalls her father bringing her to Heckmondwike for the lights each year. He used to say it's the best in the region. And I can see it's still lovely."
As Eleanor and Chemaine predicted earlier in the week, people are gathered around their glowing fusion of fireplaces and mantlepiece. The young people I met at the West Yorkshire Drama Academy are here with friends and family and the Salvation Army is setting up in the corner.
"We're now going to watch a drama piece by Lucas," Eleanor says into the mike, "so do all gather round, and next up we'll have the joy of the Salvation Army choir."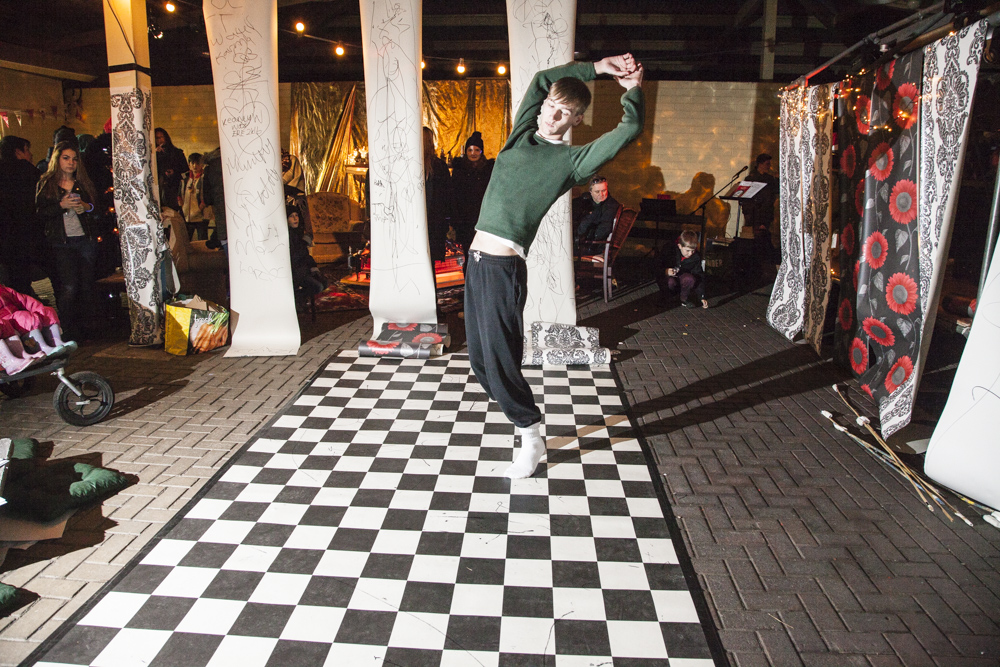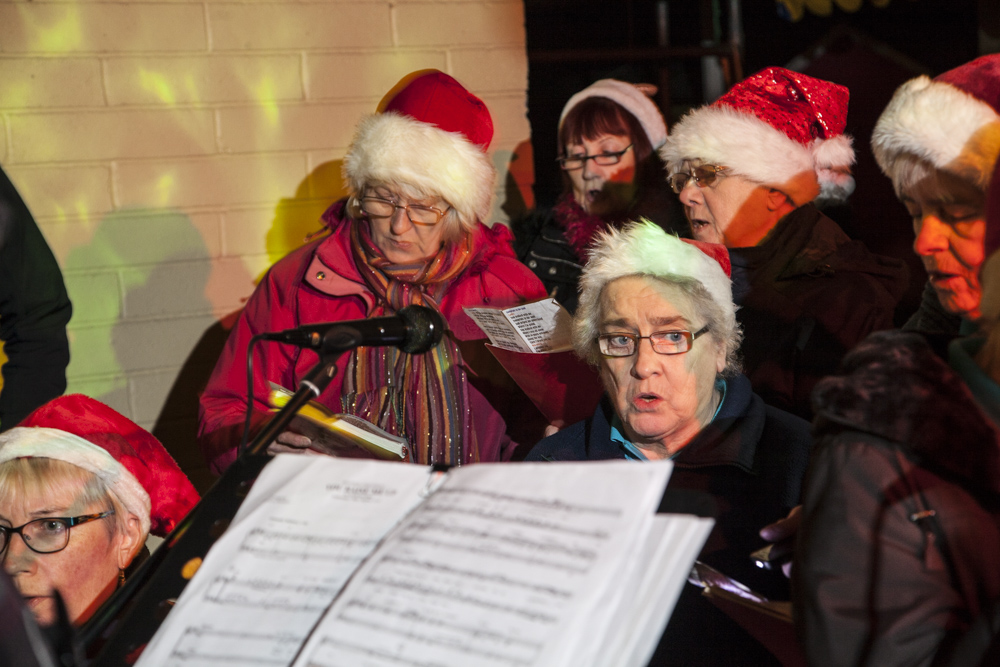 Back on the green the Skiband are whipping up the ever-growing crowd with a rendition of  I'm in the Mood for Love.
"Listen kids," jokes one of musicians into a little megaphone, "when you go back to school on Monday, work hard and pass all your exams… or you'll end up doing stuff like this!"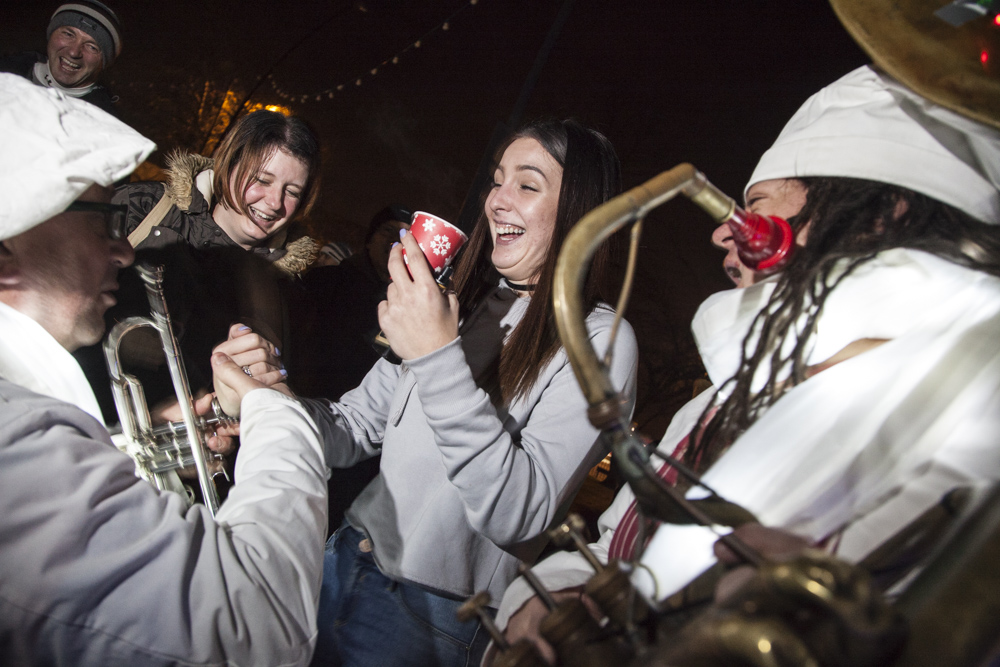 Father Christmas and his single elf make their way through the tweating mechanical birds of the Aviary Arcadia towards the bandstand stage. The amazing digital projections from the 154 Collective give way to a mesmerising performance by Flame Oz, the warm up act for Santa.
"Hello Heck…mond…wike!" he bellows once on stage. "Did you know Heckmondwike has had Christmas lights for nearly 150 years?" A big cheer follows. "I think you should be especially proud of this great tradition of your wonderful community!" Another cheer.
Once Santa has promised presents to everyone who has been good, he is passed a blow torch to light the blue touchpaper. "Shall we all count down from ten? Ten… nine… eight…"
As planned there are HISSES and WHIZZES, CACKLES and BANGS. The Momentum Wheel begins to turn and a series of digital animations appear in its centre.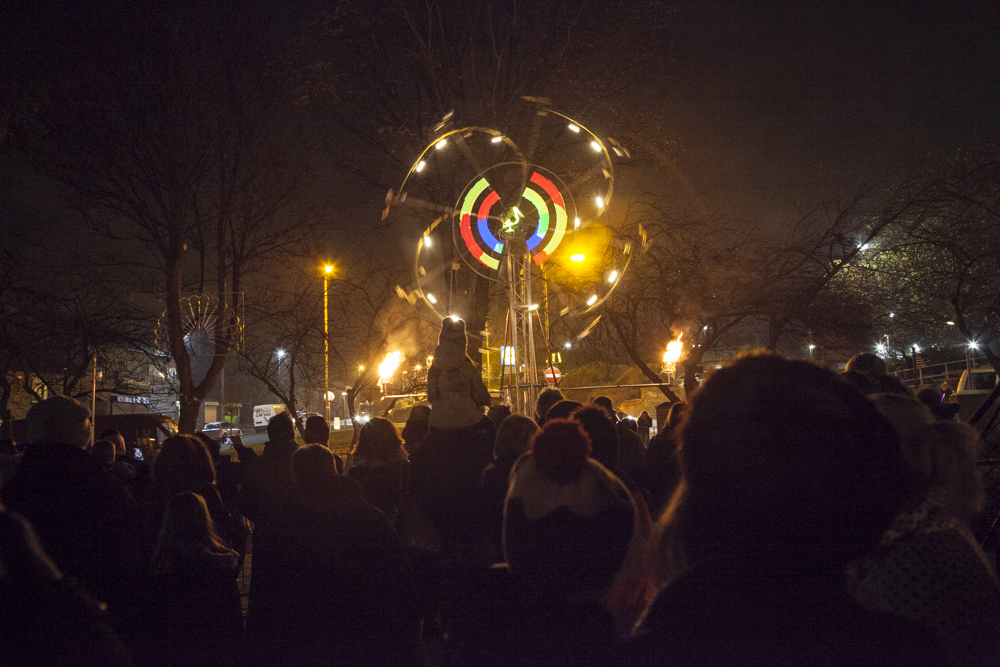 "Ah look," says a woman to her friends next to me, "it's a bird. What is it called? It's a flamingo."
"A pelican," I say from behind my camera.
"Oh yes, it's a pelican."
As the images complete their cycle the WHOOSHES provide the signal and somewhere in the background Ben switches on the Heckmondwike lights for the 148th time.
"ARHH," says the town.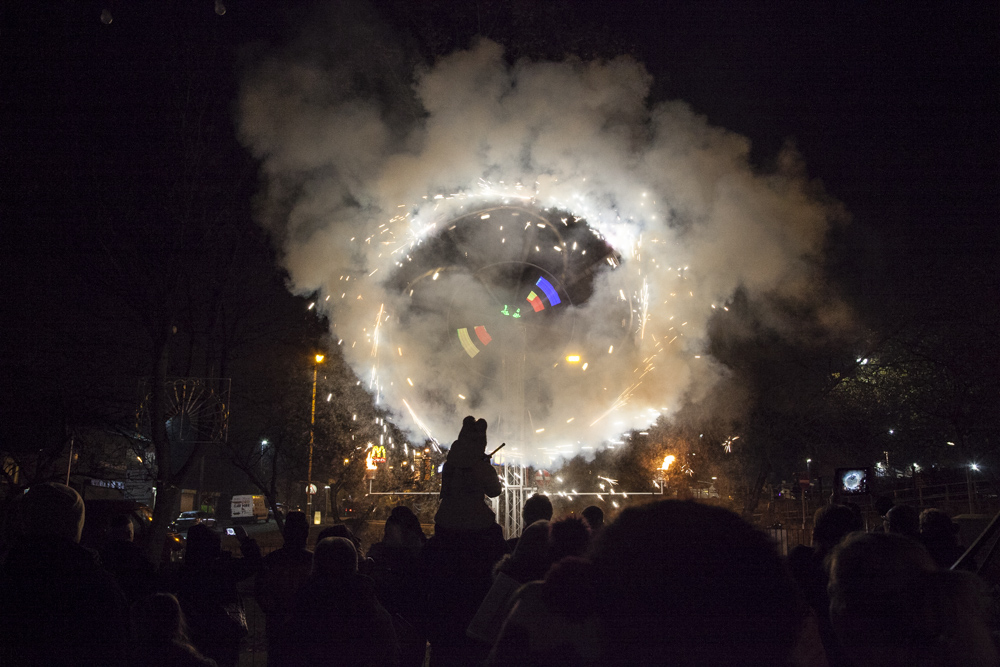 Simon is beside himself afterwards. "Absolutely fantastic," he says, as if he's about to wipe away a tear. "People have just taken to it so well, it's unbelievable. There are people down here from all over Heckmondwike. This is about building communities, this is the way to do it."
"I thought it was really good," says Sarah who is here with her friends, Sophie and Helena. "We've been coming since we were kids. It's not the same as everywhere else, is it? And that's good for Heckmondwike."
Next I catch up with Pam and Bill from Southport who are down for the weekend staying with the grandkids. "Lovely, really lovely," says Pam. "It looked amazing. You could really feel the togetherness of the community." Job done.