Why am I surprised when a large transparent teapot filled with a steaming peach and apple brew is set in front of Duncan? He is, after all, a tea aficionado and makes his living selling the stuff.
"Mmm, can I have a whiff?" asks Ruth, "or is that rude?"
"Go ahead," says Duncan, "although, of course, it will be never as good as ours."
We're doing a double-header interview with Duncan Macintyre at Café Society in Huddersfield. SceneMaker project manager Ruth Bridges wants to find out about his interests, his skills, his ambition as a SceneMaker. She's the one who matches the volunteers with the projects, finding the best fit.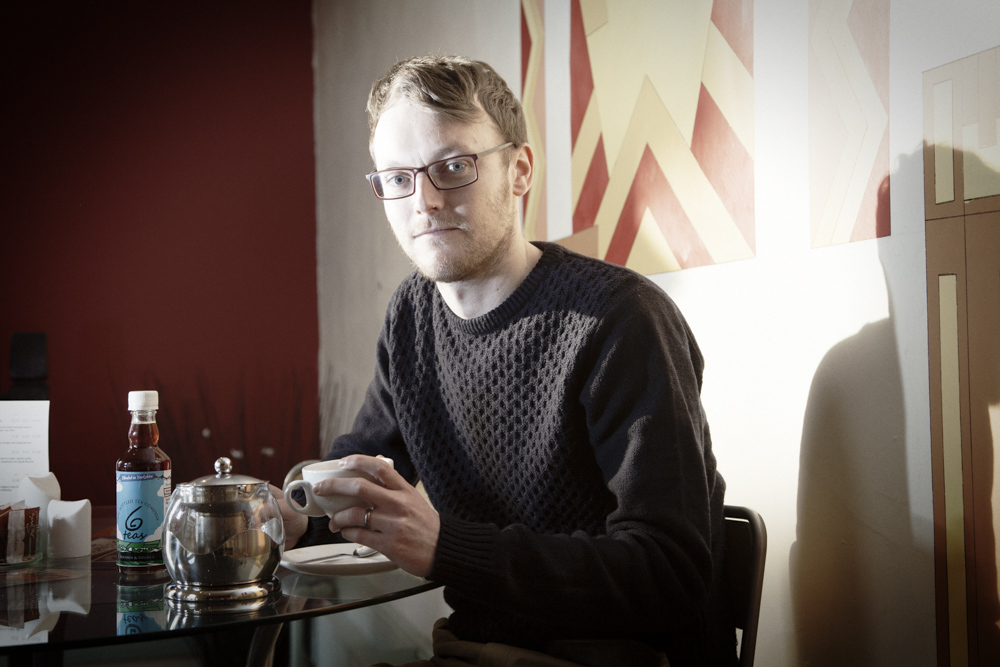 A couple of years ago Duncan considered opening his own café in the town, serving speciality teas. Instead he set up a new business – 6teas – that sells such wonders as 'Big Daddy' and 'Russian Earl Grey' in bottles that, with hot water, are drunk like a cordial.
"We go to a lot of local markets and events," he explains as he shows us a sample bottle and I sheepishly sip my Americano, "and we get a lot of interest there."
Ruth and I discover that Duncan has an extensive background in marketing and, before that, studied Creative Design and Marketing. He's become a SceneMaker because he wants to be 'more visible' in his community and to re-ignite a passion for the arts that's derailed a bit since his Art and Design A-level.
I'd like to hear about his SceneMaker role as one of the panel that decided on the first round of DO IT funding. Creative Scene is offering a series of small grants to start North Kirklees thinking more creatively.
"They're each £500," Ruth explains to me. "And they are for new, high quality activities that reach new audiences."
"And Duncan sat on the panel with some of the Creative Scene team?"
"I did," he says, "and it was really good. I was very much involved and surprised how I took to it."
Duncan tells us that there were 24 written applications to consider and, by the end of the evening, seven grants had been awarded.
"I hope the rest of the panel found it refreshing to have an outsider's point of view," he says. "I found myself considering each application in terms of added value: how many people is this activity going to impact? What benefit will it have to its community?"
"It sounds like you really enjoyed the process," I say.
"I did, yes. And I'd certainly be up for doing it again. It's given me a bit of thirst for that sort of thing to be honest."
"And what advice would you give anyone applying next time round?"
"Be bold," he says. "There's scope for more creative applications and maybe potential for something that's about changing a community's perceptions about art."
"The odd crazy idea, then?" asks Ruth.
"Yes, and think about it with both sides of the brain. The ideas need to be creative but also keep an eye on the budgets."
"Creative yet pragmatic?" I suggest.
"And tailor your ideas to the audience. Always the audience."
As the tea and coffee are drained, I ask Duncan what he thinks Creative Scene could achieve over its two years.
"I'd like people to see North Kirklees as a pioneering area for the arts in the UK," he replies, but admits it's a bold ambition. "We're not, all of a sudden, going to be like the West End, but we do need to make our art activities more relevant to our communities."
And he's absolutely up for helping make that happen.