"Why do we have to have holes in it?" asks Jasmina.
"Otherwise it'll be like a sail," explains Adam, his hands thick with glue, "and the wind will just take it."
It's Holocaust Memorial Day at the end of the month and the 6 million+ charity is working this morning with the Bosnian community on a giant female figure as part of the commemorations.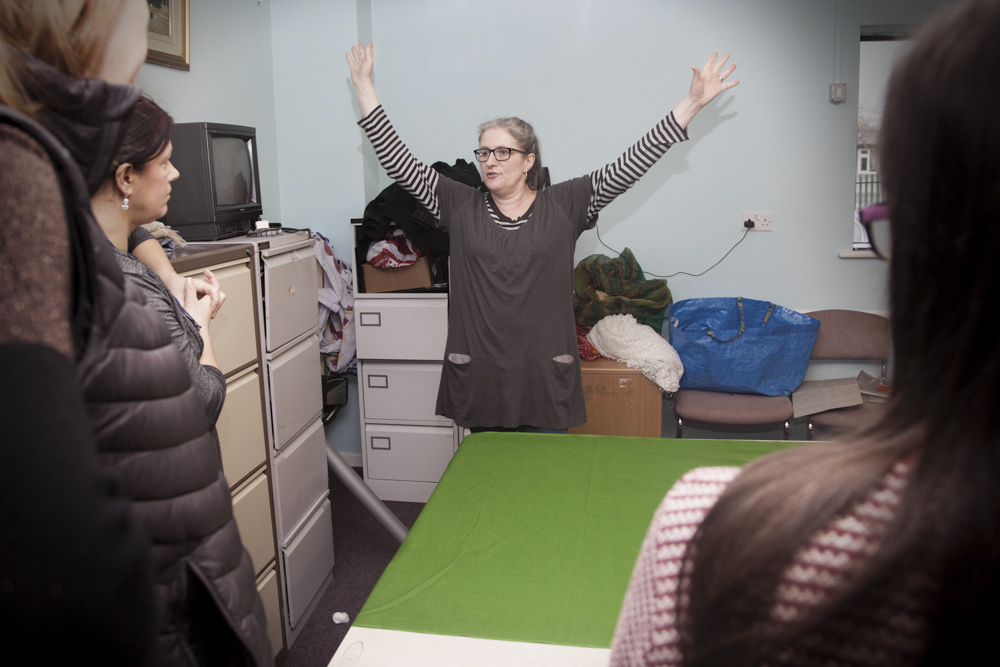 "We need something big and theatrical," says costume designer Naomi Parker to the small group of woman, eager to get started, "so we need the fabric to flow from the arms and float around."
Already this group has made the figure's papier mâché head and Jasmina's son Aldin and Dzevad are helping to finish the hands. "Maybe use some of this lighter paper for the edges," suggests Adam.
This isn't the first time I've followed communities creating work with 6 million+. Last year I documented Put Yourself in Their Shoes where Gaynor and Tracey, a couple of local amateur actors, played out moving stories from the Kirklees Kurdish community.
"This year we're making something that will be highly visible," charity director, Adam Strickson explains to me, as he sticks Indian rag paper to another finger. "As well as this figure representing a Muslim woman from Srebrenica, we're also making another of a Jewish woman from the Lublin Ghetto."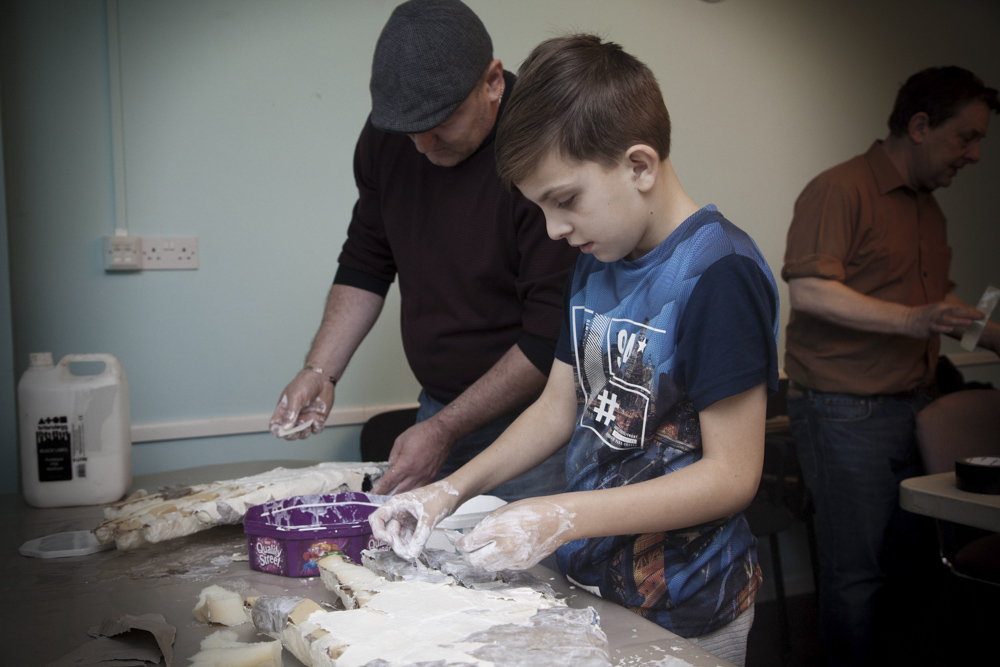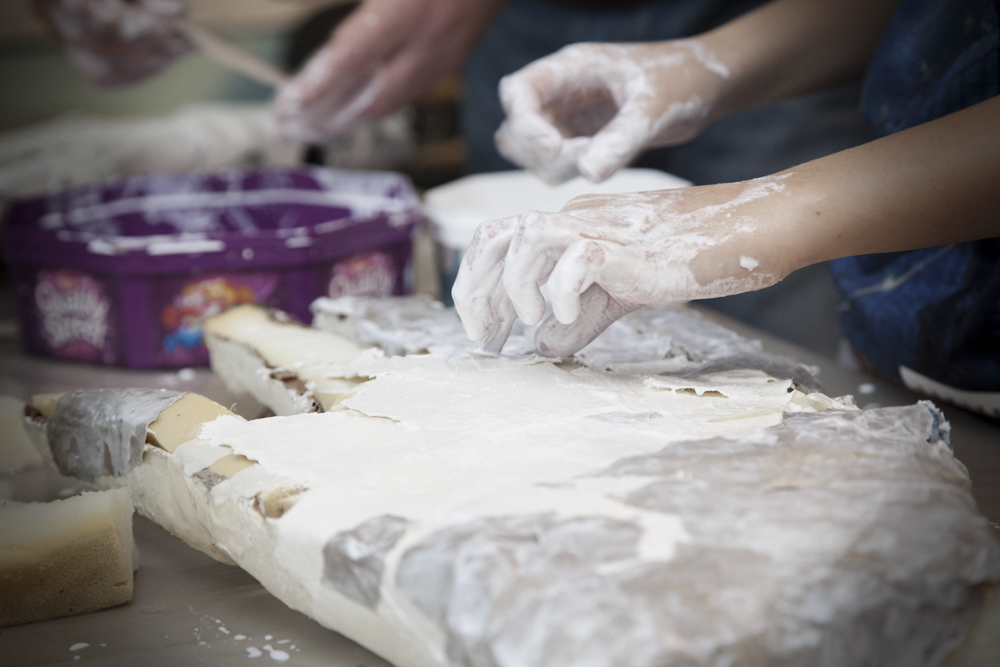 The figures, known as The Weeping Sisters, will head a solemn procession through Huddersfield town centre on Thursday, 26th January to mark the Memorial Day commemoration at the University.
"It's a cumulative project," explains Adam. "Next year the Bosnian and Jewish 'sisters' will be joined by a couple we'll make with the local Kurdish and Roma communities. And after that, Rwandan."
Jasmina, Emsuda and her daughter Medina start to lay material out on the joined-up tables as Naomi positions pipe lagging as arms. Nermina stands on a chair to get an idea of the overall shape.
"The proportions don't have to be accurate," says Naomi, "as long as it has a big impact."

As the length of the figure's arms are discussed I ask Aldin how they made the huge face. "We looked at some pictures of a woman and shaped the face in clay first," he says.
"And how would you describe the face you've made?"
"She's always sad," he says, "she doesn't want to talk to anybody."
After more debate about the costume, some measuring, cutting and pattern-making, Jasmina unpacks a flask and a tower of plastic cups. A plate of homemade biscuits and some Bosnian sugar cubes appear. "Does everyone take milk?" she asks.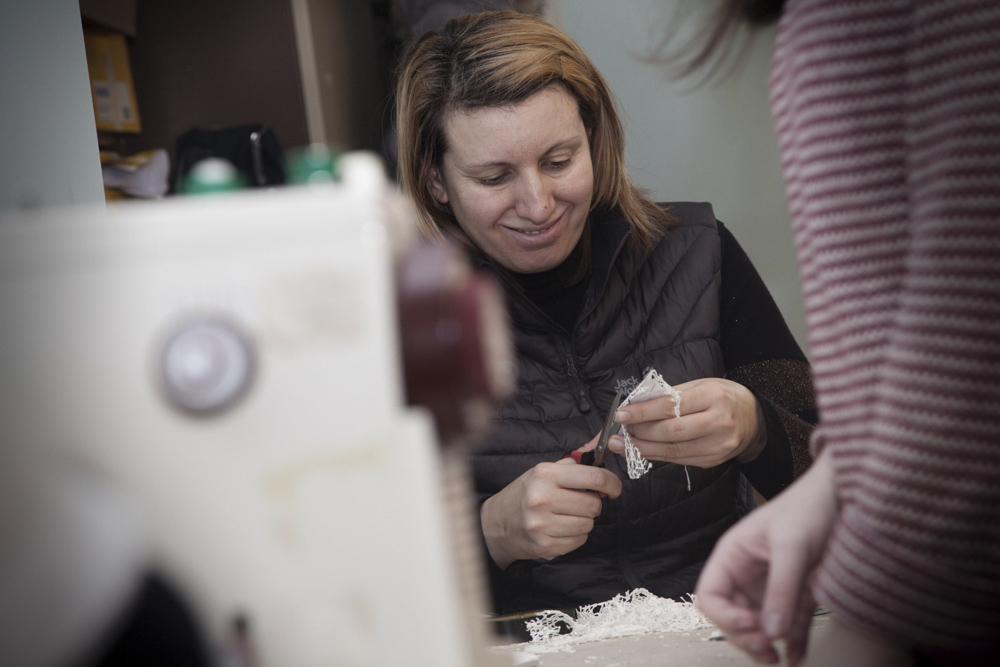 "My story is a little different from other stories," she says as I take the opportunity to ask Jasmina about her own experiences. "My family came out in 1992 but we were separated."  She tells how her younger siblings and mother first came to the UK and then her father. She stayed with her disabled grandmother and, despite numerous visa applications, wasn't reunited with her family for another three years.
"It is heartbreaking. From then until now, it is heartbreaking. Families are broken. Even now my brothers and sisters are all over the world. None of us are in the same country."
Jasmina hands me a coffee. "Better than Red Bull," she say, smiling.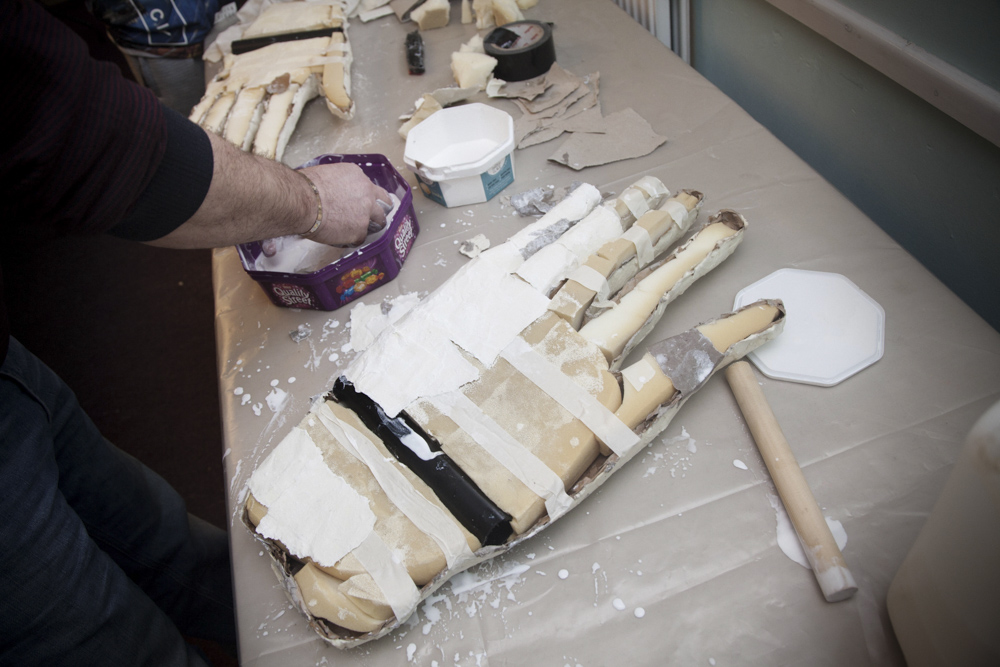 "And this project? How important is it to get involved?"
"It is very important. We know what happened in Srebrenica and we want others to know too. It's recognised in the UK [as a genocide] but not everywhere. This will help us tell people what happened. So many people were killed just because of their nationality. There are still mothers looking for the bones of their children that they will never find. It's just wrong. This is a small thing we can do."
"And it's important for your son too?" Aldin is now picking papier mâché off his fingers.
"Yes, yes. I don't feel hate towards anybody but I want him to understand. I want him to understand how it happened and how things can go wrong."