"What's the plan for this morning?" I ask artist Lou Sumray as she lays out art materials.
"The plan," she says, pulling out a packet of black paper, "is to get people to describe music with marks."
Her collaborator, musician Nick Lewis, is setting up his acoustic guitar and mini amplifier on the other side of the children's section at Birstall Library.
This is the last in a series of Easter holiday workshops that has seen artists from the 154 Collective work with children, and their grown ups, to develop ideas for a new Creative Scene On Tour family show.
After some introductions Lou explains the bigger picture to today's children, parents and grandparents.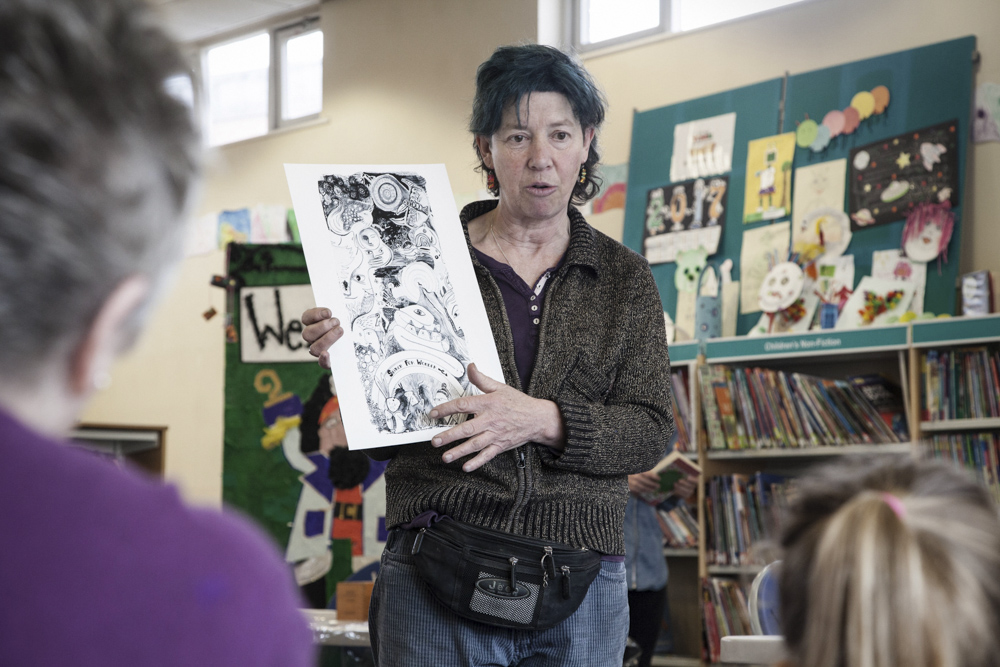 "We're collecting your ideas from these workshops for a show that we're calling The Search for Wonder," she says, holding up an illustration. "This is what we've got so far. It's the story of Rabbit Girl written by an eight-year-old girl."
Lou outlines a tale of campfires, unicorns, rainbow slides and climbing to the moon. "And this is a three-headed dog that guards a cave of fluffy toys," she says. "Today you can add to our story or create your own."
The workshops over the last fortnight have involved writers, animators and photographers as well as artists and musicians. Local people are contributing to a family show that they can then watch next year, no doubt looking out for the bits they've inspired.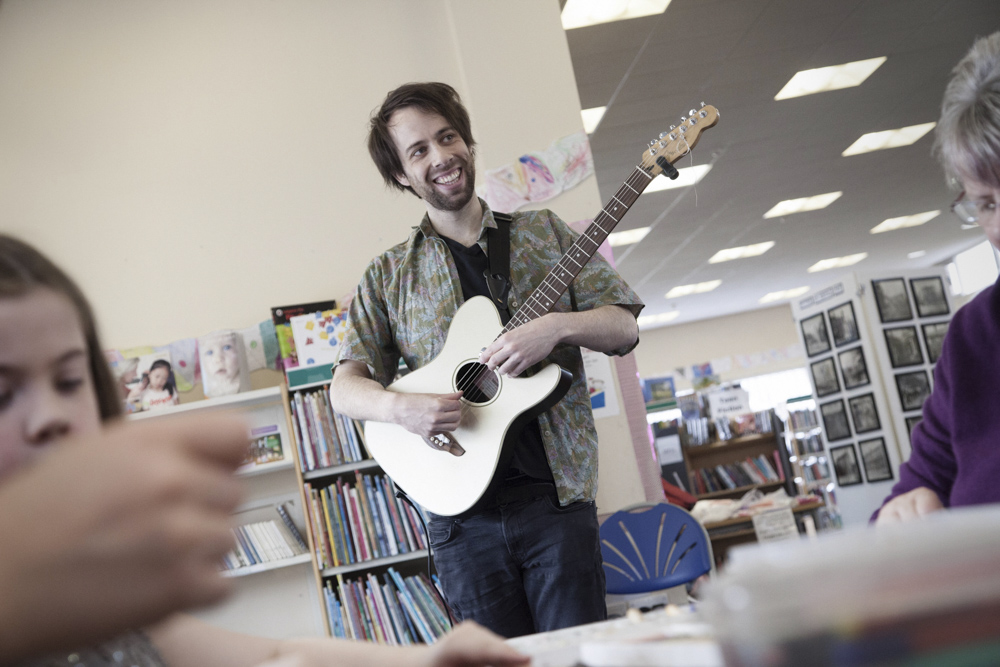 Nick sets everyone off. "I'm going to play some music and we'd like you to draw it," he says, playing a string of notes. "Would you draw lines, spirals or maybe dots? What colour would it be?"
Everyone gets stuck in and within minutes the children are showing their efforts to Nick. "These are really great," he says, "awesome."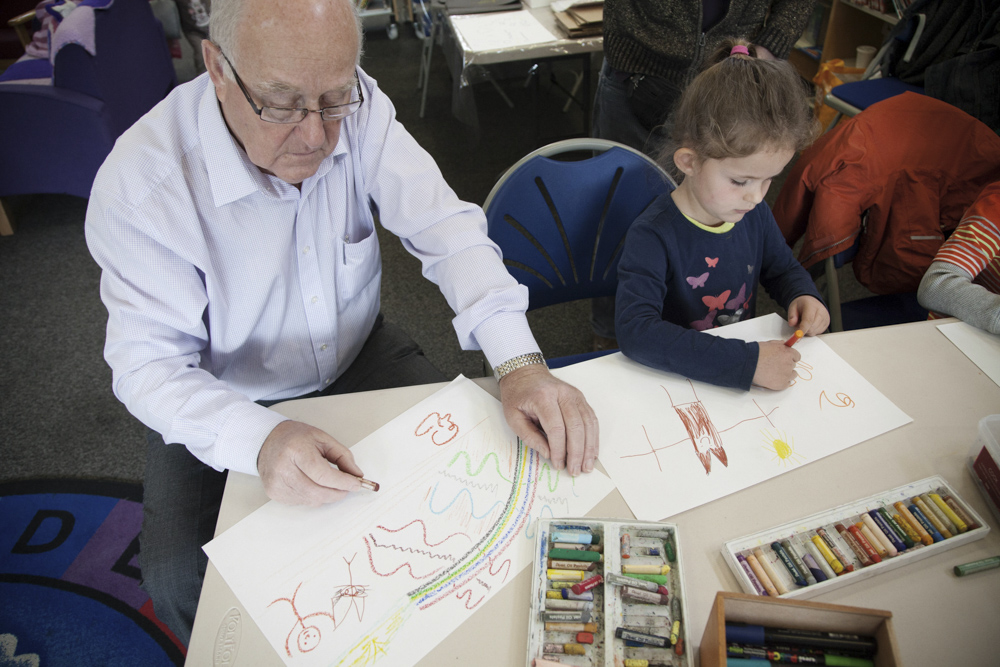 Next the tables are turned. "Now we'd like you to draw your own pictures and we'll ask Nick to turn them into music," says Lou. "What about using two crayons at once?"
"I'm going to do a picture that shows Rabbit Girl off on a massive adventure," says eight-year-old Millie, taking another piece of paper.
"This is perfect for Millie," her mum Claire tells me as she, too, starts a new picture. "She loves drawing and writing. We'd just popped in and saw this was going on. We had no plans, so it's fallen well for us."
"We look after Emily and her baby sister during the holidays," Emily's grandma explains. "So it's nice when there are things like this we can bring them to. Emily loves music."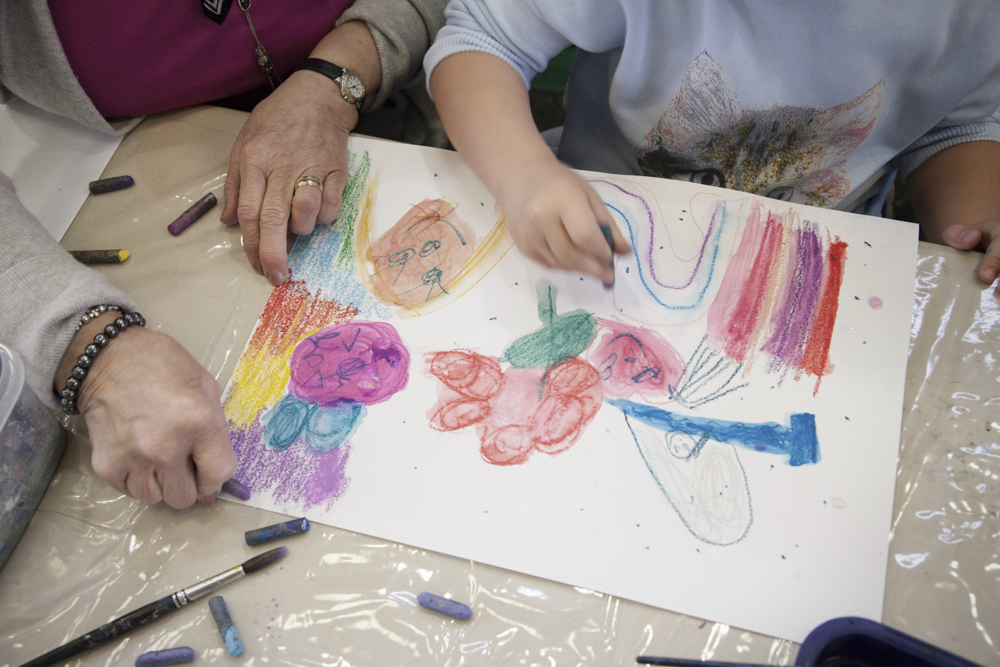 "Do you think he's got it right?" I ask the four-year-old as Nick starts to play one of her pictures. She smiles and listens intently, her eyes dancing between her picture and Nick's fingertips.
"I'm playing this sunny bit in the middle now," he says.
Soon there's a backlog of oil pastel pictures that need playing. "There's some evil in this one," says Leo.
"That's it!" says the delighted six-year-old when Nick finishes his musical response.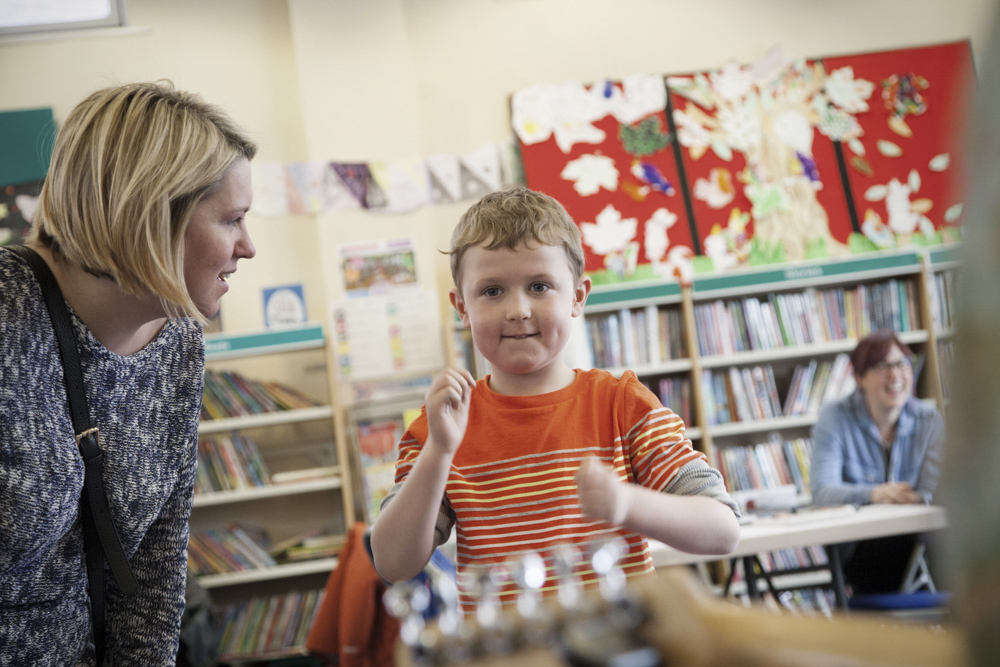 The soundtrack for The Search for Wonder show will also be developed from these workshops. "I've recorded them all on my special loop pedal," Nick tells the children. "I'll listen to them all again and use them as inspiration."
As well as 'music pictures' Lou spends the two-hour session encouraging some writing and the creation of cardboard characters.
"My story is about a boy called Donald Jackson," Leo tells me, "who lives with his great-great-grandparents and a cat called Ryan Ralph."
"A cat called Ryan Ralph? I can almost imagine what Ryan Ralph might look like," I say.
"He's ginger," says Leo, emphatically.
An exhibition of work created at The Search for Wonder workshops will tour libraries later in the year. Check Creative Scene's website for details.