…continued from Where the town is the venue
Artist Anthony Schrag stays each night with different hosts along his pilgrimage route to Venice. Sometimes fellow artists or fellow walkers, these supporters have answered a call-out to accommodate the lone walker.
Although that's part of it too: often he's not alone and walking part of the way with Anthony is actively encouraged.
So there's a meeting point arranged for the morning of Day 19 where Ruth and Nancy from Creative Scene, SceneMaker Duncan and I will meet Anthony and Claudia (who's become a pilgrim for a couple of days) so we can walk some of the 2,500 kilometres with them.
On the way out of Hebden Bridge I asked Duncan what he liked about last night's talks. "Something I really enjoyed about 'The Town's the Venue' is how the community becomes the art, it's not the art itself," he says. "It's the engagement that's important, so it tends to be deeper than something that's staged to please the eye, say, or to entertain."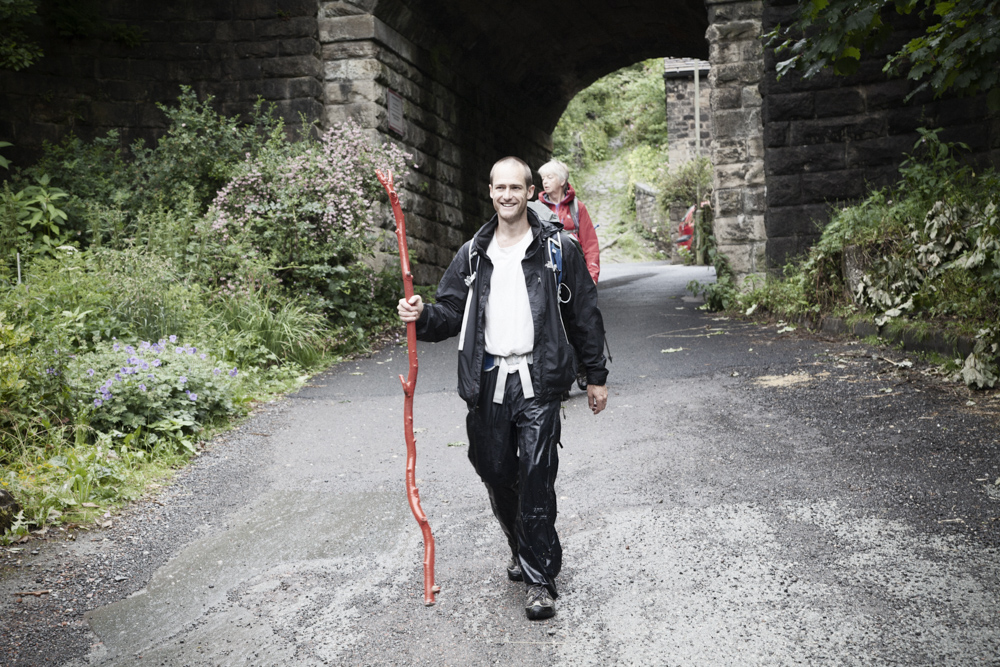 Anthony and Claudia have already walked a couple of miles before they pass under some railway arches and meet us besides the A646.
"Tell me about your stick," I suggest to Anthony as we find an appropriate place to survey the map.
"Ah, my stick. I found it on one of my practice walks and people would stop me and talk about it. Claudia suggested painting it red but I wasn't sure at first. Eventually we went for it and it's become very useful because it separates me from someone who's just a walker, I suppose."
"With that, you look like a guy who can be stopped and talked to," I say.
"Yes," Anthony agrees, "I was on the BBC News in Scotland and afterwards more people came up to me because they recognised the stick, rather than me."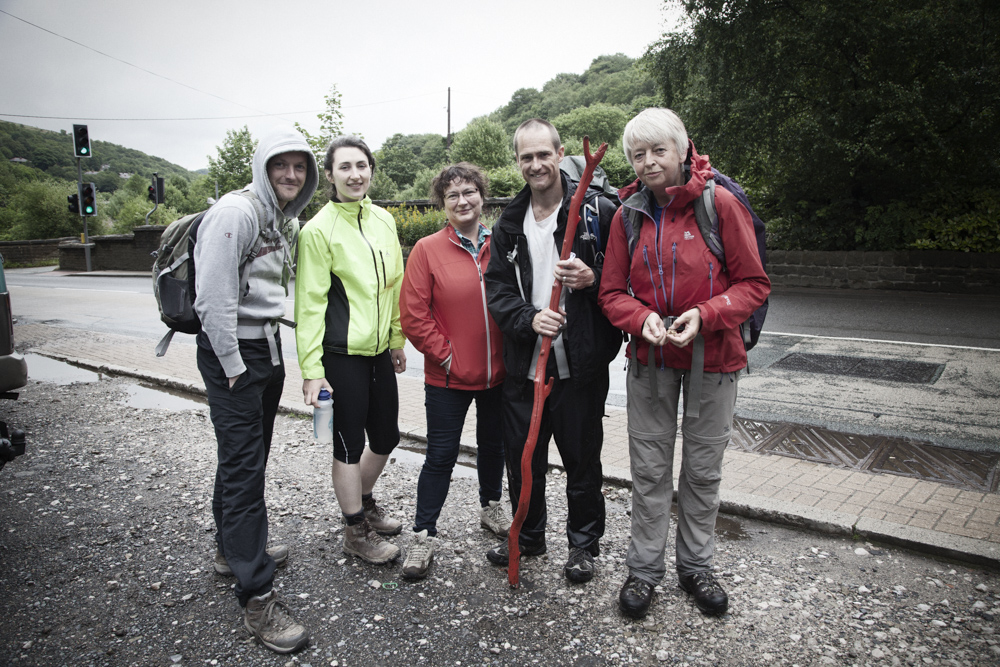 As we walk along the narrow pavement towards Todmorden Claudia and I find ourselves trailing.
"He doesn't hang about, does he?" I say.
"I can't keep up," she says, "I just go at my own pace."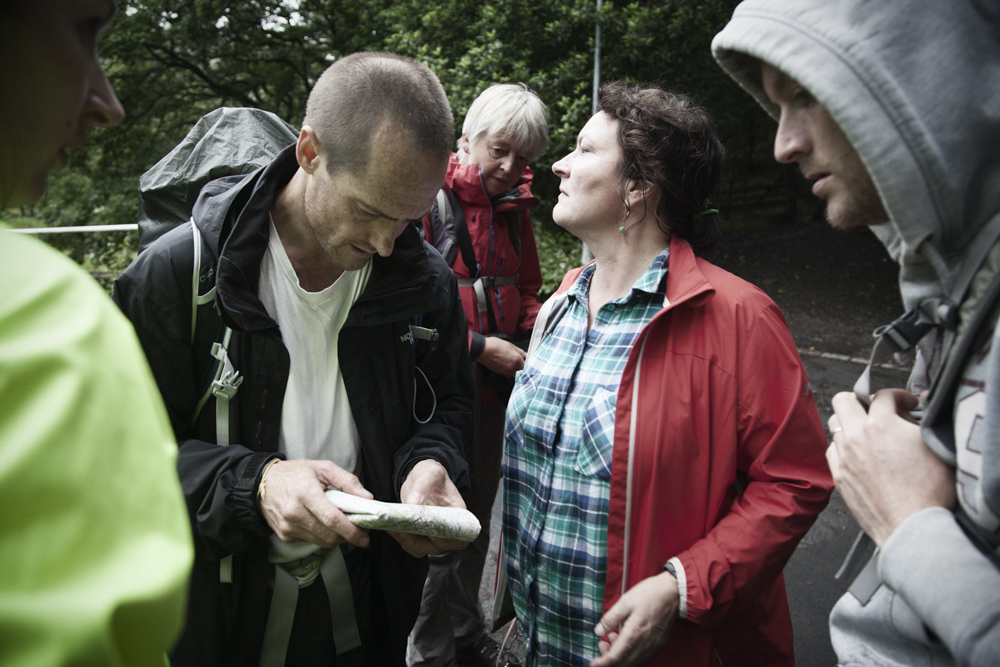 As we're walking I ask Claudia about the potential for her ideas to transfer to other places: "How important is the size of the town, the fact that everybody knows each other? Is it the physicality that makes the projects so successful?"
"That's an important question," she says, "and in our book," – I didn't realise she had co-written a how-to handbook – "we decided that it works best for upto 10,000 people. It also needs a certain distance from a city so people are not drawn elsewhere for their entertainment.
"What's important is a healthy mix of community. For instance, we only have one school where the daughter of a doctor might be sitting next to the son of a drug addict. So people have no choice but to mix, and that's critical."
Claudia says she's never been to North Kirklees and so I describe it as a sprawling metropolis of towns that merge together. "I'm not so sure it would work so well in an urban setting where people are often ghettoised," she says. "Often there are distinct socio-economic groups that don't mix."
"But there must be aspects of your projects that can be replicated?" I ask above the traffic noise.
"Yes, absolutely," she says. "Rather than communities of geography you can work with communities of interest." I must have looked quizzical because she gives an example of a 'Bring-Your-Own-Baby' project for young mums. "It worked well because mums of all ages and class got involved because they all had this little bundle in common."
'Community of interest': that's something for our SceneMakers to think about and, judging by their responses from last night, there's plenty to mull over.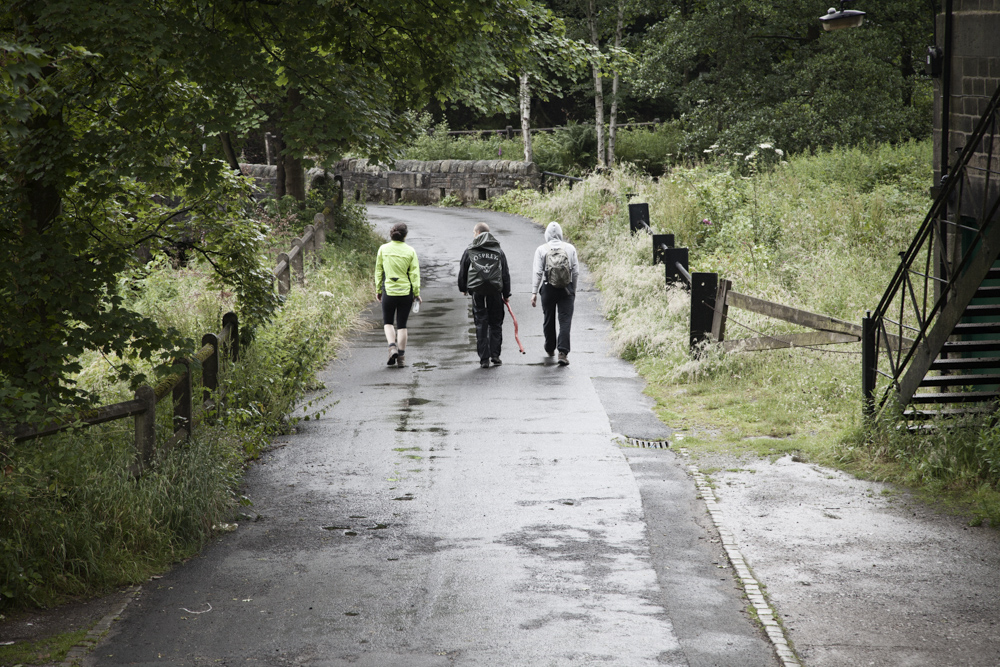 Nancy and I walk for another 15 minutes before we return to more mundane duties, delegating the hiking to Ruth and Duncan. (Read more on Anthony's blog).